Five new Alexandria City School Board members were officially inducted at a public ceremony at T.C. Williams High School last Monday.
District A welcomed three new members — Jacinta Greene, Michelle Rief and Christopher A. Suarez. Cindy Anderson, Margaret Lorber and Veronica Nolan all held their seats in District B, while incumbent and former School Board Chair Ramee Gentry joined Meagan Alderton and Heather Thornton from District C in taking the oath. The new School Board will serve a three-year term and includes five new members and four incumbents.
The nine-member elected School Board makes policy, budget and leadership decisions that are aligned with the ACPS vision and Strategic Plan and sees that policies are properly explained, enforced and observed. They also serve on committees, including the Athletic Hall of Fame Advisory Committee, the Budget Advisory Committee, the School Health and Advisory Board and the Special Education Advisory Committee.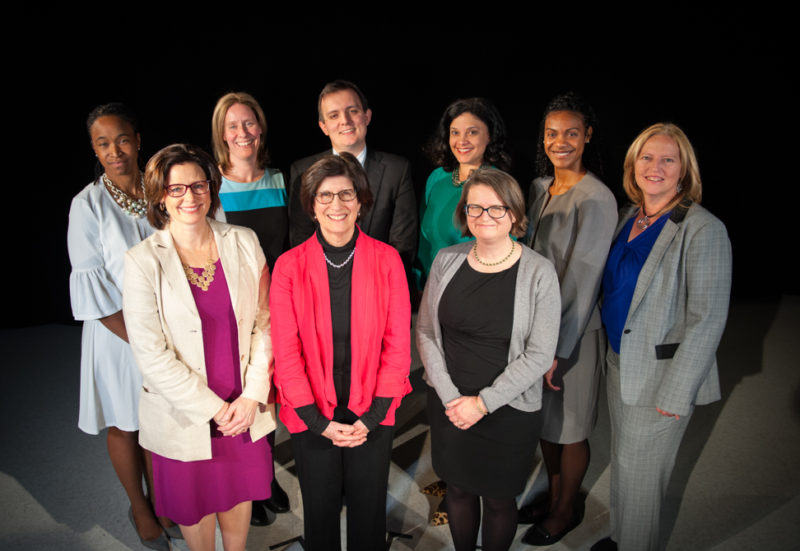 I am delighted to officially welcome our new Board and look forward to collaborating with them on fulfilling the vision of the school division over the next three years. This is our opportunity to make ACPS the best it has ever been through meeting students where they are and not where we want them to be. It takes commitment, dedication and time to do this work and I want to thank them for their service," said Superintendent of Schools Dr. Gregory C. Hutchings, Jr. who led the proceedings.
Following the induction ceremony, Cindy Anderson was elected Chair of the Board, while Veronica Nolan was elected Vice Chair. The chair and vice chair serve for a year each. The new board will serve until December 31, 2021.
I look forward to working with our new and returning Board members to continue to fulfill the vision of ACPS to see every student succeed," said new Board Chair Cindy Anderson.
Watch the induction ceremony.
Thursday, January 10 Board Meeting
The Superintendent announced his proposed FY2020 Operating Budget, while the School Board inched a little closer to a vote on the strategy for the future high school with an update on the recommendation for a connected high school network.
If you didn't watch the meeting live, you can watch the January 10 meeting online and see the agenda and meeting documents.
Don't forget that you can also watch all Board meetings live from the comfort of your sofa on ACPS-TV, local cable channel 71 and ACPS-TV online. You can also watch all meetings recorded online.
Presentation of the FY2020 Combined Funds Budget
Superintendent of Schools Dr. Gregory C. Hutchings, Jr. announced his Operating Budget that funds the operations of the schools, and makes up the Combined Funds Budget when combined with grants, special projects and school nutrition funding. The Operating Budget focuses on ensuring equitable distribution of resources among students and improving standards of excellence, both in the classroom and for school facilities. It is scheduled to be adopted by the School Board on February 21.
FY2018 Comprehensive Annual Financial Report
ACPS ended the fiscal year in sound financial condition and the FY2018 Comprehensive Annual Financial Report reflects that ACPS continued strong and fiscally prudent management practices.
Update on the Recommended Option for The High School Project
Is ACPS ready for a connected high school network? A connected high school network, which is the option being recommended by the superintendent and ACPS administration, is based around research that demonstrates the way students will be learning in the future. A connected high school network can be designed for future flexibility, provide a variety of select program courses, and operate administratively according to the needs of the high school. This approach addresses the need for flexibility of space.