A message from Dr. Gregory C. Hutchings, Jr., Superintendent of Schools.
Since I last updated you at the end of August, I have been pressing ahead with the work outlined in my 100-Day Entry Plan. The plan is based on making sure we achieve our goals set out in the ACPS 2020 Strategic Plan, which aims to see Every Student Succeed.
As part of my 100-Day Plan, I will be conducting listening tours to make sure I am getting an even clearer picture. I'd like to know what you think is going well in our schools, what your hopes are for our schools and what advice you have for an instructional-focused superintendent. Please register to join me on my upcoming listening tour to share your thoughts:
TUESDAY, OCTOBER 30
6:00 – 7:30 p.m.
George Washington Middle School
1005 Mt. Vernon Avenue
THURSDAY, NOVEMBER 1
6:00 – 7:30 p.m.
Francis C. Hammond Middle School
4646 Seminary Road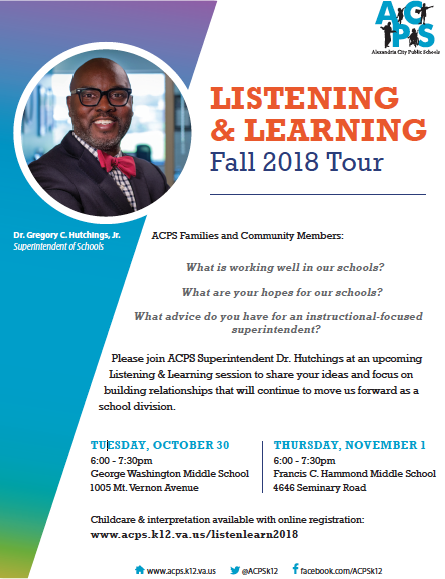 Much of my work in the past six weeks has been focused on reviewing evaluations and assessments that help paint a better and broader picture of the school division. These include the Human Resources Audit, the Students with Disabilities Evaluation and assessments of our facilities that need some work.
I have continued to build my relationships with the City Manager and School Board members, meeting with both regularly. This collaboration is powerful as it allows for projects such as the modernization of the Parker-Gray Memorial Stadium to move ahead as planned.
These are also exciting times for the future of programming at the high school level and in late August we launched The High School Project: Inspiring a Future for Alexandria. As part of the work to create an educational vision for Alexandria that will be presented to the School Board on November 8, I welcomed two focus groups from the business community and higher education community to listen to their ideas.
Since August I have also met with the President of Northern Virginia Community College to discuss the early college program and launched the Governor's Health Sciences Academy at T.C. Williams High School, in the presence of Virginia Governor Ralph Northam.
In September, all schools and departments presented School Improvement Plans aligned with the work of the ACPS 2020 Strategic Plan and these are currently in the process of being reviewed. This month, central office administrators and I met with all principals to review their quarterly data and analyze achievement gap disparities in math, science and reading. I also reviewed the Students with Disabilities audit and provided input for the draft action plan for next steps.
I met with the Chief Human Resources Officer to review the HR audit and we began an outline of a recruitment and retention plan for the division. We hired an acting Chief Financial Officer to carry ACPS through the budget process, have worked to create a framework for the operations (PDF) and capital improvement (PDF) budget priorities and the overall budget process (PDF) and reviewed the five-year fiscal forecast. Finally, on a lighter note – but just as important – I have established a monthly staff payroll deduction system to support the Scholarship Fund of Alexandria. This is just one more way in which we are supporting our students and helping them get to college.
We know that the unusually wet, warm fall has created some issues for our buildings and we need to make sure that all our buildings are comfortable, safe and dry in the future. To get to this, there will be a division-wide assessment of all facilities starting in the early winter. This will give us a better idea of what we need to do to ensure our facilities are at the standard expected of us at all times.
I am now halfway through my 100-Day Entry Plan and already feel like I have achieved a lot. The findings will be presented to the School Board in January 2019 once the 100 school days are complete. You can learn more about the 100-Day Entry Plan online.