Today, we are sharing a very important survey to assess your views on the reopening of our school buildings and how you think we can improve the Virtual PLUS+ model. Education is truly a community partnership and it is most effective when all of us pitch in with ideas and feedback. Now, more than ever, we need your views as we grapple with the difficult decision of whether it is feasible to begin in-person instruction for students and staff in our classrooms.
These surveys are critical for us to continue to check your views, better understand your needs and provide options that work for staff, students and families to the best of our ability. Please take a few minutes to complete this survey by Oct. 4 at 11:59 p.m. Results will be discussed with a recommendation to the School Board at their meeting on Oct. 15.
As part of the community engagement process to consider a name change for both T.C. Williams High School and Matthew Maury Elementary School, the first of three community "Read-Ins" about Thomas Chambliss Williams was held last Thursday evening. It was a fascinating and enlightening event. As we consider the process to change the name of Alexandria's only public high school and that of Matthew Maury Elementary School, it is important to know the raw truth of the man who was the superintendent of ACPS for almost thirty years and whose influence we still see in our schools and city today. Thank you to our amazing hosts, professor Douglas Reed and Kennetra Wood, ACPS Executive Director of Equity & Alternative Programs, who has spearheaded our program to teach racial justice to our students. Join us tomorrow at 7 p.m. for the second read-in of the series.
Please mark your calendars for our upcoming professional development day on Oct. 12. The division-wide theme for the day is Instructional Best Practices. Find more details below.
Finally today, I want to congratulate our three National Merit Scholarship Semifinalists Aiden Crowe, Nikolai Kosinski and Caroline Winakur and wish them all the best as they progress through the competition. It is always so exciting to announce our semi finalists and I'm honored to recognize each of them.
Stay safe, stay healthy, stay informed.
Sincerely,
Dr. Gregory C. Hutchings, Jr.
Superintendent of Schools
Oct. 12 Professional Development Day: Instructional Best Practices
The division-wide theme for the Oct. 12 professional development day is Instructional Best Practices. We expect that school-based staff will benefit from the targeted professional learning workshops. All content will be aligned with the division's goal areas of the 2025 Strategic Plan: Equity for All. Specifically, this day will focus on the goals of systemic alignment and instructional excellence.
Staff should reflect on their progress this year, and identify strategies that will benefit the individual needs of students in their classes. Administrators and staff can collaborate to ensure that every teacher and paraprofessional has registered for workshops using the Professional Learning Management System (PLMS). Sessions with less than 20% enrollment can be canceled after Oct. 7.
All staff should register for their sessions in PLMS by Oct. 6. Sessions can be scheduled during three blocks of time. There will be a morning session from 9 to 11 a.m., an afternoon session from 12:30 to 2:30 p.m., and a larger full-day time block from 9 a.m. to 2:30 p.m. Sessions will model both synchronous and asynchronous learning, similar to the student experience in Virtual PLUS+.
Full information can be found in the Professional Development Day Memo to School Leadership (PDF).
If you have any questions, suggestions or concerns, please email Cory Kapelski at cory.kapelski@acps.k12.va.us.
The Identity Project: Our First Community Read-In on Thomas Chambliss Williams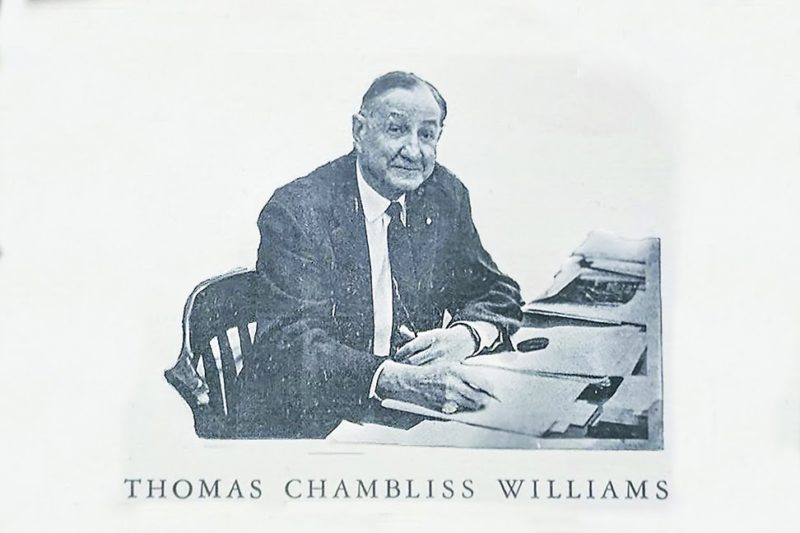 Last Thursday night, hundreds joined a fascinating discussion led by Georgetown University professor Douglas Reed and ACPS Executive Director of Equity & Alternative Programs Kennetra Wood, about the man our only high school is currently named after.
During the first in a series of three of these events, professor Reed discussed seminal moments in the career of T.C. Williams.
We learned that Williams was a man who, in his own words, had "no aspiration" for schools in Alexandria "to be spectacular," who fought desegregation, and who fired a staff member for joining the lawsuit for the right for her daughters to attend a previously all-white school. The ties to systemic racism is still visible in our schools today.
These "Read-Ins" are intended to lay the historical groundwork as the School Board considers changing the names of T.C. Williams High School and Matthew Maury Elementary School.
Read a full summary of the read-in session.
If you missed the event, you can watch it in full on ACPS-TV, cable channel 71 in Alexandria on Sept. 30 at 8 p.m. or Oct. 2-4, daily at 7 p.m. Watch the full event or see the highlights video.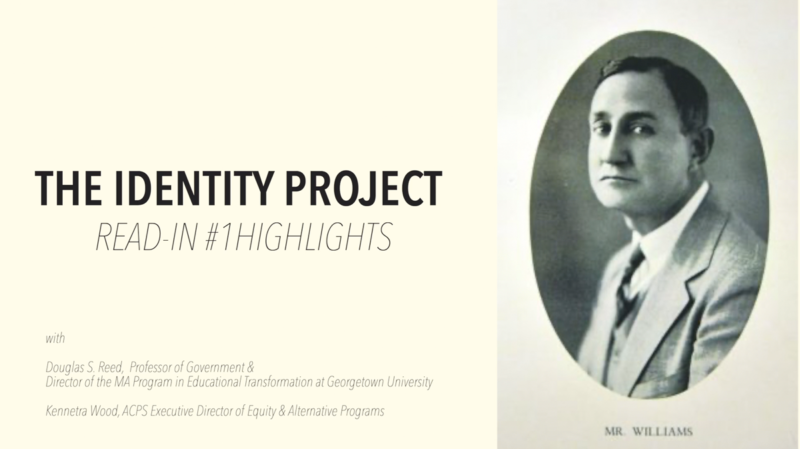 Read-In #2: Alexandria's Role in Massive Resistance and School Segregation
NOTE TIME CHANGE: Oct. 1, 7-8 p.m. on Zoom.
At the second Read-In of the series, Dr. Reed will present from his book, "Building the Federal School House" and discuss how Alexandria City took part in Virginia's Massive Resistance, and what role our city leadership played in fighting the integration of our schools. This discussion will offer a glimpse into what it was like for Alexandria students during this difficult time in our history. ACPS Executive Director of Equity & Alternative Programs Kennetra Wood will co-host and identify ties to systemic racism rooted in our system. There will be a short Question and Answer period following the discussion.
In addition to the three Identity Project read-ins, we have a series of community engagement events planned throughout October leading up to the School Board vote on Nov. 23. These include: 
Three community conversations on Oct. 14, 21 and 28

A Family Forum to discuss Matthew Maury's proposed name change on Oct. 26

Three student chats Oct. 7, 13 and 20
See a listing of all Identity Project engagement opportunities.
Congratulations to our National Merit Scholar Semifinalists
When Aiden Crowe, Nikolai Kosinski and Caroline Winakur reached eighth grade at George Washington Middle School, their math ability was such that the trio were literally in a class of their own.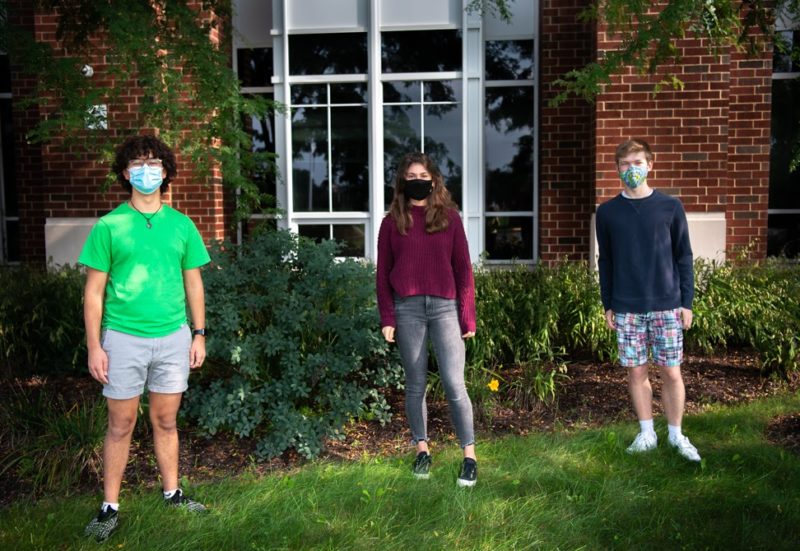 Algebra II with Sarah Devito became a class of three as teachers sought to individualize learning in the subject area they all excelled at. They have remained good friends ever since.
Earlier this month, the T.C. Williams High School seniors discovered they had all been named National Merit semifinalists after outstanding results in the PSAT/National Merit Scholarship Qualifying Test last October.
They waited a year before they heard of their success. Read more.
Responding to Your Feedback on Virtual PLUS+
As we previously shared, ACPS has established a Virtual PLUS+ Learning Advisory Team, consisting of a teacher representative from each grade level from every elementary school. The advisory team includes teacher representatives from Encore, Specialized Instruction, English Learners (ELs), and Talented and Gifted (TAG) as well as core and elective teachers from the secondary schools. A chair from each elementary grade level and secondary core and elective area's Virtual PLUS+ Learning Advisory Team will serve on the division's Teaching, Learning, and Leadership Team.
Based on preliminary feedback from this team, ACPS is already reviewing and adjusting its schedules and Virtual PLUS+ model based on your feedback. We will be making further adjustments based on the survey, which is open until Oct. 4. Some of the adjustments include:

The distribution of Learning Packets beginning Nov. 4

Defining "breaks" for families

Implementation of concise mini-lessons to align with best practice in a virtual environment, which calls for more precise language to reduce "I do/We do" direct instruction to 7-10 minutes

Revision of the schedule and pacing to ensure appropriate space for testing requirements

Supplying of headsets for all English learner students starting Oct. 5

Communication of guidelines and teaching procedures for students to back completely away from their devices during scheduled breaks and during asynchronous learning blocks throughout the day

Formation of a scheduling crew to examine K-2 schedules for adjustments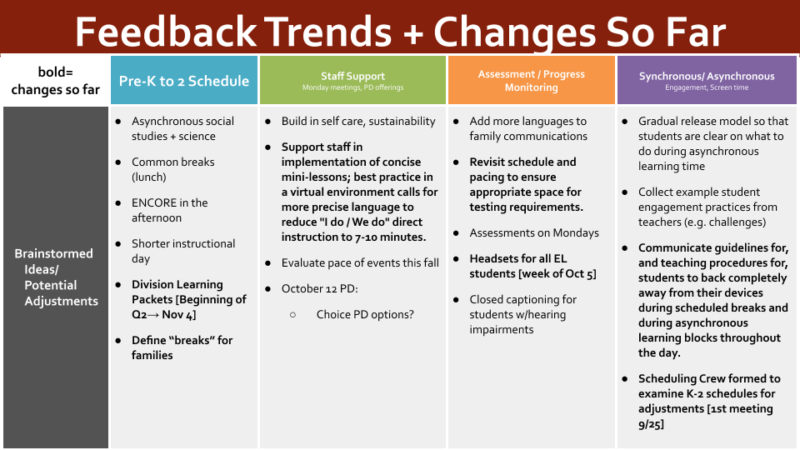 Follow all the work of the Learning Advisory Team on the ACPS Virtual PLUS+ website.
ACPS Graduation Rate Holds Steady Amid National Concerns Over High School Dropout Rates
The ACPS graduation rate for 2020 stayed steady at 82%, data from the Virginia Department of Education released today.
The level graduation rate is a particular achievement during a year of unprecedented educational upheaval. Students struggled to stay connected when schools moved to an all-virtual model on March 13 — a critical time for many to complete the requirements needed to graduate on time.
Experts are already predicting a large increase in the number of high school dropouts nationwide. Many students have already opted to work to help support their families during tough economic times, and others are taking care of siblings in the absence of other child care. Struggling students will be on a path to missing important course credits, making it more difficult for them to graduate on time without major intervention efforts. 
Anecdotally, ACPS has learned that its students faced difficult decisions to keep up with their academic schedules while supporting family life, which may have caused them to relocate or find alternative means to contribute to their families after employment options became scarce and food insecurity increased. ACPS has already seen the effects of this on our data. The dropout rate for ACPS was higher than usual this school year at 14%.
"While we are able to provide all our students with access to technology and online learning, this does not take into account the personal struggles many are facing at home as a result of the economic downturn and schools and businesses being closed. Our graduation rate stayed steady despite the difficult circumstances presented by the pandemic, however, we need to continue to work with our students to remove barriers that prevent them from graduating on time as well as provide necessary social, emotional and academic support to prevent them from dropping out of school," said Superintendent of Schools Dr. Gregory C. Hutchings, Jr.
After years of steady increases in the graduation rate, many education leaders are predicting a sizable jump in the number of high school dropouts during the 2020-21 school year. With more than half of districts using hybrid or remote models, they fear struggling students will be more likely to disengage from school systems. We cannot afford to allow this to be the narrative in ACPS. 
ACPS student support teams have been continuously reaching out to connect with students since schools moved to a virtual model in the spring. When the pandemic hit, they updated individual graduation plans for high school seniors to ensure they were still able to access the credits and resources they needed to graduate. These school-based teams have continued to engage students — particularly English learner students — this fall. ACPS saw 93% of all students engage in at least 50% of their classes in the first week of school and will continue to monitor the data to ensure that students are getting the support they need. For example, in its first week of operation, the ACPS Virtual PLUS+ Helpline took more than 2,367 calls, of which 1,851 were from families who speak a language other than English. 
The ACPS 2025 Strategic Plan: Equity for All outlines the Hispanic graduation rate as one of its key focal points, and ACPS is already evaluating educational programming, supports and targeted interventions for students who may be struggling to meet on-time graduation requirements as part of their work this school year. In addition, ACPS school counselors are prioritizing meetings with current seniors to review progress toward graduation and to discuss postsecondary planning.
Earlier this month, a national coalition of education and civic groups, including the National League of Cities and the American Institutes for Research, met to discuss strategies for reengaging students and to work to get a handle on the numbers of new dropouts the country could be facing. 
For more information on ACPS graduation requirements and academic planning, visit the Program of Studies and Graduation Planning or the Academic Advising pages of the ACPS website. 
Welcome to George Mason Elementary School's New Assistant Principal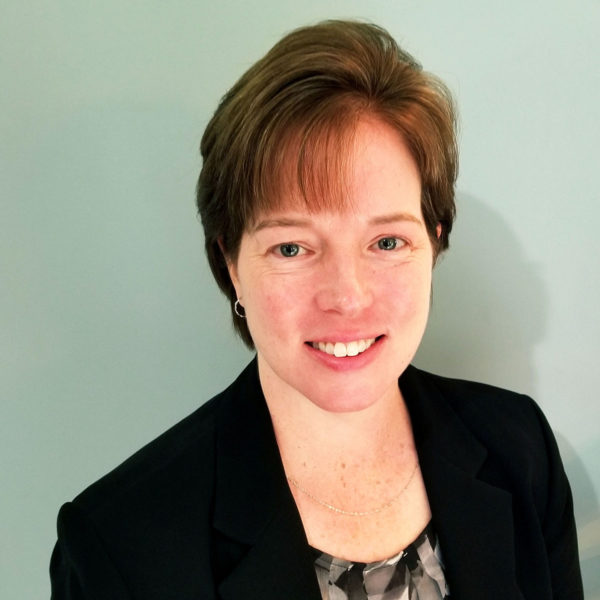 Dr. Eileen Eggert has 20 years of experience in education, 19 of which have been in Virginia public schools. She has worked in multiple capacities in grades K-8, serving as an inclusion general education teacher, instructional coach, and intervention specialist at the elementary level. 
ACPS/Alexandria Police Department Annual Community Review and Feedback Opportunity
On Oct. 1, 2020, ACPS will host a Public Hearing on the Memorandum of Understanding (MOU) currently in place between ACPS and the Alexandria Police Department. Read the current ACPS-APD Memorandum of Understanding (PDF).
Every two years, the ACPS MOU with the Alexandria Police Department requires a review. The goal of this public hearing is to encourage feedback on the agreement to assist ACPS in strengthening its relationship with the Alexandria Police Department and help ensure a safe school environment for our students, staff and visitors on the school campus and grounds.
Members of the public can sign up to speak during the Public Hearing at the School Board meeting on Oct. 1, 2020 at 4 p.m. 
You can also submit your comments via the online survey. This survey will remain open until 11:59 p.m. today, Sept. 30.
There is also a public hearing on the CIP and Combined Funds budgets at the Oct. 1 meeting. Anyone wishing to speak on this topic can sign up to speak in the same way.
Keep Moving! Virtual Dance Party Thursdays
Each Thursday, beginning tomorrow and continuing through October, ACPS health care partner Kaiser Permanente will be hosting a one-hour virtual dance party.
Running from 7 to 8 p.m., staff are invited to join in the fun to help keep the mind and body in good shape.
Temperature Screening at ACPS Buildings
Anyone requiring access to an ACPS facility or school will be required to undergo a temperature check to help prevent the spread of the coronavirus. Testing stations will be established at seven locations, at or close to ACPS meal distribution sites and locations where major summer construction will take place. Screening will take no more than three minutes to complete and will involve the use of a clinical forehead thermometer.
All those with a temperature of 100.0 degrees Fahrenheit or lower (per Alexandria Health Department guidelines) will be given a dated wristband and be cleared to work as long as they are in possession of appropriate personal protection equipment consisting of masks and gloves.
Should an individual record an elevated temperature, that person will be informed that they are unable to report to work at an ACPS site and will be advised to call his or her supervisor.
Find out more about this measure in this Board Brief.
HEALTH REMINDERS
Don't Feel Well?
Contact your primary health care physician.
---
Have questions, concerns or feedback? Contact us or contact your direct supervisor.
HR Questions? Contact hr@acps.k12.va.us.
Stay Healthy!
Wash your hands regularly. Regular soap is OK.