This Week's Headlines:
---
Dear ACPS Staff,
Yesterday, I had the pleasure of hosting the first of two days of community and staff meetings alongside Dr. Stephen Haering from the Alexandria Health Department, Dr. Alicia Hart, ACPS acting executive director of Facilities & Operations, Dr. Terri Mozingo, chief of teaching, learning and leadership, and Dr. Stephen Wilkins, ACPS chief of staff. The meetings are intended to provide all in our community — staff, families and students of all ages — an opportunity to hear about the most current information on COVID-19 in the city of Alexandria, ACPS building and staff capacity, hybrid learning models, and our work around planning for the safe reopening of schools. We are still tirelessly working toward the timeline that the School Board approved (updated to align with the need to defer reentry due to health metrics) to see all students who wish to return to our school buildings by the end of February. While this timeline may need to be adjusted further in the future (as it is difficult to assess how the pandemic will play out) we want to assure you that the work has not stopped and we will be prepared to pivot as needed. 
I have said all along that the reopening of school buildings will be a collaborative, community endeavor and I was heartened to see so many of you on yesterday's first staff webinar. This afternoon, we will host our final meeting for staff. See below for more information and access to the recorded videos.
In addition, today, we are issuing our Family Choice Form to all our families. We cannot overstress the importance of families completing this form. Without this information and the information we have already received from staff, it will be a challenge for us to implement effective transition plans. We were able to receive responses from 100% of our staff and you can see the data below. We hope for the same response rate from our families.
If any of your students or their families reach out to you with questions about the Family Choice Form, please direct them to the Frequently Asked Questions and to call the ACPS Virtual PLUS+ Helpline for additional assistance.
Thank you for your grace and patience during these unprecedented times. Please stay safe, healthy and engaged! 
Dr. Gregory C. Hutchings, Jr.
Superintendent
Watch Our Staff Meetings on School Reopening
Yesterday we held our first of two staff meetings to give updates about the most current information on COVID-19 in the city of Alexandria, ACPS building and staff capacity, and our next steps for planning a return to school buildings.
Our panelists answered your questions and provided the latest information. Panelists included Superintendent Dr. Gregory C. Hutchings, Jr., Dr. Stephen Haering (Alexandria Health Department), Dr. Alicia Hart (ACPS Facilities & Operations), Dr. Terri Mozingo (ACPS Chief of Teaching, Learning and Leadership), and Dr. Stephen Wilkins (ACPS Chief of Staff).
If you missed yesterday's meeting, tune in to today's staff meeting at 4 p.m. on Zoom.
Recordings of both meetings will be posted on the ACPS website.
Staff Intent-to-Return Results
One hundred percent of our current ACPS staff members completed a Staff Intent-to Return Form that was distributed last month. Approximately 55% (1,418) of our staff reported being able to return to work in person.
Of our 1,290 classroom teachers, 690 or approximately 55% said they would be able to return. Those who felt unable to return listed factors including being over 65 years old, having an underlying health condition, caring for someone with an underlying health condition, child care difficulties, and being fearful of returning to the workplace.
See the full results on slides 7,8 and 9 (PDF) of the presentation given to the School Board on Nov. 23.
SOL Flexibility for Elementary and Middle School Announced
Elementary and middle school students will be able to take ACPS' own assessments instead of Standards of Learning (SOL) tests in history and social science and English writing this spring. The flexibility announced late last month by the Virginia Department of Education is to allow for the challenges of in-person testing as schools across the state contend with the coronavirus pandemic. Students will still be assessed, but waivers and emergency guidance will simplify the logistics and ensure no child is penalized unfairly because of the current learning circumstances.
Read the full Virginia Department of Education announcement.
Don't Miss December's ACPS Finding Fit Newsletter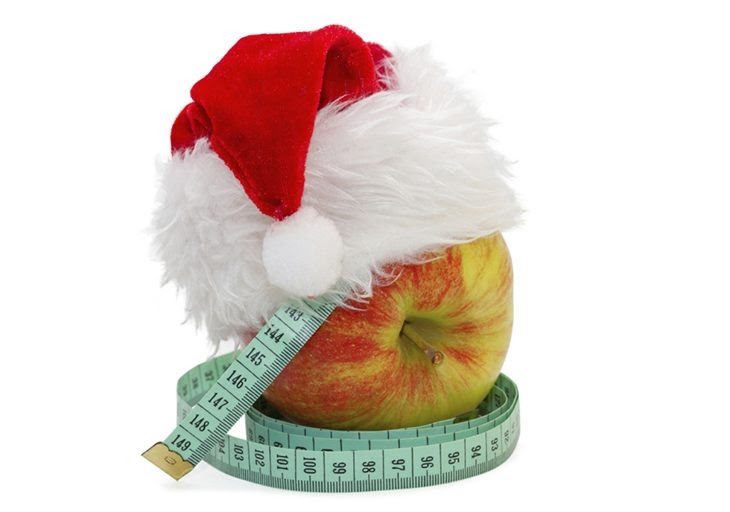 Stay safe, stay healthy, stay informed! December's monthly ACPS Finding Fit newsletter is now posted on the ACPS Finding Fit webpage. 
In this issue you will find:
Tips on staying healthy in mind and body through the holiday season

31 recipes to try out throughout the month

A gratitude quiz to keep your spirits high
Lyles-Crouch Student Andras is Out of This World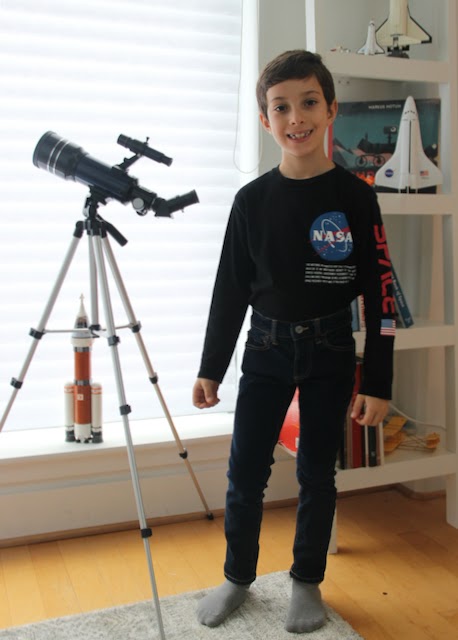 For all those who hold a fascination with outer space, the chance to ask a question to an astronaut on the International Space Station is beyond their wildest dreams.
Not for Lyles-Crouch Traditional Academy (LCTA) second grader Andras Jacobson, who is one of just a handful of children from across the United States about to get the chance to quiz their heroes.
Tomorrow, Dec. 3, during a live NASA streaming event, the question he submitted as part of a nationwide competition is expected to be answered by astronaut Victor Glover, broadcasting from the space station, 240 miles above Earth.
According to Andras' mother, Judit Csonka, her son's question relates to the muscular system in space. Last week, the astronauts were conducting a human research study observing their muscular system in space.
Andras said he is thinking about becoming an astronaut, but "is not sure yet."
"I am very interested in space and specifically if there is life anywhere else in space."
When he got the news his question had been selected, he said he felt, "excited and very happy. I could not believe that I was chosen from thousands of people."
"Here on Earth I know how our muscles act, but in space it may act differently. I am also interested in the human body."
You can tune in to NASA's programming at 12:30 p.m. beginning with a preshow before the livestream from space, so students can learn more about Glover and his collaboration with the Smithsonian. 
The entire show will be broadcast on the STEM in 30 — Air and Space Museum Facebook page and the livestream from space can also be viewed on the NASA website.
Proud Lyles-Crouch Principal Dr. Patricia Zissios said, "As educators, we use platitudes with children to 'reach for the stars' and 'the sky's the limit,' never knowing what impact those phrases may actually have on our students. Well, at Lyles-Crouch Traditional Academy, second grader Andras took his natural inquisitiveness about the impact of weightlessness on the muscle strength of a human body to the real experts: NASA astronauts in space." 
"Andras exemplifies critical thinking and scientific inquiry through the use of primary sources at its best. I am so proud of our own LCTA Lion."
In ACPS, We Read! We Read! We Read!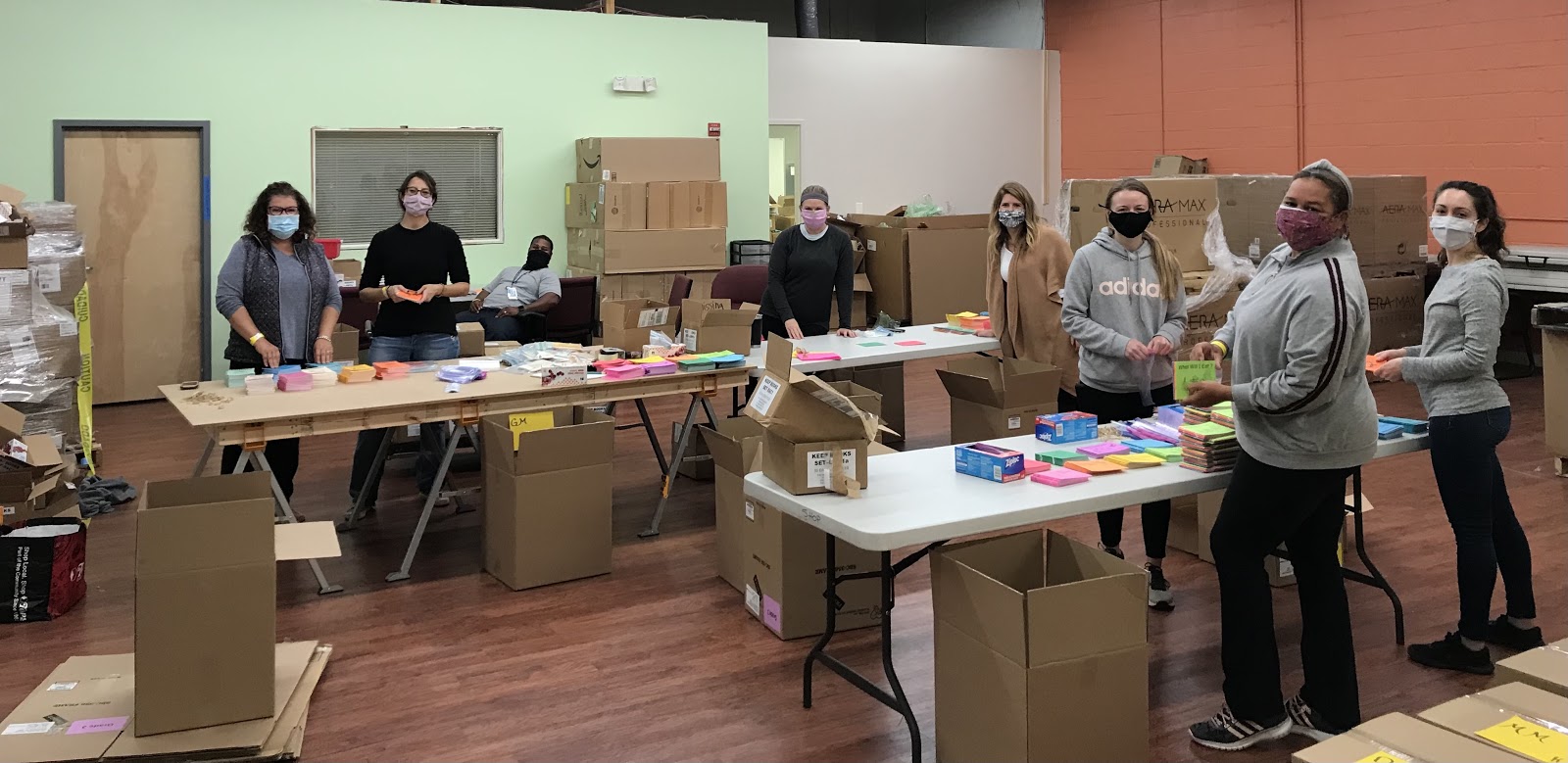 Thanks to Coronavirus Aid, Relief and Economic Security (CARES) Act funding, our elementary schools will be distributing beginning readers books for all kindergarten and first grade students.
Volunteers worked together before the Thanksgiving break to bundle and bag "Keep Books" for ACPS' youngest readers who will receive their bag of eight books at their schools' next distribution events in the coming weeks. We are excited to be getting some print books in the hands of our beginning readers! 
Listen to George Mason's Heather Rosner on the Alexandria Times Podcast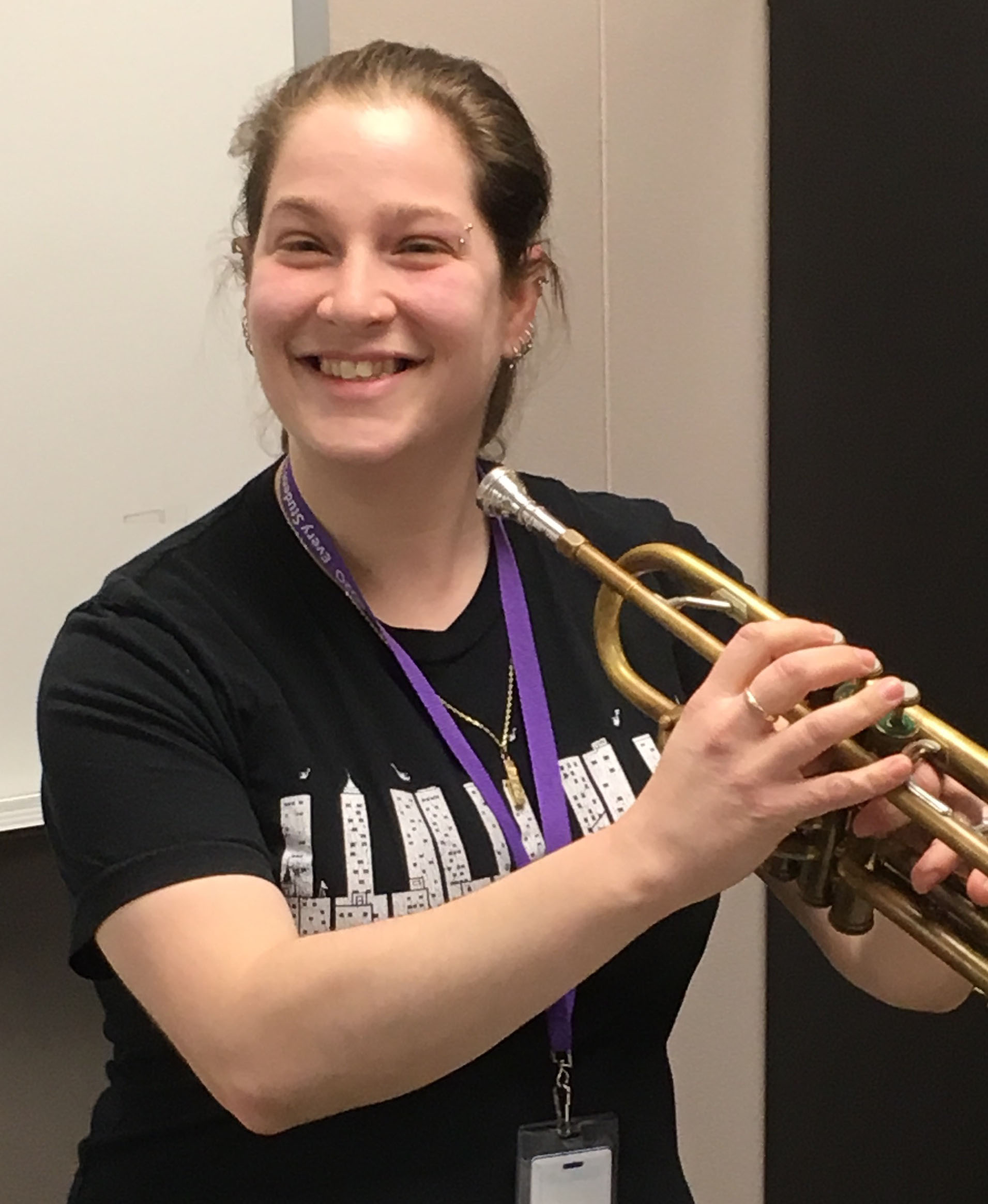 George Mason Elementary School band teacher Heather Rosner was the monthly guest on the latest episode of 'Speak Easy,' the Alexandria Times podcast. She spoke about teaching music during the coronavirus pandemic and the importance of music education for young students. 
Temperature Screening at ACPS Buildings
Anyone requiring access to an ACPS facility or school will be required to undergo a temperature check to help prevent the spread of the coronavirus. Testing stations will be established at seven locations, at or close to ACPS meal distribution sites and locations where major summer construction will take place. Screening will take no more than three minutes to complete and will involve the use of a clinical forehead thermometer.
All those with a temperature of 100.0 degrees Fahrenheit or lower (per Alexandria Health Department guidelines) will be given a dated wristband and be cleared to work as long as they are in possession of appropriate personal protection equipment consisting of masks and gloves.
Should an individual record an elevated temperature, that person will be informed that they are unable to report to work at an ACPS site and will be advised to call his or her supervisor.
Find out more about this measure in this Board Brief.
HEALTH REMINDERS
Don't Feel Well?
Contact your primary health care physician.
---
Have questions, concerns or feedback? Contact us or contact your direct supervisor.
HR Questions? Contact hr@acps.k12.va.us.