ACPS is celebrating six new and renewed National Board Certified Teachers!
ACPS has an exceedingly high number of National Board Certified Teachers who have reached the top level in their professional career. We now boast more than 84 National Board Certified teachers and counselors.
What does having National Board Certified teachers in the classroom mean for children?
Better teaching practices means more effective teachers and better outcomes for students. Students of Board-certified teachers learn more than their peers without Board-certified teachers and the positive impact is even greater for minority and low-income students*. As part of its commitment to ensuring a highly effective teacher in every classroom, ACPS pays the certification fees and provides ongoing support through a mentoring cohort for teachers who choose to pursue National Board Certification.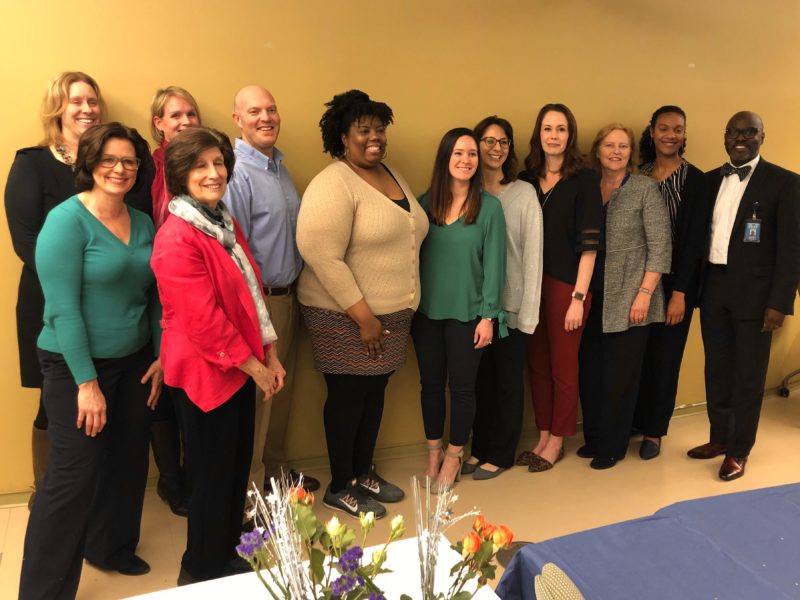 Kelly Davis has been teaching for 14 years. She has taught in California, Chicago, and nine years in Alexandria. Kelly has worked as a first grade teacher, reading specialist, and special education teacher in ACPS. She is currently a kindergarten teacher at Samuel W. Tucker Elementary School and has been there for four years. Kelly is National Board certified as an Early Childhood Generalist.
Ericea Davis-Buchanan teaches at Francis C. Hammond Middle School in the International Academy. She is an Early Childhood Generalist National Board Certified Teacher. She's also certified in Early/Primary Education, Middle School English Language Arts, English for Language Learners K-12, and Administration & Supervision PK-12. She has served as a middle school English Language Arts, ELL Resource, Third Grade, Second Grade, and Kindergarten teacher during her 16 years as an educator. Additionally, she has been a School Administrative Designee, Summer School Administrator, Grade Level Chair, Team Leader, Family Engagement Chair, Red Ribbon Week Chair, and MultiCultural Club Sponsor. She is currently pursuing a second Masters Degree in Curriculum and Instruction-Reading Education from the Curry School of Education at the University of Virginia.
Kourtney Keen has been teaching kindergarten at John Adams Elementary School for the past 19 years. She has been Nationally Board Certified since 2010 and was John Adams Teacher of the Year in the 2018-19 school year. When she is not teaching, Keen enjoys traveling the globe.
Abby Lower has been teaching at Cora Kelly School for Math, Science and Technology for seven years. She serves as the school's AVID Site Coordinator and Extended Day Coordinator. Currently she is teaching reading intervention, TAG reading, and TAG math. Abby earned the National Board Middle Childhood Generalist Teaching Certificate.
Maria Magallanes has been teaching for the past 22 years. She joined ACPS in 2009 and has been at Cora Kelly School for the past 11 years as a reading specialist. She is currently the Literacy Coach at Cora Kelly and works with K-5 teachers and students. In 2015 she won the Washington Post Agnes Meyer Outstanding Teacher of the Year Award for ACPS. She earned her national board certification in Literacy: Reading-Language Arts for Early and Middle Childhood.
Ben Matthews earned a certification in Science (Biology) – Adolescence and Young Adulthood. He is a Biology Teacher at the Minnie Howard Campus of T.C. Williams High School. He is the Co-Department Chair for Science, and the STEM Academy 9 Coordinator, and is in his 18th year of teaching, seven of them in ACPS.