T.C. Williams High School is known for its opportunities. Now two T.C. students have shown how they have used those opportunities offered through their civics and science classes to excel in national and international competitions.
T.C. Williams junior Ana Humphrey recently won Best in Category at the Intel International Science and Engineering Fair (ISEF), and junior Aidan White will compete at the national stage of the National History Day competition next week.
Each year, several hundred middle school students embark on months-long journeys to extend their learning through the ACPS Science Fair and National History Day projects. It was through these rigorous projects that these Titans eventually made it to the top.
Ana Humphrey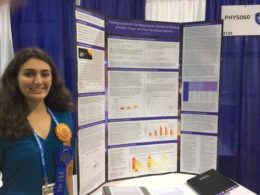 From her earliest years, Ana was always a very curious child. The daughter of two ACPS teachers, Ana was in school long before she could read or write, going to art class with her mom or working on the next math or science problem with her dad.
I was very unsatisfied with being told to memorize things. It just wasn't enough for me, so I asked a lot of questions. I wanted to understand things. I wanted to know how something worked and why something happened and not just know the rule of thumb," said Ana.
Ana's parents fed this passion, as did her science teachers. When Ana was in seventh grade she really flourished in Mary Breslin's science class. Breslin encouraged her students to use science as a tool to explore the world around them and to find local issues to address.
The research that Ana conducted for her science fair project about water contamination in Four Mile Run evolved into a wetland restoration project to address waterborne bacterial contamination. It lives on as a non-profit organization she founded, Watershed Warriors. This student-led organization writes and teaches hands-on lessons focused on the environment to local fifth graders in ACPS and beyond.
At T.C., Ana has continued to flourish in her scientific pursuits and has been recognized at numerous science fairs and competitions. Only three ACPS students have made it to ISEF in the past 10 years. Ana won Best in Category — one of the top 22 projects out of 1,800 international finalists this year, representing more than 75 countries, regions and territories.
Ana cites the numerous other ACPS students who have also excelled in science at the state and national levels and the tremendous amount of support she and others have received from their ACPS science teachers over the years.
It's not every school that will help fund a trip to California to go to a science fair. It's not every school where you have a teacher like Ms. Lowe, who is willing to sit down and read a 20-page paper again, and again, and again and find every little thing that you can do to perfect it. I have so many peers that have done really well in state and national competitions. It shows how strong our science program is at T.C. that we have all of these students performing at the state and national levels and really holding their own," said Ana.
As Ana prepares to head into her senior year, she looks forward to a future where she can continue her own scientific exploration while also mentoring others, perhaps as a professor with a research lab. She'd like to be able to teach and bring students into the lab where she can help them develop their own interests. As a professor, she could continue to pursue her curiosities while helping others do the same.
When thinking about the younger set who might be intimidated by doing a science fair project, Ana conjures Pablo Picasso, "Every child is an artist. The problem is how to remain an artist once he grows up." Ana feels similarly about science.
Every kid starts out as a scientist, as someone who is curious and willing to explore the world. Some kids, as they get older, they become afraid of that side. Continue to allow yourself the space to go out and explore in your backyard or the park. Learning how to make games instead of just playing them. Take it one step beyond what you are learning in class and allow yourself to be a little uncomfortable. Because ultimately, when you don't know something, it's uncomfortable. But if you never allow yourself to be uncomfortable, then you'll never learn anything new," said Ana.
Aidan White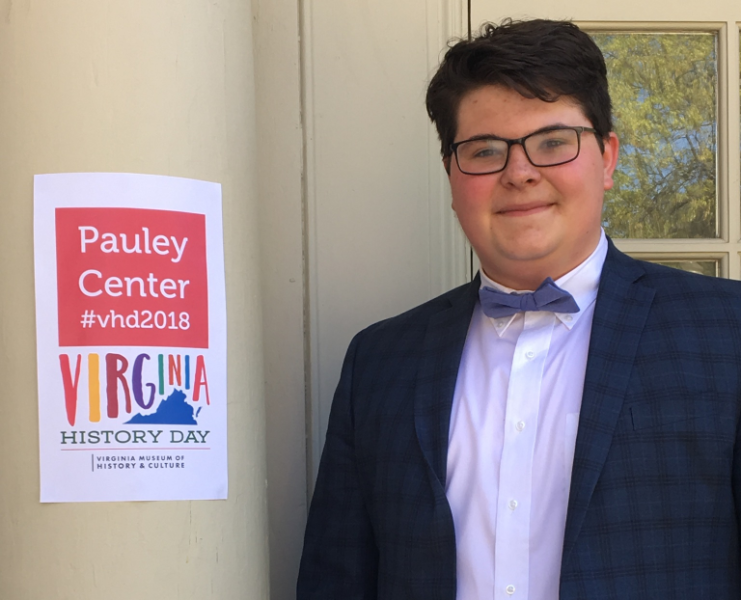 Before he'd even entered elementary school, eleventh-grade Titan Aidan White had already launched his young career in the theater. By eight, he was doing full-scale theatrical productions. By the time he'd reached middle school, he'd also developed a love of history, so the National History Day (NHD) Competition was a perfect outlet.
In high school, there is less emphasis on NHD. So when his AP World History teacher Molly Freitag presented the opportunity to participate in NHD in tenth grade, the timing was ideal. It was around this time that his passion for the theatrical production of Hamilton had blossomed. As a history buff and musical theater fan, it was only natural that he marry the two, and his history day project was born: "Alexander Hamilton, Aaron Burr and the Choices We Must Make."
It was a perfect storm for me. I was listening to Hamilton and connecting to the theme at the same time that the 2016 election was starting to gear up. It was the first presidential election that I really paid attention to. Since that time during my freshman year, I've really become interested in pursuing a career in politics. And Hamilton did a lot to shape that. I'm really happy that I'm able to use something like National History Day as a medium to celebrate the story that created my passion for politics," said Aidan.
Aidan really connected with the main theme of the show, which to him was about leaving a legacy and building something that will outlive you; something that is greater than you. This fueled his interest in the musical and then later Hamilton as a person. Throughout his life, Hamilton was obsessed with this idea of doing something that would change the world and that would outlive him.
Up until the last year or so, Aidan was committed to pursuing a career in theater and acting. As he began to pay more attention to political issues he realized that his real passion is in politics and in changing the world.
History repeats itself, drawing parallels between events now and in the late 1960s. In 1968, in particular, there was a lot of division between the democratic and republican parties and it's so similar to the divisions we see today. And the social divisions we saw during that time are also similar to the ones that we are seeing today. I would really like to do something to stop history from repeating itself again," said Aidan.
Aidan won first place in the Individual Performances category and was awarded the George Washington Leadership Prize at the regional competition. He took first place at states and earned a special award from the Sons of the American Revolution. He'll compete in the nationals at the University of Maryland, June 10-14.
His 10-minute individual performance explores the infamous bitter rivalry between Hamilton and Burr and the infamous duel that resulted in Hamilton's death. His performance focuses on the history versus the character. He uses a "conspiracy board" that he created, plied with images, facts, pushpins and a web of red yarn connecting the dots. The board illustrates the history of the two men, their relationship and the coincidences that impacted them. He then reflects on the idea of choice.
We are all going to end up facing some sort of conflict the way Hamilton and Burr did, just through coincidences, but in the end, it will be our choice whether or not we'll work together to reach a compromise or we'll point guns at each other and shoot," said Aidan.