Troy Isley was a student quick to tangle with others, but his principal, Dr. Patricia Zissios, saw him as a young man brimming with untapped potential. Years later the AIBA World Boxing Bronze Medalist and Olympic hopeful stopped by to visit with her. Read transcript.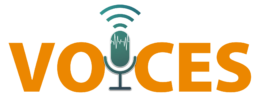 Bringing You the Voices That are the Heart and Soul of ACPS
"Voices" is a new an audio series that shares the stories of our students, families and staff—in their words and in their voices. Everyone's story is different. Success looks different for every person. "Voices" celebrates these differences and successes by sharing the stories that are the heart and soul of ACPS.
Look for new "Voices" once every couple of weeks. They'll also be archived on our website to that you can listen to them whenever you wish and share them with others. And, stay tuned for details in the coming weeks about how you can submit your story suggestions for consideration.
---
Transcript:
Narrator:
Troy Isley was a student quick to tangle with others, but his principal saw him as a young man brimming with untapped potential. Years later, the world boxing bronze medalist and Olympic hopeful stopped by to catch up with her.
(PZ) Hey Troy! It's good to see you again! So when you were at Lyles-Crouch, you spent all of your years with me. You were there from kindergarten all the way through fifth grade. And I mean, I know I have some memories of Lyles-Crouch and wasn't sure if you did as well.
(TL) Yes, I do. I do have some memories as well.
(PZ) Is there anything in particular that you want to talk about or recount?
(TL) I would. I remember one time I got, I think, the one for the bus. I think my dad came there and then he was, uh, he was like man you guys like calmed him down.
(PZ) As I remember Troy, even from the time you came in as a kindergartner, you were really sweet. You were always very respectful. You never would really be rude to one of the adults and the problems seemed to be that the kids knew how to push whatever buttons that you had. They would instigate things. So I know that as we went through the different years that you ended up being actually pushed into the middle of things. And your little anecdote about the bus was somebody had taunted you. And they were more to the back of the bus, so I think you might have been a few seats ahead of them, and you couldn't get up so you crawled over the top of the seats. You were crawling across the top while the bus was moving. So that's where I had to call your father because the bus driver wanted you put off. But that was just one of several. You used to end up in fights that weren't even of your own making. They knew, some of your peers knew, that if they got you going that you would actually go in there and you would be the one throwing all the punches. But I think some of the teachers, I think there were teachers that you probably can recall that would always be there — would be standing up for you — and letting you know that they cared.
(TL) Mr. Caine, he dealt with a lot. I put them through a lot. That year was crazy. Ms. Gross. Yeah Ms. Gross, Mr. Caine, and I'm gonna say probably Ms. Cruz.
(PZ) Yeah, Miss Cruz would have been your second-grade teacher and Mr. Slovinski was there through thick and thin. He was the one that he used to run interference all the time. But I do feel that because your family was there, because I remember one of the major fights you were in your father came in and Mr. Slovinski was trying to calm him down as well. It was about your dad saying we moved here for you to have a better upbringing and for you to have a better education. And you think you're some kind of a gangster street thug. Do you remember that one?
(TL) Mmm, yeah.
(PZ) And something to that effect which made him realize that maybe if you wanted to fight, it would be better for you to go and actually get it. Boxing and get trained.
(TL) Train. Use them legally.
(PZ) Use them legally and put forth the effort. And did you find that when you were first starting out that that was something that you really wanted to do?
(TL) I played football for three years before so I was more than just finished with football at the time. But when I started boxing I didn't like it at first, but you know once I started getting good I started, you know, actually to just try it out. After a while, once I start getting really good, my dad was like here you might as well at not play football, you're better at this. I started to see that I was. I had natural, I had a more like natural talent like that. And I did.
(PZ) Did you feel like some of the training that you had with the football, maybe the strength training and the agility, did that help you any when you transition into boxing?
(TL) No, it was it was like it was a rec league, so we didn't do a lot of strength training. We just practiced every Monday through Friday then we had a game on Saturday or Sunday. We didn't do a lot. It was just, you know, boxing and it boxing also you know humbled me as a person. And you know I wasn't so quick-tempered when I would like, now if I were like to fight, you know, I would give people chances. No game. I'd give them a warning. If you don't even pose a threat I wouldn't even fight you. I'd be like bro, just go. You know what I'm saying? Then you know, if you said anything — I just, you know, snap. You know boxing taught me how to control myself.
(TL) Were you ever ready to kick me out at one point?!
(PZ) So my philosophy is that if I put you out of school then you're not able to learn. So I really believe in keeping kids in the school and working with them and finding all different types of alternatives and working and partnering with parents to make sure that we meet your needs. And we knew that innately you really wanted to do well and you were not … you were never a bad child. You make bad choices and I think that's what really was more of a saving grace and there were some times that I may have been tempted to try to send a message but that message would not have been one that would have encouraged you to actually stay with us and really try harder. But you know you got chance after chance after chance and you realize that in life there are a lot of opportunities that you may squander, but at the end of it all, if you've got a support system and people have given you the right chances, that you will succeed. So you know Troy, I did not put you out and I doubt seriously if I would have done it today.
(TL) And I do remember fifth-grade graduation you giving me that award and on the stage, you know, and I thank you for that because I did, I changed my ways from there. You were like, he changed his ways and you gave me, and I think two other people, Daniel and Elija, the principal's award …
(PZ) … for the child, or the children, who had made the most effort to improve and to actually embrace the spirit of the school. Yes you did. You earned it. You earned it. I'm glad you remember.
(TL) Thank you, Dr.
(PZ) Well thank you Troy Isley and you make me very proud. You made the whole school very proud today. You inspired other children and when you're at the Olympics you will have the biggest rooting section back at Lyles-Crouch and in the Lyles-Crouch community so you'll have the power of our passion behind you.
(TL) Thank you.