Exploring school options for your preschooler or kindergartner? Interested in learning about elementary school options?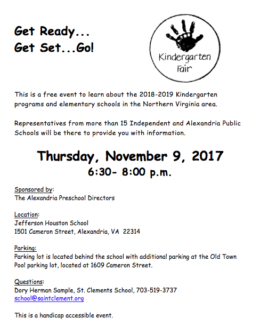 ACPS will be hosting the City-wide Kindergarten Fair, where prospective families can meet representatives from more than 15 independent schools, ACPS principals and ACPS facilities staff. There will also be an opportunity to discuss the new school boundaries that will be implemented in fall 2018, and discuss the new West End Elementary School that will open in fall 2018 with ACPS facilities staff.
Thursday, November 9
6:30 – 8:00 p.m.
Jefferson-Houston School
1501 Cameron Street, Alexandria
ACPS is hosting the fair at Jefferson-Houston School to give parents and guardians an opportunity to tour the school, which serves students in kindergarten through grade eight. The fair is sponsored by the Alexandria Preschool Directors.
The parking lot is located behind the school with additional parking at the Old Town Pool parking lot at 1609 Cameron Street.
Questions? Please email the organizers or call 703-519-3737.