A group of Mount Vernon Community School third-grade students, accompanied by Principal Peter Balas, School Board Chair Ramee Gentry and Vice Mayor Justin Wilson, hit the road last week to celebrate the successful completion of the Bicycling in the Schools (BITS) pilot program. BITS is a grant-funded program that teaches students bicycling and bike safety skills as a unit within the physical education curriculum.
The field trip was part of a recognition event at which Mayor Allison Silberberg shared bike safety tips with riders and at which Transurban, the largest donor to this grant-funded program, was recognized. ACPS and the Alexandria Bicycle and Pedestrian Advisory Committee (BPAC) raised more than $12,000 for BITS, enabling the purchase of new bikes, helmets and various related resources.
Beginning last fall, physical education teachers led the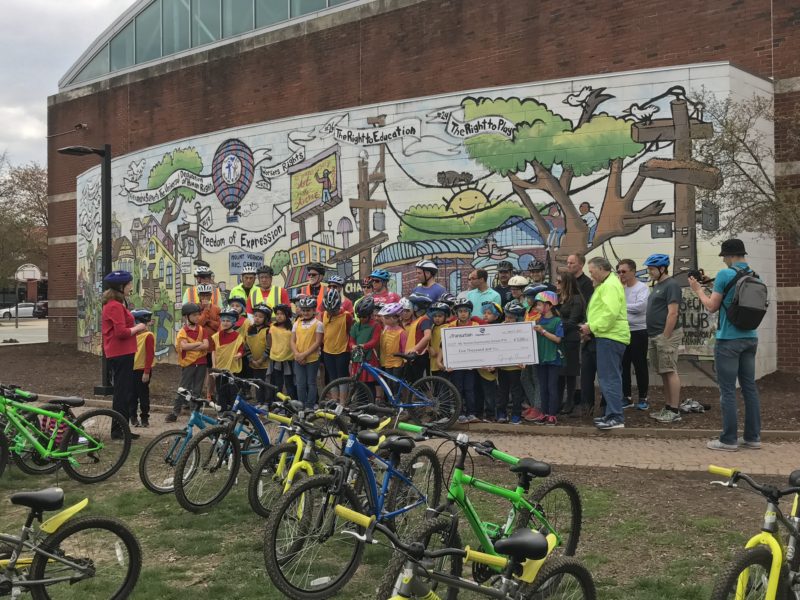 students through a comprehensive seven-session bicycling unit emphasizing appropriate safety and bicycling skills through BITS. About 435 students participated in the program, 25 percent of whom had never ridden a bike and 50 percent of whom rated themselves as "uneasy/uncomfortable."
The program was spearheaded at Mount Vernon by P.E. teachers Kristin Donley and Tracy Tiernan, who assessed students both before and after the unit. The program had a successful completion rate of 95 percent, resulting in students who are able to ride competently and perform basic riding skills on campus.
All students learned safety skills, beginner riding skills, and those that were ready learned advanced skills, such as riding in a straight line, passing, stopping quickly, scanning, observing street signs and signals, using bicycling road rules, and using hand signals. Our goal was to prepare them to ride on the road and trails in hopes they will carry this skill with them for life," said Donley.
ACPS and the BPAC raised more than $12,000 for BITS, enabling the purchase of new bikes, helmets and various related resources. BPAC volunteers played a key role in preparing students and organizing the bicycling field trip. They also accompanied five groups of third-grade students on the ride, along with members of the Alexandria City Police Department.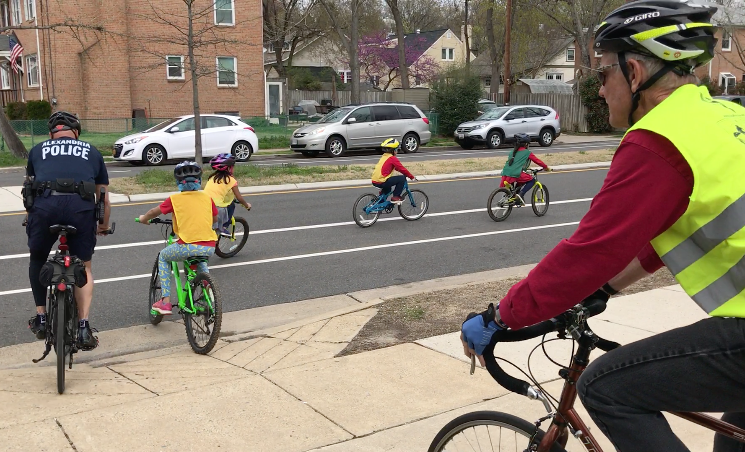 The program really highlights the benefit of public-private partnerships and the immense benefits of the bicycling program on student health and wellness.
I really appreciate all of the community collaboration that brought bikes to Mount Vernon Community School to get our students learning and riding. Many of the students had never ridden a bike or did not have bicycling safety skills. Thanks to my wonderful PE teachers for their tireless dedication in making the program a success. We have data to show how much our students have learned and I know they will be safe bikers out in the community," said Principal Peter Balas.
Watch the video to learn more.
This program is in keeping with our ACPS2020 Strategic Plan Goal 5: Health and Wellness – ACPS will promote efforts to enable students to be healthy and ready to learn.