Political analyst and former Chair of the Republican National Committee Michael Steele visited T.C. Williams High School to talk with students about the 2016 U.S Presidential election.
Students in Andrew Orzel's AP U.S. Government classes, along with students from Chris McGill's AP Comparative Government class, ended 2016 on a high note when Steele came to speak to the group at the end of a unit on elections, political parties and the media.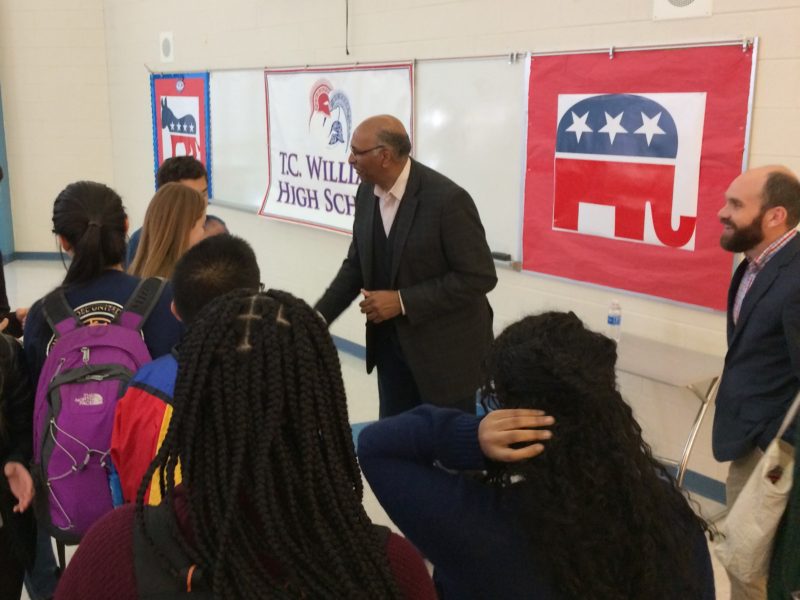 Steele shared his insights on the recent presidential election cycle, the outcome and the implications for the future and stressed the importance of active participation in the electoral process, regardless of which party or positions one supports. He encouraged students to think about and explore the course of this election in order to help inform their understanding of and their role in future elections.
Take the time to step back from the partisan view of this election and really digest it for yourself and understand the why of this election," said Steele.
Orzel reached out to Steele as a way to provide his students with a unique perspective on the election from the viewpoint of someone has played a major role in the political process.
My students tend to be ideologically liberal. I thought it would be good for them to hear a conservative perspective. Michael Steele is someone who has held elected office, was the head of the republican party and is now part of the media. He brought together much of what we had been covering in our coursework. He is very candid and is willing to criticize his own party and not toe the party line, which illustrates just how politically complex we are as ideological beings," said Orzel.
Students had an opportunity to engage in a question and answer session, after which student reporters for Theogony, T.C.'s student newspaper, interviewed Steele for an upcoming issue. They were working in collaboration with TV production students, who recorded the session.
Mr. Steele, through his work, has demonstrated a willingness to talk with diverse audiences in non-traditional settings. We appreciate his generosity with his time, which included time after the discussion where students stayed late to introduce themselves to Mr. Steele and express their appreciation of his visit," said Orzel.
A native of the D.C. metro area, Steele became the first African-American elected statewide official when he was elected Lt. Governor of Maryland in 2003 and became the chairman of the Republican National Committee in 2009. Steele is currently a political analyst for MSNBC and hosts a radio program, "Steele & Ungaron" on SiriusXM. He is also a writer and author of two books.
Watch the an excerpt from the video of Michael Steele's visit: