The class starts with the hello song, then the days of the week, weather song and a calendar update by a four-year-old. To anyone watching it would be a typical start to any preschool day. Except that what is being offered in this ACPS class is not entirely typical. The 16 children are part of the Virginia Preschool Initiative (VPI) and all the children in the class have identified risk factors.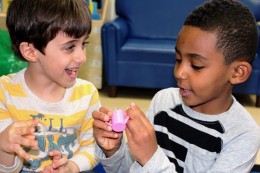 The program is designed to reduce disparities among young children upon formal school entry or eliminate the risk factors that lead to early academic failure. These factors may include but are not limited to behavioral, socio-economic, or social factors. But to watch this class in action seven months into the school year, it would be impossible to tell. The early childhood learning setup at ACPS means these children are successful despite the risk factors.
Every child sits cross-legged in the circle, their attention focused entirely on their teacher, Sarah Adams. They clap along and sing. Only one child doesn't join in. "She will be fine in a little while. She has a hard time transitioning from home to school after a break," says Adams.
Outside already with buckets and paint brushes in hand is another class experimenting with water in the sunshine. Eight of these students have special needs, while four of them are neuro-typical children who are playing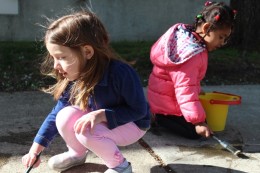 together and interacting on the slide and climbing frame in the way that any preschool class would do.
"Get ready. Let's paint," one girl tells another and together they paint with water, painting pictures on the concrete paving slabs.
"Being in class is giving all the children the skills they need for success in elementary school. It is their first experience of school and an experience they might not have had otherwise. It teaches them how to be part of a classroom community and that you have to wait sometimes. Those are the skills that are really going to benefit them in the future," said Early Childhood Special Education teacher Julia Hart.
Elementary school teachers see a huge difference in the behavior and academic outcomes of students who have attended VPI preschool or Early Childhood Special Education (ECSE) preschool classes prior to starting their elementary school education.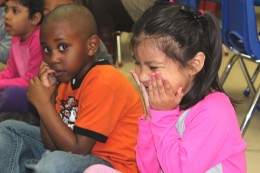 The children are already familiar with the routines and adapt to the structure and expectations of kindergarten, often better than their peers who have had no preschool experience. The teachers find that these students also become leaders in their classes — a pattern that is established early on and has an impact on how they view education and their role in a group.
The students from VPI preschool and ECSE are ready to learn independently and are ready for the big academic jump. They are often the children who take on the leadership roles and are then inspired to teach others," says Molly McCabe, a kindergarten teacher at John Adams Elementary School.
The impact of preschool goes further still. Children who have attended preschool have lower drop-out rates, have fewer issues in their teenage years, lower rates of teenage pregnancy and higher earnings once they graduate.
Preschool is critical for our children. Research shows that children who have had preschool experience do better in later years. Making investments early on can lead to much better outcomes for our children, families and economies. They do better than those that haven't had preschool," according to Jane Richardson, Early Childhood Special Education Coordinator.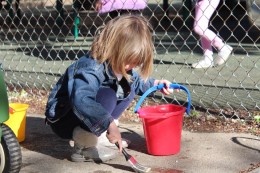 When unprepared children begin school academically behind, they tend to fall further and further behind. It can also leave the child without a love of learning as they come to view themselves as behind their peers. Children grow socially and emotionally through interactions with peers — playing together and learning how to share. Preschoolers sharpen their thinking and attention skills when in a stimulating environment. They start to learn how to function in the school setting, which can reduce or eliminate problem behaviors early on.
Preschool can also be a resource for students who need wellness services.
Research shows that early education can reduce special education placement by identifying developmental issues at a younger age and providing the opportunity for early intervention. The ECSE class that was outside painting with water has a nurse and nurse assistant to support students with health related needs.
Our students will benefit from being in a centralized location affording better access to wrap-around services that such a center would provide. We are focused on children having access to high-quality early education and want to ensure that certain barriers, such as transportation, are removed ," says Michelle Smith-Howard, Coordinator of City-Wide Early Childhood Programs.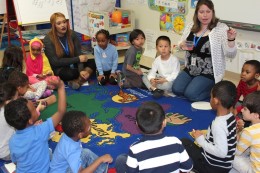 ACPS currently houses a variety of VPI and ECSE programs at six elementary schools, but the majority of these students come from outside the school boundary and will attend other elementary schools. ACPS also houses a variety of Head Start and Early Head Start classes in ACPS schools. Some of the students at John Adams Elementary School travel from the Jefferson-Houston School neighborhood on the other side of the city. Both John Adams and Patrick Henry elementary schools currently educate preschool students from nine school boundary areas, while Jefferson-Houston School has preschoolers from ten school boundary areas.
Students have to rely on their parents to drop them off in the mornings and this means some also have to get picked up early to fit in with their parents' schedules. It's not always perfect, but we make it work," says Richardson.
She smiles and goes back to her class, who are now painting with their fingers before they go outside, each clasping their own basketballs, to play basketball in the sunshine.