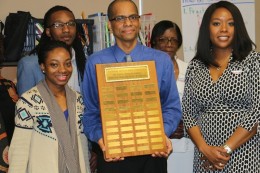 Brandon Davis, Principal of Cora Kelly School for Math, Science and Technology, was named Virginia's 2016 Distinguished Principal of the Year in a surprise ceremony staged by his staff and students on Wednesday.
He was acknowledged by the Virginia Association of Elementary School Principals (VAESP) for his role in putting Cora Kelly on the map by building student success and meeting high-performance targets at a school with a 87 percent free and reduced school lunch rate.
Davis becomes the first elementary school principal in Alexandria to win the award in the 33 years since its inception.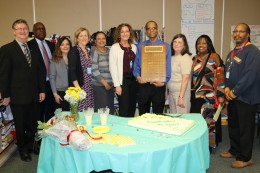 He was surprised by ACPS principals, School Board members and staff from the Superintendent's leadership team, including Executive Director of Elementary School Instruction Dr. Lisa Piehota, who staged an event in the gym with balloons and cheering to let him know that he had won.
"Mr. Davis' leadership has contributed to Cora Kelly being a high-performing school by every measure. Mr. Davis deserves the credit for the commitment, dedication and hard work of his team and the results that have been achieved," Dr. Piehota said.
Cora Kelly made huge gains across the board in all four subjects in the 2014-15 school year in its Standards of Learning (SOL) results in August. The final accreditation results for Cora Kelly were an 85 percent pass rate in English (11 point increase), 91 percent pass rate in Math (8 point increase), 91 percent pass rate in History (12 point increase) and 73 percent pass rate in Science (9 point increase). This is an average 10 percent increase over adjusted SOL passes from 2013-14.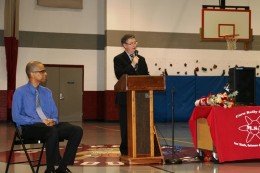 "And to think I nearly didn't put a tie on this morning. This is incredible. All of this success out of a school at the end of a street that hardly anyone can place on a map. Our success is really starting to put us on that map. I want to thank you all. This is a team effort," Davis said.
Davis was nominated by a colleague for the award. Students read letters that they had compiled as part of his nomination packet.
"He picks the best teachers," said fifth-grade student Ana Ortiz.
The Virginia Association of Elementary School Principals is a professional association of 1,100 members serving both elementary and middle school administrators. The VAESP National Distinguished Principal Award Program honors principals who have exhibited extraordinary leadership, commitment to their students and staff, service to their communities and contributions to their overall profession. The award is assessed through a series of screenings, nomination reviews, interviews and school visits.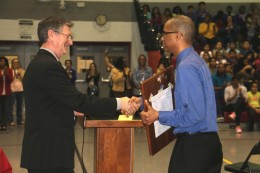 "Our vision is to develop and embrace transformational leadership. This year it is my distinct pleasure on behalf of the VAESP Board of Directors to announce Virginia's 2016 National Distinguished Principal as Brandon Davis," said James Baldwin, VAESP Executive Director.
Cora Kelly follows the Guided Math program, which personalizes instruction to meet the individual needs of students. Core subject matter is integrated within non-core classes, such as art, library, music and physical education, to provide more authentic learning experiences and connect student learning across subjects. Students are empowered to take responsibility for their learning through a Plan-Do-Study-Act program, while science and technology laboratories are used to provide hands on learning experiences.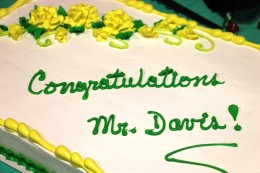 Science laboratories at the school provide students an opportunity to develop their science literacy through an inquiry approach. This approach includes engagement (use of an activator and connecting to students' prior learning and experience), exploration (hands-on activities), explanation (students explaining their learning), elaboration (application of learned concepts) and evaluation (assessing student knowledge). The school also has an academically focused intervention and enrichment classes and a peer mediation program, as well as an outdoor classroom, called The Habitat.
"I want to congratulate Brandon on his efforts to ensure that every student at Cora Kelly succeeds," said Superintendent Alvin L. Crawley.
Davis won The Washington Post Distinguished Education Leadership Award in 2014. Last year, Cora Kelly reading specialist, Maria Magallanes, named as 2015 Agnes Meyer Outstanding Teacher of the Year by The Washington Post.
View more photos of the celebration on our Facebook page and watch the ceremony below.