en español (PDF) | አማርኛ (PDF) | بالعربية (PDF)
We look forward to welcoming K-12 students back to classes on Aug. 24. The first day for pre-K is Aug. 26. Learn more about our quarantine process for students and teachers, back to school forms, universal eligibility for free meals, bus transportation, and more.
Quarantine Process for Students and Teachers
In the event that one or more students must quarantine due to potential exposure to an individual with COVID-19, ACPS will use live streaming to provide instructional support for quarantined students. Live streaming allows students to view their teacher providing instruction in the physical classroom in real-time. Students will be expected to complete assignments and attend teacher office hours. 
In the event that a teacher must quarantine, students will be in class with a substitute teacher, with the regular classroom teacher instructing the class virtually. 
Guidance is provided on potential scenarios for students during quarantine. For a detailed chart that provides specifics for multiple scenarios, see the Quarantine Process for Students and Teachers.
As a reminder, students and staff should not come to school or work if they are not feeling well for any reason. Please help us keep everyone in our community safe and healthy by staying home when you are sick.
Lunch Process for All Students
As we return to in-person learning, ACPS students will be offered breakfast and lunch at no charge. ACPS is incorporating health and safety measures into the lunch process in all schools at all grades to ensure that all students and staff are safe during the lunch blocks of time. 
Air purifiers will be operational in all school cafeterias, and cafeteria spaces will be regularly and thoroughly cleaned with a sanitizing solution. During lunchtime, students will be required to sign in, wash hands, sit in assigned spaces to maintain safety protocols in the cafeteria, and use masks when not eating.
Schools will limit student capacity at lunchtime in the cafeterias. At the elementary and middle school levels, students will eat during scheduled grade level and/or class times. Students will eat in the traditional cafeteria, though some may eat in their classrooms. At the high school level, all students will eat lunch at the same time and can decide where to eat lunch throughout the building, alleviating the crowding stress that comes from a traditional cafeteria setting in a high school. High school students will continue to utilize outdoor spaces for lunch as they have for previous years.
This lunch process will allow all schools to implement health and safety protocols to minimize risk and account for contact tracing. At the same time, students will be provided with a lunchtime setting in the cafeteria or classroom with their classmates in an environment that is safe and important to socialization.  
Back to School Forms for 2021-22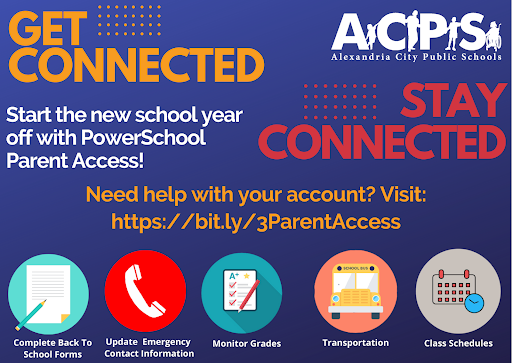 Back to School Forms are available online via PowerSchool Parent Access. The goal at ACPS is to empower all families to use PowerSchool Parent Access as a tool to support their students and be a partner with the school division. 
Please complete your Back to School forms* by Sept. 15, 2021, to update the following:
Your contact information to receive emergency notifications

Emergency contacts for your student

Your child's health information
* If you have more than one child in ACPS, please complete the forms for each child.
Printed packets will be provided in Amharic and Arabic for students whose families listed those languages as their preferred language. We have also provided a small number of printed blank forms to schools for families who request them.
See the instructions for completing your Back to School Forms.
Health Forms and Immunizations
It is important that families ensure that all health forms and immunizations are up to date.
All ACPS Students are Eligible for Free Meals; Applications Needed for Other Benefits 
All students are eligible to receive meals in ACPS schools at no charge, effective from the first day of school through June 30, 2022. ACPS families are encouraged to submit their application for meals as soon as possible if they would like to be part of the Pandemic Electronic Benefits Transfer (P-EBT) program, as well as be considered eligible for other benefits. The P-EBT benefit is to supplement existing nutrition programs for low-income households during the COVID-19 pandemic. 
Application forms are sent to all students' homes and are also available in each school's main office. Or, you can download the Free and Reduced Price Meals Application. For the quickest results, however, we encourage applying online via SchoolCafé. A new application is required every school year because school funding and eligibility for other programs depend on completed meal applications. 
For more information, visit the ACPS Free and Reduced Price Meals webpage.
Bus Transportation
ACPS families received their students' bus transportation information via email on Aug.18. This information is also available in PowerSchool Parent Access. Please note that all students must wear a face mask when traveling in any ACPS vehicle due to COVID-19 mitigation efforts. Students are also being asked to be at their bus stop 10 minutes prior to their scheduled pickup.
​​Before students enter the bus, their parents should have completed the Daily Symptom Checklist. All students should be masked before entering the bus and they will be loaded from the rear to the front, which helps eliminate students passing one another to find a seat; the exception is kindergarten students who must sit up front. All drivers and monitors are also required to wear masks. We ask that students sit beside the same person on the daily route which will help in the instance of contact tracing. Rosters are kept daily by the drivers to note ridership for each day. Drivers can open windows as needed (not recommended during inclement weather/warm temperatures).
We ask for everyone's patience as schools implement health and safety measures such as temperature scanning of students when they arrive at school each day. There may be delays as students and staff get used to this process. If there are times when students must wait in line on buses until they can go through temperature scanning, this could affect the pickup and delivery of students to other schools. Student drop-off may be delayed by a few minutes in the mornings, and we thank you for your understanding and patience as we work to establish a routine in the first few weeks of school.
Volunteers and Visitors in School Facilities
Part of the health mitigation measures that ACPS has in place is to limit the number of visitors in school facilities. Families are asked to drop off students outside of their school. Visitors are limited. All essential approved visitors will be expected to adhere to the established safety mitigation strategies. 
Essential visitors, volunteers and activities will be limited to:
Individuals supporting the provision of in-person student supports, to include city and partner programs

Individuals supporting/performing ACPS operations and maintenance; and

Individuals picking up students who have become ill during the school day
More guidance for identified essential volunteers, visitors, and contractors will be forthcoming. 
For more details and updates on health and safety measures in our schools, visit the Health and Safety Guidance Overview webpage.