en español (PDF) | አማርኛ (PDF) | بالعربية (PDF)
This Week's Headlines:
---
Dear ACPS Families and Community,
Let me first welcome you all back from what I trust has been a happy and healthy Spring Break. I hope everyone is feeling refreshed and ready for a busy week.
This is a big week in ACPS history. Tomorrow night, the Alexandria City School Board will vote on the new names for both T.C. Williams High School and Matthew Maury Elementary School. This marks the start of a new era for our school division as the work to ensure equity for all students and staff continues, and we foster a learning environment that is respectful and reflective of who we are and where our future lies. I want to thank all of you who took the time to be a part of this important process.
Also this week, we are celebrating some key administrators in our school division! Please join me in thanking our wonderful assistant principals for their contributions to our schools and all they do for students, families and staff, as we recognize National Assistant Principals Week. 
In addition, I want to address the new CDC guidelines on physical distancing in schools which state that the necessary space between students in classrooms can be reduced from six feet to three feet with effective air circulation and mask use. At this time, we are using six feet of physical distance and are continuing to work to determine how the revised guidelines impact ACPS and what this means for adding more students to our hybrid classrooms.  See below for details about new FAQs on physical distancing, a new ACPS COVID-19 dashboard, and two Alexandria Health Department community town halls, held in partnership with ACPS, on April 13 and 14.
Stay safe, healthy and engaged.
Dr. Gregory C. Hutchings, Jr.
Superintendent
Watch the School Board Vote on Final School Names  

The Alexandria City School Board will vote on the new names for T.C. Williams High School and Matthew Maury Elementary School tomorrow, at the Thursday, April 8 School Board meeting. The Board meeting can be viewed live online and on ACPS-TV local cable channel 71. 
This historic vote follows a comprehensive process to engage students, staff, alumni and the community, called The Identity Project. 
Cost estimates to implement the name change at T.C. Williams total about $325,000 and the cost estimates for Matthew Maury are just over $5,000. The schools will officially be recognized by the new names beginning July 1, 2021.
New ACPS COVID-19 Dashboard
We want to assure you that the health of all staff, students and our families is a top priority for ACPS. The new ACPS COVID-19 Dashboard provides case data starting March 1, 2021 and will be updated every Monday afternoon by 4 p.m. 
View the ACPS COVID-19 Dashboard
For information and questions regarding COVID-19 in Alexandria City, including locations for free COVID-19 testing, please visit the Alexandria Health Department COVID-19 website. An interactive chart with details of the seven-day moving average number of COVID-19 cases, and the daily and cumulative case and fatality counts in Alexandria can be viewed on the City of Alexandria website. The CDC K-12 School Metrics can be found on the Virginia Department of Health website.  
Physical Distancing Guidelines in Our Schools
The latest guidance from the Centers for Disease Control and Prevention (CDC) recommends that, with universal masking, students should maintain a distance of at least three feet in the classroom setting. ACPS has worked closely with the Alexandria Health Department (AHD) to implement health mitigation measures in our schools, including signage and procedures to help protect all staff and students. Physical distancing is one of the mitigation strategies. 
At this time, we are using six feet of physical distance and are continuing to work to determine how the revised guidelines impact ACPS and what this means for adding more students to our hybrid classrooms. Learn more in our FAQs.
More information will be shared with families as we continue reviewing the new guidelines and preparing for three feet of physical distancing.
Join ACPS Board Members and Leaders at a Community Session to Answer Questions about Hybrid Learning and Planning for Summer and Fall
We know you have questions and we are providing a virtual space to hear from ACPS Superintendent Dr. Hutchings, a school principal, and two School Board members on topics that are timely and important to ACPS families. There will be sessions for families, staff and students. 
Dr. Hutchings will provide updates on hybrid learning and planning currently underway for summer learning and the 2021-22 school year. Following the brief update, community members are invited to submit questions via Zoom Q&A and the panel will answer as many questions as possible. 
Sessions for Families:
Session for Students: 
Spanish, Amharic and Arabic interpreters will be present for each session. We hope you can join us!
Alexandria Health Department COVID-19 Town Halls, April 13-14
ACPS is excited to partner with the Alexandria Health Department (AHD) to offer two town hall opportunities on Tuesday, April 13, from noon to 1 p.m. and Wednesday, April 14, from 5:30 to 7 p.m. AHD will be sharing information about what to expect when they get a report about a positive COVID-19 case from ACPS. They will also discuss updated CDC and Virginia Department of Health guidance to schools and provide advice about where people can get vaccinated. 
AHD COVID-19 Town Halls:
Interested participants are asked to submit questions in advance of the town hall. Submit your questions online.
Translation services will be provided.
$40,000 Titan Scholarship Winner Announced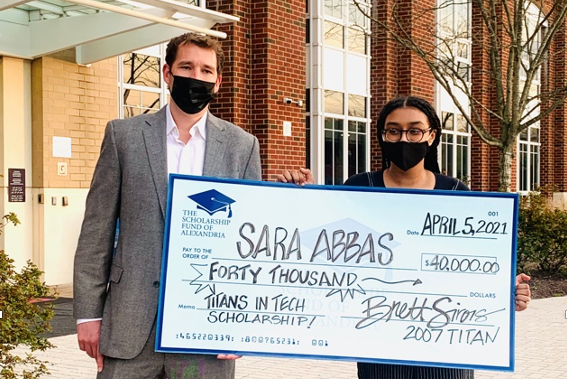 The Scholarship Fund of Alexandria (SFA) surprised T.C. Williams High School graduating senior Sara Abbas with its largest scholarship, "Titans in Tech," worth $40,000. The Titans in Tech Scholarship was established this year by T.C. Williams alumnus Brett Sirois, the founder and chief recruiter with Stem IT, to help a T.C. Williams student afford a 4-year education in computer science at a Virginia state school. Learn more about this incredible honor.
Titan Varsity Football District Champions!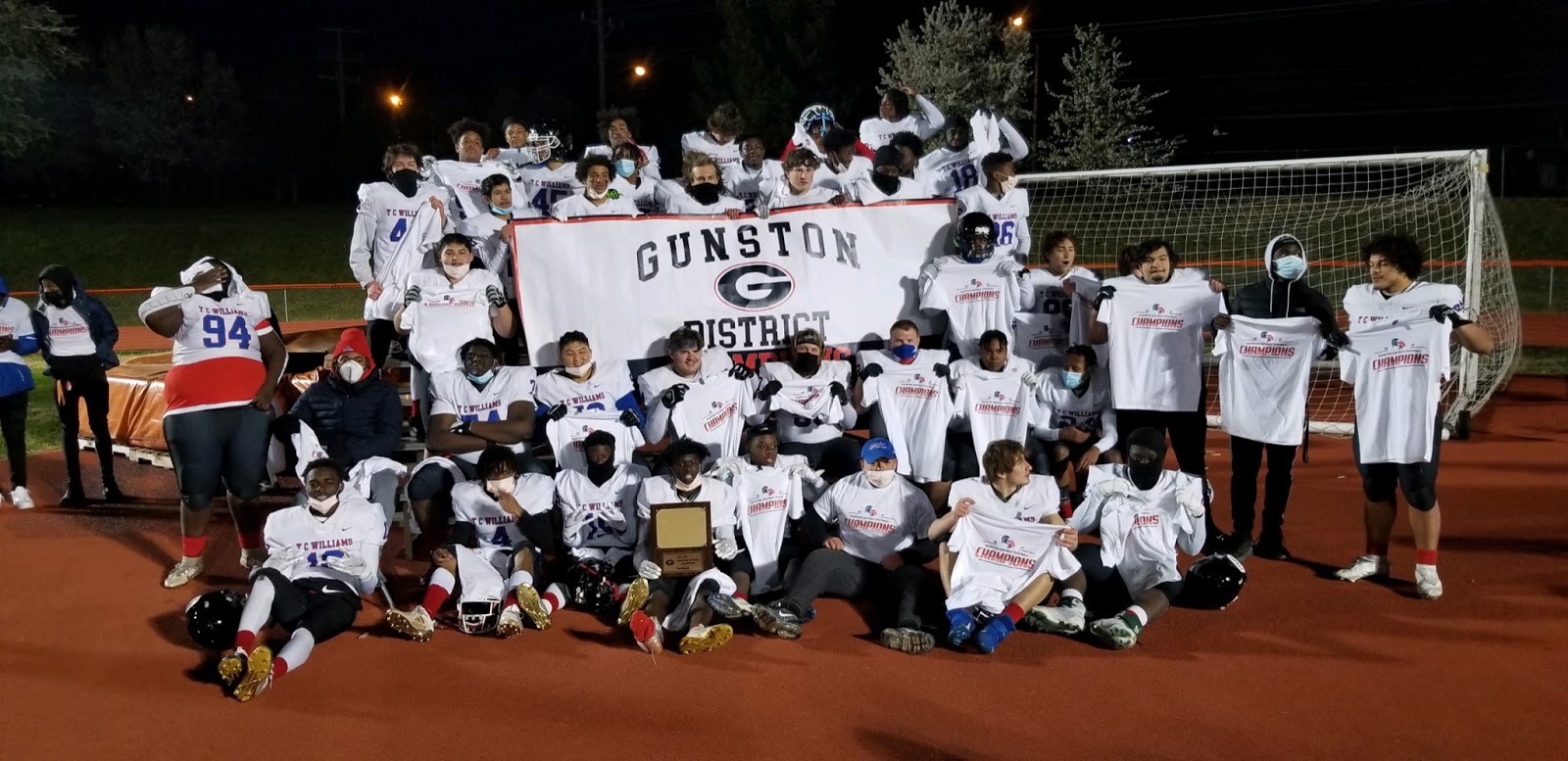 The Titan Varsity Football Team secured the Gunston District Championship for the first time in more than 20 years.  
Under the leadership of first-year Head Coach Rodney Hughey, the Titans overcame all odds by playing all of their games on the road and going undefeated (4-0) in their district and 4-2 overall. This is the first time since 1990 that the team has lifted the district trophy.
We also congratulate Titan starting Quarterback Chacai Campbell for earning the honor of Gunston District Offensive Player of the Year and Coach Hughey for being named the Gunston District Coach of the Year!
Students Earn Honorable Mention in C-SPAN Documentary Competition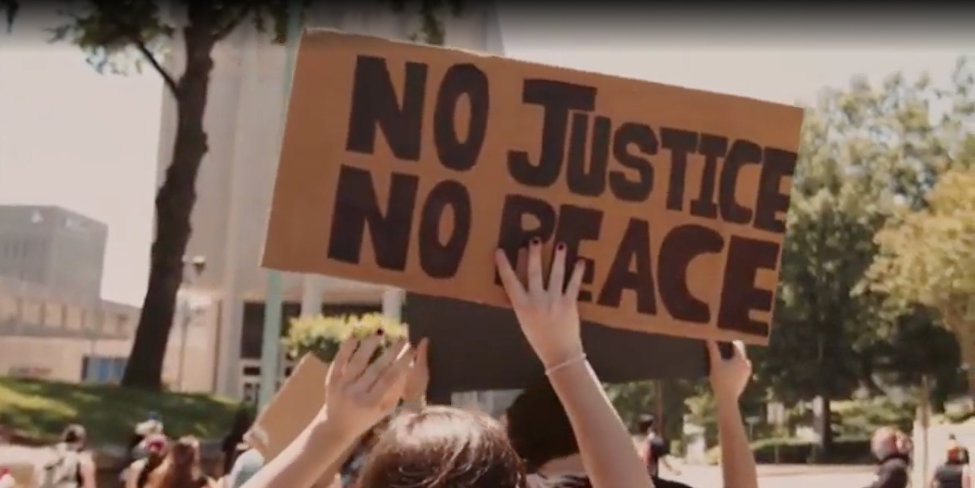 Congratulations to T.C. Williams High School 10th grade students Helen Russell, Alison Avelar and Elena Gutierrez for receiving an Honorable Mention in the C-SPAN 2021 StudentCam Documentary Competition. C-SPAN received documentaries from over 2,300 students representing 43 states and Washington, DC; Singapore; and Pakistan. Students were asked to create a five- to six-minute long video exploring the issue they most want the president and new Congress to address in 2021. After much deliberation and multiple rounds of judging, C-SPAN announced this year's 150 prize-winning documentaries.
The T.C. student team wrote, directed and produced their documentary, "Dear Mr. President: History, or Progress?" As an honorable mention recipient, the T.C. team has earned a $250 prize. These students are part of the TV/Media Production class taught by Vilma Zefran. 
The annual StudentCam competition is sponsored by the C-SPAN Education Foundation. Videos were evaluated by a panel of educators and C-SPAN representatives based on the thoughtful examination of the competition's theme, quality of expression, inclusion of varying sides of the documentary's topic, and effective incorporation of C-SPAN programming. 
Two ACPS Leaders Honored
Congratulations to ACPS Superintendent Dr. Gregory C. Hutchings, Jr. and Samuel W. Tucker Elementary School Principal Rene Paschal. They have been selected as recipients of two leadership awards issued by the Virginia Association of Elementary Principals (VAESP). They will be honored at the 2021 VAESP Annual Conference in June.
Dr. Hutchings was chosen as the 2021 recipient of the Pathfinder Award for his leadership in ACPS and national work on racial equity. "The Pathfinder Award provides recognition to those persons in Virginia who are members or non-members of VAESP who have provided educational leadership or significant contributions to VAESP in educational reform in elementary and middle school education and/or who have, by their deeds, enhanced the quality of elementary and middle school education. Only one award is given each year."
Rene Paschal was selected as one of VAESP's The School Bell Award recipients. Paschal is being recognized for his work with the modified calendar and supporting the needs of his diverse community of learners. "The School Bell Award is presented to school-based administrators, who are members of VAESP, and have made significant contributions to their schools, school systems, state association, national association, and/or other educational organization. The recipient is selected based on the nominee's specific contributions and career summary including any awards/honors, articles published, civic and/or political activities, organizations, and association participation."
Hearing and Vision Screenings for Students
Hearing and vision screenings will begin this month. In alignment with the Code of Virginia, Section 22.1-273, ACPS is required to provide hearing and vision screenings to students in kindergarten, third grade, seventh grade, and tenth grade, as well as to any students new to the district.
ACPS will begin hearing and vision screenings for these groups of students who are engaged in hybrid instruction when hybrid learning resumes on April 13, following all health and safety guidelines. Screenings will take place during the school day and should take around 20-30 minutes total. 
Families of kindergarten, third grade, seventh grade, and tenth grade students and students new to ACPS who remain fully virtual will receive a survey via email providing additional information about how they can participate in hearing and vision screenings during this school year. 
More information about the benefits of hearing and vision screenings may be found at the ACPS Screenings webpage. Families who have questions about the hearing and vision screenings may reach out to their school nurse.
FOOD ACCESS
ACPS has multiple distribution meal site locations throughout Alexandria for all ACPS students and children over the age of two. See a map and list of food distribution locations and times.