en español (PDF) | አማርኛ (PDF) | بالعربية (PDF)
This Week's Headlines:
---
Dear ACPS Families and Community,
On Tuesday, we welcomed back our final group of students who have opted to return to our school buildings at this time. I was able to visit our students and staff throughout the day as they settled back into classrooms and were reunited with our team. I am happy to say, the day went smoothly.
At T.C. Williams High School, I was joined by School Board Chair Meagan Alderton, Alexandria Mayor Justin Wilson and T.C. Williams High School Principal Peter Balas to tour classrooms and observe our safety protocols. We have a lot to be thankful for and I would like to give a special shout out today to our "behind the scenes" staff who play such a critical role in keeping our students and staff safe.
I know many of you are hoping to transfer students from virtual to hybrid and are eager to know when that will happen. We will monitor and analyze over the next couple of weeks to determine our operations and opportunities for expansion. We plan to share more details about the ability to transition more families into hybrid learning in April, and we also plan to prioritize students who are experiencing significant social, emotional and academic learning challenges. 
Also, we have had several questions about outdoor lunch and usage of playground equipment at the elementary school level. Our team is focused on the return of our hybrid students to ensure that we are making the necessary adjustments to provide a robust hybrid learning experience. We will finalize our plans regarding outdoor lunch and access to playground equipment over the next few weeks. We will provide an update to our hybrid families on these topics after Spring Break. 
I also wanted to provide some insight to fall 2021. ACPS is currently in the process of planning how schooling will look in the 2021-22 academic year. While many factors remain uncertain, we plan to be able to offer in-person schooling to as many students, as many days a week, as CDC guidelines will allow, and we are aiming for five days per week. Also, we remain cognizant of the fact that some of our families may wish to remain virtual for the upcoming school year. Our program of virtual learning has been robust for many families. If families that are uncomfortable returning their children to our school buildings this fall wish to continue with this format, we plan to be able to consider these individual requests as well. More details about our summer 2021 learning and the 2021-22 academic year planning will be shared in April. 
Finally, I wanted to highlight our COVID-19 related guidelines for Spring Break. While we understand the very real need to get away for a few days, we also ask that you consider the potential implications of non-essential travel. We have worked closely with the Alexandria Health Department on this, and today's newsletter includes a Spring Break Guidelines video on this subject, which we also shared with families and staff this past Wednesday. Please take the time to view this. I know you all understand the need to put safety first if our schools are to remain open.
Stay safe, healthy and engaged.
Dr. Gregory C. Hutchings, Jr.
Superintendent
Return to School Update: "A Day of Celebration"
This week, an additional 3,682 students across all grades joined their classmates who had already returned to our school buildings.
On Tuesday and Wednesday, Dr. Hutchings visited our schools with School Board Chair Meagan Alderton. Mayor Justin Wilson, whose two children attend ACPS schools, dropped by to meet them at T.C. on Tuesday. He said, "Today is a day of celebration. We're finally at a place where we have this very, very large group of students coming back into our schools. It's also an opportunity for us to pay tribute to our educators, our support staff, as well as our families who have sacrificed so much over the last year but have worked so hard for this day. And we have got more work to do, no question about it, as we go forward until we get everyone back as normal as we possibly can."
VIDEO: See our students, teachers and staff back in classrooms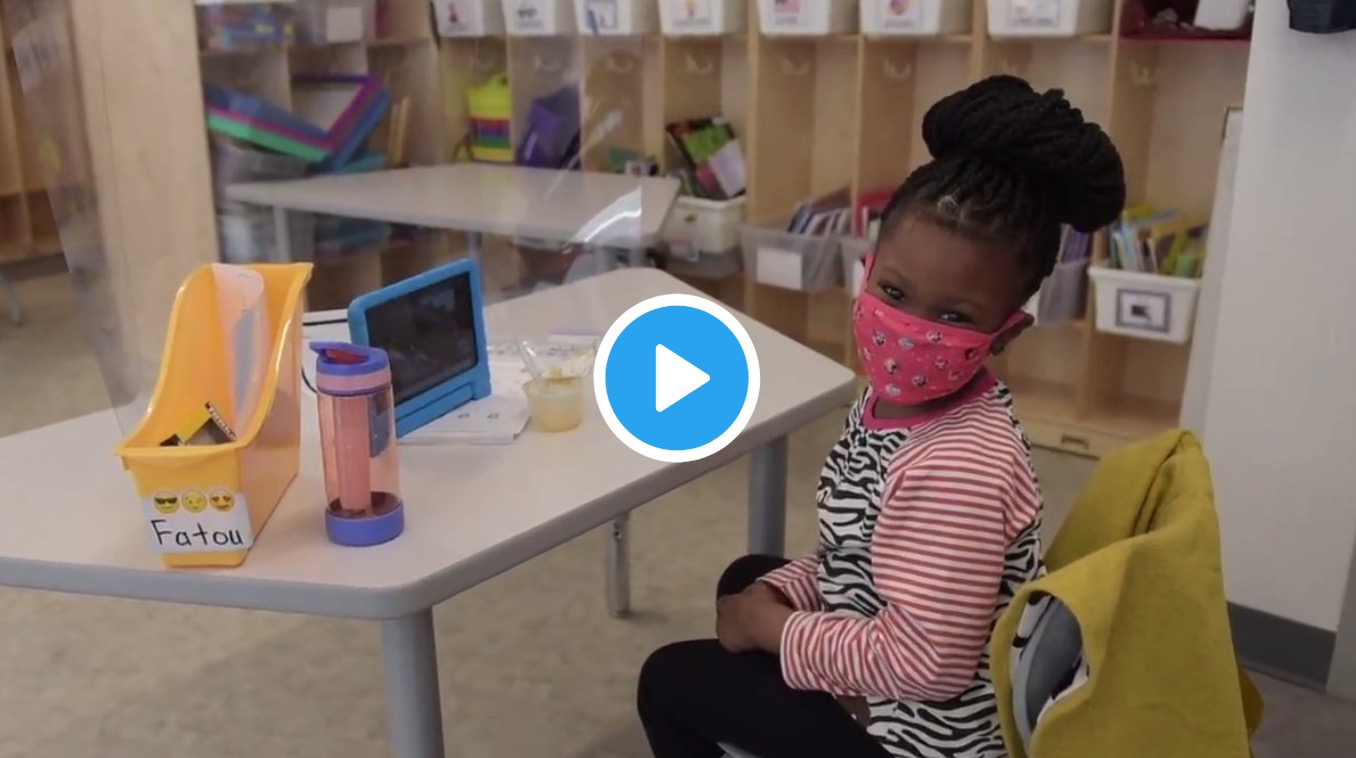 Spring Break Reminders and Health Guidance
Spring Break is March 29-April 2, and our community's health and safety remain at the forefront. As you plan your children's time away from school, please consider the following advice to help our community stay healthy. 
ACPS strongly discourages all non-essential travel, consistent with the Virginia Department of Health (VDH) and the Alexandria Health Department (AHD) guidance, regardless of a person's vaccination status. If you must travel for essential reasons, follow VDH guidelines. Our successful reopening depends on all students, families and staff being extra vigilant about implementing mitigating measures and not traveling unless it is essential.
ACPS has collaborated with the AHD to develop health guidelines that include mitigation measures that prioritize staff and students' health and safety at all times. With all of us working together to wear face masks, keep six feet of physical distance, and complete temperature screenings and the Daily Symptom Checklist, we will help keep our school doors open.
Please watch the Health Guidance Update video that was shared with the community on Wednesday: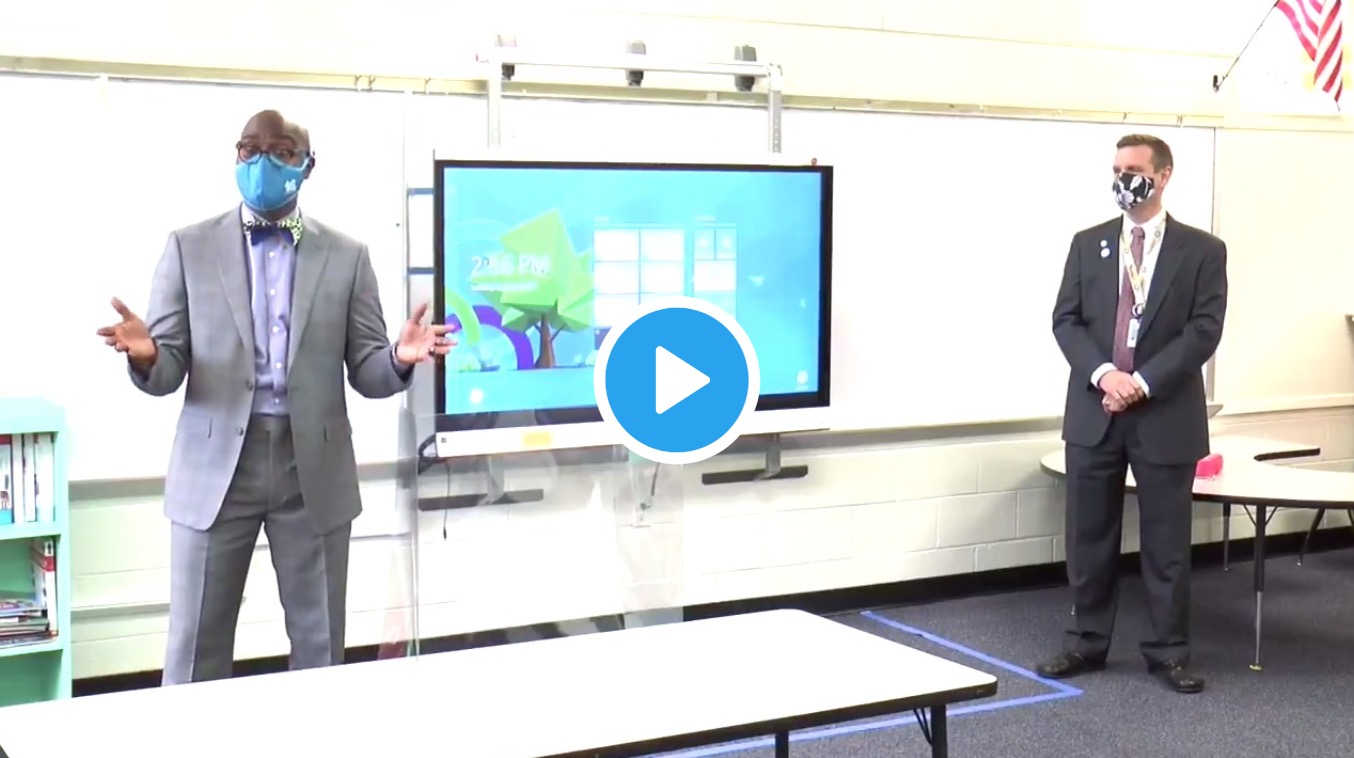 Spring Break Food Distribution
During Spring Break, only the T.C. Williams, Hammond and Cora Kelly food distribution locations will be operating. Grab and Go meals will be available at these sites on Monday, Wednesday and Friday between 7:30 a.m. and noon. There will be no pop-up site distribution during Spring Break.
Latest Community Health Metrics
Here are the most current community health metrics connected to our ability to keep schools open.
Alexandria's latest K-12 school health metrics for the week ending on March 13, 2021: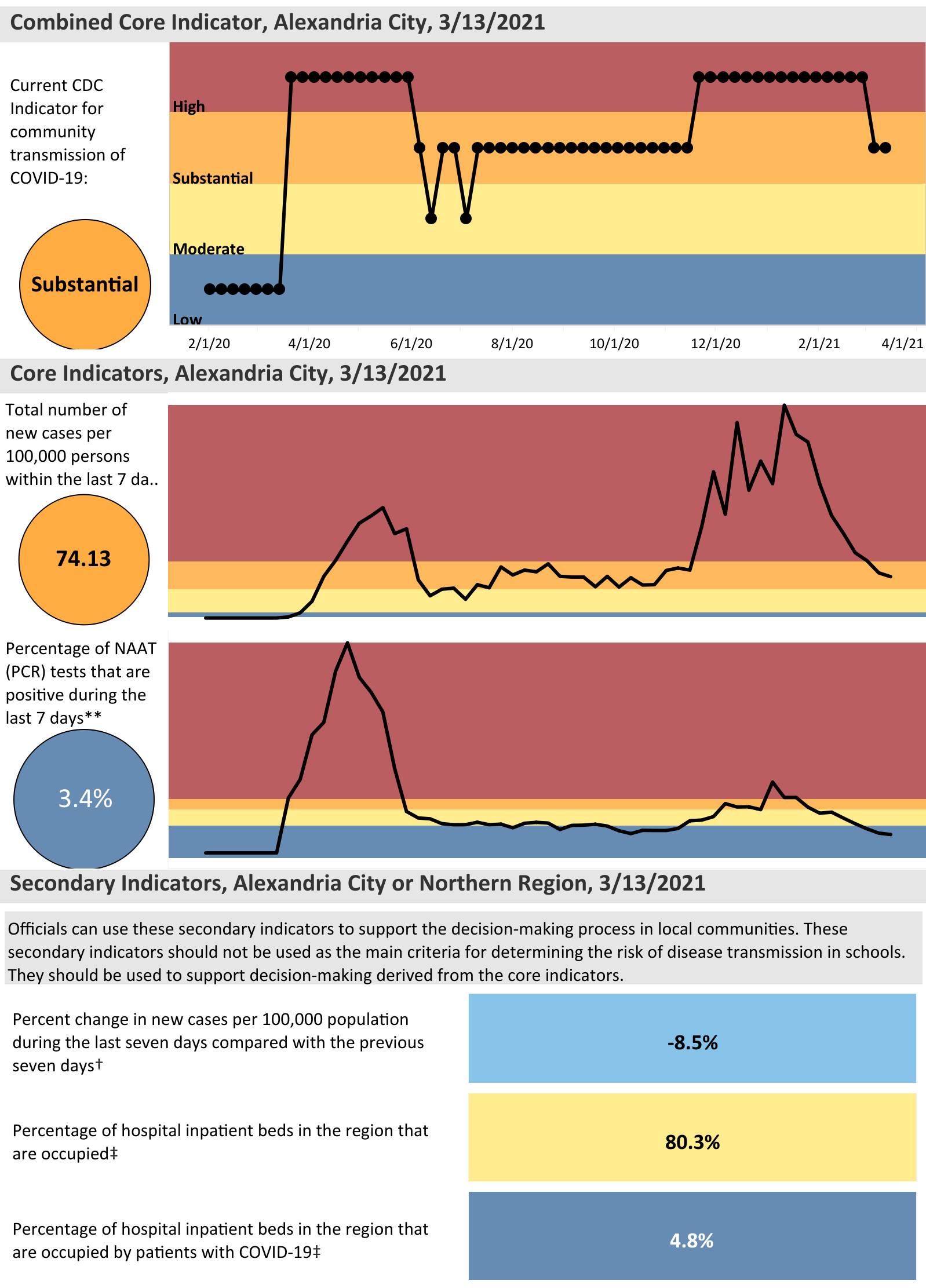 Virtual PLUS+ Phased Reentry Hybrid Instructional Plan
The Virtual PLUS+ Phased Reentry Hybrid Instructional Plan 5.0 (PDF) was submitted to the Virginia Department of Education and provides a detailed update regarding the planning and implementation of the hybrid instructional plan for returning groups of ACPS students using a staggered timeline. The hybrid plan includes a combination of in-person and virtual instruction for students. It is designed to adhere to safety guidance provided by the Alexandria Health Department (AHD), the Centers for Disease Control and Prevention (CDC), the Virginia Department of Health (VDH), and the ACPS Levels of School Impact factors for transitioning between methods of instruction. 
Support Students Through The Scholarship Fund of Alexandria's Upcoming Events
Can you help a Titan secure their dream of college? The Scholarship Fund of Alexandria (SFA) is holding two exciting fundraising events in the coming weeks to support students in the Class of 2021. These students have faced the extraordinary challenges posed by the COVID pandemic and its far-reaching economic impacts. We are calling them "Generation Resilient."
SFA is celebrating 35 years of investing in more than 5,000 Alexandria graduates by providing need-based financial support to realize college dreams. The SFA has received 300 applications from the Class of 2021. This year, more than ever, students and families are counting on all of us. Your support will help shape their future.
"Remember the Titans" at the Drive-In, March 27
Gather the family and head to the Alexandria Drive-In to watch "Remember the Titans" on Saturday, March 27 at 7:30 p.m. 
The Drive-In is partly the idea of Titan alumnus Allen Brooks, who gratefully received a scholarship from SFA years ago. The event is being supported that night by volunteer students in the T.C. Williams Key Club. Tickets cost $40 per car and can be purchased online.
GALA 35…THE SHAPE OF THINGS TO COME, April 23-24
GALA 35 will feature a Friday Night live Virtual Raffle & Cocktail Hour (April 23), a Saturday Night Gala (April 24) including delivery of gourmet meals for sponsors, swag bags and special gifts along with our Online Silent Auction, and a LIVE Virtual Event. GALA 35 will also feature a Jack Taylor's Alexandria Toyota Grand Prize Raffle, a LIVE Auction, entertainment and inspirational stories from our Class of 2021 scholarship recipients. Show your Titan pride and support by getting involved.  
If you are unable to attend either of these events, you can still show your support by making a tax-deductible donation to the Scholarship Fund of Alexandria. If you wish to submit a check or auction item donation via mail, please mail to: The Scholarship Fund of Alexandria, 3330 King St., Alexandria, VA 22302. 
The Scholarship Fund of Alexandria is a 501(c)(3) organization, Tax ID: EIN 20-0031464.
A Round of Applause for Our Nutrition Director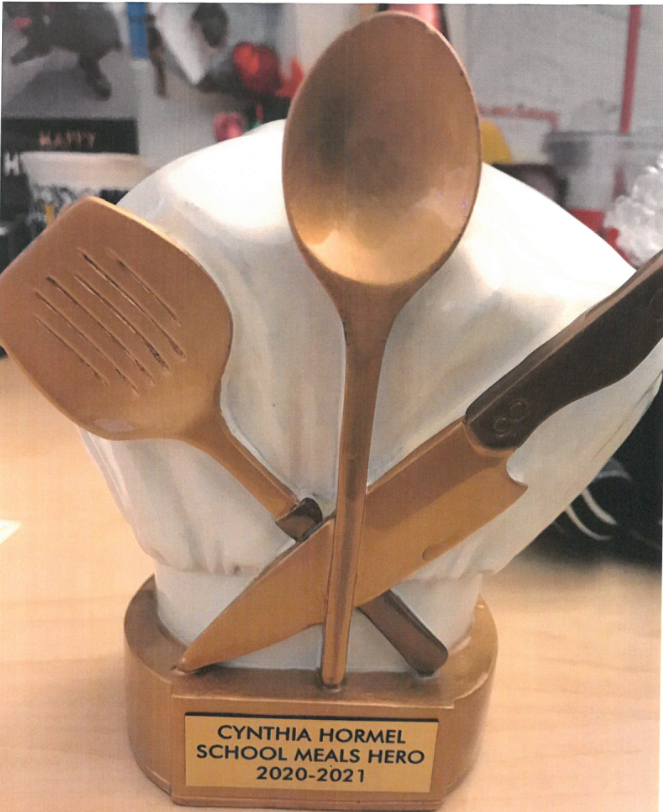 When our school buildings closed last March, one of the division's major priorities became ensuring that those students who were at risk of going hungry were supplied with plentiful, nutritious food.
ACPS School Nutrition Services Director Cynthia Hormel led the division's charge, coordinating a huge multiple-site operation that has been critical to the well-being of our families.
Since March 16, 2020, her team has distributed hundreds of thousands of pounds of food to our children: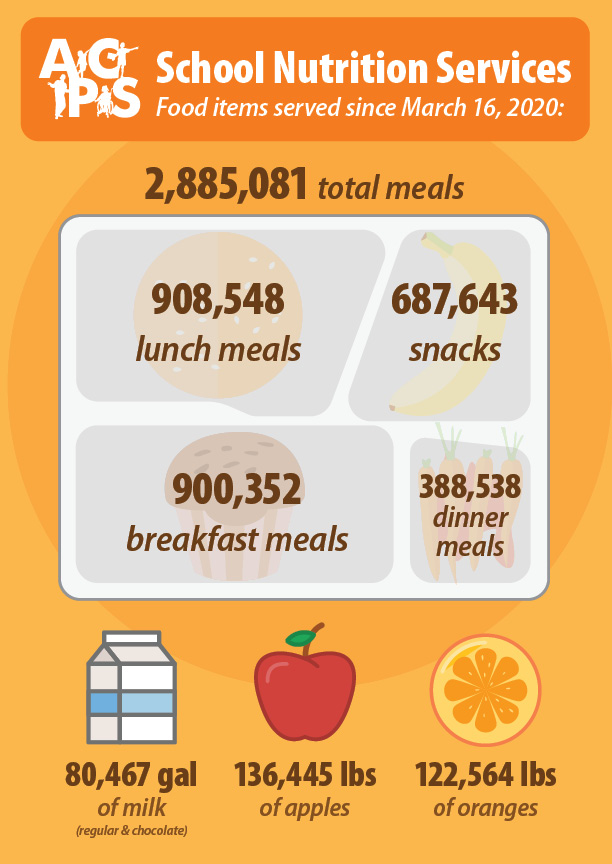 To recognize Hormel's exceptional leadership and dedication, No Kid Hungry has awarded her the School Meals Hero trophy.
No Kid Hungry is a national campaign run by Share Our Strength, a nonprofit working to solve problems of hunger and poverty in the United States and around the world. After 25 years of successfully investing in local nonprofits and helping find the best approaches to eradicating poverty and hunger, Share Our Strength launched No Kid Hungry in 2010.
Upcoming Capital Improvement Program (CIP) Community Meetings
Douglas MacArthur Modernization – Virtual Community Meeting
The Douglas MacArthur Modernization Project team invites you to join a virtual community meeting on Wednesday, March 24 at 6 p.m. Join this virtual meeting to learn about updates on the Douglas MacArthur Elementary School demolition process. Learn more about the meeting details.
The High School Project – Virtual Community Meeting Design Concepts Review
The High School Project team invites you to a virtual meeting at 6 p.m. on Thursday, March 25 to view the updated design concepts for the new Minnie Howard building. This virtual meeting is an opportunity for the community to give feedback that will inform the School Board in the new concept selection process. The School Board will choose the concept for the new Minnie Howard building at the April 8, 2021 virtual School Board meeting. Learn more about this meeting.
Share A Story and Let Your Reading Shine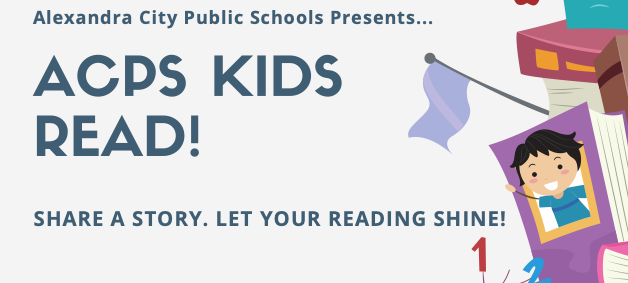 It is time for ACPS Kids Read! We invite all ACPS students to submit read-aloud videos for broadcasting on ACPS-TV, cable channel 71. Through the ACPS Kids Read program, students have the opportunity to record themselves reading to an audience of other ACPS students. We encourage reading your stories in a variety of languages. Entries should be submitted by May 15, 2021. 
Students should choose their favorite book, find a comfortable location to record, read the book while being recorded, edit their video if they want to add their name and the book title, and upload their read-aloud video. We encourage parents to help students by keeping the recording device (phone, tablet, computer) steady while filming. Learn more about the ACPS Kids Read program (PDF) and this exciting opportunity to share your love of reading. 
FOOD ACCESS
ACPS has multiple distribution meal site locations throughout Alexandria for all ACPS students and children over the age of two. See a map and list of food distribution locations and times.
Spring Break Food Distribution
During Spring Break, March 29-April 2, only the following food distribution locations will be operating:
T.C. Williams High School
Francis C. Hammond Middle School
Cora Kelly School for Math, Science and Technology
Grab and Go meals will be available at these sites on Monday, Wednesday and Friday between 7:30 a.m. and noon. There will be no pop-up site distribution during Spring Break.
April 5 Food Distribution
Monday, April 5 is a Teacher Work Day and there is no school for students. However, all food distribution sites and community pop-up locations will be open at their normal times (9 a.m. to noon for school sites, and various times for pop-up locations).