en español (PDF) | አማርኛ (PDF) | بالعربية (PDF)
This Week's Headlines:
---
Dear ACPS Families and Community,
I hope by now that those of you with students returning to school buildings in the coming weeks are feeling confident and familiar with our procedures and routines. Please be sure to check out the special edition newsletter sent out on Wednesday which contains valuable resources that will help you and your children prepare in the best way possible.
On another note, we are getting closer to choosing the new names for both T.C. Williams High School and Matthew Maury Elementary School. Next Thursday, I will be presenting the top three names for each school from 14,947 poll participants. I will also be offering my recommendation. The final names that I will be putting forward met the Alexandria City School Board policies and were deemed suitable for naming a school. Careful consideration went into public opinion, suitability to the campus and student population, and our community. There will be a Public Hearing on this topic on March 18, and the School Board will make a final decision at the April 8 School Board meeting.
Stay safe, healthy and engaged.
Dr. Gregory C. Hutchings, Jr.
Superintendent
No School for Students on Friday, March 5: Staff Professional Development Day
There will be no school for students on Friday, March 5. It is a Staff Professional Development Day. 
Food distribution on Friday, March 5 will only be open at T.C. Williams High School and Francis C. Hammond Middle School from 7:30 a.m. to noon. There will be no distribution to community locations by bus.
Latest Community Health Metrics
Alexandria's latest community health metrics as of Feb. 25, 2021: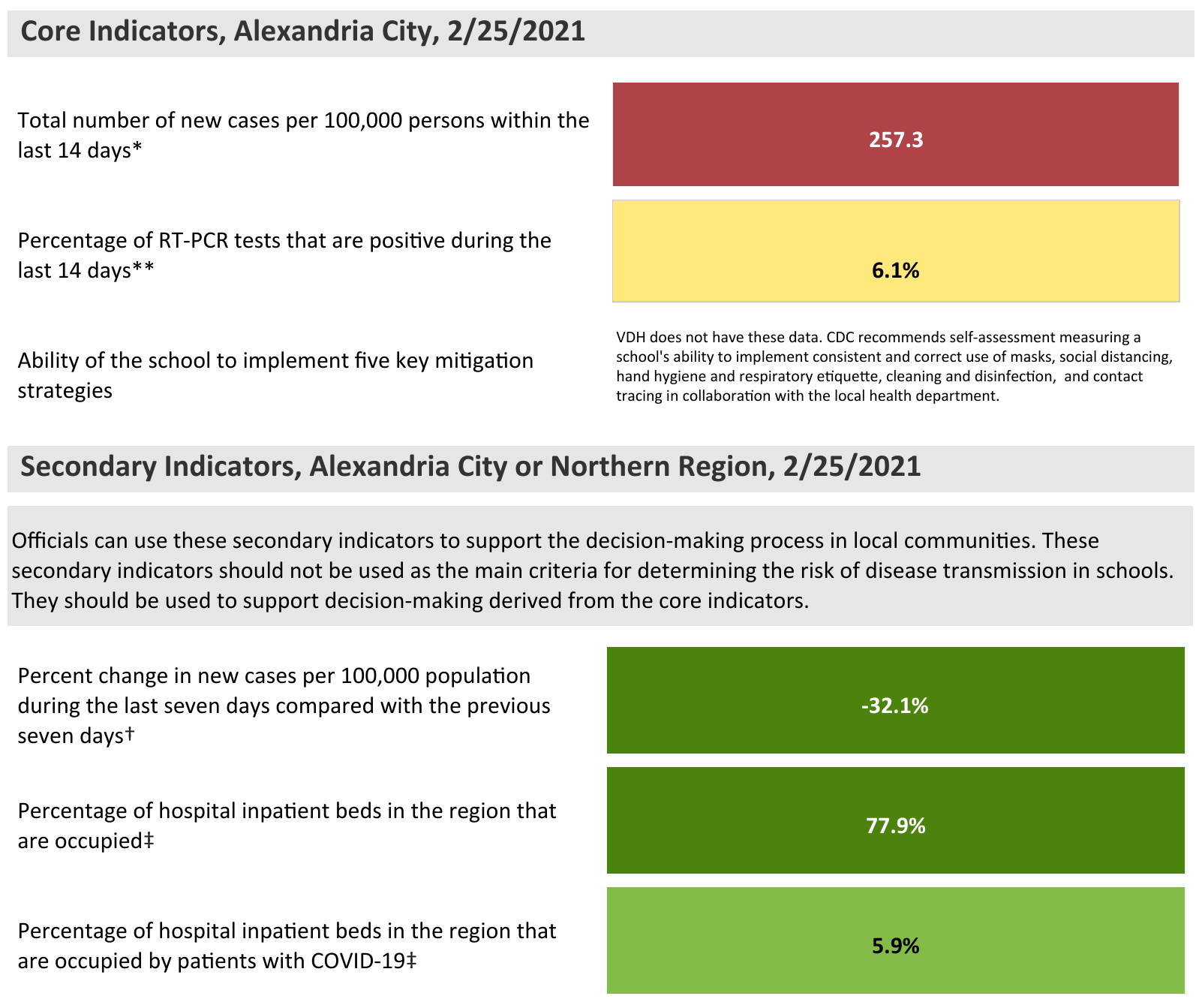 Updated School Health and Related Guidelines
ACPS has updated its extensive COVID-19 School Health and Related Guidelines to prepare for hybrid learning and adhere to current guidance from the Centers for Disease Control and Prevention (CDC), the Virginia Department of Health, and the Alexandria Health Department.
View the ACPS COVID-19 School Health and Related Guidelines to get information on topics such as:
Student and Staff Health Screening Protocol During COVID-19

Protocols for Students Who Become Ill at School

Prevention and Mitigation Strategies

… and more.
Updated Hybrid Learning FAQs: Students with Disabilities, Child Care
We have updated our Frequently Asked Questions to include more information on the following topics:
Pre-Registration for COVID-19 Vaccinations Now Open
Vaccinate Virginia is encouraging all those who have not yet done so to preregister for the COVID-19 vaccine.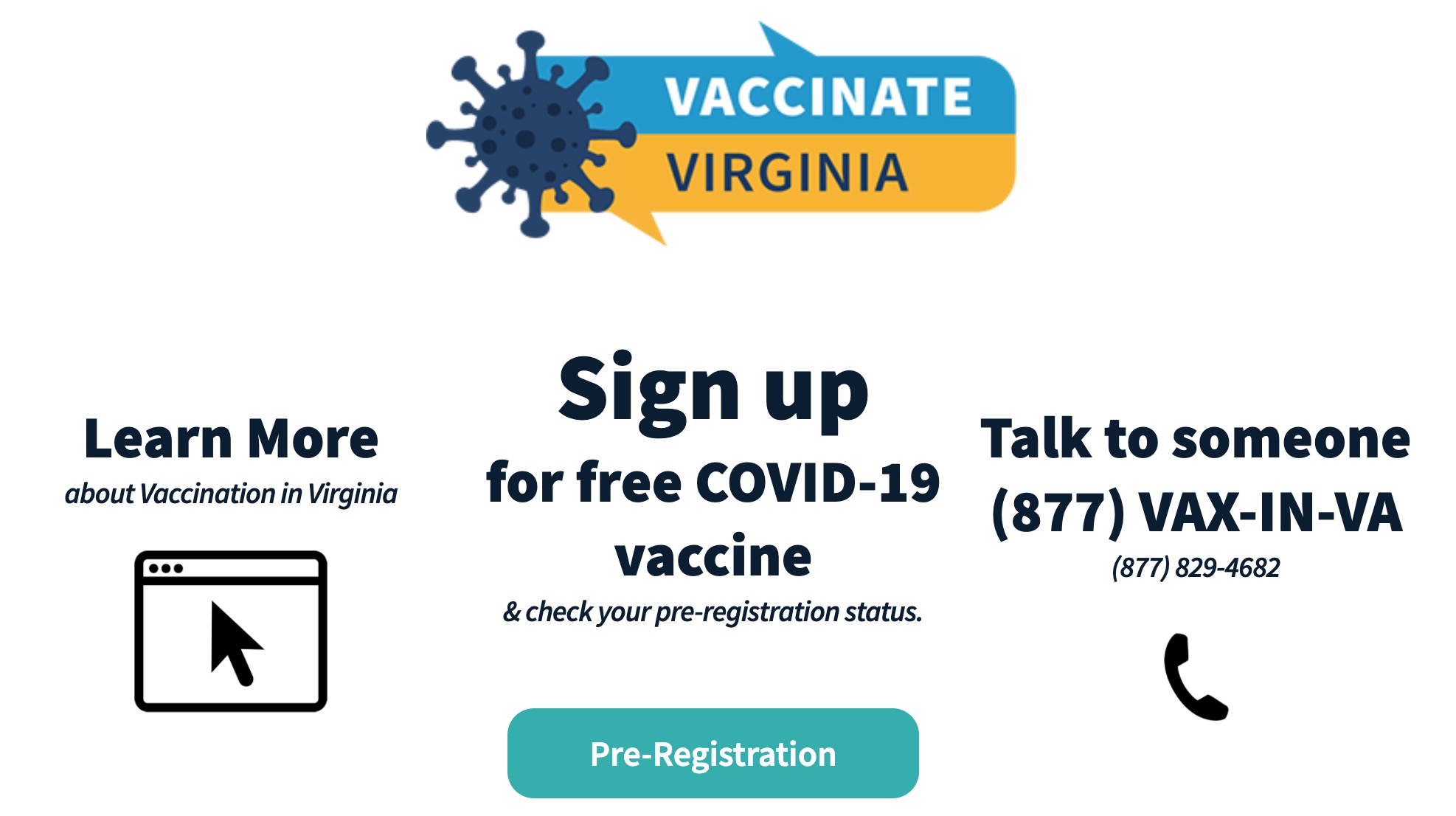 Trailblazing T.C. Student to Represent Virginia in Prestigious Government Program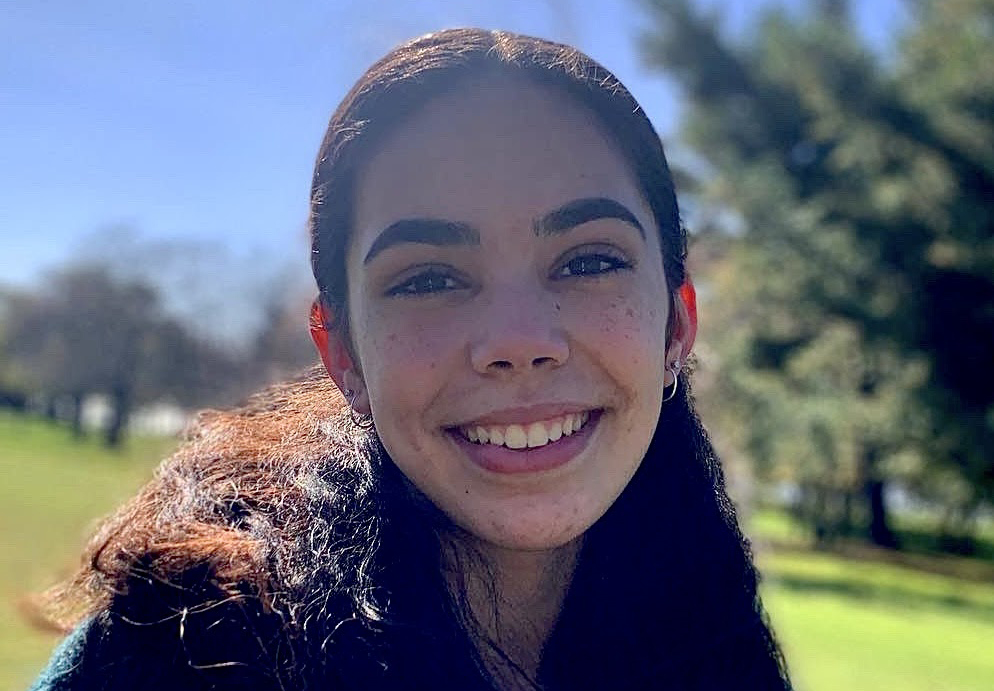 A T.C. Williams High School junior is the first ACPS student in history to be selected for the United States Senate Youth Program.
Sabine Mead is one of two delegates representing the Commonwealth of Virginia this year after applying for the nationwide program that was founded in 1962.
Next month, the 16 year-old will gain an insider's view into the workings of the federal government during a week-long series of virtual seminars. Although the schedule for the week has yet to be shared, in previous years students have met with their senators, the leader of the Senate majority, and even the President.
Sabine, who hopes to pursue a government career, will also receive a $10,000 college scholarship.
"It has already been an incredible experience," she said. 
Read more about Sabine's achievement.
Black History Month: Teaching and Learning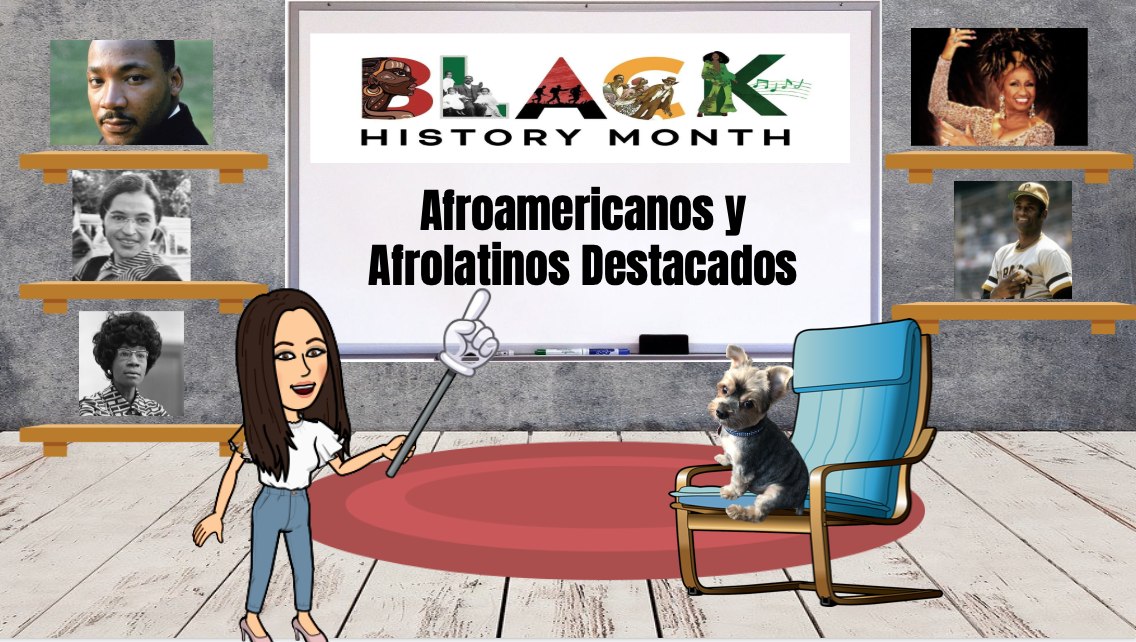 Graphic created by Nilda Rivera, student at Mount Vernon Community School
How have ACPS schools been creating learning opportunities for students around Black History Month? We reached out to librarians to find out what they have been sharing with teachers and students throughout February.
John Adams Elementary School Librarian Emily Godfrey shared, "Our fourth grade team has created a virtual wax museum filled with historical and current African American heroes. Students have researched the life of their figure and are currently working hard on their WeVideo presentations. The library has supported this project by providing research materials and resources for each of the figures."
Johnna, a fourth grader in Jeretha Thomas' class at John Adams, chose to research Katherine Johnson for her biography project. Johnna presented her project in costume and created a bottle biography doll.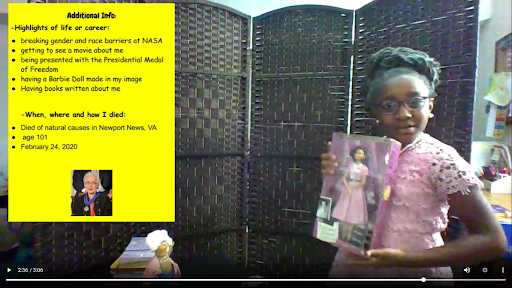 "The K-3 students at John Adams have spent the month working on a Guided Inquiry unit around the Civil Rights Movement in their Library Encore classes. Students have immersed themselves in information, engaged with each other in conversation, inquired to gain a deeper understanding and reflected on their research process."
At Samuel W. Tucker Elementary School, librarian Matthew Hayes said they have been using the website Storyline Online to share meaningful books on Black History. He said, "Some of my favorites are Trombone Shorty, read by Angela Bassett and Rent Party Jazz, read by Viola Davis."
At the T.C. Williams High School Minnie Howard Campus library, LaGina Gross organizes "Monday Moments," "Tuesday Trivia" and "Friday Film Fest," highlighting achievements of African Americans as activities for students to participate in during their lunch hour. Gross also created a virtual flipbook for her students to access e-books from the school library collection, live events and virtual collections from Alexandria's Black History Museum, National Museum of African American History, and other Black History resources.
Library Media Specialist Nilda Rivera at Mount Vernon Community School created a virtual library for students (click on the pictures to lead you to reading recommendations.) She expanded those resources to share with families, including National Geographic Kids, PebbleGo biographies, Storyline Online, and book titles from MyOn and Epic. Rivera includes resources in Spanish and English. She recommends these two books for families to explore at home: "Little Leaders: Bold Women in Black History" and "Little Legends: Exceptional Men in Black History" by Vashti Harrison. 
The librarians at T.C. send a weekly newsletter to staff. February has been dedicated to Black History Month, providing school library resources and resources from the community, some of which students have been able to pick up curbside. Laurel Taylor and Beth Ebenstein-Mulch said, "We started a weekly Wake Up and Read Wednesday tweet series, and this month we have been featuring Black young adult fiction authors."
Renaming Schools Public Hearing on March 18
Individuals interested in speaking on the name recommendations for T.C. Williams High School and Matthew Maury Elementary School should sign up for a virtual school board meeting to be held on March 18 at 4 p.m.
To sign up to speak, register online by noon on Thursday, March 17. Only remarks related to the renaming of schools will be heard at this Public Hearing. Speakers who wish to comment on other topics must sign up for public comments at another School Board Meeting or submit written public comments.
Public hearing participants will need to log in to the virtual meeting by 4 p.m. through a link provided by the Clerk of the Board.
While the State of Emergency due to COVID-19 remains in effect, virtual School Board Meetings are being held instead of in-person Board Meetings. As a result, public hearing comments will be held virtually during School Board Meetings.
Substance Abuse Services for our Students
ACPS offers substance abuse services through the Department of Student Services and Equity.
Substance Abuse Counselors work with school staff to help educate students and their families on the dangers of using substances on their developing brains and bodies. 
Accessing Services and Referrals
Students can access ACPS Substance Abuse Services through referrals made by their school counselor, teacher, school administrator and other school professionals. Students and their family members can also make referrals in order to ensure at-risk students are supported for future success. See more information on ACPS Substance Abuse Services.
Resources for Preventing Substance Use
With today's current pandemic, substance abuse prevention and treatment are key in reducing significant health effects of COVID-19. Smoking and vaping are both connected to negative respiratory and immune impacts that can lead to an increased likelihood in developing a severe case of COVID-19. 
The Substance Abuse Prevention Coalition of Alexandria (SAPCA) can help you explore further resources about preventing youth substance use and abuse and supporting positive youth development. For substance education and prevention, we recommend students and families explore curriculums about substance use, vaping, and habits that promote health and wellness. Go to EVERFI or Catch Your Breath to learn more about staying healthy.
Narcan
Did you know? Narcan® (also known as Naloxone) can save the life of someone who is overdosing from opioids. It can stop an overdose and restore normal breathing until emergency response can arrive. You can also request Narcan to be mailed to you by emailing your name and mailing address to opioids@alexandriava.gov. There is no cost for the Narcan or mailing.
Public Review of Recommended New English/Language Arts Textbooks
ACPS will adopt new English/Language Arts textbooks for grades 6-12 (including Advanced Placement and Dual Enrollment Courses) to be used starting the 2021-22 school year. 
Textbook evaluation committees have reviewed materials and put forth recommendations for the School Board to review. As part of the process, ACPS will also offer a public review of the recommended textbooks from Feb. 16-March 1, 2021.
Although ACPS buildings are still closed because of COVID 19, the following review options are available to the public: 
Important Changes to Local Alternative Assessments
Based on emergency flexibility issued by the Virginia Department of Education (VDOE) due to the COVID-19 pandemic, ACPS will administer Local Alternate Assessments (LAAs) in place of the Virginia Studies (Grade 4 History), Civics and Economics (Grade 8 History), and the Grade 8 Writing SOLs in spring 2021. The Local Alternative Assessments will be administered from mid-March to early May 2021. 
The LAAs allow for virtual or in-person administration so that all students may be assessed regardless of their instructional delivery setting. 
There is also a great increase in the flexibility in the timing of assessments with instructional staff able to administer assessments in alignment with the pacing of the curriculum. Finally, the LAAs are aligned with instructional best practices and the ACPS instructional vision for authentic performance-based assessments.
Please know we are carefully preparing and doing all we can to minimize any potential difficulties in administering these assessments in-person and virtually. We understand through our shared experiences that we may have unavoidable technical difficulties. We thank you for your continued support.
Please direct any questions regarding the decision to implement LAAs in spring 2021 to clinton.page@acps.k12.va.us. More information can be found on the VDOE website.
FOOD ACCESS: Only T.C. Williams and Hammond open for food distribution on Friday, March 5
There will be no school for students on Friday, March 5. It is a Staff Professional Development Day.
Food distribution on Friday, March 5 will only be open at T.C. Williams High School and Francis C. Hammond Middle School from 7:30 a.m. to noon. There will be no distribution to community locations by bus.
—
ACPS has multiple distribution meal site locations throughout Alexandria for all ACPS students and children over the age of two. See a map of food distribution locations.
GRAB-AND-GO MEAL LOCATIONS:
Grab and Go breakfast and lunch meals are available Mondays, Wednesdays and Fridays between 7:30 a.m. and 12 p.m. at the following locations:
William Ramsay Elementary School
5700 Sanger Avenue, Alexandria, VA 22311
Francis C. Hammond Middle School
4646 Seminary Road, Alexandria, VA 22304
Cora Kelly School for Math, Science and Technology
3600 Commonwealth Avenue, Alexandria, VA 22305
Jefferson-Houston PreK-8 IB School
1501 Cameron Street, Alexandria, VA 22314
Mount Vernon Community School
2601 Commonwealth Avenue, Alexandria, VA 22305
Patrick Henry K-8 School
4643 Taney Avenue, Alexandria, VA 22304
T.C. Williams High School
3330 King Street, Alexandria, VA 22304
And available on Mondays, Wednesdays and Fridays at our "Pop-Up" sites located at:
Mason Apartments at 75 South Reynolds Street, Alexandria, VA 22304
10:45 to 11:15 a.m.
Brent Place Apartments at 375 South Reynolds Street, Alexandria, VA 22304
11:20 to 11:50 a.m.
Ruby Tucker Family Center at 322 Tancil Court, Alexandria, VA 22314
10:45 to 11:15 a.m.
Community Lodgings at 607 Notabene Drive, Alexandria, VA 22305
10:45 to 11:15 a.m.
Old Towne West Apartments (parking lot) at 500 South Alfred Street, Alexandria, VA 22314
11:20 to 11:50 a.m.
Corner of Florence Drive and Four Mile Road, Alexandria, VA 22305
10:45 to 11:15 a.m.
The Fields at 4309 Duke Street, Alexandria, VA 22304
10:45 to 11:15 a.m.
Bennington Crossing Apartments at 441 North Armistead Street, Alexandria, VA 22312
11:30 a.m. to noon
2727 Duke Street (behind Bank of America), Alexandria, VA 22314
10:45 to 11:15 a.m.
NO SIGN UP OR REGISTRATION IS REQUIRED TO RECEIVE MEALS.
NOTE: No food distribution will occur on Tuesdays or Thursdays. The limited days for distribution is to support the practice of social distancing and to limit social gatherings. Meals for two days will be provided on Mondays and Wednesdays, and meals for three days will be provided on Fridays.
Other Food Resources in the City of Alexandria:
For food pantry locations and schedules in Alexandria, visit www.hungerfreealexandria.com or call ‪703-662-1067.
Questions? Or Need Translation?
Send us your question in Spanish, Arabic or Amharic:
Text ACPSMEALS to 797979 (English and Spanish)
Call or text 703-927-6866 (Amharic)
Call or text 703-927-7095 (Arabic)
OR
Call the FACE Center's Bilingual Parent Information Lines, available Monday-Friday, from 9 a.m. to 1 p.m.:
For Spanish/English, call 571-775-9719
For Amharic/English, call 703-927-6866
For Arabic/English, call 703-927-7095
SAFETY REMINDER: Please remember to observe social distancing practices while at the food distribution site by maintaining six feet of personal space between you and other families or individuals.
Anyone exhibiting symptoms of a respiratory illness like fever, runny nose, sore throat, coughing or difficulty breathing on the day of food distribution or in the previous 24 hours should not visit a food distribution site but call a health care provider instead. If you do not have a primary care physician and are not enrolled in a clinic, you may CALL an urgent care center or emergency room.
UPDATES FROM THE ALEXANDRIA HEALTH DEPARTMENT
For all updates, see www.alexandriava.gov/Coronavirus.
HEALTH REMINDERS
Don't Feel Well?
Contact your primary health care physician. Don't have insurance? Contact Neighborhood Health at 703-535-5568.
---
Have questions, concerns or feedback? Contact us.