en español (PDF) | አማርኛ (PDF) | بالعربية (PDF)
This Week's Headlines:
---
Dear ACPS Families and Community,
We are now just two weeks away from the reopening of our schools on March 2 when we will welcome our first group of students. Our final preparations are coming together and we are working closely with all school staff who are returning in person to ensure they are fully-versed with our new protocols and able to manage a safe and engaging teaching and learning environment. I met virtually with staff this week to answer their questions and address lingering concerns.
Next Wednesday, we will be publishing an ACPS Express Special Edition on School Reopening, which we hope will give our families who opted for hybrid learning everything they need to allow for a smooth transition back to the classroom. There is no doubt that things are going to look very different than how we remember the typical school day before March 13, 2020. The best thing we can do as parents and guardians is to help our children who will transition into our hybrid learning approach understand what is happening, why it is happening, and what is expected of them when they return to the classroom. Please read the materials and watch the videos we will be sharing as they relate to your child's grade level.
Like all our neighboring divisions, we are currently working through the process of hiring classroom monitors to assist our teaching staff who do not have the ability to return to our school buildings at this point. Given the huge demand for these workers in the area and the time it takes to onboard each one, this is a longer process than anticipated. As we have all discovered during this pandemic, simple solutions are not easy to come by. This week, we were able to assess the data gathered on our staff's ability to return. We hope to see these numbers increase over time and are working hard to address the implications and work to find solutions.
I am pleased to say that last night the School Board adopted our Proposed FY22 Combined Funds Budget, which will now go to the City in April for approval. As we transition back into our buildings, this gives us an opportunity to move forward at speed with our work of recovery, retaining and reigniting. With that in mind, plans for summer learning are well underway and you can read more about this below.
Stay safe, healthy and engaged.
Dr. Gregory C. Hutchings, Jr.
Superintendent
Reminder: Hybrid Students to Return to Classrooms in March
In March, our hybrid students will return to the classroom two days a week, according to the following tentative timeline:
Tuesday, March 2:

Reentry of hybrid students in grades K-5 receiving special education services in citywide self-contained full-day class programs, students in K-5 receiving special education reading and math services in a self-contained setting, Early Childhood Special Education students, and students in grades K-5 receiving English Learner services.
Tuesday, March 9:

Reentry of hybrid students in grades 6-12 receiving special education citywide and self-contained reading and math services, and Newcomer English Learner students in grades 6-12.

 

Tuesday, March 16:

Reentry of

ALL

remaining hybrid students in grades preK-12.
Our staff is diligently working toward these dates, remaining cautiously optimistic that our community health metrics will continue to improve.
See the Frequently Asked Questions about Reopening.
Alexandria's latest community health metrics as of Feb. 18, 2021: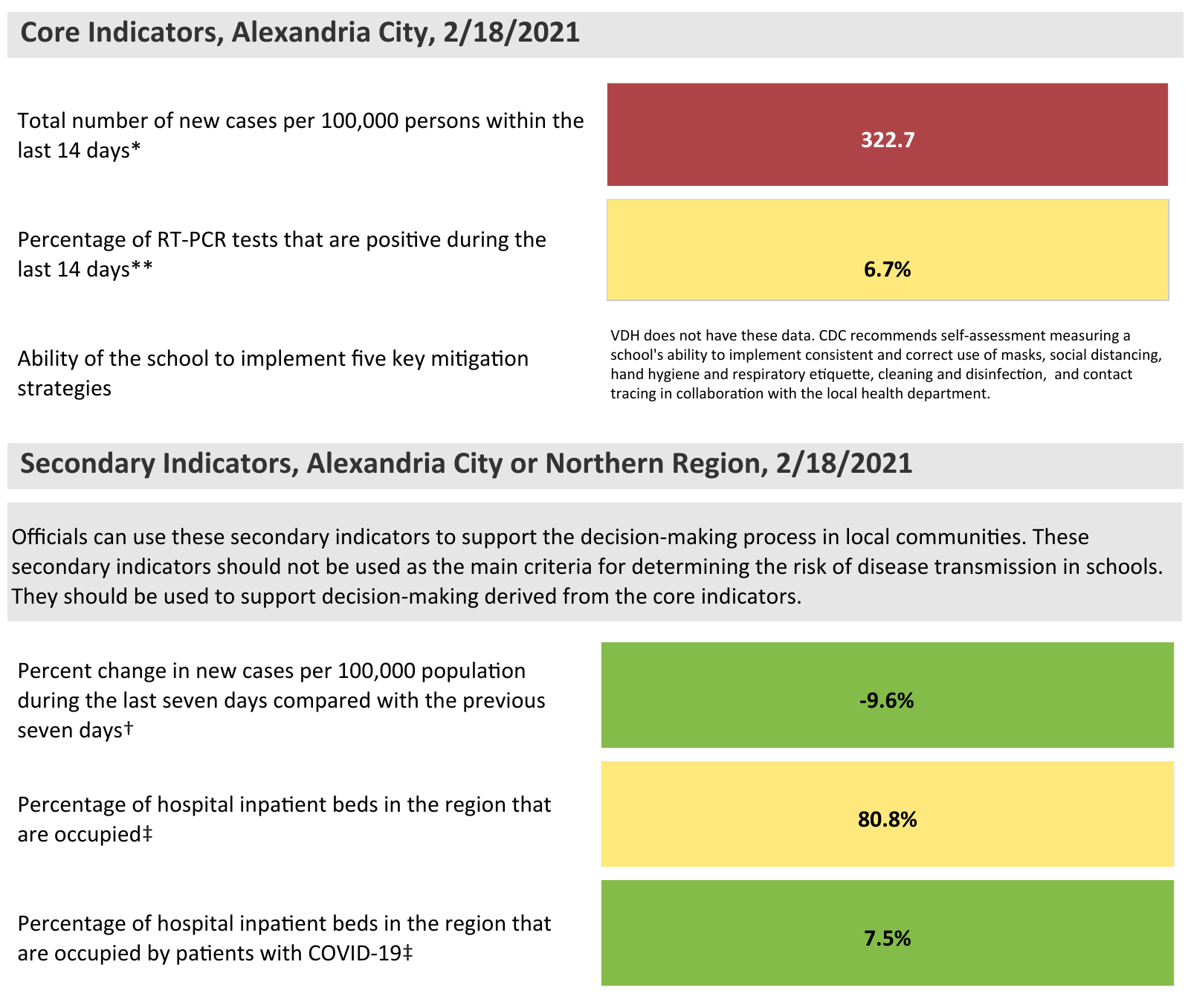 Staff Ability to Return Information
Earlier this month, we surveyed our staff on their ability to return to work in person and also their vaccination status. Below you will find initial data that was shared on Tuesday evening with the School Board. You will note that some of our staff members are still awaiting their first vaccination appointments and we are hopeful that many of those who have indicated they are unable to return may change their status once they are fully vaccinated. 
In the coming weeks, you will receive notice as to whether or not your child's teacher is able to return to the classroom on the first day of school.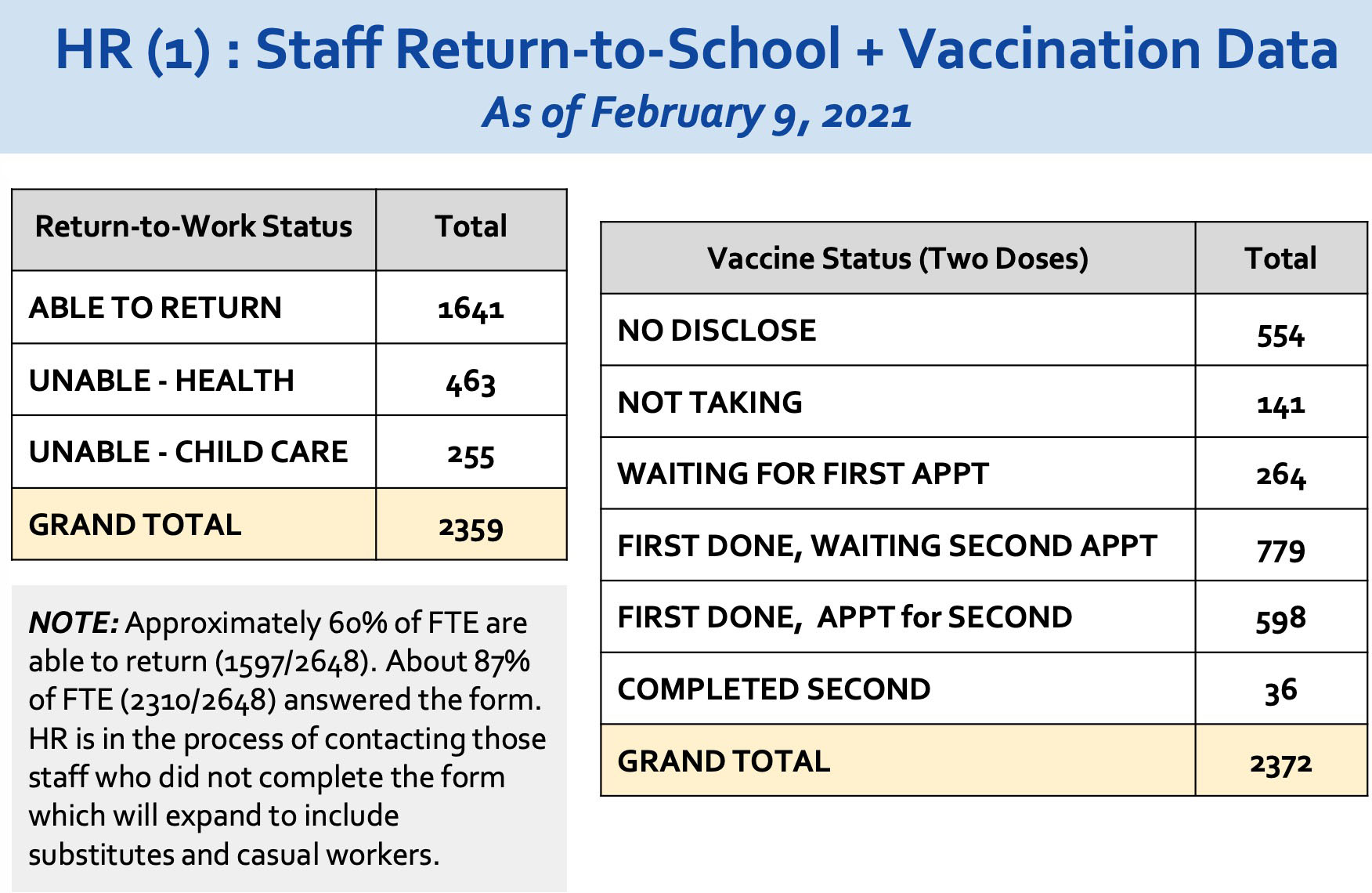 School Board Approves ACPS Combined Funds Budget Focused on Recovery, Retention and Reigniting
On Thursday night, the Alexandria City School Board voted unanimously to approve the FY22 Combined-Funds Budget which was proposed by Superintendent Dr. Gregory C. Hutchings, Jr. on Jan. 7, 2021. It focuses on addressing the need for supporting students, families and staff to recover from the dual impact on education of the COVID-19 pandemic and the reemergence of issues surrounding racial inequity.
This streamlined Combined Funds Budget of $322.7 million supports recovering from social, emotional and academic learning losses, recruiting and retaining our high-quality team, and reigniting a love of teaching, learning and leadership. In addition, the comprehensive financial blueprint provides for the resources and support necessary to continue the division's efforts to keep racial equity at the heart of all work.
Read more about the Combined Funds Budget.
Interested in Being a Classroom Monitor?
ACPS is in the process of recruiting classroom monitors across the division, including five classroom monitors per school, one special education monitor per school, and one health annex monitor per school. 
Interested in becoming a classroom monitor? See the job description and apply online.
Mark Your Schedules for Summer Learning For All 2021 
As we work to recover, retain and reignite from social, emotional and academic learning loss caused by the COVID-19 pandemic, ACPS is looking forward to the second year of our successful summer program, Summer Learning for All.
Just as in Summer 2020, it is critical that ALL our students are given the opportunity to fill any gaps in their learning and prepare for the coming academic year.
ALL ACPS students will be automatically enrolled for Summer Learning For All, but families have the option to opt out.
This year, the program will run from Tuesday, July 6 to Friday, July 30 and is expected to follow a virtual and hybrid format, depending on our city's community health metrics.
We will share more about Summer Learning over the next few months as we finalize our plans. 
In the meantime, read more about Summer Learning For All in this article in Education Dive, a respected education industry publication.
Congratulations to Our National Merit Scholar Finalists

All three of our National Merit Scholar Semifinalists have made it through to the final of the prestigious academic national competition.
Nikolai Kosinski, Caroline Winakur and Aiden Crowe received the news earlier this month. These three Titan seniors will all receive some kind of financial assistance but must wait until the spring to discover how highly they ranked and what level of scholarship they will receive.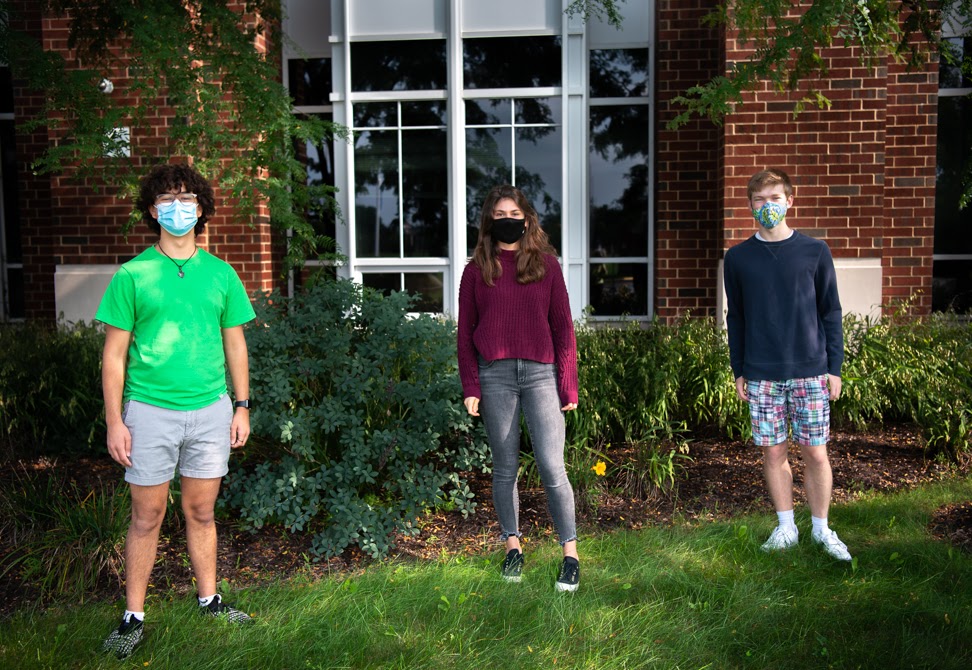 Principal Peter Balas expressed his pride.
"Congratulations to Aiden, Caroline and Nikolai for this amazing achievement that is truly deserved and is a testament to your hard work, resilience and academic talent."
Read more about the trio, who have been friends since middle school. 
Young Scholars: Come and Hear What AVID is All About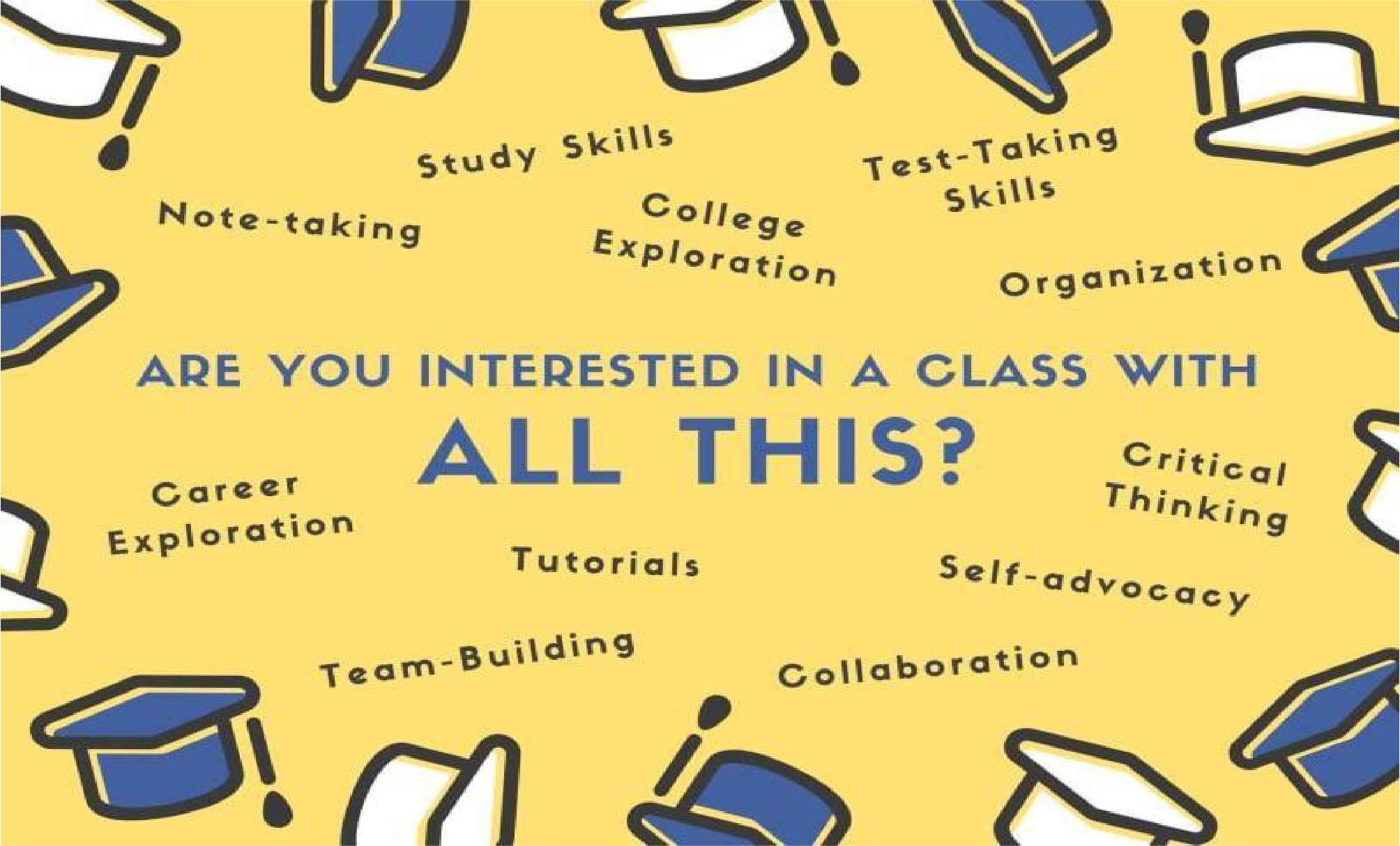 Students and families part of the Young Scholar* program are invited to attend a Zoom webinar next week to hear about the AVID (Advancement Via Individual Determination) program.
The AVID elective is a college readiness course available in grades 6-12 and is designed to prepare and support students for rigorous courses in middle and high school. 
The AVID framework stretches individual inquiry, promotes student voice that allows them to comfortably express their thinking and their individual needs and desires in order to be successful, and focuses on thoughtful decision-making about school and in life. Through teamwork and service learning projects, students also learn about additional college and career opportunities that align with their hopes and dreams. 
AVID is serving as a complementary pipeline for Young Scholars in ACPS, so come join the AVID family! 
'Young Scholars Pathway to AVID' Zoom family information session:
Feb. 23, 2021 from 5 to 6 p.m.
RSVP online.
Join on Zoom.
Interpretation in Spanish, Amharic and Arabic will be provided. 
If you cannot join us, but want additional information, please reach out to your school counselor. Learn more about AVID in ACPS.
*Young Scholars is a program designed to nurture gifted potential in students from historically underrepresented populations. Students are identified by their elementary schools through performance tasks that tap into a variety of learning styles. The Young Scholars program is one of the ways that ACPS works to ensure every student will be academically successful and prepared for life, work and college. 
Five Titan CTE Teachers Earn Financial Literacy Teacher Award
Five teachers at T.C. Williams High School have been recognized for their work to ensure our students are financially literate.
Congratulations go to teachers Katrina Caras, Deborah Leow, Jim Pondolfino, Beulah Willis-Brown and Nancy Foote. All five Career and Technical Education (CTE) economics and personal finance teachers have been awarded the W!se's 2019-20 Gold Star Teacher Award! 
To earn the Gold Star Award, a CTE teacher must have achieved a 93% student passing rate on the W!se Financial Literacy Certification Test in at least one of their classes during the 2019-20 school year. 
T.C. Williams CTE Coordinator Trisha Jacobs said, "Last spring, when ACPS went 100% virtual, these Career and Technical Education teachers were challenged with being the first educators to test students using a virtual platform. While many school divisions across the Commonwealth stopped all spring testing, this team of Economics and Personal Finance (EPF) teachers continued to provide this valuable financial literacy certification for our students. I commend the entire EPF team for their willingness to journey into the world of online testing!"
LAST CHANCE TODAY: Help Choose New School Names for T.C. Williams and Maury

The renaming polls for T.C. Williams High School and Matthew Maury Elementary School close at 11:59 p.m. tonight, Feb. 19. Please select one of the nine semi-finalist names for each school. Your voice matters!
Take the T.C. Williams Renaming Poll #2
Take the Maury Elementary Renaming Poll #2
Save the Date: Noche de Ciencias/Night of Science on Feb. 23 and 25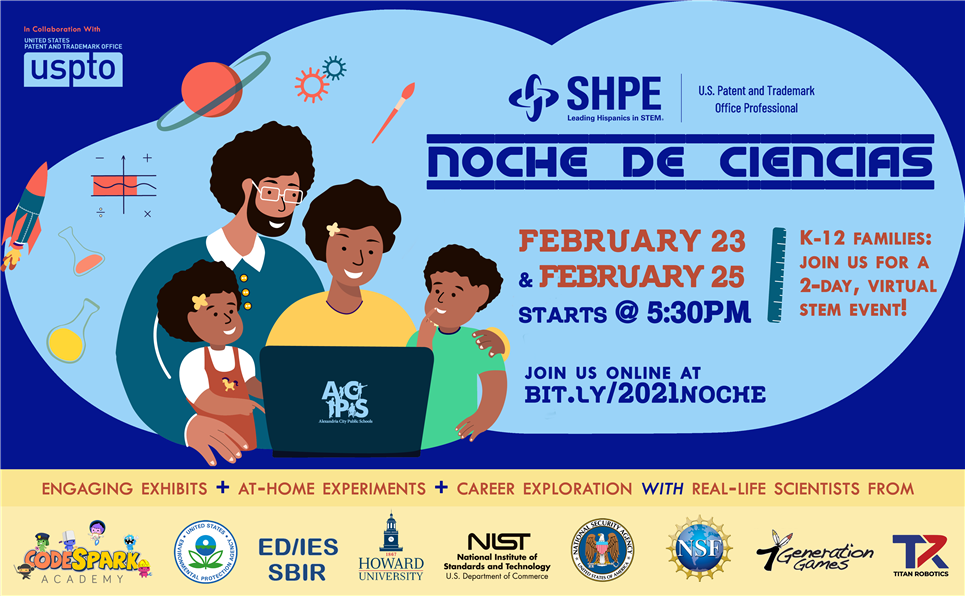 Join us virtually as experts bring science, technology, engineering, and math (STEM) fields to life through engaging exhibits, design studio challenges and follow-along at-home experiments. Imagine a future in STEM for yourself. All ACPS families and students are invited to participate in Noche de Ciencias (Night of Science) on Feb. 23 and Feb. 25 from 5:30 to 7:30 p.m. Due to COVID restrictions and social distancing requirements, this annual interactive STEM event will be presented virtually. 
Noche de Ciencias is a national program of the Society of Hispanic Professional Engineers (SHPE) and was initiated in 2008 as a way to introduce students and families to science and engineering through hands-on activities and exposure to college and career information in STEM. The United States Patent and Trademark Office (USPTO), in collaboration with SHPE, is hosting these virtual events for ACPS students and families over two nights. There will be hands-on STEM activities designed to help develop problem-solving, inventive thinking and introduce intellectual property concepts — such as invention, patents, and trademarks — to K-12 students.
The USPTO has invited other STEM-focused federal agencies to exhibit and share information about careers in their respective fields. The sessions will be live video virtual presentations introducing K-12 students to possible STEM career paths in their agencies and provide hands-on activities that engage the students and promote STEM.
Join us virtually on Feb. 23 and 25 on the ACPS website.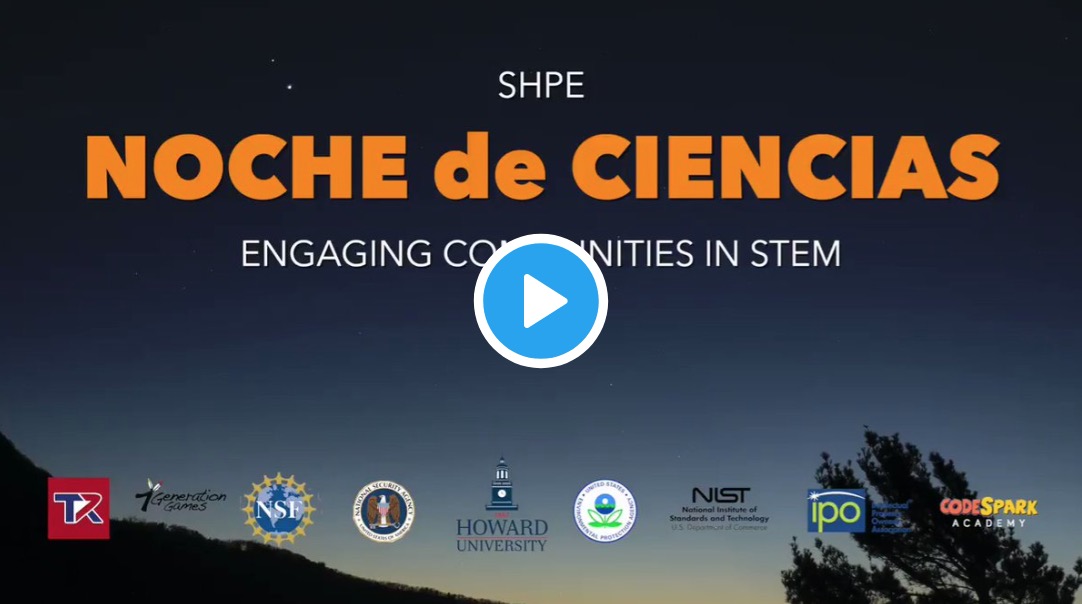 Black History Month: Remembering a trailblazing Alexandria teaching family
Father and daughter Patrick and Helen Lumpkins left an indelible mark on Alexandria, and in particular on ACPS.
Born a slave in 1856, Mr. Lumpkins moved with his parents to Alexandria in 1863 during the Civil War. He excelled academically and went on to take up a teaching post at the Snowden School for Boys in Alexandria in 1882. 
His daughter, Helen, was born in Alexandria on July 4, 1905 and attended Hallowell School for Girls, beginning a teaching career with ACPS that spanned 46 years. For her remarkable civic duty and her contribution to African American community, she was inducted into the Alexandria African American Hall of Fame.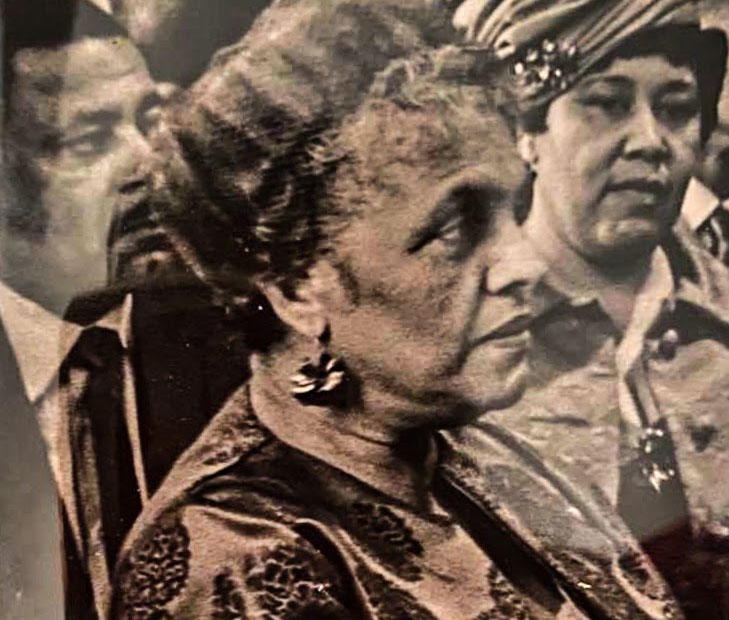 Helen Lumpkins Day was married to Lawrence Day, brother to Ferdinand T. Day and one of The Secret Seven civil rights activists of Alexandria.
Read more about the lives of educators Patrick and Helen Lumpkins in this Alexandria Gazette article. 
Student Fitness Giveaways are Back!
ACPS students and families can request a free fitness "toolkit" to help keep them active during the virtual learning school day, thanks to ACPS partner RunningBrooke.
The kit has items including an easily assembled "fitness cube," a poster packed with home fitness activities, a yoga deck, calendar, and more. According to RunningBrooke, science shows that physical activity throughout the day is good for mental, physical health, and academic success. 
Request a free student fitness toolkit.
Introducing Our New ACPS Executive Director of Communications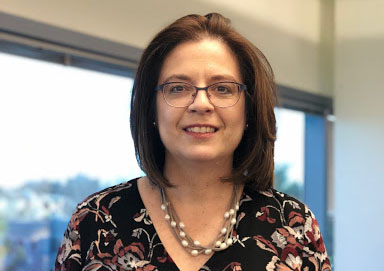 Kathy Mimberg will be joining ACPS on March 10 as the new executive director of communications. 
Mimberg has more than 25 years of communications experience, primarily in public relations, civil rights and education. For more than three years she has led communications and community engagement for the Arlington Public Schools (APS) Department of Planning and Evaluation. 
In this role, she manages the APS School Ambassador program, oversees the APS Engage website and client relationship management system, and directs outreach campaigns for capital planning, boundary processes, instructional visioning, and other key initiatives in the School Board Action Plan. She has managed outreach for the development of the current APS Strategic Plan and the biannual Your Voice Matters survey which provides insight on school climate, staff satisfaction and student well-being.
Prior to joining APS, Mimberg served for more than 13 years on the communications team for the civil rights organization UnidosUS (formerly National Council of La Raza) where she specialized in media relations and was the communications lead for programs and advocacy on behalf of Latino children, youth and families. Among the projects Mimberg managed for UnidosUS were communications initiatives to enroll more children and families in health coverage, address hunger and obesity in the Latino community, and raise awareness about the well-being and mental health of Latino children and youth. Also, she led the UnidosUS communications training program available to staff, partner organizations and local nonprofits in the UnidosUS national affiliate network.
Mimberg began her communications career at the global public relations agency Manning, Selvage & Lee (MS&L), where she spent nearly a decade managing client accounts for corporations, nonprofits and associations. She helped build the crisis communications practice for MS&L/Washington, D.C. and worked on campaigns for the dairy industry, the Ford Foundation, and Eli Lilly and Company, among others. At MS&L, Mimberg managed a national initiative to raise awareness about discriminatory images of Latinos on primetime television and launch the American Latino Media Arts (ALMA) awards to recognize accurate and positive portrayals of Latinos in the arts.
Mimberg taught public speaking for two years at the University of Virginia, where she earned an M.A. in Communications. She holds a B.A. in Government and Spanish from the College of William and Mary. She is bilingual and bicultural, having grown up in Central and South America. Mimberg lives in Arlington with her husband and son, and is active in community service.
FOOD ACCESS
ACPS has multiple distribution meal site locations throughout Alexandria for all ACPS students and children over the age of two. See a map of food distribution locations.
GRAB-AND-GO MEAL LOCATIONS:
Grab and Go breakfast and lunch meals are available Mondays, Wednesdays and Fridays between 7:30 a.m. and 12 p.m. at the following locations:
William Ramsay Elementary School
5700 Sanger Avenue, Alexandria, VA 22311
Francis C. Hammond Middle School
4646 Seminary Road, Alexandria, VA 22304
Cora Kelly School for Math, Science and Technology
3600 Commonwealth Avenue, Alexandria, VA 22305
Jefferson-Houston PreK-8 IB School
1501 Cameron Street, Alexandria, VA 22314
Mount Vernon Community School
2601 Commonwealth Avenue, Alexandria, VA 22305
Patrick Henry K-8 School
4643 Taney Avenue, Alexandria, VA 22304
T.C. Williams High School
3330 King Street, Alexandria, VA 22304
And available on Mondays, Wednesdays and Fridays at our "Pop-Up" sites located at:
Mason Apartments at 75 South Reynolds Street, Alexandria, VA 22304
10:45 to 11:15 a.m.
Brent Place Apartments at 375 South Reynolds Street, Alexandria, VA 22304
11:20 to 11:50 a.m.
Ruby Tucker Family Center at 322 Tancil Court, Alexandria, VA 22314
10:45 to 11:15 a.m.
Community Lodgings at 607 Notabene Drive, Alexandria, VA 22305
10:45 to 11:15 a.m.
Old Towne West Apartments (parking lot) at 500 South Alfred Street, Alexandria, VA 22314
11:20 to 11:50 a.m.
Corner of Florence Drive and Four Mile Road, Alexandria, VA 22305
10:45 to 11:15 a.m.
The Fields at 4309 Duke Street, Alexandria, VA 22304
10:45 to 11:15 a.m.
Bennington Crossing Apartments at 441 North Armistead Street, Alexandria, VA 22312
11:30 a.m. to noon
2727 Duke Street (behind Bank of America), Alexandria, VA 22314
10:45 to 11:15 a.m.
NO SIGN UP OR REGISTRATION IS REQUIRED TO RECEIVE MEALS.
NOTE: No food distribution will occur on Tuesdays or Thursdays. The limited days for distribution is to support the practice of social distancing and to limit social gatherings. Meals for two days will be provided on Mondays and Wednesdays, and meals for three days will be provided on Fridays.
Other Food Resources in the City of Alexandria:
For food pantry locations and schedules in Alexandria, visit www.hungerfreealexandria.com or call ‪703-662-1067.
Questions? Or Need Translation?
Send us your question in Spanish, Arabic or Amharic:
Text ACPSMEALS to 797979 (English and Spanish)
Call or text 703-927-6866 (Amharic)
Call or text 703-927-7095 (Arabic)
OR
Call the FACE Center's Bilingual Parent Information Lines, available Monday-Friday, from 9 a.m. to 1 p.m.:
For Spanish/English, call 571-775-9719
For Amharic/English, call 703-927-6866
For Arabic/English, call 703-927-7095
SAFETY REMINDER: Please remember to observe social distancing practices while at the food distribution site by maintaining six feet of personal space between you and other families or individuals.
Anyone exhibiting symptoms of a respiratory illness like fever, runny nose, sore throat, coughing or difficulty breathing on the day of food distribution or in the previous 24 hours should not visit a food distribution site but call a health care provider instead. If you do not have a primary care physician and are not enrolled in a clinic, you may CALL an urgent care center or emergency room.
UPDATES FROM THE ALEXANDRIA HEALTH DEPARTMENT
For all updates, see www.alexandriava.gov/Coronavirus.
HEALTH REMINDERS
Don't Feel Well?
Contact your primary health care physician. Don't have insurance? Contact Neighborhood Health at 703-535-5568.
---
Have questions, concerns or feedback? Contact us.