en español (PDF) | አማርኛ (PDF) | بالعربية (PDF)
This Week's Headlines:
---
Dear ACPS Families and Community,
This week has brought both hope and disappointment. While I am sure that many of you were as disappointed as I was that the community health metrics were not in a position to allow us to transition the first cohort of students back to school buildings on Jan. 19, there was promising news that this week we have been able to start to offer the COVID vaccination to all ACPS staff.
Many of our employees have already been receiving the first of two doses this week. This is a huge step forward and it allows us to alleviate one major hurdle in the transition to reopening our school buildings. Within six weeks, we hope all employees will be vaccinated. I want to say thank you to the Alexandria Health Department for being true collaborative partners and ensuring ACPS staff were at the front of the line as soon as the vaccine became available. I also want to thank Virginia Governor Ralph Northam who visited one of the Alexandria City vaccination PODS to support our vaccination program. We appreciate that this is a collaborative effort.
Also, I wanted to ask that you help us in the renaming process of T.C. Williams High School and Matthew Maury Elementary School by indicating your favorite name in the community poll we are launching today. The shortlist of names has come from our students who have put forward more than 52 different suggestions via 119 separate submissions over the last few weeks.
Finally, I am delighted to be able to congratulate two very worthy recipients of the Posse Scholarship, a prestigious and highly competitive national award. Well done to our Titans, Maria Stakem and Leonora Rodriguez. In these challenging times, you have both displayed the kind of resilience and determination that will keep you in good stead through college and beyond.
Reminder: schools will be closed next Monday in observance of Martin Luther King Jr. Day. Inauguration Day on Wednesday, Jan. 20 will be an asynchronous day for all students.
Enjoy the long weekend!
Dr. Gregory C. Hutchings, Jr.
Superintendent of Schools
Vaccinations Begin for ACPS Staff This Week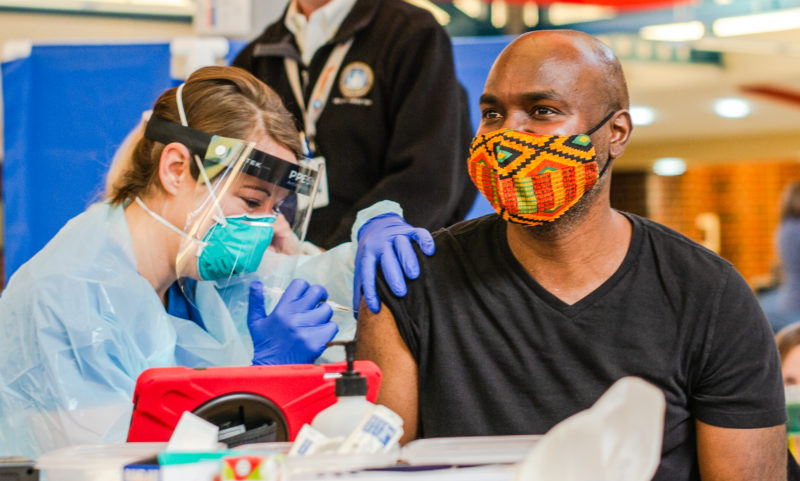 Our staff COVID-19 vaccination program began on Tuesday with a clinic held at T.C. Williams High School. Virginia Governor Ralph Northam visited to help kick off our vaccination program.
Teachers, bus drivers, nutrition workers and central office staff were among those who have been receiving the first dose of the Moderna vaccine. 
Dr. Hutchings received his shot yesterday along with T.C. Williams High School teacher, Danielle Thorne. Douglas MacArthur Elementary School nurse Leanne Desmond administered their shots.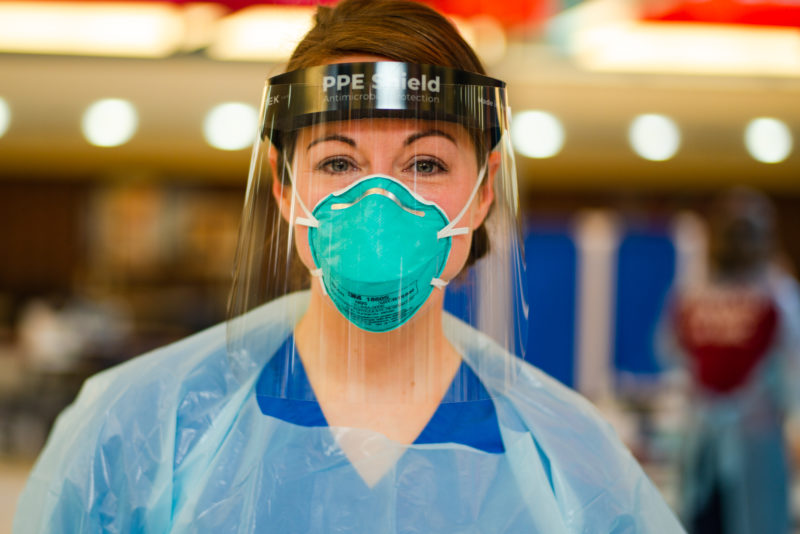 "I have one word to express how I am feeling at this moment — grateful," Dr. Hutchings said. "It was imperative for me to be among the first to take this opportunity and get the vaccine as soon as it became available, to encourage staff to join me in this next step to seeing our school doors open to welcome back ALL students and staff. Thanks to our partners in the Alexandria Health Department for their strong advocacy to include educators in the 1b phase. Their efforts made this a reality."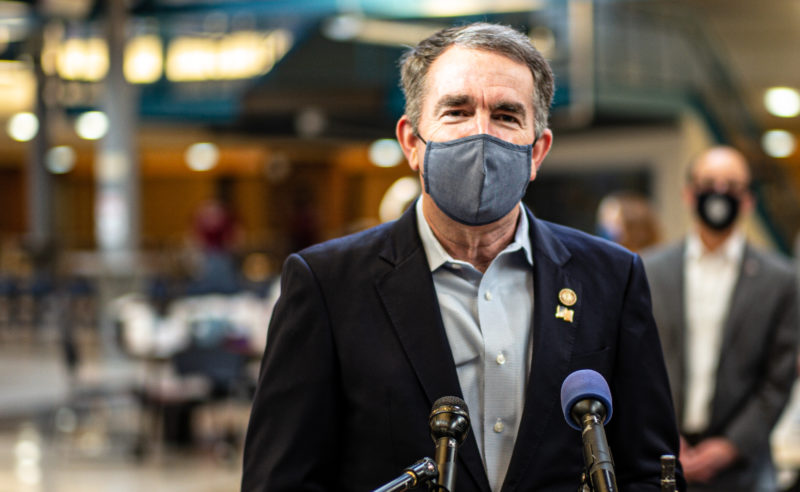 Over the next few weeks, many more of our employees will take the first step in protecting themselves from this virus that forced the closure of our school buildings. Once the second dose has been administered 28 days later, a major hurdle to reopening our schools will have been overcome with the protection of our staff.
ACPS is the first school division in the region to benefit from a vaccination program thanks to the Alexandria Health Department's proactive approach to immunizing school employees.
Our teachers have taken to social media to express their excitement at taking this step to getting life back on track.
T.C. Physics Teacher Laura Simons tweeted, "Our school just sent an email for staff to sign up for vaccinations. I'm getting mine in a week. I'm crying in relief. Colleagues I haven't seen or talked to in six months are texting me in celebration. I needed that bit of joy and hope after this week."
And T.C. Culinary Arts Teacher Craig Scheuerman wrote, "Very excited to see the email from the CDC. Teachers are part of the next group to be vaccinated and I'm scheduled for next Thursday. I miss my students! I look forward to getting back in school."
See more photos from the vaccination kickoff.
Watch the full vaccination kickoff event.
VIDEO: Watch remarks from the vaccination kickoff: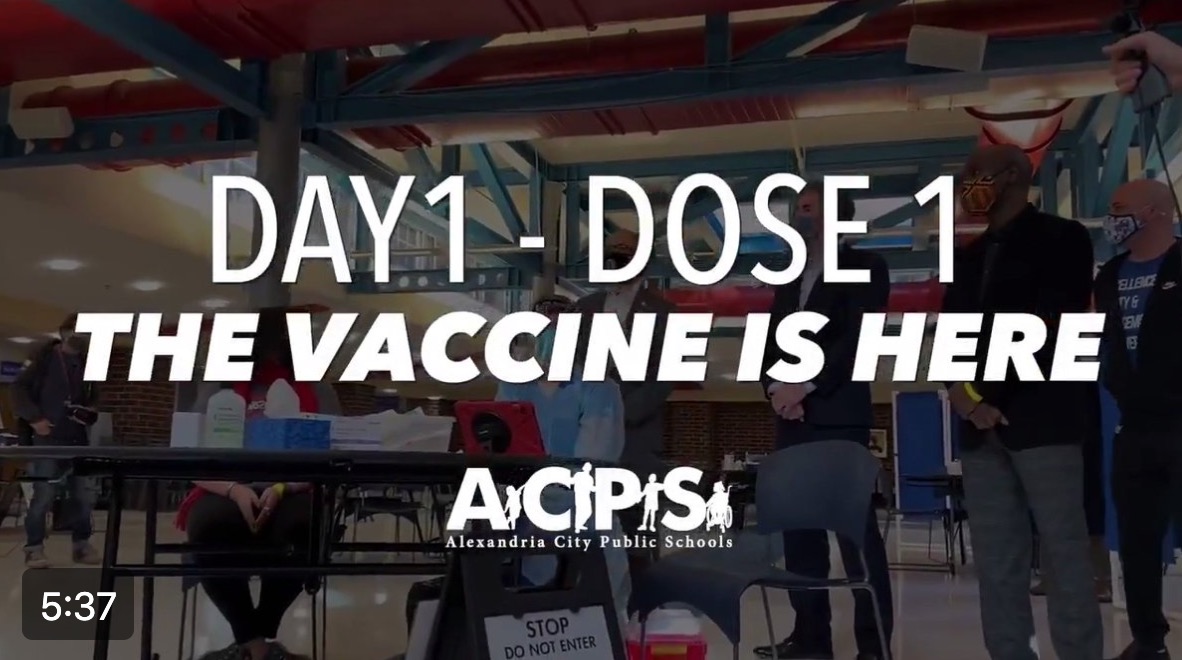 Weekly Reopening Decision Update: Schools to remain 100% virtual for week of Jan. 19
Each Monday morning we will be reassessing the situation regarding the coronavirus pandemic and communicating our decision around transitioning to school building reopening for the following week.
The decision is based on real-time information, which is then analyzed using our school building reopening decision matrix. The decision matrix is based on community health metrics as well as staffing and capacity levels that impact our ability to operate efficiently and implement health and safety mitigation measures. The decision will always be made one week ahead so you, our families and staff, have time to plan ahead for any changes.
View the matrix and decision from Monday, Jan. 11, 2021.
VIDEO: Watch the superintendent's message regarding this decision: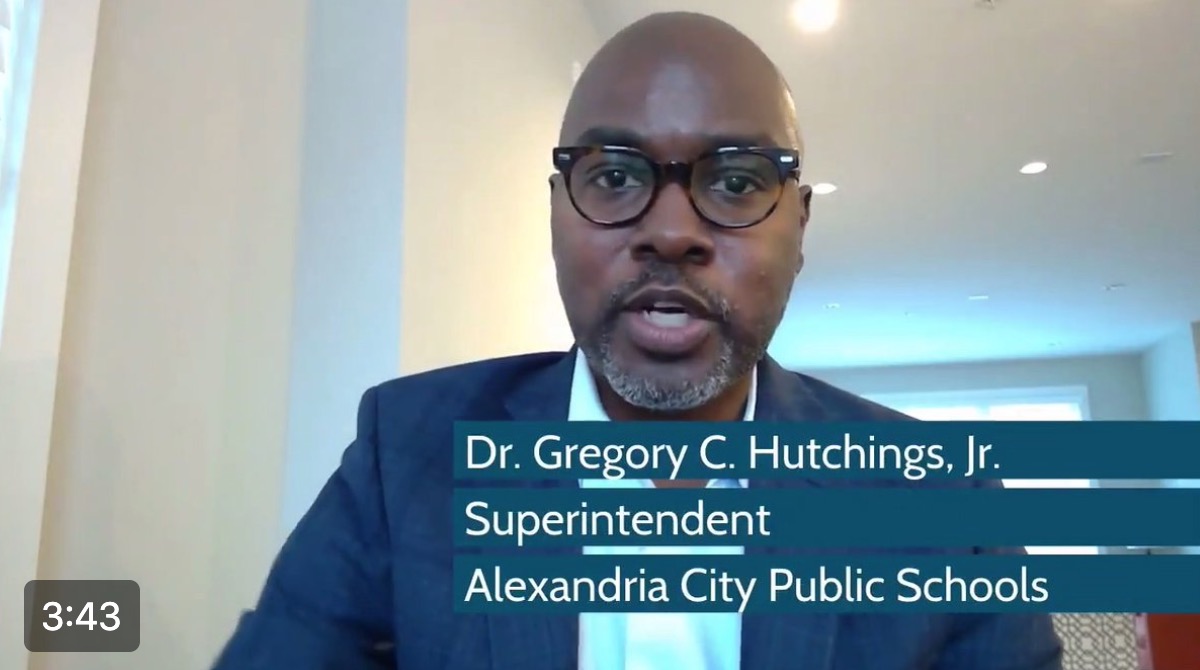 The Identity Project: Poll to Select New Names for T.C. and Maury Opens Today

Today we open up the first community poll on a selection of potential new names for T.C. Williams High School and Matthew Maury Elementary School.
Between now and Jan. 27, we are asking everyone to help us narrow down names that have been suggested by our students over the last month. Don't like any of the options you see? Add your choice of a name to the list. Anyone in the community can make suggestions at this time.
Take the T.C. Williams High School Poll
Take the Matthew Maury Elementary School Poll
Following this process, a second community-wide poll will open in February, with top-performing entries. After both polls have concluded, the community will have one more opportunity to voice their opinion at an Alexandria City School Board Public Hearing in March 2021. The Board will then vote and make a final naming decision that will be announced in April 2021. The new names will become the official names of the schools on July 1, 2021.
In November last year, the Board voted to change the names of both schools following a lengthy community engagement process. Learn more about The Identity Project.
2021-22 Course Catalog Now Available Online for Middle and High School Students
ACPS is excited to unveil the list of academic courses for the 2021-22 school year. The Program of Studies course catalog is now published, and academic advisement and course selection will begin in all ACPS schools.
Students and their parents can access the list of courses through a fully online and searchable Program of Studies website. The fully online Program of Studies can be viewed on computers, tablets and smartphones, allowing students and families to access information wherever and whenever it is needed.
See the 2021-22 Program of Studies Course Catalog
ACPS offers a wide range of courses that provide students the chance to earn college credits and a guaranteed place at college through the Governor's Health Sciences Academy, workforce certification programs to equip students immediately for the workplace, STEM and science courses that allow students to develop their passions, as well as a myriad of college level Dual Enrollment and Advanced Placement course options. In addition, ACPS offers students the opportunity to enroll in the T.C. Williams Satellite Campus to take classes online on their own time, in a supported setting.
Academic Advising and Curriculum Events
School counselors will begin providing information and individual academic advisement in early February through early April. School counselors work with students, families and school staff to support course selections that challenge students, allow exploration of areas of interest and passion, support post-secondary goals, and provide a healthy life balance. See the dates of curriculum nights and information about academic advising on the ACPS Academic Advising web page, or reach out to your individual school.
Once students have met with their school counselor, selected their courses, and the courses have been entered into PowerSchool, families will be able to view the courses through their PowerSchool Parent Access account and can contact their child's school counselor with questions.
ACPS is enthusiastic about the opportunities available in the coming school year for students to grow, learn and maximize their academic success potential.
School Closed on Monday, Jan. 18 for MLK Day; Asynchronous Learning for Wednesday, Jan. 20 Inauguration Day
In observance of Martin Luther King Jr. Day, there will be no school on Monday, Jan. 18. There will be no asynchronous work.
Inauguration Day on Wednesday, Jan. 20 will be an asynchronous day for all students.
ACPS Celebrates Two Posse Scholars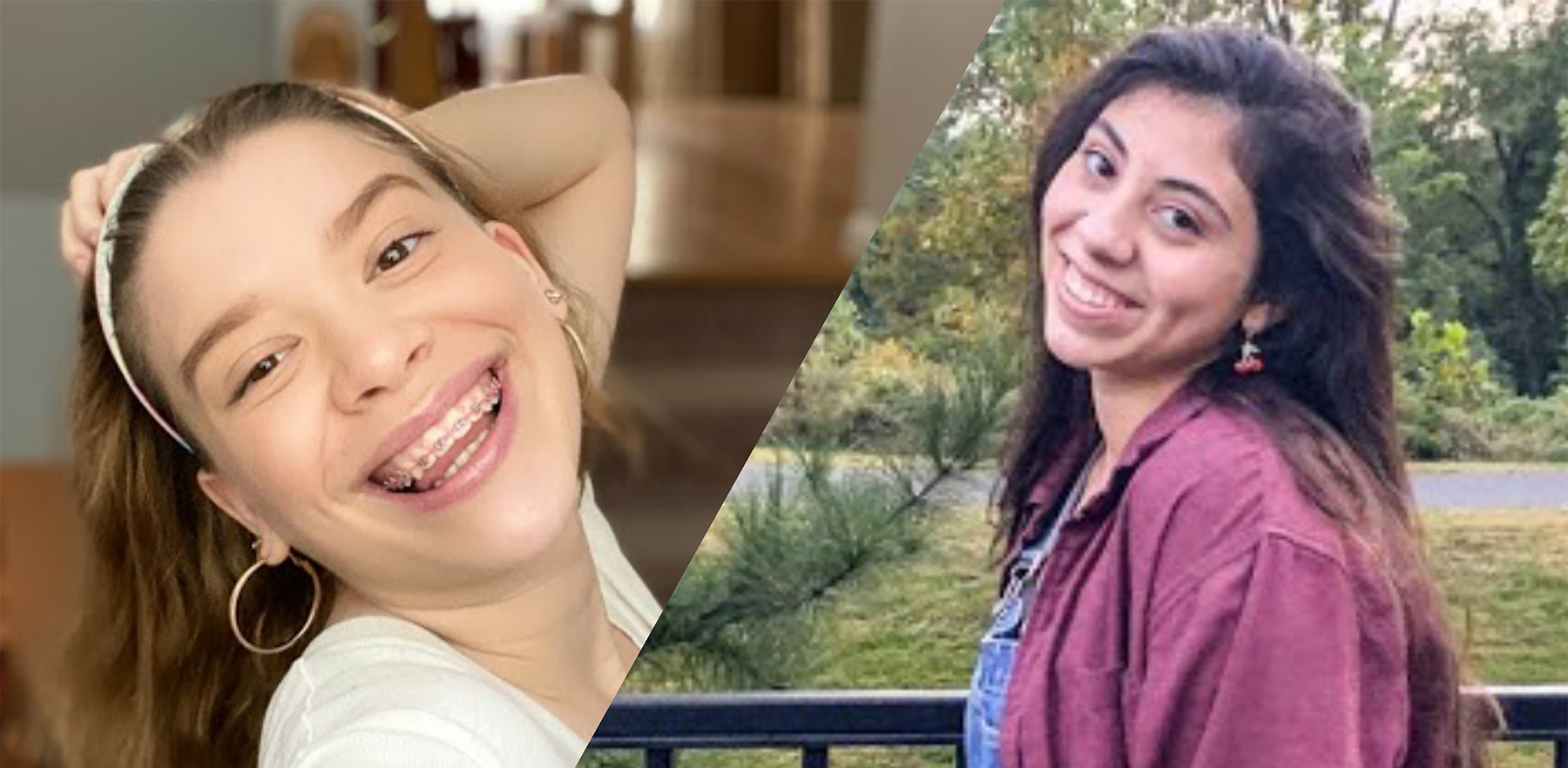 When Titan senior Maria Stakem (pictured above, right) opened her laptop one day last year to begin the lengthy application process for the prestigious Posse scholarship, she quickly got disheartened and walked away.
"I just didn't think I stood a chance when I read about the type of person they were looking for. I just didn't think I would stand out," she said. "I gave up and forgot about it."
Two weeks later a phone call from Oceanography Teacher Trisha Christopher put her back on track. With Christopher's encouragement, Maria began a process that ended last month with a life changing Zoom to say, "Congratulations, you made it."
Now, the 17-year-old, along with fellow Titan Leonora Rodriguez, can look forward to a $250,000 scholarship to attend college later this year. The pair celebrated with a virtual ceremony last week.
Read more about our Posse scholars.
Free College Admissions Event
Want to learn how COVID-19 is changing the college admissions landscape and how it will affect freshmen, sophomores and juniors?
The Alexandria Library and Stand Out for College will be hosting a virtual event on Tuesday, Feb. 23 from 7 to 8 p.m.
Experts will discuss how greater consideration admissions officers will give to extracurricular activities including community service, now that they will have fewer academic data points to rely on.
Find out more and register online.
Title I Parent and Family Event Survey
The Title I Office and Title I schools are planning future family engagement events to help support student performance in school. Feedback from parents and caregivers is a critical part of ensuring students meet their potential. 
We are asking families attending Title I schools to fill out an anonymous, 8-question survey by Friday, Jan. 29. The survey should take less than 10 minutes to complete:
Take the survey in English
Take the survey in Spanish
Take the survey in Amharic
Take the survey in Arabic
Thank you for providing your input. We will use the information to plan Title I-funded programs and events for families. 
Seeking Representatives for the Title I Family Advisory Committee
The Office of Title I Programs is seeking two to three new representatives from each Title I school to become members of the Title I Family Advisory Committee (TIFAC). The TIFAC is an opportunity for parents and other caregivers of students attending Title I schools to become involved in decision-making at the division level. 
While many opportunities exist for parents and other caregivers to get involved in Title I programming at their students' schools, the TIFAC will have the opportunity to review division-level policies and plans, the division's application for funds, and provide input on how funding is used for family engagement programing on a division-wide basis. The TIFAC will meet twice this school year. 
We encourage participation representing each school's unique diversity and interpretation will be provided as needed. Please apply online by noon on Jan. 15.
FOOD ACCESS — Food Distribution Sites Closed on Monday, Open on Tuesday
Food distribution sites will be closed on Monday, Jan. 18 for Martin Luther King Jr. Day, and instead will be open on Tuesday, Jan. 19. Distribution sites will be open as usual on Jan. 20 and Jan. 22.
—
ACPS has multiple distribution meal site locations throughout Alexandria for all ACPS students and children over the age of two. See a map of food distribution locations.
GRAB-AND-GO MEAL LOCATIONS:
Grab and Go breakfast and lunch meals are available Mondays, Wednesdays and Fridays between 7:30 a.m. and 12 p.m. at the following locations:
William Ramsay Elementary School
5700 Sanger Avenue, Alexandria, VA 22311
Francis C. Hammond Middle School
4646 Seminary Road, Alexandria, VA 22304
Cora Kelly School for Math, Science and Technology
3600 Commonwealth Avenue, Alexandria, VA 22305
Jefferson-Houston PreK-8 IB School
1501 Cameron Street, Alexandria, VA 22314
Mount Vernon Community School
2601 Commonwealth Avenue, Alexandria, VA 22305
Patrick Henry K-8 School
4643 Taney Avenue, Alexandria, VA 22304
T.C. Williams High School
3330 King Street, Alexandria, VA 22304
And available on Mondays, Wednesdays and Fridays at our "Pop-Up" sites located at:
Mason Apartments at 75 South Reynolds Street, Alexandria, VA 22304
10:45 to 11:15 a.m.
Brent Place Apartments at 375 South Reynolds Street, Alexandria, VA 22304
11:20 to 11:50 a.m.
Ruby Tucker Family Center at 322 Tancil Court, Alexandria, VA 22314
10:45 to 11:15 a.m.
Community Lodgings at 607 Notabene Drive, Alexandria, VA 22305
10:45 to 11:15 a.m.
Old Towne West Apartments (parking lot) at 500 South Alfred Street, Alexandria, VA 22314
11:20 to 11:50 a.m.
Corner of Florence Drive and Four Mile Road, Alexandria, VA 22305
10:45 to 11:15 a.m.
The Fields at 4309 Duke Street, Alexandria, VA 22304
10:45 to 11:15 a.m.
Bennington Crossing Apartments at 441 North Armistead Street, Alexandria, VA 22312
11:30 a.m. to noon
2727 Duke Street (behind Bank of America), Alexandria, VA 22314
10:45 to 11:15 a.m.
NO SIGN UP OR REGISTRATION IS REQUIRED TO RECEIVE MEALS.
NOTE: No food distribution will occur on Tuesdays or Thursdays. The limited days for distribution is to support the practice of social distancing and to limit social gatherings. Meals for two days will be provided on Mondays and Wednesdays, and meals for three days will be provided on Fridays.
Other Food Resources in the City of Alexandria:
For food pantry locations and schedules in Alexandria, visit www.hungerfreealexandria.com or call ‪703-662-1067.
Questions? Or Need Translation?
Send us your question in Spanish, Arabic or Amharic:
Text ACPSMEALS to 797979 (English and Spanish)
Call or text 703-927-6866 (Amharic)
Call or text 703-927-7095 (Arabic)
OR
Call the FACE Center's Bilingual Parent Information Lines, available Monday-Friday, from 9 a.m. to 1 p.m.:
For Spanish/English, call 571-775-9719
For Amharic/English, call 703-927-6866
For Arabic/English, call 703-927-7095
SAFETY REMINDER: Please remember to observe social distancing practices while at the food distribution site by maintaining six feet of personal space between you and other families or individuals.
Anyone exhibiting symptoms of a respiratory illness like fever, runny nose, sore throat, coughing or difficulty breathing on the day of food distribution or in the previous 24 hours should not visit a food distribution site but call a health care provider instead. If you do not have a primary care physician and are not enrolled in a clinic, you may CALL an urgent care center or emergency room.
UPDATES FROM THE ALEXANDRIA HEALTH DEPARTMENT
For all updates, see www.alexandriava.gov/Coronavirus.
HEALTH REMINDERS
Don't Feel Well?
Contact your primary health care physician. Don't have insurance? Contact Neighborhood Health at 703-535-5568.
---
Have questions, concerns or feedback? Contact us.