en español (PDF) | አማርኛ (PDF) | بالعربية (PDF)
Thank you to everyone who was able to find the time to complete our survey about Virtual PLUS+ and to share your thoughts on the return to our school buildings. As I write, teams are analyzing the valuable data we have been able to collect and we look forward to sharing what we have learned in the coming weeks.
On Oct. 15, we will share our plans with the School Board for the second quarter of the 2020-21 academic year and the answers you have provided us will be key to our decision-making process. In addition to the survey results, we will use the following data to determine if it is feasible to transition into in-person learning for the second nine weeks: building capacity, staff availability, transportation, health mitigations and personal protective equipment (PPE), and the instructional model. As we have stated, the Virtual PLUS+ Learning approach is not ideal for all students and we will continue making the necessary adjustments when needed and feasible to accommodate our students. 
Our community outreach about the consideration of the process to change the name of T.C. Williams High School and Matthew Maury Elementary School continues this week with the first Student Conversation being held this evening from 6 to 7 p.m. More than anything, we want this process to be student-led, so please encourage your children to join this event to listen, to learn and to ask questions. Tomorrow evening, we have the final of three Community Read-Ins with Georgetown University professor Douglas S. Reed and Kennetra Wood, ACPS executive director of equity and alternative programs. Join us to find out the real story behind the Hollywood movie, "Remember the Titans." More than 3,000 people have engaged with The Identity Project webpage and/or viewed our read-ins so far.
Finally, Monday is a Professional Development Day for our staff. Students are not required to participate in asynchronous learning activities on that day. Please enjoy the long weekend.
Stay safe, stay healthy, stay informed.
Sincerely,
Dr. Gregory C. Hutchings, Jr.
Superintendent of Schools
Virtual PLUS+ School Day & Afterschool Recreation Center Program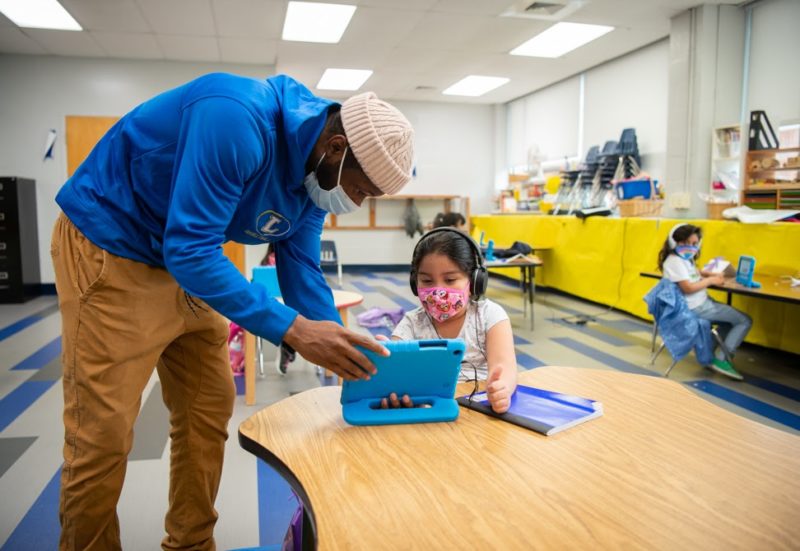 The availability of free, quality child care is critical to keeping the home lives of many of our students stable and healthy during the pandemic.
With the help of our Virtual PLUS+ community partners, ACPS has been able to offer this opportunity to many of our children whose families need support during the school day due to employment obligations and other factors related to family life.
Last week, we visited one of the Virtual PLUS+ School Day & Afterschool Programs, run in conjunction with the City of Alexandria's Department of Recreation, Parks and Cultural Activities.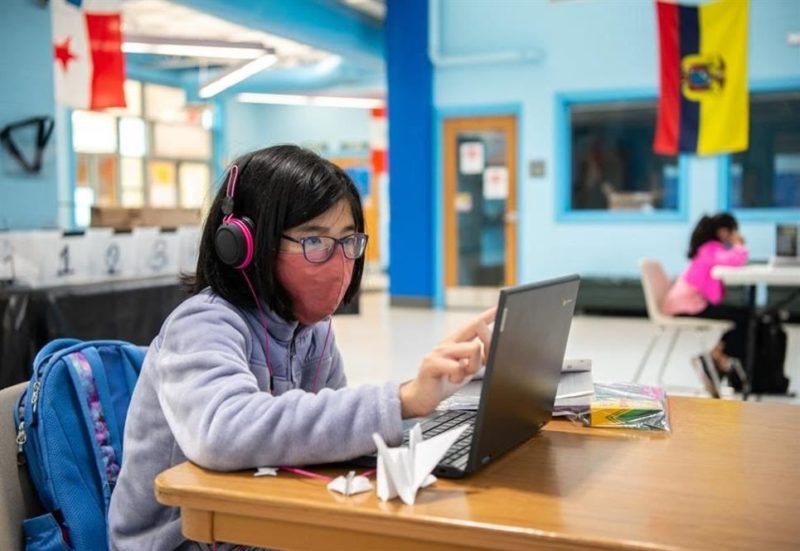 At William Ramsay Recreation Center, fifth grader Anh Nguyen is on a break from her Talented and Gifted class.
She sits back in her chair and stretches away from her Chromebook for a few moments before saying thoughtfully, "I was sad when school closed. I missed my friends, having other children to play with — and I actually missed the homework."
The Identity Project: Community Read-Ins and Upcoming Engagement Sessions


Last Thursday evening, Georgetown University professor Douglas S. Reed and Kennetra Wood, ACPS executive director of equity and alternative programs, hosted the second of three community "Read-Ins" to help frame the public discussion around the possibility of renaming both T.C. Williams High School and Matthew Maury Elementary School.
Read-In #2: Alexandria's Role in Massive Resistance and School Segregation discussed the broader picture of Virginia's segregation and how what happened back then still impacts life today in our city. Watch a recording of Read-In #2 or see the highlights video.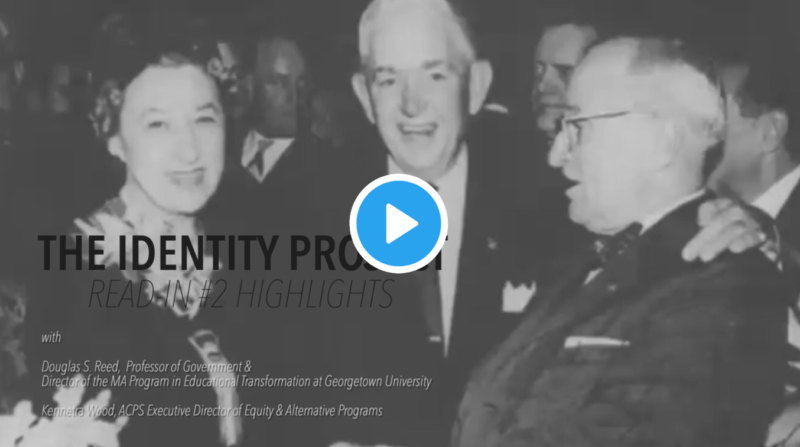 Also watch the first read-in, in which Dr. Reed discussed the seminal moments in the career of T.C. Williams.
Upcoming Identity Project Engagement Events
Join us for this week's two Identity Project events. See a list of all Identity Project Community Engagement events.
Student Conversation #1
Tonight (Wednesday) at 6-7 p.m.
Join us on Zoom. 
Read-In #3: The Real Story Behind "Remember the Titans"
Thursday, Oct. 8, 6-7 p.m. on Zoom.
Join us on Zoom
At the third and final Read-In of the series, Dr. Douglas S. Reed will present from his book, "Building the Federal School House" and put the "Remember the Titans" story into context, setting the stage by discussing riots, protests, systemic injustice, and the resulting civil rights crisis in Alexandria City. This is the un-Disneyfied tale of the merger of our black and white high schools, our integration plan, and a winning football team. ACPS Executive Director of Equity and Alternative Programs Kennetra Wood will co-host and identify ties to systemic racism rooted in our system. There will be a short Question and Answer period following the discussion.
This month also marks the twenty year anniversary of the Disney movie "Remember the Titans," which was released on Sept. 29, 2000. Read the The Washington Post article marking the anniversary.
No School for Students Next Monday, Oct. 12
Monday, Oct. 12 is a Professional Development Day for ACPS staff. Students will not be required to participate in asynchronous learning that day. 
Also, food distribution on Monday, Oct. 12 will only be open at T.C. Williams High School.
Division-Wide Student Assessments Begin This Month
During the month of September, ACPS prioritized student social and emotional wellness in the initial return to school under Virtual PLUS+. No division or state-required assessments were administered during this time. Instead, teachers focused on forging relationships, tending to students' social and emotional health, and allowing for instruction to begin. 
Starting in October, teachers will begin administering division required assessments to students in grades K-12. See the division Virtual PLUS+ testing calendar (PDF). The purpose of these assessments is to determine how students are performing, so teachers can best meet individual student needs. These assessments will allow teachers to provide targeted instruction for students to best support them in their learning. These assessments are not linked to student progress reports or grades.
Students will be administered these assessments in their Virtual PLUS+ classroom by their teacher and other school staff. Schools are working hard to prepare students for taking tests in the virtual environment. Families may help by allowing students to answer assessment questions independently and have students ask any questions to the ACPS staff member administering the assessment to them. We want to ensure that the data we collect best represents the areas of strength and needs of our students as we work together to best support them. 
Please know we have done all we can to prepare and best minimize any potential difficulties in administering these assessments in a virtual environment. We understand through our shared experiences that we may experience unavoidable technical difficulties and we will be sharing more next week on what you can do if a problem occurs. We thank you for your continued support as we work through the pandemic together. 
FAFSA Workshop: Apply for Student Aid for College

Need help filling out FAFSA forms? 
Once your student has created a FAFSA ID, watch one of three webinars hosted by The Scholarship Fund of Alexandria during October to complete the process.
Register for one of the FAFSA Step 2 Workshops:
Learn more about these virtual FAFSA webinars.
Latinx Heritage Month at ACPS
Hispanic students make up 36% of all ACPS enrollment and we are celebrating Latinx Heritage Month from Sept. 15 to Oct. 15, 2020.
ACPS English Learner (EL) Inclusion Specialist Michelle Suchenski tells us that engaging in culturally responsive teaching practices requires knowledge about the background of the students and families that ACPS serves. Engaging in practices of equity requires knowledge of the personal and social circumstances our students and families have experienced. More importantly, it involves introspect, relating how our experiences impact our perception of the students we serve, and ultimately, our teaching.
Watch a short video that features moments from a daylong professional development event held for ACPS teachers at James K. Polk Elementary School in 2019. Featured are Ana Patricia Rodriguez, associate professor in the Department of Spanish and Portuguese and U.S. Latina/o Studies at the University of Maryland, College Park; Eric Hershberg, director of the American University Center for Latin American and Latino Studies; and Deborah Menkart, executive director of Teaching for Change. 
Watch two of the day's presentations: Root Causes of Central American Migration: An Examination of Conditions in the Region and Building Background Knowledge: History of Central America.
Mental Health Supports Available to Our Students 
Virtual PLUS+ has now been underway for four weeks, and students and teachers remain resilient, committed and engaged as we teach and learn together in this new environment.
Our ACPS Student Support Team (SST) made up of counselors, nurses, psychologists, and social workers continues to address any issues being faced, whether they be physical, social, emotional or academic.
In addition to helping ensure the basic needs of our families are being met, staff have also engaged with students at virtual lunch-bunches and have led mindfulness classes among other outreach opportunities.
As the school year progresses, please know that we are here to help offer supports in the following areas:
Academic advisement

Social, emotional, physical, and mental health needs

College and career exploration and planning
This month, SST will focus on two very important issues. October is National Bullying Prevention Month and ACPS is proud to partner with the City of Alexandria Mayor's Campaign to End Bullying to provide lessons, strategies and events that:
Help teach students about how to prevent bullying in their schools

Provide students with strategies to positively engage with their peers

Create safe and supportive school communities 
Friday, Oct. 9 is Unity Day in the City of Alexandria. Students, families, and staff are encouraged to wear green and share photos using the hashtag #BullyFreeStartsWithMe and tagging @BullyFreeAlexVa!
Also this month, in partnership with the Substance Abuse Prevention Coalition of Alexandria, ACPS will participate in the Red Ribbon Week Campaign encouraging children, families and communities to live healthy, happy and drug-free lives. Running from Oct. 23-31, this is the largest drug-use prevention campaign in the nation, and serves as a reminder that we are all empowered with shaping the communities around us through positivity, bravery and strength. 
ACPS will again be hosting a Red Ribbon Week Poster Contest (PDF) which gives students a chance to win a $100 gift card as well as have their artwork featured in next year's Red Ribbon Week campaign.
Please submit entries by Nov. 8 by emailing images of posters to face@acps.k12.va.us.   
President of the National Association for Gifted Children to Address ACPS Families
The Talented and Gifted Advisory Committee (TAGAC) is honored to welcome Dr. Jonathan Plucker to their Oct. 14 meeting at 7 p.m. via Zoom. He will be addressing Equity in Gifted Education.
Dr. Plucker currently serves as the president of the National Association for Gifted Children (NAGC) and is the Julian C. Stanley professor of talent development at Johns Hopkins University.
He has published over 200 articles, chapters and reports. His recent books include Intelligence 101, published with Amber Esping, and Critical Issues and Practices in Gifted Education, published with Carolyn Callahan. His work defining and studying the excellence gap is part of a larger effort to reorient the thinking of policymakers and educators toward how to best promote success and high achievement for all children. For his education policy work, he has been ranked several times as one of the Top 100 most influential academics working in education policy.
Use Your Family Handbook
Each year, ACPS updates the Family Handbook, which contains everything you need to know for a great school year. It's a helpful resource. Make sure you use it!
School Board Work Session on the APD/ACPS MOU
Thank you to all those who spoke at the School Board's online public hearing on the subject on Oct. 1. The Alexandria City School Board is holding a virtual work session on Oct. 15 to discuss the Memorandum of Understanding between ACPS and the Alexandria Police Department. Watch the work session on Zoom. 
Election Day Notice
Election Day, Tuesday, Nov. 3, is a Teacher Work Day and no classes will take place for students.
In addition, the Tech Services Family Helpdesk at T.C. Williams High School will be closed for in-person support. Email and form requests for support will still be available.
FOOD ACCESS
UPDATE: There will be no food distribution on Monday, Oct. 12.
ACPS has multiple distribution meal site locations throughout Alexandria for all ACPS students and children over the age of two. See a map of food distribution locations.
GRAB-AND-GO MEAL LOCATIONS:
Grab and Go breakfast and lunch meals are available Mondays, Wednesdays and Fridays between 7:30 a.m. and 12 p.m. at the following locations:
William Ramsay Elementary School
5700 Sanger Avenue, Alexandria, VA 22311
Francis C. Hammond Middle School
4646 Seminary Road, Alexandria, VA 22304
Cora Kelly School for Math, Science and Technology
3600 Commonwealth Avenue, Alexandria, VA 22305
Jefferson-Houston PreK-8 IB School
1501 Cameron Street, Alexandria, VA 22314
Mount Vernon Community School
2601 Commonwealth Avenue, Alexandria, VA 22305
Patrick Henry K-8 School
4643 Taney Avenue, Alexandria, VA 22304
T.C. Williams High School
3330 King Street, Alexandria, VA 22304
And available on Mondays, Wednesdays and Fridays at our "Pop-Up" sites located at:
Mason Apartments at 75 South Reynolds Street, Alexandria, VA 22304
10:45 to 11:15 a.m.
Brent Place Apartments at 375 South Reynolds Street, Alexandria, VA 22304
11:20 to 11:50 a.m.
Ruby Tucker Family Center at 322 Tancil Court, Alexandria, VA 22314
10:45 to 11:15 a.m.
Community Lodgings at 607 Notabene Drive, Alexandria, VA 22305
10:45 to 11:15 a.m.
Old Towne West Apartments (parking lot) at 500 South Alfred Street, Alexandria, VA 22314
11:20 to 11:50 a.m.
Corner of Florence Drive and Four Mile Road, Alexandria, VA 22305
10:45 to 11:15 a.m.
The Fields at 4309 Duke Street, Alexandria, VA 22304
10:45 to 11:15 a.m.
Bennington Crossing Apartments at 441 North Armistead Street, Alexandria, VA 22312
11:30 a.m. to noon
2727 Duke Street (behind Bank of America), Alexandria, VA 22314
10:45 to 11:15 a.m.
NO SIGN UP OR REGISTRATION IS REQUIRED TO RECEIVE MEALS.
NOTE: No food distribution will occur on Tuesdays or Thursdays. The limited days for distribution is to support the practice of social distancing and to limit social gatherings. Meals for two days will be provided on Mondays and Wednesdays, and meals for three days will be provided on Fridays.
Other Food Resources in the City of Alexandria:
For food pantry locations and schedules in Alexandria, visit www.hungerfreealexandria.com or call ‪703-662-1067.
Questions? Or Need Translation?
Send us your question in Spanish, Arabic or Amharic:
Text ACPSMEALS to 797979 (English and Spanish)
Call or text 703-927-6866 (Amharic)
Call or text 703-927-7095 (Arabic)
OR
Call the FACE Center's Bilingual Parent Information Lines, available Monday-Friday, from 9 a.m. to 1 p.m.:
For Spanish/English, call 571-775-9719
For Amharic/English, call 703-927-6866
For Arabic/English, call 703-927-7095
SAFETY REMINDER: Please remember to observe social distancing practices while at the food distribution site by maintaining six feet of personal space between you and other families or individuals.
Anyone exhibiting symptoms of a respiratory illness like fever, runny nose, sore throat, coughing or difficulty breathing on the day of food distribution or in the previous 24 hours should not visit a food distribution site but call a health care provider instead. If you do not have a primary care physician and are not enrolled in a clinic, you may CALL an urgent care center or emergency room.
TEEN WELLNESS CENTER IS OPEN
The Teen Wellness Center at T.C. Williams is open regular hours Monday through Friday for all Alexandrians ages 12-19. All services are provided in the clinic and if the teen is ill with an elevated temperature (100.0 or more) we will see them through our telehealth video format. Make an appointment over the phone by calling 703-746-4776.
UPDATES FROM THE ALEXANDRIA HEALTH DEPARTMENT
The City of Alexandria and the Alexandria Health Department strongly urge everyone to follow state orders to STAY HOME except for essential trips such as food purchases and medical care, and keep 6 feet apart from others when in public. Your neighbors and loved ones are counting on you to stop the spread of COVID-19. For other questions about COVID-19, call the Alexandria COVID-19 Hotline at 703-746-4988, weekdays from 9 a.m. to 6 p.m.
Effective October 1, face coverings will be required in indoor and outdoor public places, to help prevent the spread of COVID-19. The City of Alexandria ordinance (PDF) expands on a state executive order (PDF) that has required masks in most indoor public settings since May 29. Read the news release.
Additional updates can be found at www.alexandriava.gov/Coronavirus.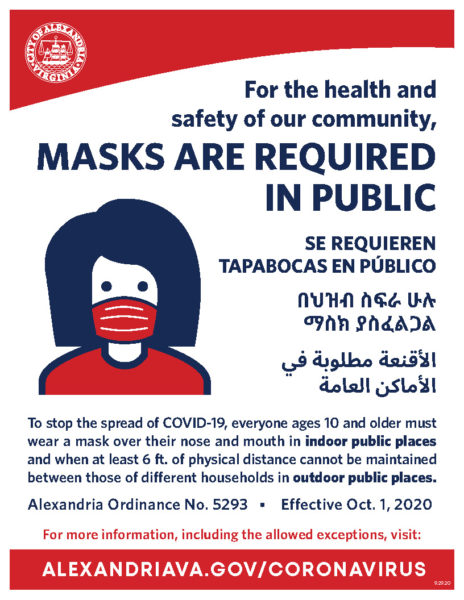 Coping with COVID-19 Fear and Uncertainty
Check out the City of Alexandria webpage Coping with COVID-19 Fear and Uncertainty which includes the COVID-19 Wellness Resource Guide.
MENTAL HEALTH SUPPORT
Continuity of School Support and Academic Advisement
School Student Support Team staff, including school counselors, school nurses, school psychologists, and school social workers will be available during school hours throughout the closure. Monday — Friday between 8:30 a.m. and 3:30 p.m. staff will be connecting with students and their families. The Department of Student Services, Alternative Programs and Equity staff members are also available during this time and can be contacted by voicemail and at student_services@acps.k12.va.us.
Emergency Supports
If there is a crisis or emergency during the time of the closure, students and families can access the supports below:
Crisis Text and Crisis Link:

Text: CONNECT to 85511
Call: 703-527-4077
We know that this is a challenging time. ACPS will continue to share information through the ACPS website, social media, and email. Please don't hesitate to reach out to your student's school counselor or school social worker with any questions.
HEALTH REMINDERS
Don't Feel Well?
Contact your primary health care physician. Don't have insurance? Contact Neighborhood Health at 703-535-5568.
---
Have questions, concerns or feedback? Contact us.
Stay Healthy!
Wash your hands regularly. Regular soap is OK.