en español (PDF) | አማርኛ (PDF) | بالعربية (PDF)
Day 91 — Reopening Planning: Safe, Steady, Ready
After months of detailed planning, research and community engagement, we are just about ready to share our most feasible plan for reopening this fall. The pandemic has placed enormous constraints on how we are able to function and I want to reassure you that our team is doing everything possible to ensure we are maximizing our resources as well as carefully assessing the feasibility of every option available. Please look out for a special edition of ACPS Express on Friday, July 31. 
Last week, 2,200 people joined our Community Chats, many who shared with us that they appreciated the chance to engage, albeit virtually. Hundreds of questions were submitted and are in the process of being answered on our Reopening FAQs webpage. In total, there were more than 22,000 views of the FAQs and community chats on the website. 
Many of these questions made us think in new and innovative ways as we continue to explore a multitude of scenarios. Many of the points raised will help us as we move forward through the 2020-21 academic year. Yesterday, we heard from our students during dedicated chats held to garner their thoughts.
Each week, 150 staff, students, parents and community partners gather for at least four hours as part of the Cross-Functional Planning Teams to sift through ideas and come up with new options. There is no doubt about it, this has been a successful collaborative community effort. We are on the same page, advocating for our students and staff together. The incredible engagement our community has shown throughout these last few months has been both inspiring and reassuring. We want to thank you for being part of the planning process for reopening our schools.
Nothing about this process has been easy for any one of us. Not a day has gone by since March 13 when this issue has not been at the forefront of my mind. And, I imagine you have all felt the same at some point since March 13. 
In many ways, Friday's announcement will be just the beginning. Once the Virginia Department of Education approves our proposal that we are required to submit by Aug. 14, our hard work continues as we begin to prepare for implementation of our reopening plan. The week of Aug. 14, we will be sharing schedules, curriculum and expectations for both staff and students. I understand that you need information to plan for your lives and I understand that school is central to that process. 
This Friday also marks the end of our Summer Learning program. We hope your students have enjoyed this enriching and rewarding experience that will set them up for success for the 2020-21 academic year. See an overview in our Summer Learning video. Thank you to all who helped make this happen.
Stay safe, stay healthy, stay informed.
Sincerely,
Dr. Gregory C. Hutchings, Jr.
Superintendent of Schools
How We Will Share News of Reopening Plans
On Friday, July 31, we will have special editions of Express and Insider which will explain the most feasible reopening model for ACPS in the fall based on constraints, input and alignment with our ACPS 2025 strategic plan. See how we communicate information around COVID-19 and encourage anyone who is not already signed up for our ACPS Express updates to sign up online.
What Happens Next?
ACPS is evaluating schedule options that are aligned to hybrid and virtual models, highlighting implications, feasibility and considerations across financial, operational, staffing, safety, etc. Over the course of two weeks, a scheduling team analyzed 18 example schedules and plans from districts in Northern Virginia, the DMV, and across the U.S. to create schedule samples and division guidance to support school leaders in both hybrid and virtual models. Principals have been heavily involved in creating test school schedules specific for their buildings to identify the benefits and limitations of each model.

Each model's feasibility and practicality has been assessed using a Day in the Life activity. Feasibility criteria is centered on the following:
Constraints

:

Model is possible within current constraints and available resources*

Input

:

Model supports ACPS community, staff needs and preferences

Alignment

:

Model is aligned to

ACPS 2025: Equity for All
*In the midst of planning, we recognize that significant constraints could possibly limit ACPS' ability to open the 2020-21 school year with in-person instruction that aligns to health and safety guidelines and requirements from the CDC. 
Below are two analyses completed by ACPS to uncover capacity constraints:
School Board Public Hearings on the Reopening Plan
The Alexandria City School Board will hold two online public hearings on the ACPS proposed feasible model for the reopening of our schools during its Virtual Special Called School Board Meetings on:
For more information or to sign up to participate in a virtual public hearing, please contact the Clerk of the Board at 703-619-8316 or email boardclerk@acps.k12.va.us.
You can also sign up online.  
Reopening Community Chats
Our series of Community Chats held last week saw 2,200 people tune in to engage in our discussion about reopening our schools. Hundreds of questions were posed to our panelists. In total, there were more than 22,000 views of the FAQS and community chats on the website.
Yesterday, our students had their voices heard during three Zoom forums for elementary, middle and high school. 
We recorded each session and they are available to view on the Reopening Community Chats section of the ACPS-at-Home website. Alternatively, find the answers to your questions in the FAQ.  
Virginia High School League Votes to Delay Start of Sports Season
The Virginia High School League announced on Monday that the sports season will not begin until Dec. 14 to mitigate the chance of spreading COVID-19.
VHSL says the decision was made with the health and safety of student-athletes as a main priority.
All sports will still be played, but in a condensed and altered format with winter sports like basketball, gymnastics, indoor track, swim/dive, and wrestling running from Dec. 14, 2020 through Feb. 20, 2021.
Fall sports like cheer, cross country, field hockey, football, golf, and volleyball have the biggest change, as they have been moved to Feb. 15 through May 1, 2021.
Spring sports like baseball, lacrosse, soccer, softball, tennis, and track and field will take place April 12 through June 26, 2021.
Summer Learning For All
What a month we have had with our Summer Learning program, which proved to be a huge success.
We hope you enjoy this video recapping some of the fun moments we had together.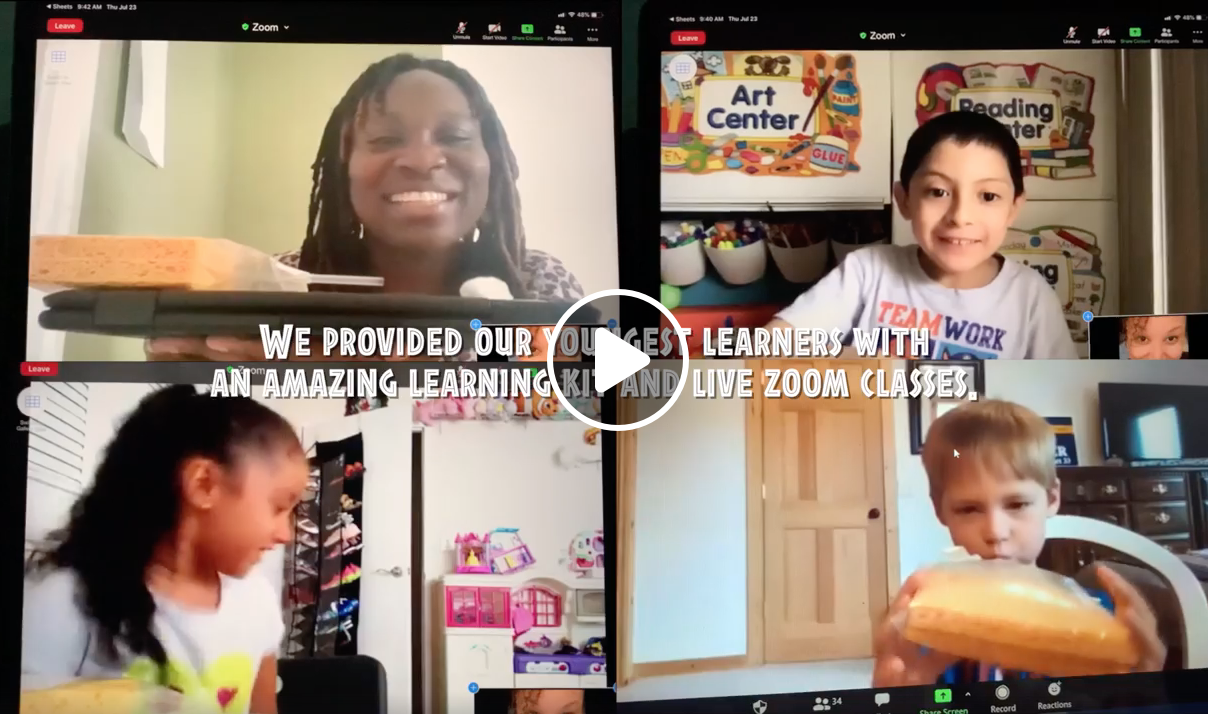 On Monday, we also appeared on WJLA's Spotlight on Education: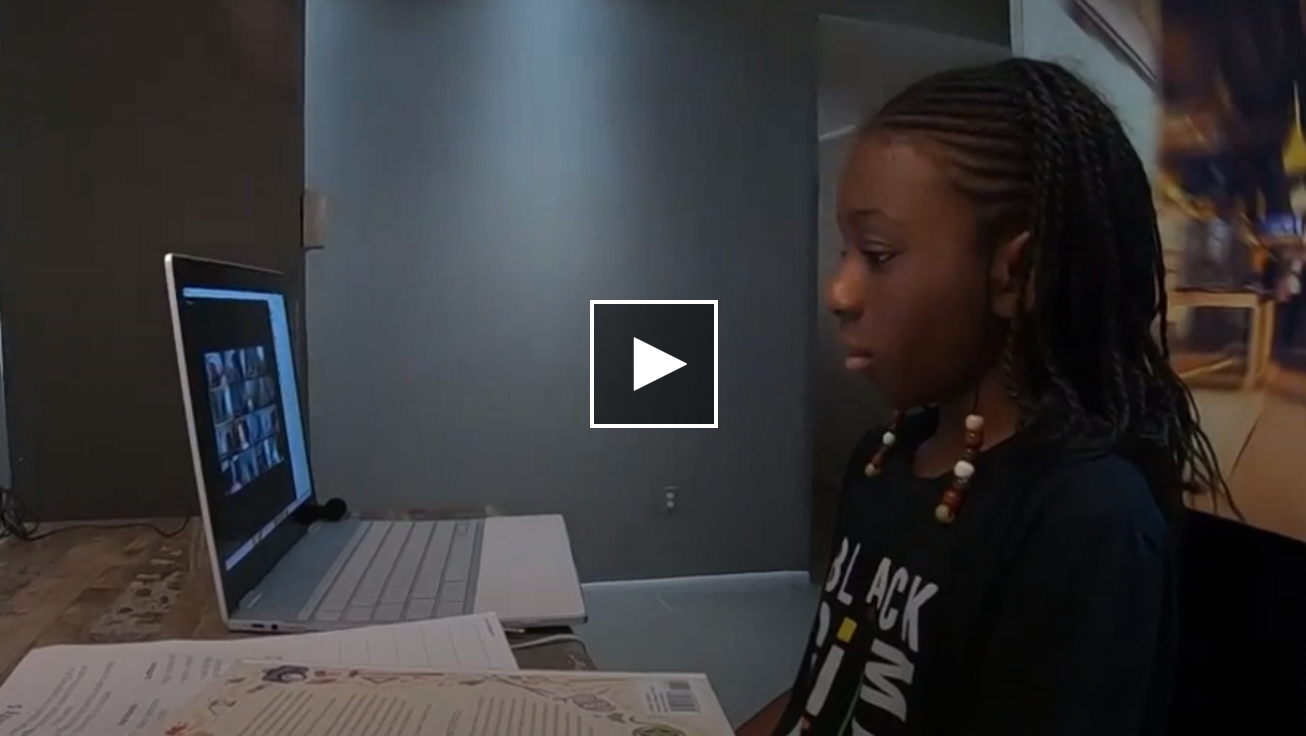 Thank you to all who took part and especially those teachers and administrators who made this extraordinary endeavor become a reality.
George Washington Middle School Student Receives African American History Award
George Washington Middle School Student Patrick Ostermann-Healey received a prestigious award after writing a paper about the 1939 Virginia Library Sit-In that took place in Alexandria.
Patrick competed against students from all over the globe in a competition organized by the Maryland nonprofit, National History Day. Congratulations, Patrick!
Pay Tribute to Congressman John Lewis: Watch His Unforgettable 2015 Presentation at T.C. Williams
This week, we pay tribute to Congressman John Lewis who died earlier this month. In November 2015, he gave an awe-inspiring presentation to students at T.C. Williams High School.
The live telecast of his talk that day was recorded by TV Production students and will be shown nightly this week at 8 p.m. through Friday, July 31.
ACPS-TV may be viewed on cable television in Alexandria on channel 71 or online.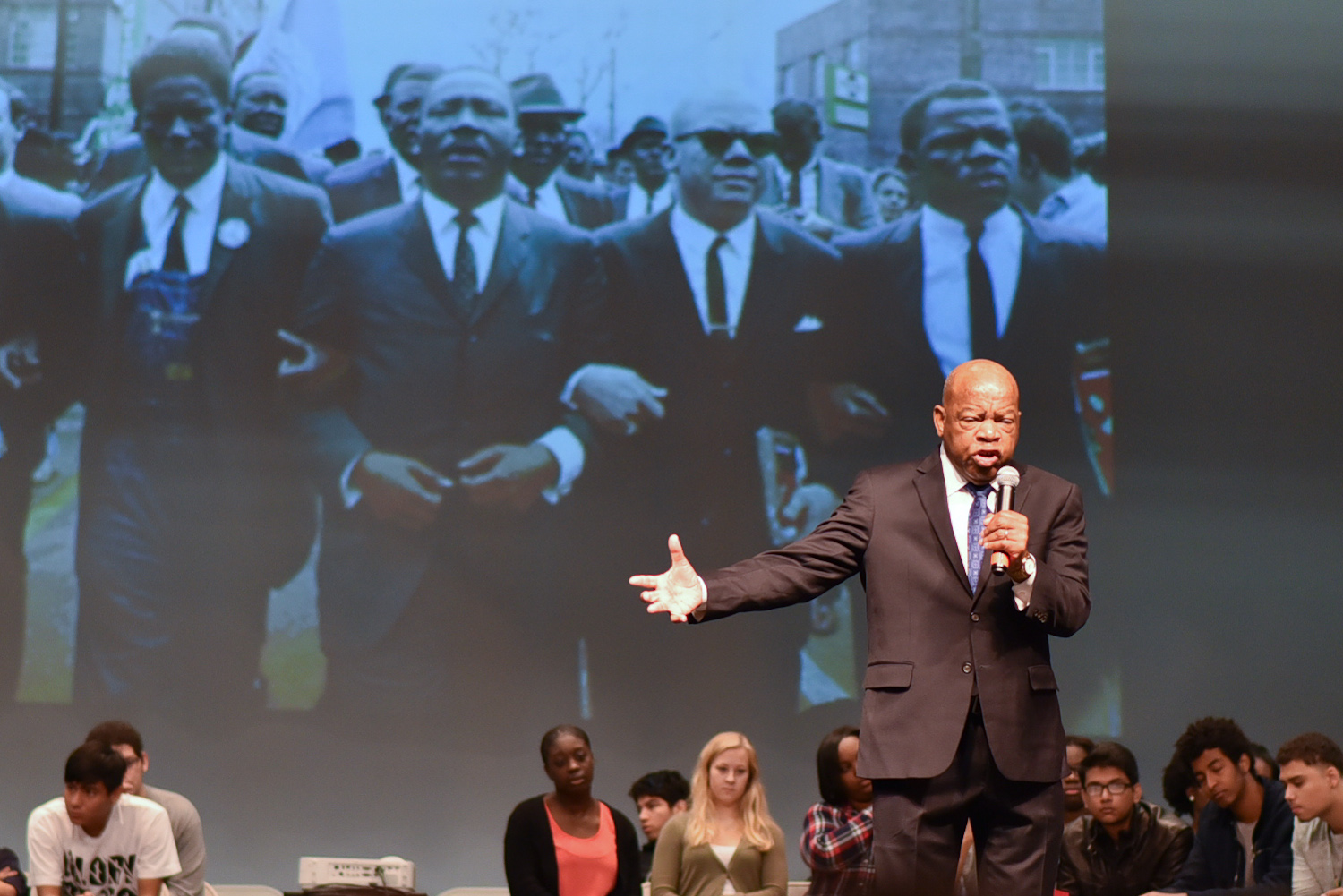 Northern Virginia Congressman Don Beyer told NBC4 this week that he watched in awe as Lewis addressed students at T.C. Williams that day.
"It was amazing how engaged the students were," he said.
He added, "They followed every one of his stories."
Welcome Our New Early Childhood Special Education Coordinator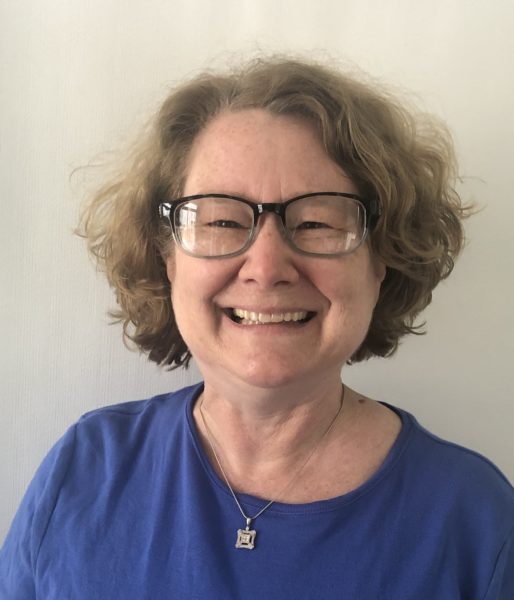 ACPS is excited to introduce Laura Basu as the new early childhood special education coordinator. Ms. Basu comes to the division from Prince William County Public Schools, where she most recently served as the Child Find administrative coordinator.
Theresa A. Werner, executive director of the Office of Specialized Instruction, said, "Laura brings a wealth of experience and knowledge that will further our mission of equity for all, even the youngest among us."
FOOD ACCESS
ACPS has multiple distribution meal site locations throughout Alexandria for all ACPS students and children over the age of two.
GRAB-AND-GO MEAL LOCATIONS:
Grab and Go breakfast and lunch meals are available Mondays, Wednesdays and Fridays between 9 a.m. and 12 p.m. at the following locations:
William Ramsay Elementary School
5700 Sanger Avenue, Alexandria, VA 22311
Francis C. Hammond Middle School
4646 Seminary Road, Alexandria, VA 22304
Cora Kelly School for Math, Science and Technology
3600 Commonwealth Avenue, Alexandria, VA 22305
Jefferson-Houston PreK-8 IB School
1501 Cameron Street, Alexandria, VA 22314
T.C. Williams High School
3330 King Street, Alexandria, VA 22304
And available at our "Pop-Up" sites located at:
Mason Apartments at South Reynolds Street, Alexandria, VA 22304
10:45 to 11:15 a.m. Mondays, Wednesdays and Fridays
Brent Place Apartments at 375 South Reynolds Street, Alexandria, VA 22304
11:20 to 11:50 a.m. Mondays, Wednesdays and Fridays
Ruby Tucker Family Center at 322 Tancil Court, Alexandria, VA 22314
10:45 to 11:15 a.m. Mondays, Wednesdays and Fridays
Community Lodgings at 607 Notabene Drive, Alexandria, VA 22305
10:45 to 11:15 a.m. Mondays, Wednesdays and Fridays
Old Towne West Apartments (parking lot) at 500 South Alfred Street, Alexandria, VA 22314
11:20 to 11:50 a.m. Mondays, Wednesdays and Fridays
Corner of Florence Drive and Four Mile Road, Alexandria, VA 22305
10:45 to 11:15 a.m. Mondays, Wednesdays and Fridays
The Fields at 4309 Duke Street, Alexandria, VA 22304
10:45 to 11:15 a.m. Mondays, Wednesdays and Fridays
Bennington Crossing Apartments at 441 North Armistead Street, Alexandria, VA 22312
11:30 a.m. to noon, Mondays, Wednesdays and Fridays
NO SIGN UP OR REGISTRATION IS REQUIRED TO RECEIVE MEALS. Meals consist of breakfast and lunch, and include, for example, fresh fruits and vegetables and sandwiches for multiple days.
NOTE: No food distribution will occur on Tuesdays or Thursdays. The limited days for distribution is to support the practice of social distancing and to limit social gatherings. Meals for two days will be provided on Mondays and Wednesdays, and meals for three days will be provided on Fridays.
Other Food Resources in the City of Alexandria
For food pantry locations and schedules in Alexandria, visit www.hungerfreealexandria.com or call ‪703-662-1067.
Questions? Or Need Translation?
Send us your question in Spanish, Arabic or Amharic:
Text ACPSMEALS to 797979 (English and Spanish)
Call or text 703-927-6866 (Amharic)
Call or text 703-927-7095 (Arabic)
OR
Call the FACE Center's Bilingual Parent Information Lines, available Monday-Friday, from 9 a.m. to 1 p.m.:
For Spanish/English, call 571-775-9719
For Amharic/English, call 703-927-6866
For Arabic/English, call 703-927-7095
SAFETY REMINDER: Please remember to observe social distancing practices while at the food distribution site by maintaining six feet of personal space between you and other families or individuals.
Anyone exhibiting symptoms of a respiratory illness like fever, runny nose, sore throat, coughing or difficulty breathing on the day of food distribution or in the previous 24 hours should not visit a food distribution site but call a health care provider instead. If you do not have a primary care physician and are not enrolled in a clinic, you may CALL an urgent care center or emergency room.
TEEN WELLNESS CENTER IS OPEN
The Teen Wellness Center at T.C. Williams is still open regular hours Monday through Friday for all Alexandrians ages 12-19. All services are provided in the clinic and if the teen is ill with an elevated temperature (100.0 or more) we will see them through our telehealth video format. Make an appointment over the phone by calling 703-746-4776.
UPDATES FROM THE ALEXANDRIA HEALTH DEPARTMENT
The City of Alexandria and the Alexandria Health Department strongly urge everyone to follow state orders to STAY HOME except for essential trips such as food purchases and medical care, and keep 6 feet apart from others when in public. Your neighbors and loved ones are counting on you to stop the spread of COVID-19. For other questions about COVID-19, call the Alexandria COVID-19 Hotline at 703-746-4988, weekdays from 9 a.m. to 6 p.m.
Additional updates can be found at www.alexandriava.gov/Coronavirus.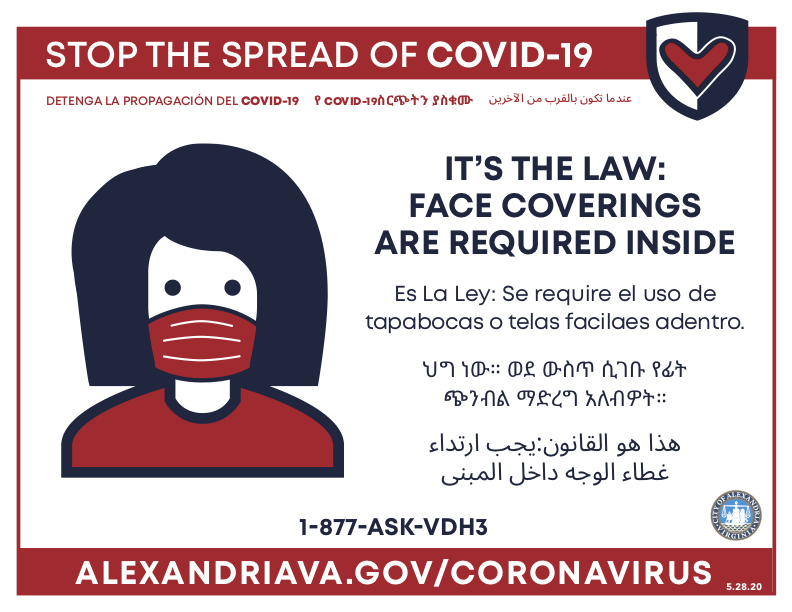 Coping with COVID-19 Fear and Uncertainty
Check out the City of Alexandria webpage Coping with COVID-19 Fear and Uncertainty which includes the COVID-19 Wellness Resource Guide.
WANT TO HELP?
Please consider donating through ACT For Alexandria and the COVID-19 Response Fund if you are able. 
Community members who would like to volunteer should reach out to www.volunteeralexandria.org or 703-836-2176 to register for any additional potential volunteer opportunities.
MENTAL HEALTH SUPPORT
Continuity of School Support and Academic Advisement
School Student Support Team staff, including school counselors, school nurses, school psychologists, and school social workers will be available during school hours throughout the closure. Monday — Friday between 8:30 a.m. and 3:30 p.m. staff will be connecting with students and their families. The Department of Student Services, Alternative Programs and Equity staff members are also available during this time and can be contacted by voicemail and at student_services@acps.k12.va.us.
Emergency Supports
If there is a crisis or emergency during the time of the closure, students and families can access the supports below:
Crisis Text and Crisis Link:

Text: CONNECT to 85511
Call: 703-527-4077
We know that this is a challenging time. ACPS will continue to share information through the ACPS website, social media, and email. Please don't hesitate to reach out to your student's school counselor or school social worker with any questions.
HEALTH REMINDERS
Don't Feel Well?
Contact your primary health care physician. Don't have insurance? Contact Neighborhood Health at 703-535-5568.
---
Have questions, concerns or feedback? Contact us.
Stay Healthy!
Wash your hands regularly. Regular soap is OK.