en español (PDF) | አማርኛ (PDF) | بالعربية (PDF)
Day 50 — Learning from Home Experience
Today, as we enter the final month of the academic year, I'm going to take some time to celebrate some of our students' successes. Despite the challenges we all are currently facing, our students past and present are achieving amazing things. I know you will be as proud as I am after reading this feel-good edition of our newsletter.
One of the driving forces behind my leadership here in ACPS is the desire to work collaboratively to create an equitable educational platform accessible to all of our young people. We want to make sure that we remove all barriers to a high-quality education in Alexandria for every student. With this in mind, I am delighted to see the success of this year's cohort from the Early Identification Program (EIP) which ACPS has now been running in conjunction with George Mason University for more than ten years. This program provides additional academic support and opportunities along with counseling services to students who will be the first generation of their family to attend college in the United States. These students work extremely hard and must show a continuous commitment to their studies to both qualify to join and stay in the EIP. But as each year's cohort reaches graduation, it is clear the program works. The entire Class of 2020 are heading off to higher education with impressive scholarships. It pains me to think that without opportunities like the EIP and Advancement Via Individual Determination (AVID), college may never happen for deserving students like these.
Speaking of impressive students, how wonderful it was to listen to ACPS alum Bethlehem Hadgu this week as she played a virtual session with the string ensemble of the Juilliard School of Music, conducted by world famous violinist, Itzhak Perlman. Bethlehem attended William Ramsay Elementary School and Francis C. Hammond Middle School before graduating from T.C. Williams High School in 2018. Her musical talent was clear for all her ACPS teachers to see, but what an incredible moment it was when she was awarded a full-ride scholarship to one of the world's most prestigious music schools.
Stay safe, stay healthy and stay informed! 
Sincerely,
Dr. Gregory C. Hutchings, Jr.
Superintendent of Schools
Celebrating our Exceptional EIP Class of 2020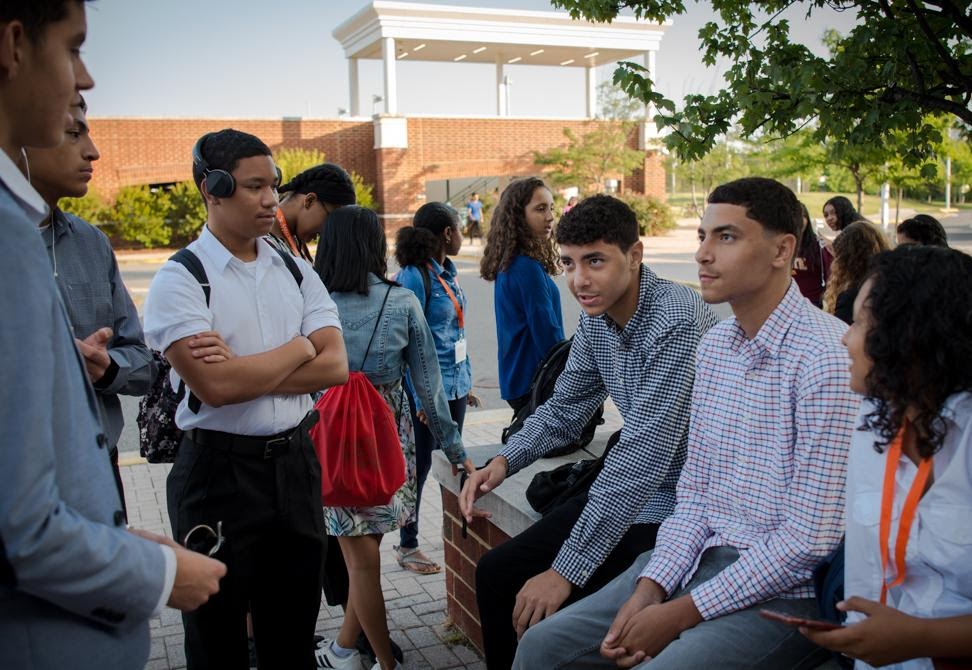 For more than a decade, ACPS has partnered with George Mason University (GMU) on a mission to support first generation college students on a path to higher education.
The GMU Early Identification Program (EIP) was developed to bolster the numbers of students continuing with their studies from historically underrepresented groups. 
From eighth grade onwards, each cohort receives additional academic and mentoring support, without which college may feel unattainable.
The Class of 2020, described as "rock star" seniors, deserve a special mention as we head toward the end of the school year. All ten seniors — six female, four male — are on track for college, having been awarded a wealth of scholarships between them. Each received some kind of academic, athletic or need-based scholarship.
Four were offered full tuition scholarships and one an Honors College award. One received a full academic scholarship to The University of Virginia, and another was awarded a soccer scholarship to Richard Bland College of William & Mary. Seven of the ten also received a Scholarship Fund of Alexandria award.
ACPS EIP and AVID coordinator Jodie Peters said their success was the culmination of hard work, focus, commitment, and belief in self.
"I have seen this cohort through since their acceptance as eighth graders. They are an amazing group of very bright, hardworking, and driven young adults who will continue to inspire other first generation college-goers seeking the same possibilities."  
Peters goes on to say, "I am so proud of them —  they sing in the show choir, create through culinary, lead and advocate through various clubs, volunteer at sites across Alexandria, and they participate in varsity sports. They are EIP rock stars."
Vanessa Alvarez, Trinity Battle, JeanPaul Corrales, twins Mahmoud and Mohamed Elarag, Joaquin Evans, Aiman Hamid, Karina Martinez, Amy Oliva Ordornez and Mikaela Pozo all deserve congratulations for their commitment to their studies and college acceptances. Of the ten, seven grew up in a household in which English is a second language, nine of ten are bilingual. All are minority, nonwhite, and eight were born outside of the U.S. They have given up every summer, countless Saturdays, and many evenings to attend mandatory activities to complete the program. Nine of the ten have GPAs of 3.3 or higher, with five of them angling for a final 4.0+ by the time the year ends. 
Their commitment to the demands of the program and their focus on their goal has been "awe-inspiring," said Peters.
Each year, she and school-based counselors begin to identify potential students in seventh grade. To apply, students must submit essays and provide teacher recommendations along with grades and SOL scores when available. Parents and guardians are also required to commit, signing an agreement to support their child and to attend regular meetings and informational sessions.
As has happened each year, in early June a team of GMU and ACPS staff will review the 30+ rising eighth grade applications and select the cohort for the Class of 2025. 
Accepted students take part in a "tryout" year in eighth grade. If they maintain a GPA of 2.5 or higher they can continue on for the formal four-year programming.  
"The fact that we start engaging with students in seventh grade means everyone involved has had five years to get used to the idea of college," Peters explained.
"At the end of the day, all parents want what is best for their children. But for a first generation student, the thought of pulling away from their loved ones, makes all family members anxious. 
"One of my jobs is to help the student take a positive risk that is good for all of them. In all cases, EIP has helped our parents realize the benefit of postsecondary accomplishments."
EIP members receive support from GMU students as part of an Academic Mentoring Program (AMP) for approximately 18 weeks during the year. 
They have monthly Saturday academic and career events and are required to spend three weeks each summer on GMU's campus attending pre-SOL course support from local certified teachers in courses slated for their fall schedule.  
Currently, ACPS has 60 students in grades 8-12 in EIP.  Due in large part to a grant through the City of Alexandria, ACPS has been able to expand their cohort acceptance and double in size over the past two years.
"EIP is a game changer for families, and students realize it once they see the perks of being on a college campus," said Peters.
"It's a huge social emotional learning experience and truly builds character in first generation students who have been dreaming about college and finally begin to see the reality and possibility for themselves."
Learn more about the EIP program.
Read about the EIP Class of 20202 students and their stories.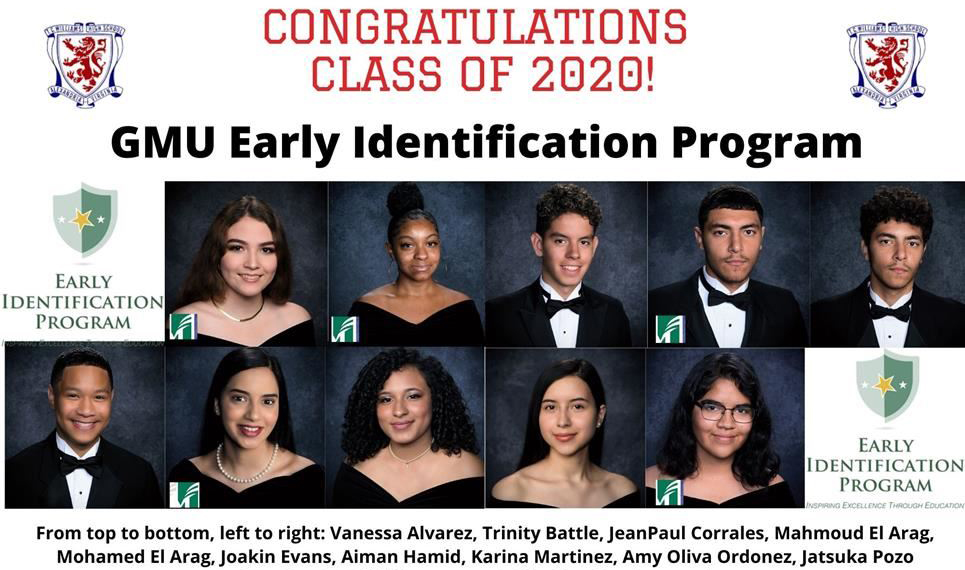 Watch Ramsay Alum Perform With Violin Virtuoso Itzhak Perlman
ACPS alum Bethlehem Hadgu, who now studies at the world famous Juilliard School of Music in New York, joined her fellow students in this beautiful virtual performance of Elgar's Nimrod.
Watched more than 25,000 times on YouTube, violist Bethlehem who attended William Ramsay Elementary School, Francis C. Hammond Middle School and T.C. Williams High School was directed by violin virtuoso Itzhak Perlman as part of CBS's Sunday Morning Matinee series.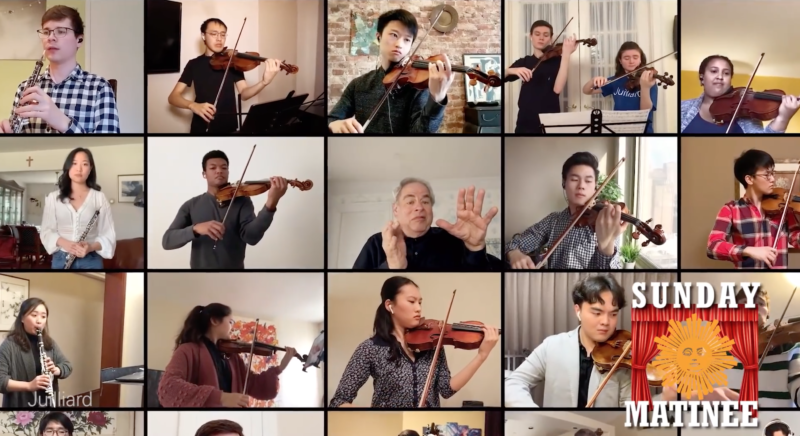 He coordinated the performance earlier this month with his students all over the world who are now stuck at home because of the COVID-19 pandemic.
Forty-eight students from 35 countries took part.
Perlman, who teaches at the school, has been honored with 16 Grammy Awards, four Emmys, a Kennedy Center Honor, and a Grammy Lifetime Achievement Award. In November 2015, President Obama presented Perlman with the Presidential Medal of Freedom.
Introducing the performance, he said, "We hope you enjoy this gift from the Juilliard Orchestra. Presently, we are scattered all over the globe but our commitment to making music and sharing music is as strong as ever."
For Bethlehem, the chance to study at one of the world's leading music schools was the culmination of years of hard work, talent and dedication.
She played in school orchestras throughout her schooling and at a young age, her gift was evident to all.
In 2018, she was accepted to Juilliard's four year bachelor's degree program, named a Kovner Fellow and awarded a merit-based scholarship.
Veronica Jackson, Hammond orchestra director, said she always had the wow factor.
"She really worked hard, she brought her instrument in on the bus and practiced every day. She always showed the dedication to do her very best and I made sure to give her every opportunity to shine."
Two years ago we featured Bethlehem in an episode of our VOICES podcast in which she discussed her incredible journey through ACPS to Julliard.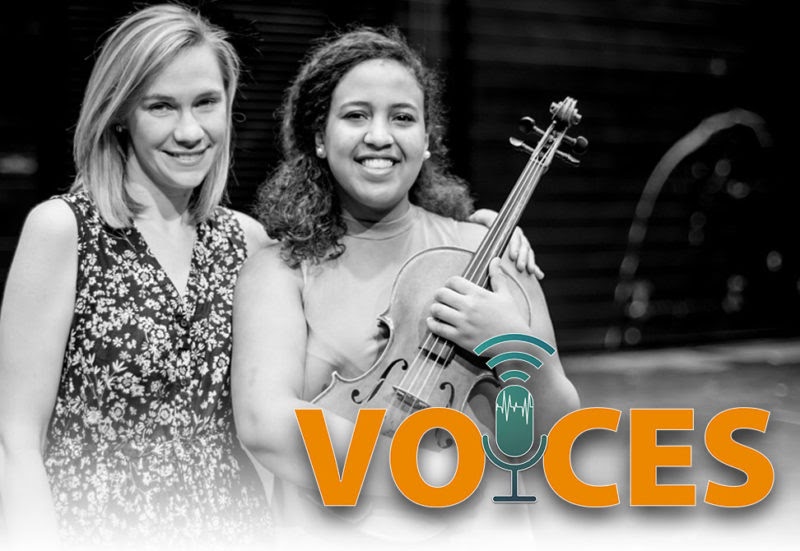 Listen to all ACPS VOICES podcast episodes.
Watch Friday's Board Meeting 
During the closure of school buildings, our School Board is meeting virtually each Friday at noon. 
If you missed it live, you can still watch it.
Watch the School Board meeting and see the agenda.
Information on how to give feedback to the School Board can be found on the School Board Meetings webpage.
Friday's Board meeting included:
There was also a work session on the Revised 2020-21 budget.
On Friday, Board Briefs were posted on: 
CONNECT WITH US
We want to hear from you! Send us a photo, video or story about your experiences while school is closed. Email us at news@acps.k12.va.us.
SHARE YOUR LEARNING!
Learning Together: At-Home Tips from One ACPS Family to Another
Have a learning tip that works well for your child, or a particularly interesting project or story you think others would enjoy? We invite you to share it with the entire ACPS learning community!
Upload your video or audio story or post it to the ACPS Facebook page.
See this great example from one parent and her son.
Food Distribution
ACPS has multiple distribution meal site locations throughout Alexandria for all ACPS students and children over the age of two.
GRAB-AND-GO MEAL LOCATIONS:
Grab and Go breakfast, lunch and snack meals are available Mondays, Wednesdays and Fridays between 9 a.m. and 12 p.m. at the following locations:
William Ramsay Elementary School
5700 Sanger Avenue, Alexandria, VA 22311
Francis C. Hammond Middle School
4646 Seminary Road, Alexandria, VA 22304
Cora Kelly School for Math, Science and Technology
3600 Commonwealth Avenue, Alexandria, VA 22305
Jefferson-Houston PreK-8 IB School
1501 Cameron Street, Alexandria, VA 22314
T.C. Williams High School
3330 King Street, Alexandria, VA 22304
And available at our "Pop-Up" sites located at:
Mason Apartments at South Reynolds Street, Alexandria, VA 22304
10:45 to 11:15 a.m. Mondays, Wednesdays and Fridays
Brent Place Apartments at 375 South Reynolds Street, Alexandria, VA 22304
11:20 to 11:50 a.m. Mondays, Wednesdays and Fridays
Ruby Tucker Family Center at 322 Tancil Court, Alexandria, VA 22314
10:45 to 11:15 a.m. Mondays, Wednesdays and Fridays
Community Lodgings at 607 Notabene Drive, Alexandria, VA 22305
10:45 to 11:15 a.m. Mondays, Wednesdays and Fridays
Old Towne West Apartments (parking lot) at 500 South Alfred Street, Alexandria, VA 22314
11:20 to 11:50 a.m. Mondays, Wednesdays and Fridays
Corner of Florence Drive and Four Mile Road, Alexandria, VA 22305
10:45 to 11:15 a.m. Mondays, Wednesdays and Fridays
The Fields at 4309 Duke Street, Alexandria, VA 22304
10:45 to 11:15 a.m. Mondays, Wednesdays and Fridays
Bennington Crossing Apartments at 441 North Armistead Street, Alexandria, VA 22312
11:30 a.m. to noon, Mondays, Wednesdays and Fridays
NO SIGN UP OR REGISTRATION IS REQUIRED TO RECEIVE MEALS. Meals consist of breakfast, lunch and snack and include, for example, fresh fruits and vegetables and sandwiches for multiple days.
NOTE: No food distribution will occur on Tuesdays or Thursdays. The limited days for distribution is to support the practice of social distancing and to limit social gatherings. Meals for two days will be provided on the pick-up days, (Monday/Wednesday/Friday).
Other Food Resources in the City of Alexandria
For food pantry locations and schedules in Alexandria, visit www.hungerfreealexandria.com or call ‪703-662-1067.
Questions? Or Need Translation?
Send us your question in Spanish, Arabic or Amharic:
Text ACPSMEALS to 797979 (English and Spanish)
Call or text 703-927-6866 (Amharic)
Call or text 703-927-7095 (Arabic)
OR
Call the FACE Center's Bilingual Parent Information Lines:
For Spanish, call 571-775-9719, Monday-Friday (9 a.m. — 5 p.m.)
For Amharic, call 703-927-6866, Monday-Friday (9 a.m. — 1 p.m.)
For Arabic, call 703-927-7095, Tuesday-Thursday (9 a.m. — 3:30 p.m.)
SAFETY REMINDER: Please remember to observe social distancing practices while at the food distribution site by maintaining six feet of personal space between you and other families or individuals.
Anyone exhibiting symptoms of a respiratory illness like fever, runny nose, sore throat, coughing or difficulty breathing on the day of food distribution or in the previous 24 hours should not visit a food distribution site but call a health care provider instead. If you do not have a primary care physician and are not enrolled in a clinic, you may CALL an urgent care center or emergency room.
TEEN WELLNESS CENTER IS OPEN
The Teen Wellness Center at T.C. Williams is still open regular hours Monday through Friday for all Alexandrians ages 12-19. All services are provided in the clinic and if the teen is ill with an elevated temperature (100.0 or more) we will see them through our telehealth video format. Make an appointment over the phone by calling 703-746-4776.
UPDATES FROM THE ALEXANDRIA HEALTH DEPARTMENT
The City of Alexandria and the Alexandria Health Department strongly urge everyone to follow state orders to STAY HOME except for essential trips such as food purchases and medical care, and keep 6 feet apart from others when in public. Your neighbors and loved ones are counting on you to stop the spread of COVID-19. For other questions about COVID-19, call the Alexandria COVID-19 Hotline at 703-746-4988, weekdays from 9 a.m. to 6 p.m.
Additional updates can be found at www.alexandriava.gov/Coronavirus.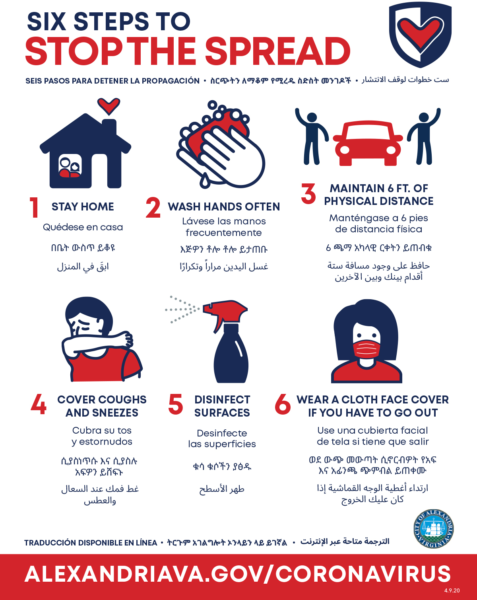 Coping with COVID-19 Fear and Uncertainty
Check out the City of Alexandria webpage Coping with COVID-19 Fear and Uncertainty which includes the COVID-19 Wellness Resource Guide.
WANT TO HELP?
Please consider donating through ACT For Alexandria and the COVID-19 Response Fund if you are able. 
Community members who would like to volunteer should reach out to www.volunteeralexandria.org or 703-836-2176 to register for any additional potential volunteer opportunities.
MENTAL HEALTH SUPPORT
Continuity of School Support and Academic Advisement
School Student Support Team staff, including school counselors, school nurses, school psychologists, and school social workers will be available during school hours throughout the closure. Monday — Friday between 8:30 a.m. and 3:30 p.m. staff will be connecting with students and their families. The Department of Student Services, Alternative Programs and Equity staff members are also available during this time and can be contacted by voicemail and at student_services@acps.k12.va.us.
Emergency Supports
If there is a crisis or emergency during the time of the closure, students and families can access the supports below:
Crisis Text and Crisis Link:

Text: CONNECT to 85511
Call: 703-527-4077
We know that this is a challenging time. ACPS will continue to share information through the ACPS website, social media, and email. Please don't hesitate to reach out to your student's school counselor or school social worker with any questions.
HEALTH REMINDERS
Don't Feel Well?
Contact your primary health care physician. Don't have insurance? Contact Neighborhood Health at 703-535-5568.
---
Have questions, concerns or feedback? Contact us.
Stay Healthy!
Wash your hands regularly. Regular soap is OK.