ACPS has begun piloting the use of compostable trays to replace Styrofoam at T.C. Williams High School and our middle school cafeterias.
If the pilot — which is already proving popular among students and staff — is a success, our schools will transition over to all compostable trays division-wide by the end of the 2020-21 academic year.
ACPS serves 16,000 lunches and breakfasts a day, amounting to thousands of Styrofoam trays discarded each week. These are sent to the city incinerator for disposal rather than to a landfill.
Cynthia Hormel, School Nutrition Services director, said, "School Nutrition Services has been working on a plan to reduce our environmental impact and increase our recycling efforts as a priority for some time."
"We are excited to see how the pilot program to switch to compostable trays at our middle and high schools develops, and are actively working towards eliminating Styrofoam trays in our cafeterias by the end of the 2020-21 school year."
"ACPS is committed to environmental responsibility and looks forward to a greener future."
Along with the compostable tray pilot, ACPS has recently begun a program of installing dishwashers in our elementary school kitchens wherever space allows as cafeteria renovations are undertaken. This will allow the use of reusable dining items.
Currently we have reusable, compartmented plastic trays for meals at Patrick Henry K-8 School and Ferdinand T. Day Elementary School. We are on target to begin in the fall with John Adams Elementary School and Cora Kelly School for Math, Science and Technology, following cafeteria renovations this summer. Mount Vernon Community School is expected to follow soon after.
As we continue our modernization efforts across the division, other elementary schools will follow suit.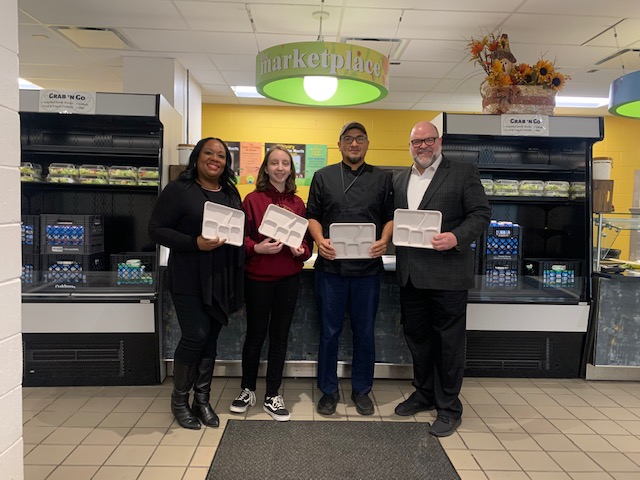 Francis C. Hammond Middle School student Eliana Rougle presented to the School Board about her opposition to Styrofoam trays last month.
Behind the scenes however, our team in School Nutrition Services were already working on plans for a radical change to reduce our waste footprint.
The eighth grader told how she had petitioned students and teachers and gained 376 signatures supporting her drive for more sustainable cafeteria materials.
"Everyone knows that plastic and Styrofoam are bad for the environment, and that you should recycle," Eliana told the Board.
"If you are environmentally conscious, you probably try to recycle as much as you can, and try to go for the greener option."
"Have you ever thought about all the waste produced at your own schools? The very schools we are always trying to improve are producing an incredible amount of waste every year."
"With all that waste, it is hard to fathom why we continue our ways without any hesitation."
Last week, ACPS executive chef Isaiah Ruffin met with Students for Environmental Action at T.C. to work on a plan to compost more of our food waste.
Together, they have already undertaken an audit which revealed 250 pounds of food waste was generated in one day at our high school. They will work together to carry out audits for all our schools before the end of the academic year.
Ruffin is hoping to partner with a private company who would collect and compost our food waste and return the compost to ACPS for use for gardening and landscaping our grounds.
"It's important for us to have baseline data for our waste so that as we move forward with reducing waste we can measure what progress has been made," Ruffin said.