Two talented eighth grade students from George Washington Middle School had the experience of a lifetime when they wrote and performed in a play at the John F. Kennedy Center for the Performing Arts earlier this month.
Yahney-Marie Sangare and Sydney Payne were part of a team of young playwrights and actors who produced The Day Nothing Happened, a play about the desegregation of Stratford Middle School in Arlington.
The students are involved in a performing arts project called Flip the Script, which is run by Encore Stage and Studio, a community theatre company.
As part of this, the girls helped tell the story of the first school in Virginia to desegregate in 1959. The screenplay is written from the perspective of four students: Ronald Deskins, Michael Jones, Lance Newman, and Gloria Thompson.
The 45-minute show opened last November at Theater on the Run in Arlington. Scenes from the play were also performed as part of Arlington County's Martin Luther King Jr. Day of tribute in January.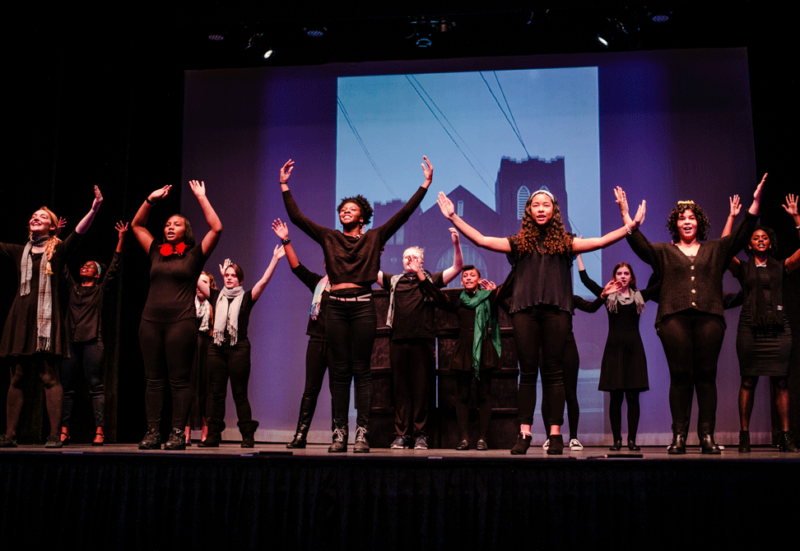 Earlier this month, as part of The Kennedy Center's Black History Month program of events, the ensemble were invited to perform the production on the Millennium Stage at the prestigious D.C. performing arts center.
Yahney-Marie said, "Doing Flip the Script was a phenomenal opportunity to educate myself on both the past and present of black America."
"Some of the questions which we received while performing at The Kennedy Center were unexpected or challenging to answer."
"However, the opportunity to educate a wide range of people about such a shocking yet pivotal point in local history was an incredible experience to spread knowledge through the arts."
According to Encore, the Flip the Script team worked with local students for three months to develop an original theatre piece focused on Arlington's African American voices.
The aim was to incorporate both "historical and modern narratives" into a performance with the hope of "sparking dialogue within our community."
GW Principal Jesse Mazur said, "I am so proud of both Yahney-Marie Sangare and Sydney Payne for the part they played in developing this important piece of theatre. I am delighted they had the opportunity to perform at The Kennedy Center, which I am sure was an experience they will never forget."
Watch the performance: