When Wilmer Carranza joined the second grade of Mount Vernon Community School after arriving in the United States from El Salvador, he cried every single day for two months straight.
Unable to understand a word of what was going on, despite the kindness around him, he was a scared little boy.
Slowly, with the support of friends and teachers, life began to change.
His faltering English improved and he began to excel in his favorite subject, math, just as he did at school in Central America.
That young child is now about to turn 18 years-old and with a 4.0 GPA in sight, is heading to Lafayette College in the fall, the recipient of a prestigious Posse Scholarship reserved for young leaders. It is worth $250,000.
Now, he says, it is time for his mother, Reina, who has worked around the clock as a hotel maid for decades, to take it easy.
"My mom is definitely where I get my brains from, and she has made all these incredible sacrifices for me over the years," he said.
"She made the decision to raise me in Alexandria as a single parent. She worked double shifts day and night to support us financially."
"How could I ever truly pay her back for everything she has done for me?"
He added, "When I told her about the scholarship, I said, 'mom, it's a quarter of a million dollars, you won't have to pay for a single thing. I've got this."
"Honestly, she was freaking out. And it took her a while to really grasp what the scholarship meant for us."
"I just want to see her take it easy, stay home, watch TV … enjoy life a bit more."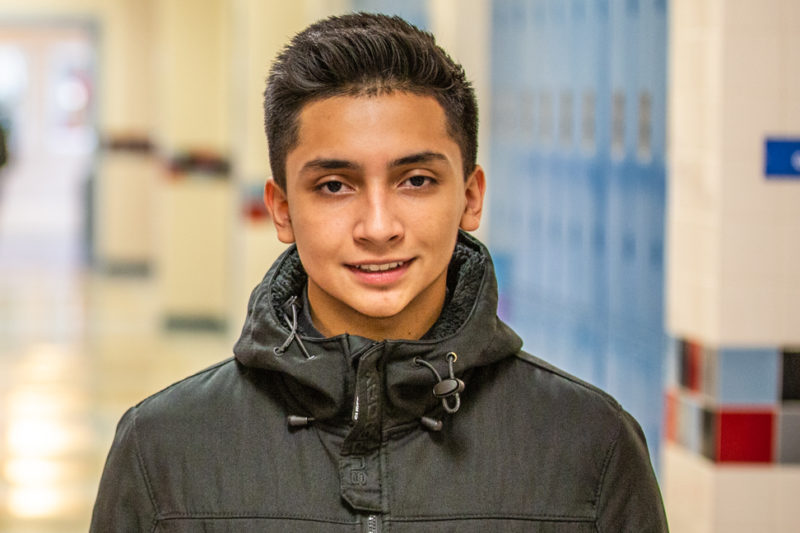 Wilmer was born in Alexandria but left when he was four or five when his mother decided to return to El Salvador.
There, he lived an idyllic existence on the family farm and was reunited with his older siblings: two brothers and a sister. He learned to ride horses and helped his father pick crops or fetch water.
But several years later, his mother decided to return to Alexandria. She went ahead without him, saying she was going out to do the laundry one day so as not to upset her young son.
A couple of months later, she sent for him.
"I remember going from this huge sprawling farmhouse with space and land and animals to a small basement apartment," he said.
"I looked for the stairs and was not able to find them and then I realized how small my new home was. It was an adjustment. The culture shock was real."
"I clearly recall starting at Mount Vernon Community School — and I expect that they will remember me — because I cried every single day for weeks. All I did was cry."
"My teacher would ask me a question, and I did not understand at all, so I would just cry."
"But I made friends who helped me and I had caring teachers. Within months I was loving that school."
During his years at George Washington Middle School, he became part of the AVID college readiness system.
Advancement Via Individual Determination (AVID) identifies students who have the potential to head to college but whose background may mean they need a little extra support in navigating their way there.
As a first generation college-goer, the knowledge and support the AVID system provided was critical.
"I started getting the taste of college and what I needed to do to be ready for it. AVID really helped me a lot," he said.
"If it wasn't for that and the Career and College Center at T.C., I wouldn't have even known about Posse."
"I feel like if I didn't have these resources or these connections, I don't know what I would be doing right now, to be honest. Probably asking too many questions or probably just have given up."
"They're the one that kept me on my feet and told them what to do. Exactly what to do."
He was encouraged to apply for the Posse scholarship by Stacy Morris, T.C.'s College and Career Center school counselor.
He went through a rigorous process of interviews before learning that he had been successful along with one other T.C. student, Madeleine Allen. Now he plans to study computer science at Lafayette in Eastern Pennsylvania
"I was at Safeway when I got a call from Posse asking me how I think I did in the application process. I told them that I thought I did okay. They said, 'You did way better than okay.'"
"And they told me I had been successful. I was shocked."
As the first of his family to go to college, he says he wants to start a legacy and see his nieces and nephews, and perhaps one day his own children, follow in his academic footsteps.
For Peter Balas, T.C. principal, who has watched Wilmer grow and thrive, his success comes as little surprise.
He said, "I am so excited for and proud of Wilmer for earning this scholarship. He is a model student who represents who we are at T.C. in many ways. I believe he will take full advantage of this life changing opportunity and I look forward to seeing all that he accomplishes."
Life is certainly busy for Wilmer these days.
Along with his weekly meetings with his fellow Posse scholars in preparation for college, he is also the T.C. Williams student representative to the Alexandria City School Board.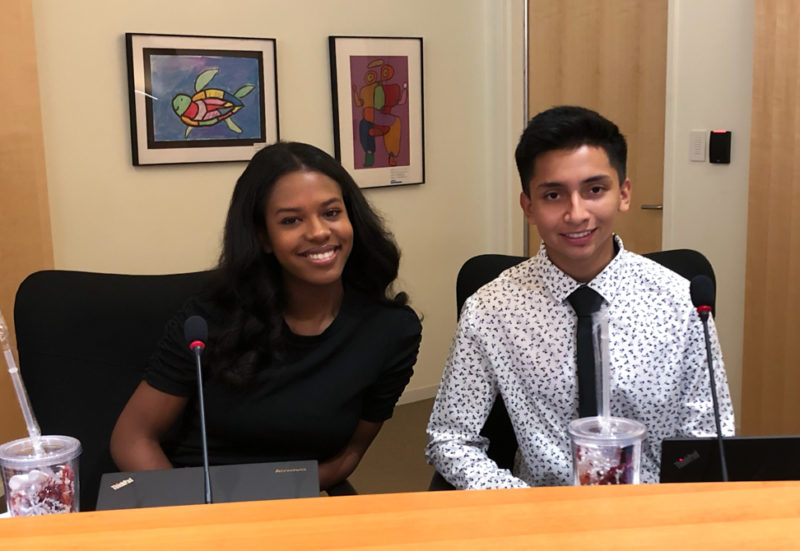 He applied for the position last year so he could advocate for his fellow students and play a part in shaping the T.C. of the future.
As he counts down the days to graduation and the beginning of college, he reflects on his schooling in Alexandria and all those people who have helped him along the way.
"I used to be very, very shy," he said.
"But over the years I've become much more confident. My education has helped me develop and become the person I am now. I will always be grateful to Alexandria City Public Schools for that."