At the beginning of second period on a gray and rainy Tuesday morning, a gaggle of sixth grade students piled into science class at George Washington Middle School.
In typical fashion, there was noise. A lot of it as the children jostled and chairs were moved around on the shiny, tile floor.
Then something remarkable happened. The lights dimmed and Tchaikovsky was played. From the students, silence and stillness — complete and utter.
For five minutes with their eyes closed and hands gently placed in laps, the class was led in meditation by teachers Desiree McNutt and Elkin Rodriguez.
"Imagine a voice coming from your heart," Rodriguez told them calmly and quietly. "Listen to that voice."
"There is greatness within yourself, there is greatness within yourself," he repeated.
"We can be great friends, great students today."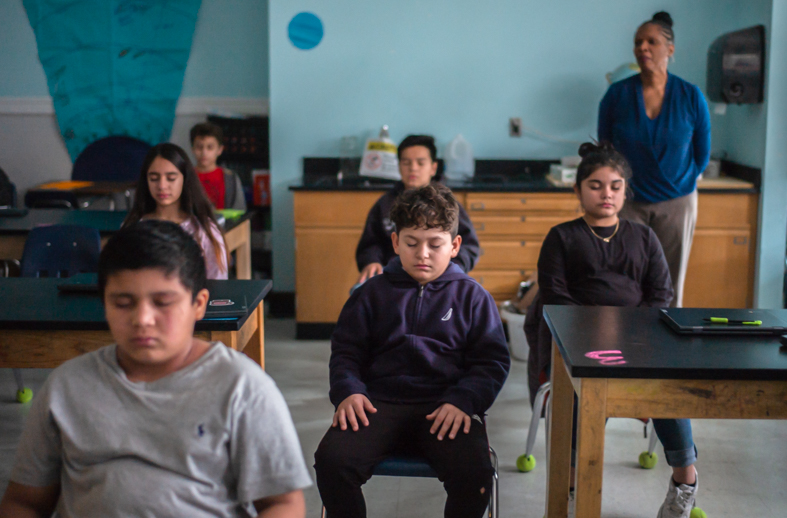 As the meditation drew to a close, the children stretched and yawned and quietly and calmly learning began.
For both students and teachers, having a few minutes of inner reflection has been a game-changer in terms of focus, behavior and even self esteem.
Parents have requested guidance on using the same relaxation techniques at home. Feedback from the students has been overwhelmingly positive.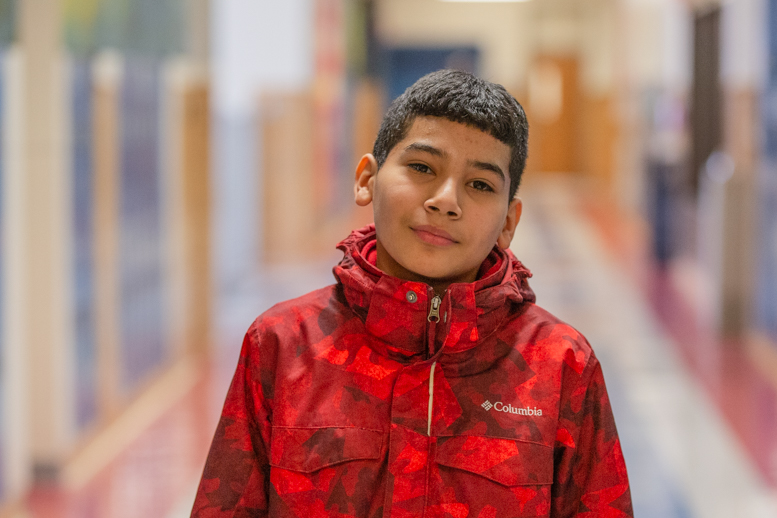 Keisel Sanchez, aged 11, said the classroom environment was noisy and distracting before meditating became a part of their routine.
Now, everything is calmer. It takes away my stress and if I feel stressed at home I know I can take   breath and use some of the techniques we use in class. It works."
Miley Gutierrez, aged 11, said, "It helps me be ready to learn. It makes my body calm down and gets the distractions out."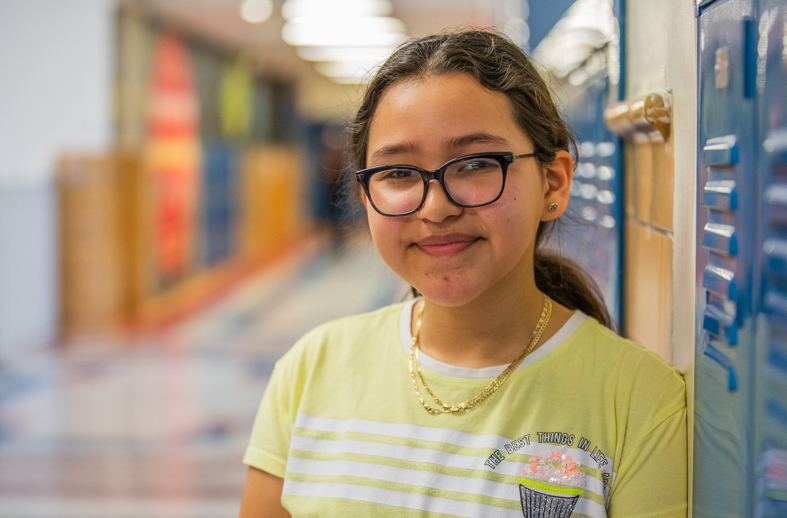 McNutt admits she was a little skeptical at first when Rodriguez, who she regularly co-teaches with, encouraged her to try the ancient practice with their students. He had been using it with his students for three years.
But it has changed her as a person and as a teacher. She said the difference it has made to children, especially those with anxiety issues, is unquestionable.
"It took some convincing at first but the benefits have been truly wonderful to see," she said.
"Kids are focused, they are kinder. Sometimes it would seem they just didn't know how to be nice. But it's hard to be mean to someone when you are calm and relaxed."
"Parents are using the techniques at home and they are telling me how much it is helping."
She added, "There's something that has changed in me since I began this and it has made me a better instructor. I see my kids differently."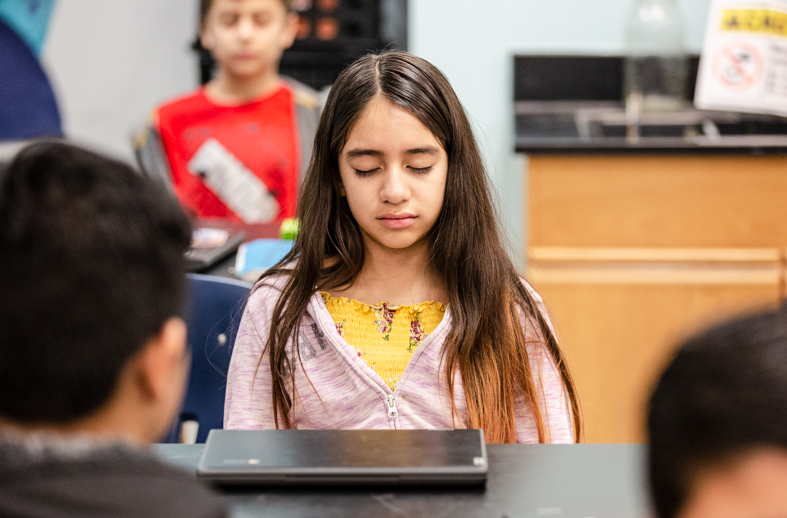 For principal Jesse Mazur, meditation is just one aspect of the mindfulness philosophy that drives his vision for the school.
Last summer, he took a deep breath and sent a letter out to parents informing them that the use of cell phones at George Washington would be banned from the first day of school that September.
He felt the change was necessary to "make every second, every minute" of the school day count. He wanted to remove the social media "drama" engulfing the students and free up school counselors caught up dealing with the subsequent "fires."
Mazur braced himself for a backlash but none came, save for a couple of parents complaining they would not be able to reach their children during school hours.
From the start of the 2019-20 academic year, cell phones brought in to school had to be turned off and stored away. Students were told they were free to turn them back on at dismissal.
After nine weeks, a community meeting was held.
"I knew this policy was never going to work unless we were all committed," he said.
"I gave a presentation and I surveyed the kids. The parents bought in, the teachers bought in, and although the kids sometimes won't admit it, they liked it, too. They knew there were less distractions."
To remove cell phones has been transformative. It's been one of the best decisions I've ever made. I cannot overstate how incredibly impactful it has been," Mazur added.
"We have data from teachers — 94% say the impact has been good, great or terrific."
"Staff have come to me and thanked me."
"Our counselors are no longer dealing with the drama caused by social media, not spending time putting out fires."
"The kids are simply nicer to each other and, I believe, happier."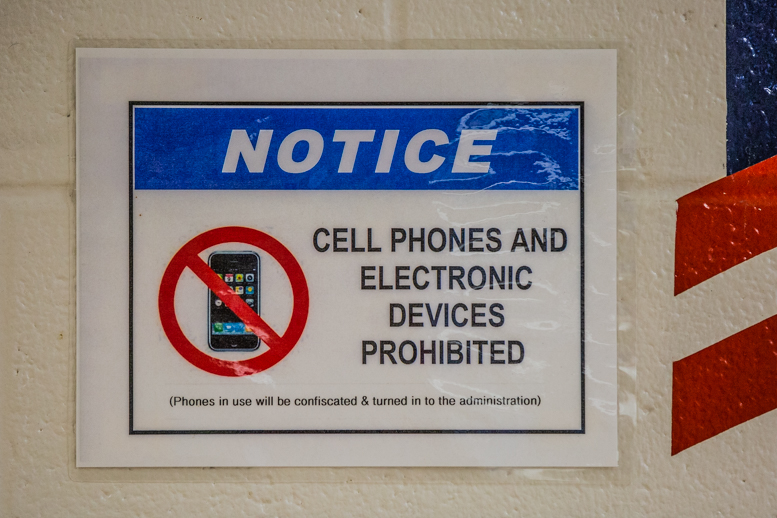 Middle school years are a notoriously hard period for young adolescents, Mazur states, with impulsive behavior and poor decision-making as hallmarks of this age group. This, combined with social media use, can create a perfect storm.
By eliminating cell phones during school hours, Mazur has made strides to create what he calls a "responsive, restorative school."
Wednesday's advisory period has been increased from 15 to 45 minutes. This additional time is set aside to work on developing positive mindsets and healthy friendships with one another. To close the session, a community circle ends in a student reflection.
He supports staff willing to incorporate tips from mindfulness apps and asks teachers to consider having a child lead a "mindful moment exercise" in class.
Educators are encouraged to write a daily inspirational quote on the whiteboard and two minute stretch breaks are expected to be worked into lesson planning.
These practices help foster an atmosphere which Mazur believes is truly beneficial.
As he surveyed McNutt and Rodriguez's class of meditating students last week, he smiled.
"You just can't fake this," he said.