Alexandria City Council has given the green light to Alexandria City Public Schools to use the old Patrick Henry Elementary School facility as temporary swing space for Douglas MacArthur Elementary School students, potentially reallocating $60 million dollars and speeding up the delivery of the new school.
The City Council voted unanimously on Saturday to allow the former Patrick Henry facility to be updated and used for students while MacArthur is demolished and a new structure built.
The plan is to update the inside and playground at the old Patrick Henry Elementary School facility for Douglas MacArthur students to attend for up to two and a half years starting in September 2020.
Using the former school building as swing space enables:
the design and construction of the new school to move up two years; and
the City to potentially reallocate up to $60 million in funding that would have been spent to rent or building new swing space to be used during the MacArthur modernization.
By approving a Special Use Amendment (DSUP), City Council agreed with a unanimous decision by the Planning Commission on November 7 that the design, including parking, playgrounds and traffic patterns are acceptable, and that the two schools can be co-located.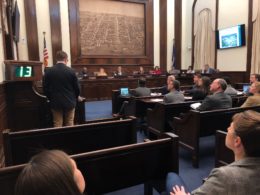 The modernization of Douglas MacArthur Elementary School — built in the 1940s and with eight windowless classrooms and insufficient space for its 700 students — had previously been scheduled to start in 2023 in the absence of suitable temporary swing space during any rebuild. ACPS recognizes that co-locating the two schools on one site has resulted in a delay to completion of the playing fields and a parking lot for the Patrick Henry K-8 School and Recreation Center and the school division will continue to work with the City to minimize these impacts.
In recent weeks, ACPS announced staggered start and dismissal times at Douglas MacArthur Elementary School, as well as traffic routes for drop-off and pick-up at both schools. Additional parking spaces were added to the original plan at the request of staff who wanted to be able to drive to work.
Research has shown that providing high-quality learning environments can have a significant impact on the ability of children to learn. ACPS is in the process of modernizing its aging elementary facilities in line with the goals of the ACPS 2020 Strategic Plan to ensure every child has a suitable learning environment.
Alexandria has aging school buildings which continue to need maintenance and ongoing repairs. The modernization of Douglas MacArthur will be followed by George Mason Elementary School, Cora Kelly School for Math, Science and Technology, and Maury Elementary School within the next ten years. The new Patrick Henry K-8 School and Recreation Center opened in January 2019 with increased capacity for 900 K-8 students, while Ferdinand T. Day Elementary School and the Early Childhood Center located at John Adams opened in September 2018. The new Jefferson-Houston PreK-8 IB School facility opened in September 2014.
This month, the architects for the new MacArthur Elementary School, DLR Group kicked-off a series of meetings with staff and the community to begin developing a vision for the new MacArthur building and its surrounds.