On a Tuesday evening earlier this month, a collection of dads and their daughters filed in to T.C. Williams High School's Cosmetology classroom.
The girls, aged between seven and 12-years-old, giggled when they discussed their fathers' hair styling skills — or lack thereof.
I can't believe he has never done a braid in his life," said Malia Weinmann of her dad, Aileo. "Never? Really?" she asked him again as he shook his head.
But that has all changed thanks to a partnership between the city and school division that resulted in the Daddy/Daughter Hair Lesson.
Not only do the fathers and daughters benefit but our Cosmetology students, under the eye of teacher Nikki Dowdell, get real life salon experience.
In front of a styling station and assisted by student Paige Murchison, Malia's father tried to grasp the basics of a French braid.
But her short wavy hair proved challenging and kept slipping through his fingers. It's fair to say he had difficulty mastering the technique.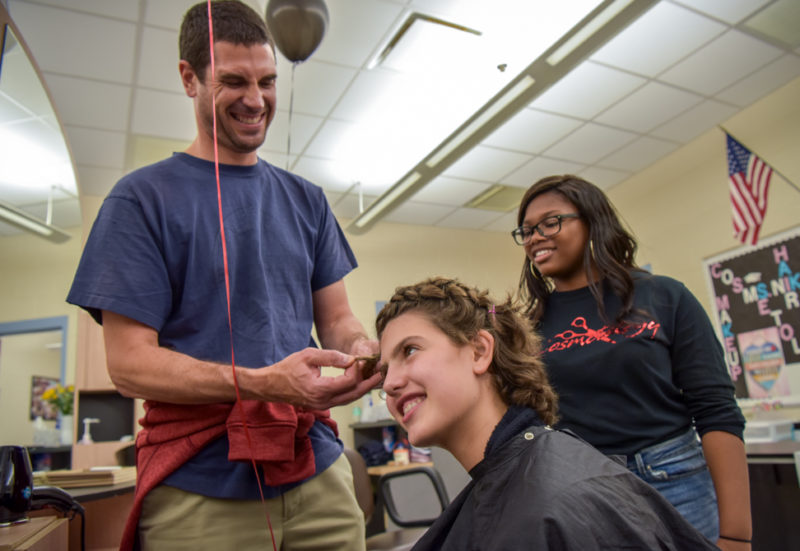 "I can't stop letting go of this one strand," he told Paige, who was one of six T.C. students helping out that evening. "I can't let go of it, right?" he asked.
When Malia, a student at George Washington Middle School, was younger her locks were a little easier to manage, he said.
"It was long and it was easy to put in a ponytail. Then she shaved it off and donated it and now this is as long as it's been for a while. Her hair is curly so it's wash and go most of the time but I'd love to be able to do a little braid."
Standing nearby in military fatigues was Lt Col Dean Scaletta, an engineer in the U.S. Army who brought his two daughters along: Alessandra, age nine, and Briana, seven.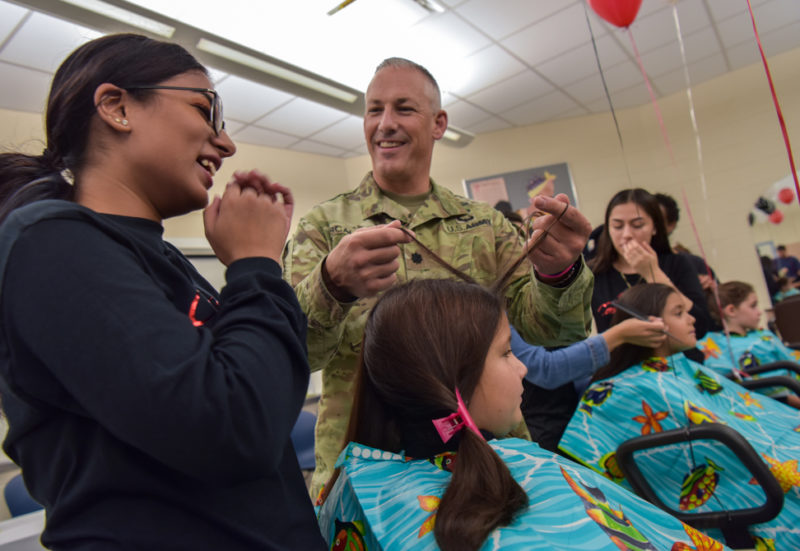 It was my wife who suggested that we should come along to this class. It's nice to spend some time with my daughters and learn how to do something more than a ponytail."
"It 's normally a rush when we are getting them out the door in the morning and we just tie their hair back but it would be nice to be able to do something a bit more special for when we go out at night."
As it turned out, he was a natural at styling and picked up braiding his daughters' long dark hair like it was second nature.
Mount Vernon Community School student Miriam Perez-Lopez, age seven, was the youngest in class.
She wanted her father, Dan, to learn how to style her hair in a high bun. "That's my favorite hairstyle," she said.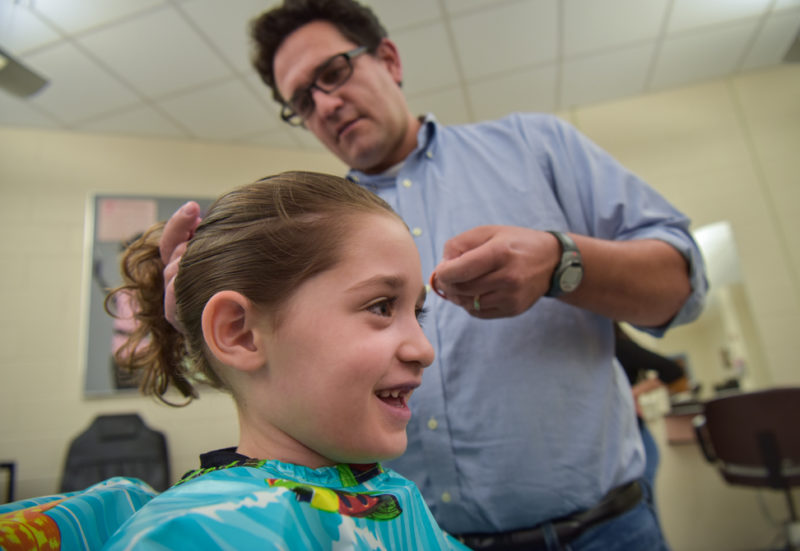 Perez-Lopez said, "My wife always does Miriam's hair. So given that I know so little, anything I learn would be helpful.
"It's a great idea for a class and fun that the high school students can be involved, too."
After a bit of tutoring on back-combing and the use of bobby pins, he had perfected an elegant bun and Miriam was impressed.
The idea to bring the class to the Alexandrian community came from Julie Miles, City of Alexandria recreation manager.
She connected with Dowdell and in 2018, the class was awarded Best New Program by the Virginia Recreation and Park Society.
For Dowdell, herself a T.C. graduate, it is a labor of love. She said she wants to expand the class perhaps to include some basic nail and make-up skills.
Currently, the sessions run just twice a year — once in the fall and once in the spring — but everybody involved would like to see more dates added.
She said, "I'm a daddy's girl and it warms my heart to see fathers and daughters spending quality time together. They will never forget it."
"And our students really enjoy it, too. They get to take charge and work with clients and see the look on their faces when they are happy."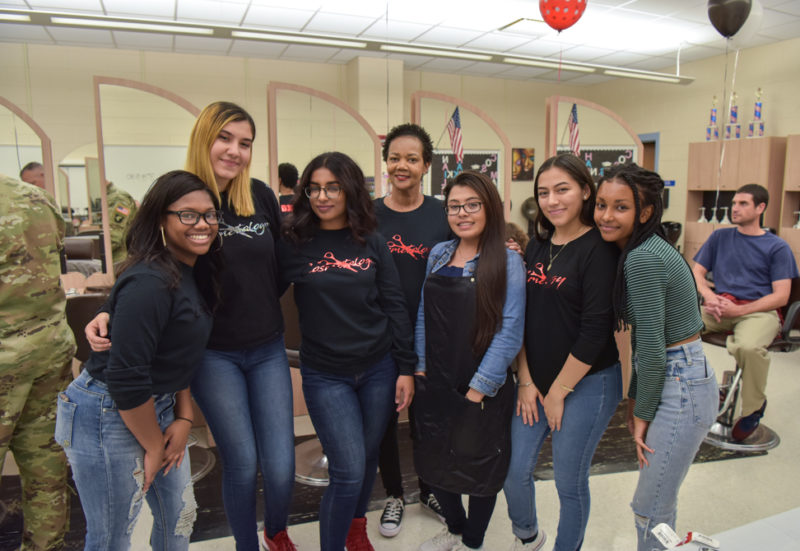 The class is aimed at dads with daughters aged 5-14 years old and costs $19 with the majority of the fee going back into the Cosmetology department at T.C. Williams High School.
Sign up for the next session by registering thorough the City of Alexandria website or in person at the Registration & Reservation Office located at the Lee Center at 1108 Jefferson St.
For more information please contact Julie Miles at julie.miles@alexandriava.gov.