The stakes were a little higher than usual when T.C. Williams High School's Junior Varsity Field Hockey team took on Colgan High School of Prince William County earlier this month.
But if Coach Liz Blount was nervous about reaching an unprecedented 100 straight wins that evening, she didn't let it show.
As she cruised to victory 4-0 she also cruised into the T.C. sporting record books with the longest ever winning streak of any of the high school's teams, chalking up her century of victories in eight years.
Blount — or Coach Liz as she is known to her team — was presented with balloons, 100 red roses and cheers of congratulations as the final whistle blew.
"I truly do attribute the success of the team to the girls," said the Francis C. Hammond Middle School PE teacher.
"Each year they tell the new players that coach has not lost a game. That puts some pressure on them, but that's okay."
She added, "In terms of coaching techniques, I believe in the fundamentals of the game, the focus is on learning how to perfect dribbling and passing."
"And I push the team aspect of the game. You are playing for your teammates, not just yourself. We have team dinners, they have secret sisters. I want them to be friends off the field as well as teammates on it."
The former student of Douglas MacArthur Elementary School and George Washington Middle School who graduated T.C. in the class of 2005, remains modest about the moment she made the 100 mark.
"I didn't start thinking about reaching 100 wins until Coach H mentioned that I was getting close to it," she said, referring to William Heresniak, the T.C. Varsity Field Hockey Coach.
"When we were playing against Colgan High, I did see a sign that read '100 games, eight years' and I thought, 'oh, what is happening here?' After the game, the girls and their parents started bringing me single roses. I was so dumbfounded. It was a very special moment."
This week, James Parker, ACPS Director of Athletics and Student Activities, paid tribute to her impressive achievement.
Liz is the epitome of what being a Titan is all about, powerful and influential! She is a passionate, inspiring and hard-nosed coach who gets the best out of her athletes. This tremendous feat is difficult to do for anyone on any level. The T.C. Williams Athletic Department is honored to have a coach of her caliber on our staff. Being able to win 100 straight games is a near impossible feat that Coach Blount was able to do by being inspirational and having fun with her athletes."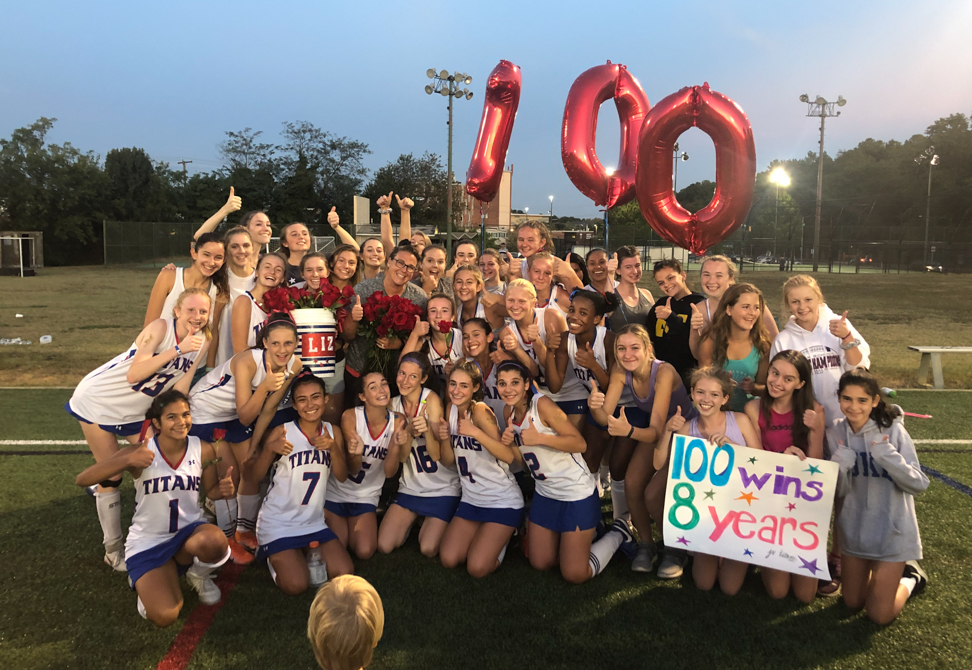 Blount, an all-round athlete, fell in love with field hockey when she was a teenager and fulfilled her dream of playing the sport through her college years. When she graduated from college, she didn't want her hockey career to end.
So in 2009 she joined the coaching staff at ACPS and in 2011 she took on the Junior Varsity team.
By her own admission, the first year was a little rough as she grappled with coaching her first ever team as an inexperienced 23-year-old. But the following year she got into her stride and never looked back.
She has remained undefeated since 2012 and hopes to keep it that way.
"Having twenty girls show up who are there because they want to be and not because they have to be there in PE, is very rewarding," she said.
"They are motivated, they listen, they follow instructions and they are successful because of it."