On May 23, staff updated the School Board on The High School Project and detailed work that will run through the summer months. The Educational Design Team (EDT), responsible for developing course offerings, will soon meet for the first time and in the coming weeks, local business, community, and higher education leaders will be asked to join the conversation. At the same time, the team is engaging both the students and wider community to provide them with information about a T.C. Williams Connected High School Network as well as what it would take to build a second comprehensive high school in the city.
Where are we in terms of the work schedule for the project?
We are in the first 18 months of planning. This phase will end in September with the final direction for our way forward. After that we begin the design work.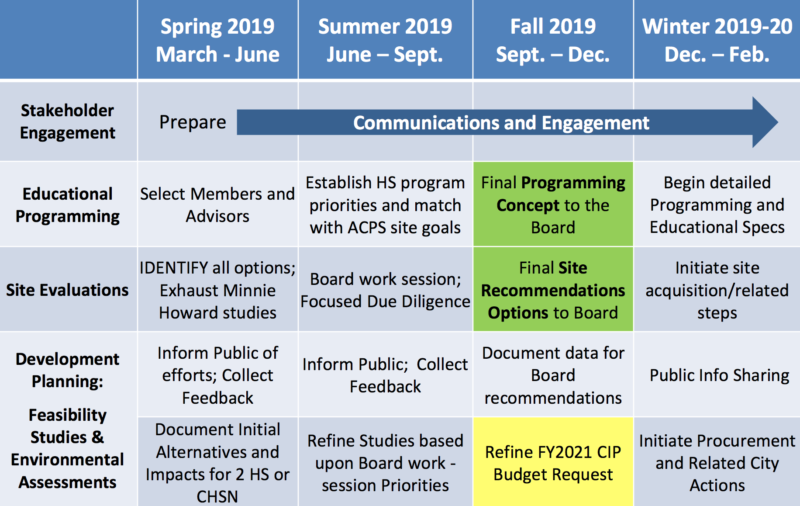 What are we doing now?
The Educational Design Team has selected its members and will hold its first meeting on June 4. The Educational Design Team is the group responsible for developing course offerings for the future high school. They will be looking for a School Board member to join them and serve on the team. There will be eight meetings by September.
At the same time, team members are preparing an in-depth land use study of Minnie Howard to figure out how to maximize the space, but parking and athletics continue to be a concern for this site. Earlier this month, requests were made for developable land and building options for either a second high school or for T.C. Williams as part of the Connected High School Network.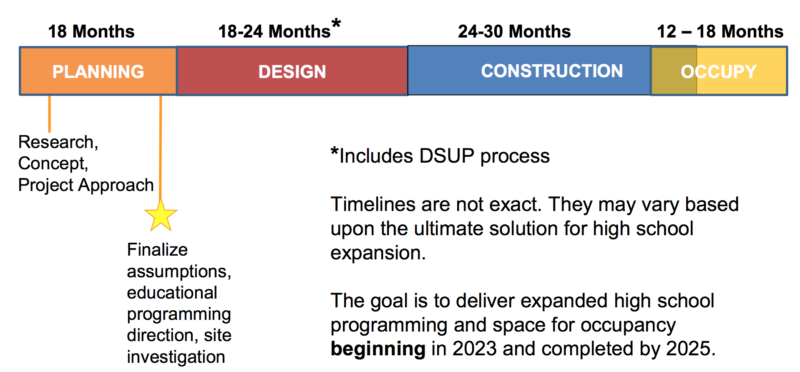 Who is the Educational Design Team?
The Educational Design Team will be comprised of educational experts, school administrators, teachers and students. Dr. Terri Mozingo, Chief Academic Officer for ACPS, and Dr. Gerald Mann, Executive Director of Secondary Instruction for ACPS, will lead the effort along with T.C. Williams Principal Peter Balas.
There will be approximately 15 EDT members, each representing their particular area of focus. Each EDT member will facilitate working groups of their peers who will act as a sounding board and a resource to ensure that a strong complement of ACPS school-based voices are integral to the process.
Who will inform the Educational Design Team?
Educational Design Team members will obtain input from Industry Advisory Boards (IAB): four panels that together represent the 16 program areas defined by the state as necessary for high school education.
These Industry Advisory Boards will bring expertise from related industries, businesses, nonprofits and government institutions. The four Industry Advisory Boards will be: Science/Technology/Engineering/Math (STEM), Business and Government, Education and Human Services, and the Arts.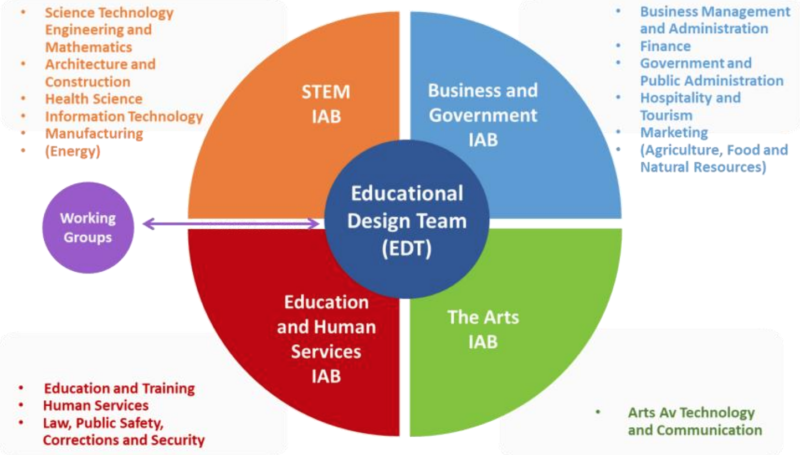 At the time of the January resolution to recommend a Connected High School Network, the board added an amendment (PDF) requiring staff to provide an analysis that incorporates academic literature, impact on student achievement, impact on extracurricular activities and equity. How will this be included?

These will be non-negotiables for the Educational Design Team. They will be a starting point for their work.
What is the timeline for Board discussions and decisions around the project?
Discussion of High School Project at the June 10 work session for the Board.
September 26 presentation of findings for a T.C. Williams Connected High School Network and a second comprehensive high school to the school board for a decision.
What is the comparative analysis the team will be involved in?
The team will look at expanding T.C. Williams into the Connected High School Network or two high schools. That comparison includes impacts to programs and what courses can continue to be offered, how to assign students to each school or site and what the actual site location options will be.
Has the Board made up its mind about one high school or two yet?
No. ACPS is still in the phase of comparing the one T.C. Williams High School model of a Connected High School Network with two high schools. This decision will be finalized in the fall.
What is the difference between a one high school model (Connected High School Network) and a two high school model?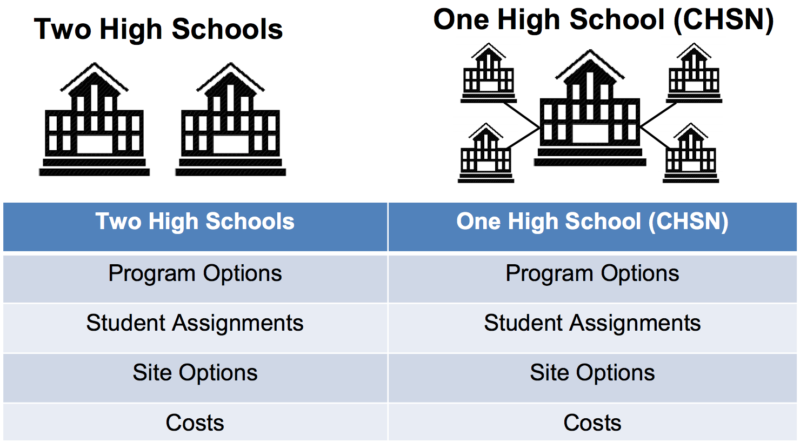 Where are we in evaluating possible sites for either two high schools or a T.C. Williams Connected High School Network model?
On May 14, ACPS requested expressions of interest for those who may have land that could be used for either a T.C. Williams Connected High School Network expansion location or a second high school. We are exploring Alexandria land for sale, development projects that could incorporate a school, and sites for lease that can be available within the time period.
What are the criteria for selecting sites?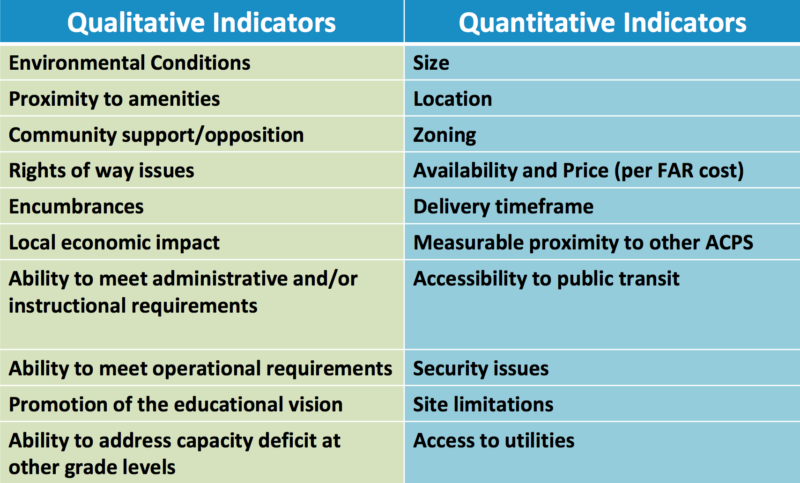 How much building can fit on the Minnie Howard site?
We are still exploring this. The prototype and information from new high schools in the region indicate a need for approximately 312,000 square feet of space to fit 1,600 students. Initial information about Minnie Howard indicates that while that could possibly be achieved, it could limit the optimal space design for a high school.
Massing studies assess the amount of building able to fit on a piece of land. Our architects have assessed the size of the site. We also have to think about additional athletic fields, parking and assembly space. Even in a Connected High School Network we need to consider whether we have to expand assembly space and whether we need to provide food service for students who are not at King Street.
It is possible to put 312,000 square feet on the Minnie Howard site, but this may not be optimal when we determine how high we want to go and whether the square footage lays out in a way that makes sense for classrooms and learning.
What is the zoning allowance for the Minnie Howard site?
The zoning code says school building density and height can exceed what is normally permitted on a residentially zoned site. But there are still restrictions to height (60 feet, or about 4 floors) and floor to area ratio (.60).
What kind of limitations might this mean for Minnie Howard?
This may limit the amount of parking, athletic facilities and field space, and assembly/community spaces able to be included on this site. It is unlikely that a second comprehensive high school could be achieved at this site.
If we built on the Minnie Howard site, would we need swing space?
Probably not. Any new building could be built on the open land that belongs to the City next to the Minnie Howard building. This means students could stay in the building during the construction. The current site of the Minnie Howard building could then be developed to open space/fields once the new building was complete. The R-12 area in the diagram below is the area that would become public open space after a new building is constructed on the existing fields area.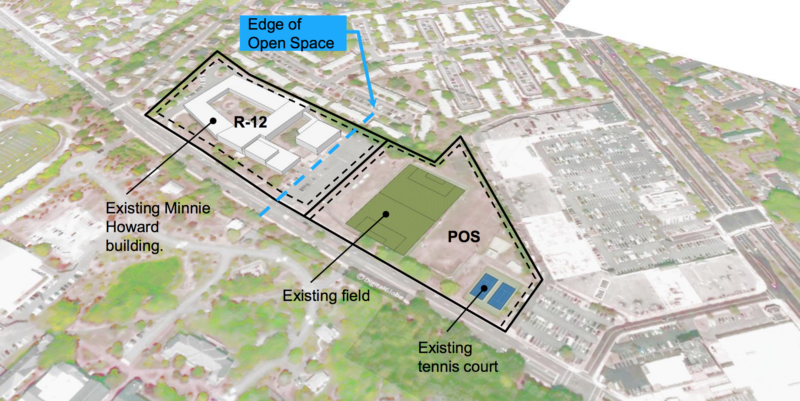 Are we rebuilding Minnie Howard for 9th grade?
No, with either a T.C. Williams Connected High School Network or two comprehensive high schools, ninth-grade students will not be isolated in a separate building from the rest of the high school. The Educational Design Team's work will inform how the Minnie Howard building gets used in the future.
What part do students play in this? How are they being engaged?
Students were engaged in the project in 40 listening sessions in the first phase and will be similarly engaged in the next phases. The superintendent and communications team attended the student leadership team meeting at T.C. Williams High School this week and gathered ideas for sharing the concepts with secondary students across the division. A student group will meet for a listening session with the High School Project Educational Design Team, a series of student lunches are being planned, and an assembly on the High School Project at Minnie Howard.
How is the community being engaged?
The public is going to be updated on the High School Project on June 4 at the Superintendent's Chat at T.C. Williams. The High School Project team will also hold an open house on June 7 and June 8 to provide information and gather feedback from the community. Further opportunities include:
Collaborating with community organizations to present at their monthly meetings
Hosting informational tables at various Alexandria City events
Holding focus groups with various community organizations
Continuous online engagement/project updates via the ACPS website and ACPS newsletters
The team will be out and about in the community collecting feedback throughout the summer.
When will the next Board discussion around The High School Project take place?
The Board is scheduled to discuss the project during a work session on Monday, June 10.
View the presentation from the May 23 School Board meeting (PDF).
Watch the video of the May 23 School Board meeting presentation.