Celebrations are in order. A total of 20 star athletes from T.C. Williams High School have signed with a variety of colleges and universities and will be playing on their teams next year — many with the help of scholarships.

National Signing Day marked the achievements of basketball star Trinity Palacio. Known for her quickness and court savvy intellect, Palacio is helping lead the Titans toward a fourth straight district title. She signed with the University of Charleston where attempting to limit Palacio will undoubtedly remain the game plan of many frustrated opposing coaches.
Soccer star Caroline Bates signed with Johns Hopkins University. Bates has served as a role model on and off the field. Her strong leadership as team captain has not gone unnoticed and we have no doubt she will continue to inspire and motivate fellow students.
For football star Leoul Mulugeta, the day was life-changing. Mulugeta didn't begin playing football until high school, but immediately fell in love with the sport. Due to his talent and hard work, this dedicated senior will be playing for Catholic University.
Getting this scholarship was great. I couldn't have afforded college otherwise," Mulugeta said.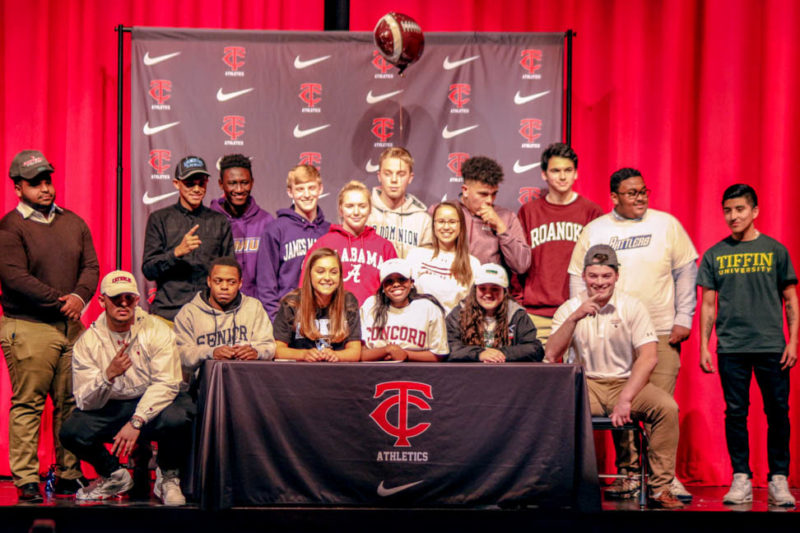 These were not the only students honored for their achievements. James Parker, ACPS Director of Student Activities, welcomed the commitments of students pledging to compete for colleges across the country:
Field Hockey
Reese Hardman, York College of Pennsylvania
Girls Basketball
Sasha Bates, Concord University
Trinity Palacio, University of Charleston (WV)
Girls Soccer
Caroline Bates, Johns Hopkins University
Girls Crew
Paula Filios, University of Wisconsin-Madison
Blythe Markel, University of Alabama
Boys Soccer
Scott Fernandez, Tiffin University
Jack Grainger, Old Dominion University
Gabriel Hendi, Roanoke College
Dennis Mensah, James Madison University
Steven Navas, University of the District of Columbia
Evan Paez, James Madison University
Track and Field
Nyla Ward, Campbell University
Rugby
Sahle Theodros, Alderson Broaddus University
Football
Zaan Khan, Catholic University
Dillon Miranda, Catholic University
Leoul Mulugeta, Catholic University
Tavarus Brown, Wesley College
Josue Gomez, Livingstone College
Boys Basketball
Jaquan Johnson-Terry, Prince George's Community College