This is the second in a series highlighting the stories of T.C. Williams High School students working in our community through internship programs. Internships provide students the opportunity to explore various career paths and gain valuable workplace experience.
This week, ACPS features T.C. Williams High School junior Kevin Cartagena.
Kevin Alexander Calles Cartagena
T.C. Williams International Academy
Growing up in El Salvador, T.C. Williams junior Kevin Cartagena recalls his brother and cousin repeatedly breaking his toy cars. Although annoying as that was, somehow Kevin didn't mind too much because he found he had a knack for putting things back together. Years later, Kevin is now working on real cars.
Just two years ago, Kevin left El Salvador with his father, stepmother and three stepsisters, leaving his mom and brothers behind. Like many at the T.C. Williams International Academy, Kevin is adjusting to a new home environment, learning a new language, adapting to a new culture, and making new friends. And on top of all of that, the International Academy's internship program connected Kevin with the Wiygul Automotive Clinic opportunity.
We stopped by Wiygul Automotive Clinic to see how Kevin was doing on his last day of his internship and found him and his mentor Ralph underneath an SUV prepping for a routine oil change.
Luck would have it that not only did Kevin score a master mechanic in Ralph, he found out they have much in common — Ralph just so happens to be from El Salvador and speaks Spanish, too.
When he first started, Kevin didn't know the name of the tools or the parts, but with Ralph's supervision, Kevin is feeling right at home in the garage.
It was kind of hard because I didn't know anything of English — only the colors and numbers. I found a good friend who translated for me and helped me learn new words and how to spell them. My stepsisters and I watch shows in English. Sometimes they want to watch in Spanish, even though they know English, so that I can understand. But I tell them to watch in English so that I can learn," he said.
By rolling his sleeves up and getting dirty, Kevin has learned his way around the basics of an automobile. He now has hands-on experience changing tires, removing and fixing car parts and doing alignments. He spent an entire week learning brakes, which he says was cool and built up his confidence. Ralph seems to agree.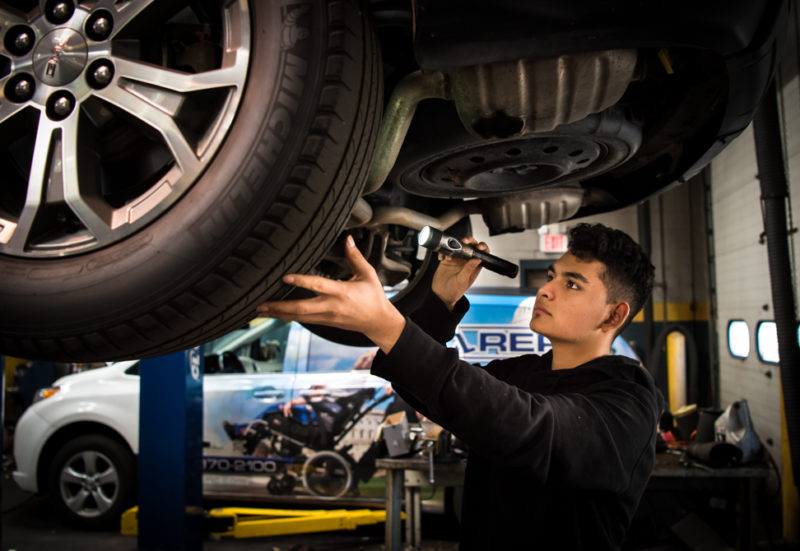 Kevin is really responsible. He is always here, and on time. He has what it takes to become a good mechanic," Ralph said.
When Kevin learned about the internship program, he wasn't too thrilled to follow through. It was a bit intimidating. But now that he's gotten some real-life experience, he's building on that natural childhood talent for fixing things and wants to become a mechanic. His family is quite happy about it — they've now got a designated family mechanic!
Also in the Internship Series:
Just Three Years of Education, Now on Fast Track to Become a Nurse, highlighting Shafiqa Omarkhail, T.C. Williams High School International Academy senior