When seventh-grade student Ronal Velasquez learned about how to put out a kitchen fire as part of a class at George Washington Middle School, he never imagined he would ever actually need to use the skill. But just a few months later he was grateful he had paid attention in class.
Ronal was in the middle of a playing a video game when he realized a pan in which his mom had been cooking steak had caught on fire. Thinking quickly, he called out to his mom and stopped her from throwing water on the grease fire. Instead he ran for a fire extinguisher.
Later this month, Ronal will be honored by the Alexandria Fire Department for saving not only his own apartment, but also his apartment building.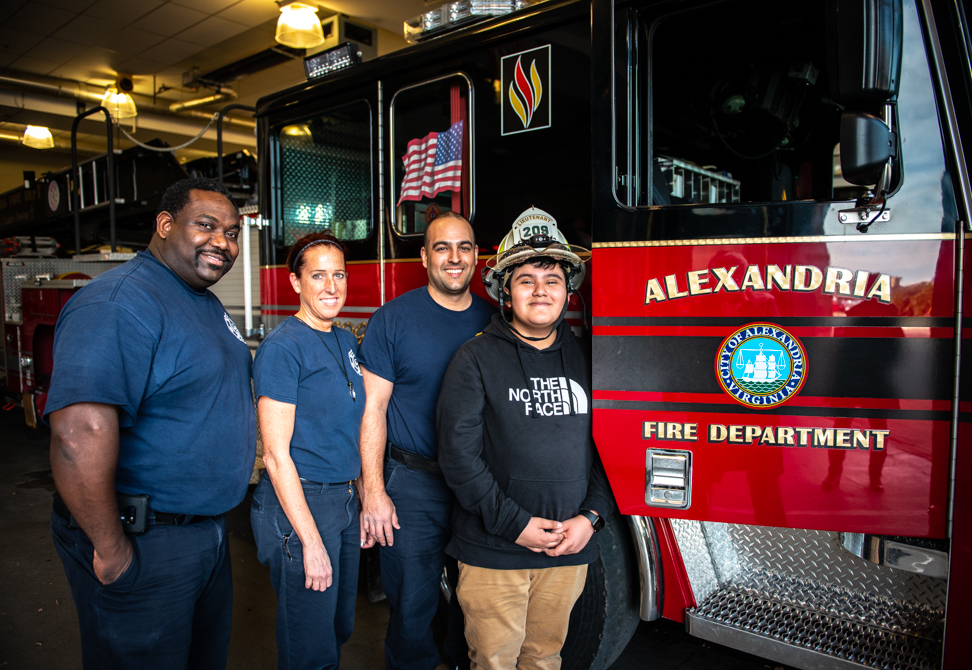 I do not believe many kids his age would have the courage to act the way he did. Ronal's actions prevented further damage to his apartment, if not something worse," said Alexandria Fire Department Captain John Silverwood.
Ronal had never handled a fire extinguisher before but had learned how to use one in his Family and Consumer Sciences class. When the fire started in his kitchen, he remembered his teacher's advice.
Ms. Boyd taught us that pouring water on a grease fire would only make it worse. I knew I needed to act quickly to keep my mom safe and keep my apartment from burning and possibly burning other apartments along with it," said Ronal.
Ronal ran downstairs to get the fire extinguisher, which he had passed in the stairwell for years. He grabbed the metal bar dangling on the side of the fire extinguisher case and tapped on the glass, but it didn't even crack.
I tapped a second time but it still didn't break. I started to worry about the fire and my mom so I hit the glass really hard and turned my head as it shattered to the ground," said Ronal.
Racing back to his apartment he heard his teacher's voice in his head. Recalling her instructions and the acronym P.A.S.S., he pulled, aimed, squeezed and swept, and within seconds the broad spray of thick, white foam had put the fire out.
I was just so scared. I had never handled a fire extinguisher and thought I had done something wrong. By the time the fire department arrived, the fire was out. I just remember them saying 'Thank you very much. You did our job today.'" Ronal said.
The day after, a letter commending Ronal for his quick thinking and bravery arrived at the school from the fire department. He walked into class to a standing ovation. The word 'hero' makes him blush. "It doesn't really fit," he said.
The fact that he took it upon himself to go get the fire extinguisher, go back into the apartment and then make sure that his mom got out — it was a very mature reaction. The fact that he just remembered everything that needed to be done, and he did it and did it quickly, is just so impressive. He's a very brave young man," said Ronal's teacher, Sybil Currie-Boyd.
It took a little time for things to get back to normal at home after the fire. Ronal and his family ate out for a while, but are now back to enjoying cooking at home.