This Week's Headlines:
---
Dear ACPS Staff,
As we head into the Spring Break week, let me begin by wishing you a relaxing and reinvigorating time away from school. We have been through a lot together this year and 12 months ago, it was impossible to imagine the road that lies ahead of us. Now that our school buildings have finally reopened, we look forward with great positivity, yet we remain aware of the work that still has to be done with regards to the social, emotional and academic learning needs of our young people. 
I want to reiterate to staff and families a strong discouragement of non-essential travel over Spring Break (March 27-April 2) and ask everyone to please abide by the Centers for Disease Control and Prevention (CDC) health guidelines explained in previous ACPS communications. After review of community transmission metrics, ACPS has informed families that all students will transition to virtual learning for the week after Spring Break, April 5-9, and we will resume hybrid learning on Tuesday, April 13. 
As we round out Women's History Month, please be sure to check out our librarians' recommendations of books across all grade levels that tell stories that support this mission. I can think of no better way to spend the next week than by relaxing with a few books. Please be sure to practice self care over the break as well as refill your cup so we can return refreshed and ready to continue our life's work.
Stay safe, healthy and engaged throughout Spring Break.
Dr. Gregory C. Hutchings, Jr.
Superintendent
Reminder: No School for Students on Monday, April 5: Teacher Work Day
There will be no school for students on Monday, April 5. It is a Teacher Work Day. No asynchronous work is required for students. 
All ACPS food distribution sites and community pop-up locations will be open at their normal times (9 a.m. to noon for school sites, and various times for pop-up locations).
See the ACPS Calendar for all future holidays and no-school dates.
Transition to Virtual Learning for All Students Following Spring Break, April 5-9
After review of current community health metrics and our desire to limit potential community spread of COVID-19 within our school buildings, ACPS has communicated to staff and families that our school division will transition to virtual learning for all students for the week after Spring Break, April 5-9. Our schools will resume hybrid learning on Tuesday, April 13, for those students who are currently in the hybrid program. Read more.
Staff Intent to Return Survey for the 2021-22 School Year 
All employees are asked to inform Human Resources if they intend to retire or otherwise depart ACPS at the end of the school year, June 30, 2021. 
The Intent-to-Return survey will be emailed to staff from April 7-14, 2021. 
The purpose of this survey is to gain a better understanding of potential vacancies based on employee responses. The responses are shared with school principals upon receipt for future staffing needs. It is important to note that a position does not become vacant until a formal resignation has been received and a termination letter has been provided to the HR department.
For those employees who may have discussed their employment status with the principal or administrator, HR requests that each and every employee reply to the survey. 
If you have questions, please contact hr@acps.k12.va.us.
Latest Community Health Metrics
Here are the most current community health metrics connected to our ability to keep schools open.
Alexandria's latest K-12 school health metrics for the week ending on March 20, 2021: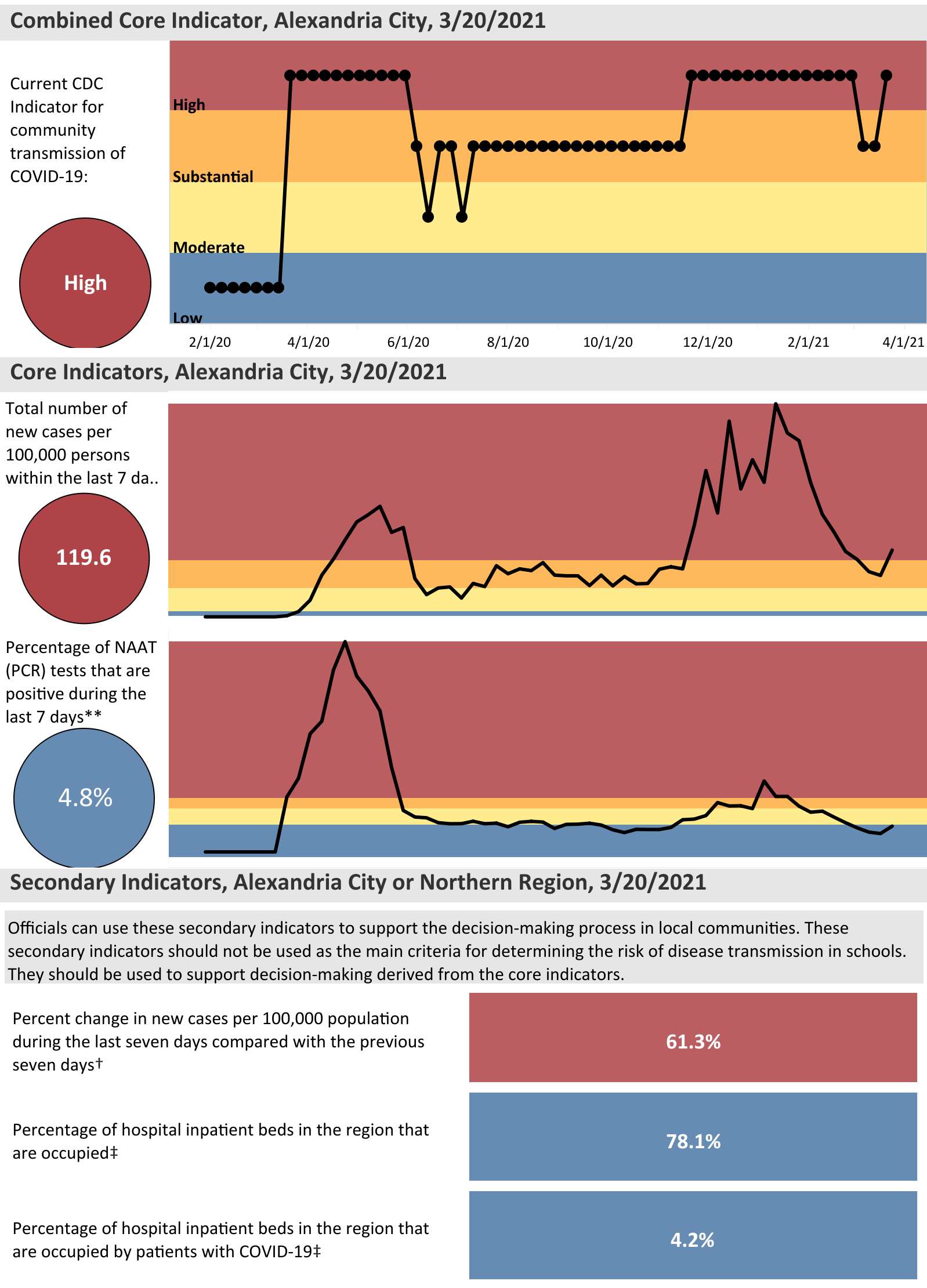 One Step Closer to Finalizing New School Names

At the School Board Public Hearing on March 18, the public had one final opportunity to voice their opinions, concerns or comments related to the new names for T.C. Williams High School and Matthew Maury Elementary School. 
Two community members spoke during the public hearing in support of naming the school after Naomi Brooks. Michele Chapman commented, "I've had the pleasure of knowing Naomi Brooks for more than 25 years, and this honor is most deserving. It was not easy to go to school or to teach in school in her day, but she handled it with grace and dignity." 
Rev. Dr. Howard-John Wesley, pastor of Alexandria's Alfred Street Baptist Church, also praised naming the school after Naomi Brooks, a former member of the church. He said, "She modeled a balanced life, as a businesswoman, as a civic and social leader, as a faithful life, and even as an educator all rolled up into one. Her record on education speaks for itself, not only as an educator who served our city, but as a mother who was active and involved, as a student who was raised through the Alexandria public schools system, as an athlete."
Superintendent Dr. Hutchings made recommendations at the Feb. 26 Board Meeting based on the results of public polls. His recommendations were Alexandria High School for T.C. Williams and Naomi Brooks Elementary School for Maury. The Board will make a final decision at the April 8, 2021 Board meeting
Learn more about school renaming, The Identity Project.
Women's History Month: Literary Recommendations from ACPS Librarians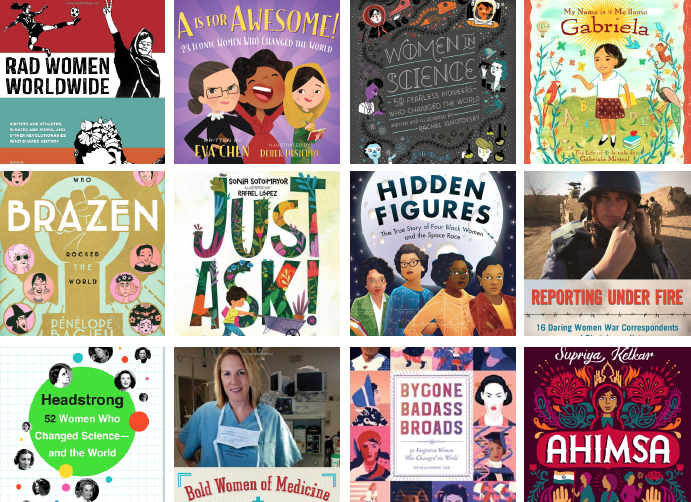 In celebration of Women's History Month, ACPS Librarians are recommending some of their favorite age-appropriate reads. Stories of women who have made significant contributions in our society and everyday lives should be shared beginning at a very early age. These books are a part of the ACPS library system, and we encourage students and families to check out these informative and captivating books.
Women's History Month is a celebration of women's contributions to history, culture and society and has been observed annually in March in the United States since 1987. Learn more at the Women's History Month website.
Pre-K
A Is for Awesome!: 23 Iconic Women Who Changed the World


Written by Eva Chen, illustrated by Derek Desierto




Why stick with plain old A, B, C when you can have Amelia (Earhart), Malala, Tina (Turner), Ruth (Bader Ginsburg), all the way to eXtraordinary You — and the Zillion of adventures you will go on? 
PreK-Grade 3
My Name Is Gabriela: The Life of Gabriela Mistral/Me Llamo Gabriela: La Vida de Gabriela Mistral


Written by Monica Brown, Illustrated by John Parra




Gabriela Mistral loved words and sounds and stories. Born in Chile, she would grow to become the first Nobel Prize-winning Latina woman in the world. As a poet and a teacher, she inspired children across many countries to let their voices be heard. This beautifully crafted story, where words literally come to life, is told with the rhythm and melody of a poem. 
Grades 1-3
Just Ask


Written by Supreme Court Justice Sonia Sotomayor, Illustrated by Rafael López




Just Ask celebrates the different abilities kids (and people of all ages) have. Using her own experience as a child who was diagnosed with diabetes, Justice Sotomayor writes about children with all sorts of challenges–and looks at the special powers those kids have as well. 
Hidden Figures: The True Story of Four Black Women and the Space Race (picture book)


Written by Margot Lee Shetterly, Illustrated by Laura Freeman




This story is the true tale of Dorothy Vaughan, Mary Jackson, Katherine Johnson, and Christine Darden, four female African American mathematicians at NASA and how they overcame gender and racial barriers to succeed in a highly challenging STEM-based career and used their genius minds to change the world.
Grades 4-5
Ahimsa


Written by Supriya Keller




Ahimsa is a stunning tale of social justice set in 1940s India inspired by the author's great-grandmother's experiences working with Ghandi. It is based on 10-year-old Anjali's mother who leaves the family to become a freedom fighter.   
Middle School
Women in Science: 50 Fearless Pioneers Who Changed the World


Written and Illustrated by Rachel Ignotofsky




This book highlights the contributions of fifty notable women to science, technology, engineering, and mathematics (STEM) from the ancient to the modern world. 
High School
Homeless Education Liaison Program is Here to HELP
ACPS is dedicated to educating children and youth experiencing homelessness. 
Through the ACPS Department of Student Services and Equity, our Homeless Education Liaison Program (HELP) is committed to the academic success of our students who are experiencing homelessness. We understand the challenges facing these students and have programs in place to make certain they have the resources necessary to succeed. ACPS has a Homeless Education Liaison responsible for ensuring that children experiencing homelessness are identified, enrolled and receive equitable access to high quality education and support services. 
Anyone, due to a lack of housing, can be considered homeless if he or she lives in inadequate or temporary settings such as: emergency or transitional shelters; motels, hotels, trailer parks, campgrounds, or abandoned in hospitals, living in cars, parks, public places, bus or train stations, or abandoned buildings; or doubled up with relatives or friends; or those living in these conditions and who are migratory children or youth.
Students experiencing homelessness:
Can stay in the same school even if the family moves, and receive transportation to that school, as long as it is in the student's best interest.

May enroll in school immediately without the documents schools usually require.

Receive free school meals.

Get help with school supplies and other needs. 
The ACPS Homeless Education Liaison Program (HELP) can:
Provide extra support for youth who are on their own.

Help connect young children with early childhood services.
For assistance, please reach out to:
Rhaea Goff, LCSW
Homeless Education and Foster Care Liaison
homelesseducation@acps.k12.va.us
703-619-8034
Website: www.acps.k12.va.us/homeless