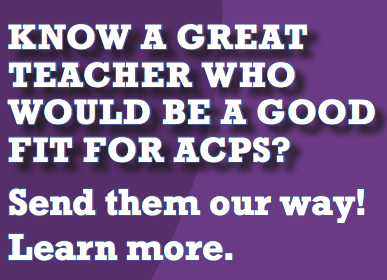 Licensed teachers who would like to change schools within ACPS in time for the 2019-20 school year can begin the application process today. Applicants should email their resume directly to the principal of the school where there is a listed vacancy.
The deadline for emailing resumes to the principals to be considered for this initial list of transfer opportunities is close of business on February 27. The principal will consider applicants and schedule interviews accordingly. Interviews for all vacancies listed in the initial posting will be conducted at T.C. Williams Minnie Howard Campus on Wednesday, March 6 from 4 to 7 p.m.
Teachers who miss the initial date or wish to continue to apply to transfer can apply for positions as they become vacant up until the transfer deadline date of July 1. Vacancies that are identified and advertised after this initial posting will be posted publicly on the ACPS website and available to both internal and external applicants.
Please note: If a candidate is selected for more than one position, it will be their choice as to which they select.
Steps to Apply
Review the vacancy list (PDF) and identify those positions of interest.
Email a resume to the principal or school administrator who is designated as the point of contact for the position.
Include the words "Transfer Application" and the vacancy number in the email subject line.
Timeline
February 19: Posting of Initial Transfer Vacancies (PDF)
February 27: Close of Initial Transfer Application Period
March 6: Licensed Transfer Fair at T.C. Williams Minnie Howard Campus
March 11: Transfer selections made by principals/program managers due to Human Resources
March 12-15: Transfer offers extended to selected employees
July 1: Last day for internal transfer
Please direct all questions to hr@acps.k12.va.us.