The Alexandria City School Board has selected Dr. Gregory C. Hutchings, Jr., a graduate of T.C. Williams High School, as Superintendent of ACPS.
Dr. Hutchings, formerly the director of pre-K-12 initiatives with Alexandria City Public Schools, will return to ACPS in early July from Shaker Heights Schools, located in a suburb of Cleveland, Ohio, where he is currently in his fifth year as superintendent.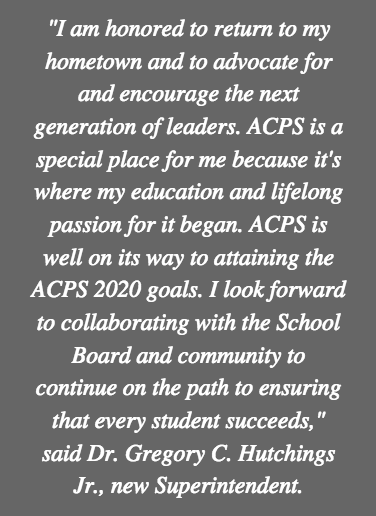 Dr. Hutchings grew up in the West End and came up through the ranks of ACPS. He attended Patrick Henry and William Ramsay Elementary Schools followed by Mount Vernon Community School. He then attended James K. Polk Elementary School and Francis C. Hammond Middle School. As a student, he was a member of the high school track and field team, the Future Business Leaders of America club, and was senior class first vice president at T.C. Williams High School before graduating in 1995.
As a superintendent, Dr. Hutchings has demonstrated a deep commitment to closing the achievement gap and ensuring students of all backgrounds have access to the resources, tools and opportunities needed to succeed. He worked collaboratively with the Board of Education and school community on the creation of a highly regarded strategic plan focused on academic excellence, equity and exploration as a way to realize the goals of the district. He also became one of only eight superintendents in North America to lead a district offering the rigorous International Baccalaureate (IB) programmes for all students at all grade levels, including pre-K, which helped level the opportunity playing field.
We are really pleased to welcome a superintendent who has already been a part of our community, both as a student and as an educator. His demonstrated commitment to closing achievement gaps will be invaluable in working to meet the needs of our diverse student population," said School Board Vice Chair Cindy Anderson.
An experienced educator and administrator, Dr. Hutchings has served as a teacher and in leadership roles at the middle and high school levels as well as in central office administrative positions. He began his teaching career in Manassas at Prince William County Public Schools and then served as an assistant middle school principal with Chesterfield County Public Schools, near Richmond. In Nashville, Tennessee, he was promoted from an assistant high school principal to middle school principal. He was named Tennessee Middle School Principal of the Year by the Tennessee Association of Middle Schools for his role in increasing student achievement and becoming the number one middle school in  metropolitan Nashville based on value-added.
Before becoming a superintendent, Dr. Hutchings was with ACPS from 2010 to 2013, where he was promoted from director of middle school programs to director of pre-K-12 initiatives. While with ACPS, he launched the candidacy phase of the IB programme, which has since been implemented at Jefferson-Houston School. He also worked collaboratively with the curriculum department on the implementation of new middle school curricula.
We are delighted to have a homegrown leader with deep roots in our community who is committed to working with our School Board, staff, families and community to ensure that our students are well equipped to succeed. Dr. Hutchings is a highly collaborative, results-driven educator who combines deep academic knowledge and experience with innovative approaches to education. His talent for developing constructive and productive relationships with constituents at all levels will be a tremendous asset to ACPS," said School Board Chair Ramee Gentry.
As a superintendent, Dr. Hutchings worked with his School Board, administration, staff, community and city to implement key initiatives designed to provide enriched academic experiences for students, families and staff. These include:
early learning opportunities aimed at narrowing the achievement gap that exists for many children on their first day of kindergarten
a focus on staff professional development with an eye to growing and retaining high-quality teachers and staff
a summer learning program focused on the science, technology, engineering, arts and math (STEAM), global languages, and career and personal development to help bridge the summer learning gap
expanded learning opportunities for high school students using a blend of traditional classroom instruction and independent studies to meet graduation requirements
refining business processes and systems to enable sustainable cost-savings and repurposing operating funds to academic initiatives that benefited more students
galvanizing support and funds needed to address the infrastructure needs of Shaker school buildings
Dr. Hutchings holds a bachelor's degree in interdisciplinary studies from Old Dominion University and a master's in educational leadership from George Mason University. He earned a doctorate in educational policy, planning and leadership in 2010 from the College of William and Mary.