Jefferson-Houston School has added to its collection of awards by winning the Platinum Award for Architecture given by the Virginia School Boards Association (VSBA).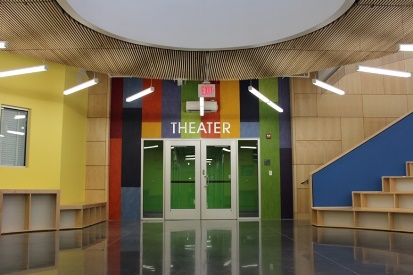 The school, designed by VMDO Architects to house 800 pre-K through eighth-grade students in environments suited to each grade level, won over two other contenders to take the top award. It has already been awarded a Gold LEED award for its green features that include light wells, the use of natural materials and conservation of energy.
The design, shown as part of an Exhibition of School Architecture, was recognized at the opening general session of the VSBA Annual Convention held in Williamsburg on Thursday. Superintendent Alvin L. Crawley and all Alexandria City School Board members were in Williamsburg to hear the announcement.
"We appreciate that our plans to modernize our school facilities in line with the ACPS 2020 Strategic Plan are being recognized at such high levels. ACPS aims to create equitable and optimal learning environments for all students. Schools should be a source of pride for teachers, community members and students, and that means every student," Dr. Crawley said.
ACPS 2020 pledges to work for the modernization of all schools so that every student has not just a beautiful building and learning space, but optimal learning environments with equal access to program opportunities as well.
ACPS facilities staff is aware that the physical environment of school buildings and school grounds is a key factor in the overall health and safety of students and staff members and that student achievement can be positively affected by a positive physical environment.
Watch the video below about Jefferson-Houston School.