First Lady of Virginia, Dorothy McAuliffe, visited Charles Barrett Elementary School on Wednesday to commemorate Virginia Farm to School Week and National Farm to School Month.
Mrs. McAuliffe, Virginia Superintendent of Public Instruction Steven R. Staples, Commissioner of Agriculture Basil Gooden, Secretary of Agriculture Sandra Adams and students from Charles Barrett simultaneously bit into their freshly picked Virginia apples to launch the "Crunch Heard Around the Commonwealth" event.
The Farm to School program helps connect schools with local food producers to offer fresh, healthy food in school cafeterias. School children across the state harvest the vegetables they have grown and taste vegetables and fruit from farms across the Commonwealth.
This is the first time we have had a state-wide Crunch event to celebrate our farmers. Today, we are taking a bite out of a juicy apple grown by farmers, but it is also important to have school gardens so that students learn that it takes hard work to make things grow. They also learn that what comes out of the garden is rich in nutrients that contribute to a healthy body and mind," the First Lady of Virginia said.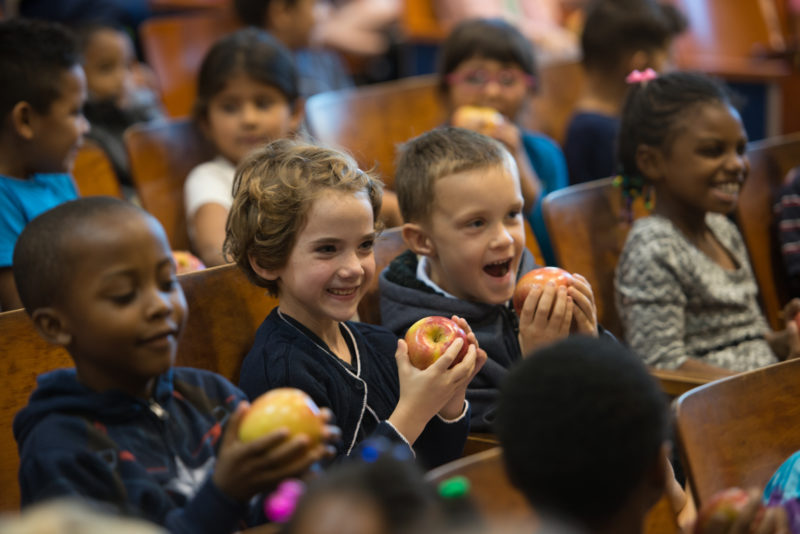 Mrs. McAuliffe and Dr. Staples joined a kindergarten class as they learned about the farm-to-table cycle and then harvested sweet potatoes from the school garden just outside their classroom door. Students observed the color, roots and feel of the sweet potatoes as they came out of the ground.
Guests also joined students for lunch at the school's "Greens and More Salad Bar," which opened in March. The PTA will prepare and cook the freshly harvested sweet potatoes for students as part of the salad bar's offerings at the farm-to-school lunch next week.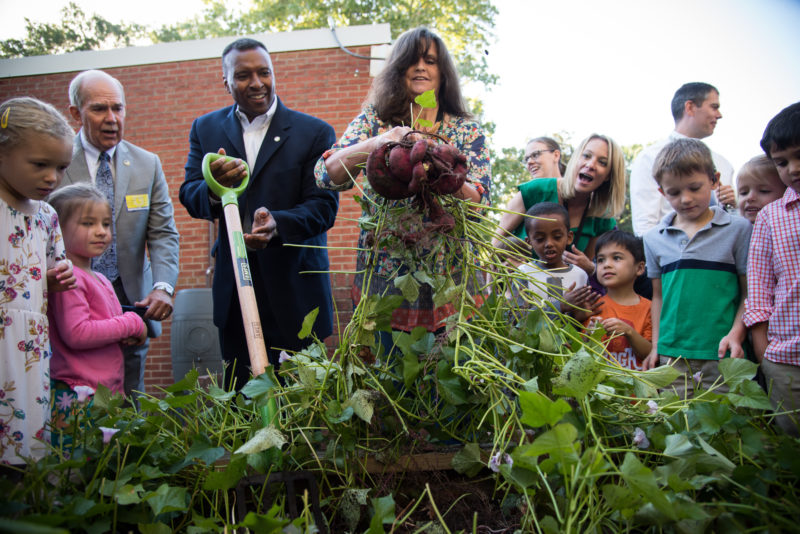 Our students are being exposed to new fruits and veggies each week and they are learning healthy habits. The presence of the salad bar has helped our entire school community, including students, teachers and parents, think about making healthy choices," said Charles Barrett Principal Seth Kennard.
The elementary school salad bars, which are supplied by local growers, are being introduced at all elementary schools across ACPS in the next two months as part of a program designed to boost healthy school environments. Families that are knowledgeable about health and wellness activities are better equipped to encourage their children to make healthy decisions and pursue active lifestyles.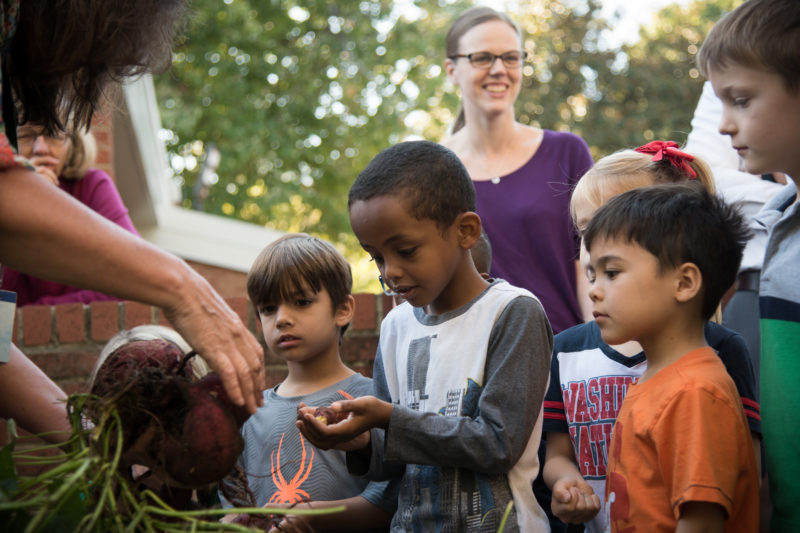 Having locally produced foods available in our schools sends a strong educational message to our students. Our students see that eating healthy local fresh foods is not only good for them, it's good for the environment and it's good for their community. This is a great opportunity to connect our great agricultural resources with another great resource—our students," said Dr. Staples.