Thirteen schools within ACPS received state accreditation for the 2017-18 school year, with the accreditation status of schools remaining largely unchanged from the previous year.
Twelve schools attained full accreditation including John Adams Elementary School, which was previously warned in science. T.C. Williams High School achieved the benchmark for the Graduation Completion Index but remains in warned status for math.
Jefferson-Houston School will remain in Accreditation Denied status this school year, despite surpassing the accreditation benchmark in history and coming within three points of the benchmark in science and four points in math. The school has seen remarkable academic growth during the past four years, gaining 19 percentage points in English, 20 percentage points in math, 22 percentage points in history and 31 percentage points in science.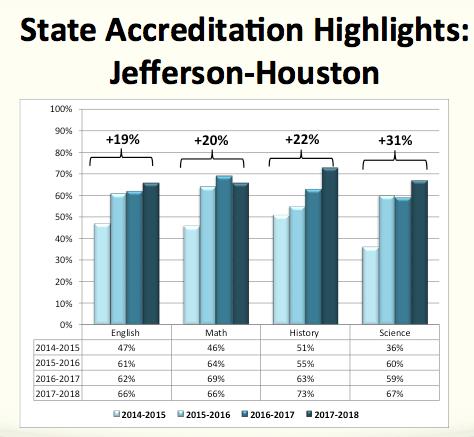 "Our accreditation results remain largely consistent with the previous year and Jefferson-Houston's notable academic growth in such a short period of time is particularly significant. I am confident that the school will continue to see progress this school year as it continues its march to success," said Interim Superintendent Lois F. Berlin.
Jefferson-Houston is the only International Baccalaureate (I.B.) World School in ACPS and has both a Primary Years and Middle Years Programme. The rigorous I.B. program supports the development of knowledgeable and inquiring students who are encouraged to think independently, drive their own learning, work cooperatively with others and draw connections between what they are learning in the classroom and the real world.
The status of William Ramsay Elementary School and Francis C. Hammond Middle School is still under review for 2017-18. William Ramsay remained below the benchmark in science but continued to meet the benchmarks for English, math and history. Francis C. Hammond met the benchmark in science and surpassed the benchmarks in math and history, but fell short of the English benchmark.
Half of all ACPS schools saw increases in at least two content areas compared to last year. Matthew Maury Elementary School's pass rate increased for all content areas, while performance at Jefferson-Houston and George Mason Elementary School increased across three of four content areas. Lyles-Crouch Traditional Academy received pass rates at or above 90 percent for all content areas.
John Adams Elementary School, Charles Barrett Elementary School, Patrick Henry Elementary School, Douglas MacArthur Elementary School, George Mason Elementary School, Matthew Maury Elementary School, James K. Polk Elementary School, Samuel Tucker Elementary School, Cora Kelly School for Math, Science and Technology, Lyles-Crouch Traditional Academy, Mount Vernon Community School and George Washington Middle School will be fully accredited for the 2017-18 school year.