Did you know that there is a social worker in every school in ACPS and that middle and secondary schools have two or more, several of whom are bilingual? Be sure to thank your school social worker today as we take a look at their vital contribution to school life as part of social worker month.

ACPS has a total of 25 trained mental health professionals with master's degrees in social work who enhance our division's ability to meet its academic mission, especially where home, school and community collaboration is key in ensuring that every student succeeds.
Using their understanding of family and community systems, school social workers link students and families to services that are essential to student success. And, they work with students who are facing a variety of challenges such as:
truancy
social anxiety
aggressive behaviors
substance abuse problems
sexual identity issues
They also work with students to address immediate concerns such as:
coping with stress
parental divorce
school avoidance
grief and loss issues
School social workers provide crisis intervention, supportive counseling and/or therapeutic services to students, groups of students and families when students show high levels of at-risk symptoms for school failure. 
At the division level, school social workers use their expertise to:
enhance classroom and school climate
promote optimal learning
improve interpersonal skills
alleviate barriers to positive adjustment
address attendance and drop-out issues
In celebration of Social Work Month, we are highlighting just a few of the school social workers who provide
 

these critical services to our students and families.

Joseph Ernest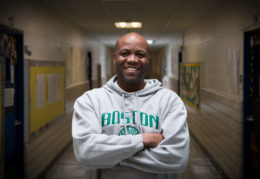 T.C. Williams High School – Minnie Howard Campus
Learning Community 9
Joseph Ernest has been a social worker for the past 17 years, the past ten of which he has spent working with ACPS high school students. After seven years at the King Street Campus, he moved over to Minnie Howard where he has been for three years.
I enjoy coming into work each day knowing that I can empower students to better themselves in school, with their peers and as young adults. I am an advocate for children and I really enjoy facilitating relationships between students, teachers, families and stakeholders in the community. Assisting students in overcoming various obstacles on a daily basis is the highlight of my day," said Ernest.
In addition to spending time with his family, Ernest's favorite pastimes are eating, exercising, bowling and traveling. He prides himself on having fulfilled his personal goal of driving through each of the continental United States.
Josefina Rodrigo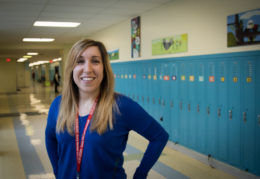 John Adams Elementary School
Josefina Rodrigo has been a school social worker at John Adams for the past four years. Rodrigo came to social work after teaching special education in D.C. for three years.
I felt the needs of students and their families were much more intense and I was not able to impact them and really address their needs in a 50-minute block of time. My students came from rough neighborhoods and struggled with gang violence, low socioeconomic status and high drop-out rates. I wanted to be able to address those pressing issues and felt that going back to school to become a social worker would give me the best avenue to be able to address their needs in a way that I was not able to in the classroom. There is a lot of prevention work that happens on the elementary level and a lot of room to make a difference in their developing years." said Rodrigo.
Rodrigo enjoys the relationships that she has built with families as she has come to know them over the years.
By knowing and understanding where a family is coming from, I am better able to address their needs. The John Adams' families are an integral part of our culture and community and I am proud to be a part of that," said Rodrigo.
Rodrigo, who grew up speaking Spanish, was born and raised in Fairfax County. She lives in Alexandria with her rescue dog, Wilson.
Karima Wade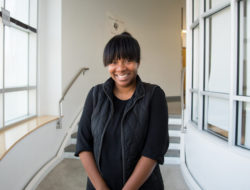 Jefferson-Houston School
A child of an educator and a community activist who was passionate about increasing voter registration and affordable housing in low-income communities, Karima says that being a school social worker is in her blood. She's been at Jefferson-Houston for the past six years, working with students from kindergarten to eighth grade.
Building relationships with her students and their families and creating a safe and trusted space where they can talk about whatever challenge they may be facing is a big part of her work.
It's important for their initial connection with school to be a positive one. Kids will hear a message if it's coming from a place of caring and respect, even if they don't like the content of the message. And, when parents know that they can call me at any time to address any issue they are facing, and when they are more engaged, they are more likely to send their kids to school knowing they are in good hands. To be successful as a school social worker you need to be a really strong advocate and have a strong voice because a social worker is often the voice for children and families that may not have a voice, or may not have a strong voice," said Wade.
Learn more about school social workers in ACPS. And, be sure to thank your school social worker today!