The second community meeting for the modernization of the Parker-Gray Memorial Stadium at T.C. Williams High School will take place tomorrow, Tuesday, March 21, at 6:30 p.m. in the Rotunda on the second floor of T.C. Williams.
ACPS wants to hear from all groups invested in the future design of the stadium. The aim is to involve both the wider community and the civic associations who are immediate neighbors of the high school throughout the process.
The meeting will include initial concepts compiled by the design firm Hord Caplan Macht after listening to feedback from the public at February's kick-off meeting. The architects asked the public for their greatest hopes for and greatest concerns about the new stadium, which they used to help shape the designs.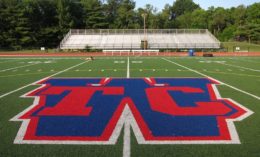 You can view the presentation given by design firm Hord Caplan Macht at that initial meeting.
The goal is to bring the Parker-Gray stadium into line with other modern sporting facilities across Northern Virginia. Many elements of Parker-Gray Stadium date back to 1965 when the original T.C. Williams building opened. The current concession stand lacks some of the basic amenities found in other high school concession stands.
The new design will include a new press box, track facilities and improvements to both home side and visitor's side bleachers. The modernization will also provide designs for a ticket booth, a concession stand, new bathrooms, and a replacement sound system. Lighting upgrades include stadium and security lights for the field, as well as egress and safety lighting.
Both the turf field and track need to be replaced as they are nearing the end of their lifecycle. The design for the track will include a high jump area, pole vault runway and pit area, long jump runway and sand pit, and shot put circle and landing zone.
Staff recommendations to upgrade Parker-Gray Stadium are based on student capacity. As student enrollment continues to grow, there is increasing need to maintain modern facilities to meet the athletic needs of the current and future student population and the marching band.
Hord Coplan Macht has previous experience in stadium projects of similar size and scope across the region and experience in modern sound systems and stadium lighting.