Minnie Howard student Savannah Keough has been named the artist for this year's Alexandria Earth Day.
Savannah's artwork will be on this year's Earth Day T-shirts, posters and flyers. Her design was selected because the committee believed both her design and narrative embodied this year's theme of 'Clean Water Starts with You.'
"I love to draw and create art. Hopefully my drawing will inspire and show others that you can achieve great things if you work hard and give it you're all as well as encourage others to think about how they can help the environment and preserve our water," said Savannah.
Earth Day is April 29 this year. Savannah's design will only be made public two weeks before the day itself but here is a sneak peek. It will on display at City hall for two weeks prior to the Earth Day celebration through until the end of April. Savannah's design will be part of the Earth Day proclamation in City Hall on April 4 at 7 p.m.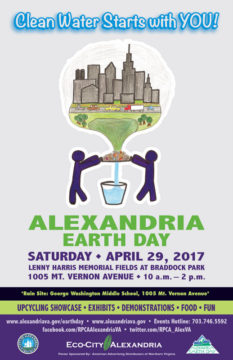 "My design represents this year's theme because it shows how many of society's innovations have destroyed our environment. Cities are producing so much pollution that it is hurting our water and earth. My drawing with two people holding up a filter shows that small acts by a few people can make a big impact over time. People just have to step up and work toward a better future for our environment," Savannah said.
Information on Earth Day can be found at:  https://www.alexandriava.gov/EarthDay