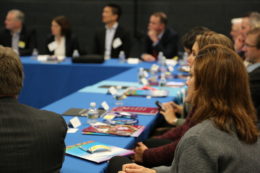 T.C. Williams High School welcomed an impressive group of former governors and state leaders on Thursday as part of an part of a fellowship program aimed at teaching them about public education.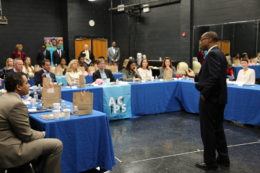 The Fellows were treated to a tour of T.C. Williams classrooms, including the International Academy. They watched students in art classes and computing and math classes as well as social studies classes. They also met Petey Jones, one of the players from the 1971 State Championship Football team memorialized in the Disney movie Remember the Titans and were offered fresh-made apple turnovers made by students in the culinary program.
This was one of the most prestigious groups of people we have ever had tour T.C. Williams. It was an honor to show them around our high school and show them the work we are doing to ensure every student in our school division succeeds," said Dr. Crawley.
The group included:
Chris Abele, Milwaukee County Executive, Wisconsin
Barbara Cegavske, Secretary of State, Nevada
Doug Chin, Attorney General, Hawaii
Thomas "T.J." Donovan, Chittenden County State's Attorney, Vermont
Anitere Flores, State Senator, Florida
Michael Frerichs, State Treasurer, Illinois
Tim Griffin, Lieutenant Governor, Arkansas
Courtney Gregoire, Commissioner, Port of Seattle, Washington
Cary Kennedy, Fmr. State Treasurer, Colorado
Tim Moore, Speaker of the House, North Carolina
Ed Murray, Secretary of State, Wyoming
Michele Reagan, Secretary of State, Arizona
Anthony Rendon, Speaker of the House, California
Sean Reyes, Attorney General, Utah
Robert Rodriguez, Assembly member, New York
John Sanchez, Lieutenant Governor, New Mexico
Levar M. Stoney, Richmond Mayor-Elect, Virginia
Mary Taylor, Lieutenant Governor, Ohio
Gretchen Whitmer, Fmr. Senate Minority Leader, Michigan