There was a distinct air of intense focus at the T.C. Williams track training session this Tuesday. The Lyles brothers, Josephus and Noah, grimaced in visible pain as their coach put them through their paces, stretching muscles so tight that the sinews looked stripped back from their skin. With one gentle shove of his foot, the coach realigned Noah's outstretched foot to make sure the stretch was as complete as humanly possible. The future Olympian groaned in agony.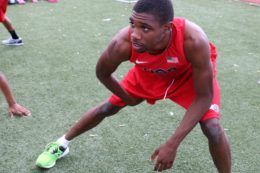 Gone are the playful smiles of a year ago when ACPS staff joined the brothers, then sophomores, for training accompanied by a breakout rendition or two of James Brown in between sprints. Then the two students had danced down the track, singing out loud to their own song, ear buds in their ears and oblivious of the media attention. They had chatted for ages about their music tastes, their diet and Noah's childhood struggles with asthma.
This week, there was none of that. There is no more playing. Everything from the training to the diet, to the fundraising is focused on one very achievable goal – the 2016 Olympics. And nothing, especially raising the funds to pay for the trip to Rio de Janeiro in Brazil, is easy. Noah has already met the Olympic standard to take part in the trials. Josephus is not far off doing the same.
He is certain he's going and I am certain I'm going," Josephus said.
There is a surety about the way Josephus talks about the brothers' aspirations that is hard not to buy into.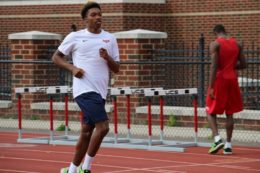 Today, Noah, 18, and Josephus, 17, are two of the most dominant sprinters in the world in their age groups. Although they look similar and are only a year apart, the boys run different distances on the track. Noah runs the 60m, 100m and 200m distances, while Josephus runs the 400m and 500m and sometimes shorter distances.
At the 2015 USATF Junior Outdoor Championships, Noah won the 200 meter national title in 20.18 seconds — the third-fastest prep time in U.S. history — one day after he won the 100 meter title. The American junior record of 20.13 has stood since 1985 and was his to break, but the pain from running a hole in his lucky red socks became too great, and he pulled up at the end. At the Virginia Tech Premier High School Invitational in late January, the boys competed in the 300 meter. Noah edged out a competitive field and won the event in 33.18 seconds, the third-fastest time in U.S. preps history. Josephus crossed 0.08 seconds later and is now sixth on the all-time list. Representing the U.S. in Rio de Janeiro has become more than just a possibility.
The brothers have two months to keep their progress rate up, since they started to see their running times take off last year.
We have two months left. If we keep going at this rate the Olympics are certain. We know we can do it from our records over the past year. At the moment as it stands I'd say it's 75 to 80 percent likely. But if you ask my brother he'll say it's more," said Josephus.
This will be the last year that the boys run at T.C. Williams. Next year they head to the University of Florida, where it is warm enough not to have to lay out rubber matting down the hallways of T.C. Williams just to get a long enough stretch of track to train on.
As for all the medals, trophies, certificates and rings they win, the boys have a stash of shoe boxes for them in their closet. When they get too full, they start throwing them away. What pushes the seniors is an insatiable desire to be the best sprinters in the world and the outrageous idea that they actually can achieve it.
Neither of us find value in metal. We both run for the love of it. There is far more to running than a trophy or a medal. It's a real passion. When I'm rich and famous, I'm going to spend my money on installing an indoor track at T.C. Williams so that athletes can practice all year round," Josephus told ACPS after his first U.S. gold medal while he was still dancing to James Brown on the track during training a year ago.

"I am very happy to have all the support that I have. My coaches are always there to help. They are a great part of the team and have me and Josephus's best interest at heart. Josephus is always pushing me to think bigger. Whenever I think of a goal that's too low or I don't think I can do it, he always tells me to think bigger. But the best part is that everyone knows when to take a break, and is looking towards the future, and not just what we can do in the moment," Noah said.
They both put their success down to each other's support and the support of their team of coaches, T.C. Williams boys track head coach Mike Hughes and sprint coach Rashawn Jackson.
When the Lyles brothers graduate from T.C. Williams in a month's time, they both aim to become professional runners and follow in the footsteps of their father, Kevin Lyles, who ran for the United States in the World Championship 400 meter relay team in 1995. Last summer, the Lyles brothers competed for Team USA in the Caribbean Scholastic Championship in Havana, Cuba — the first American high school track athletes to compete in Cuba.
Their father and mother, who met through running, brought them up to see running as a part of normal life. The brothers, born a year apart in Gainesville, Florida, would go to the track with their father as very young children and play on the high jump mats and use the long jump pit as a sandpit.
Gainesville is small and everyone knows each other. More than that, it's warm. Runners like the warmth. Eighty degrees is just about perfect for running. Your body is warm and your joints are supple. It's really just too cold here in Alexandria for serious running," said Noah.

"It was a dream childhood. We were homeschooled as mom was a stay-at-home mom. We would finish our school work in the morning and then jump in the pool in the back yard, throw some hoops or go to the track with our dad," Josephus said when he was less busy with training last year.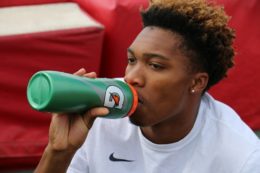 Off the track at home, the boys' diet is watched carefully by their mother, a government social worker who works with people with disabilities. She has brought her sons up on a healthy diet of leafy vegetables, which they have grown to love over the years.
I like the greens but I don't like fruit and we get sugar once in a while. But most people don't understand that just because you are burning a lot of calories you can't eat whatever you want. I like junk food, but you need the good stuff, the iron, the vitamins. That's what helps us be good at what we do," said Noah.

"Mom has brought us up to be runners. Both our parents are involved. But she is a pretty big part of our running. She comes to all our track meets, no matter how far away they are," adds Josephus.
Their mother is also strict about their grades in school and has raised them to see education as an important part of their lives. The brothers laugh and finish each other's sentences as they talk about how their mother has taught them that even if they do not like it, they still have to play the game of life.
I love to learn. I love to be immersed in knowledge," said Josephus, who is taking as many AP classes as possible and whose favorite subject is world history. Off the track, Noah sketches and draws cartoons. He also writes poetry — including one about why he gives away all his medals — and paints custom boots.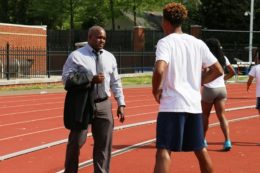 Back on the track on Tuesday, Noah watches his friend stretch out his leg so far that the muscles in both his face and calves tighten to breaking point. His friend grimaces in pain. Noah glances over at his brother already running sprints on the track by the bleachers. This time it is Noah, not the coach, who without a smile reaches out gently with his toe and kicks his friend's foot into alignment. The friend throws his head back in pain.
The coach turns his back to the boys and smiles knowingly without saying a word, full of something we all know – #Titan pride.
Videos filmed by T.C. Williams TV Production Department students, as part of the Titan Documentaries. The footage was shot by Senior Producer Rubaiyat Rhidoy and edited by Lead Video Editor Nate Adere.