Francis C. Hammond Middle School has become the first secondary school in ACPS to offer the Breakfast in the Classroom program aimed at breaking down the social divide between students who have and those who do not.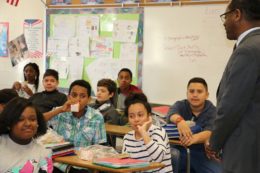 The program, funded by Partners for Breakfast in the Classroom and Walmart Foundation, provides free breakfast for every student at the school to be eaten in their classrooms with their peers. Until now, students have divided as soon as they got off the bus, with students on free and reduced school meals heading to the cafeteria to eat breakfast while those who have eaten breakfast at home go to the auditorium.
This is a program that benefits all of our students. Every child needs to eat breakfast so that they can focus throughout the morning in class. We know students study better when they are not hungry. Some of our students skip breakfast because they are up too late. Some don't have access to it at home at all. Whatever the reason, we know that too many students do without. This program means that they never have to do that again," said Hammond principal Pierrette Hall.
While two elementary schools already have the Breakfast in the Classroom program, this is the first time it has been offered at secondary level.
We want you to remember that you were the first students to be part of this program and that you are pioneers. This is something important for our school division and will help ensure every student has the opportunity to succeed," Superintendent Alvin L. Crawley told a group of students who talked to him and School Board member Veronica Nolan after the initial breakfast was served.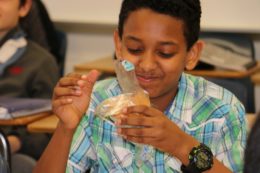 The program reworks how school breakfast is delivered by offering it to all students at no charge and moving it from the cafeteria to the classroom in an effort to improve participation in the federally-funded School Breakfast Program and boost learning and health.
While most U.S. schools offer meal programs, many students do not participate in cafeteria-based school breakfast programs because of bus schedules, late arrivals to school, pressure to go directly to class or reluctance to be labeled as 'low income'.
I just know this is what I need to help make sure I can focus in class. I know this is going to help get my grades up," said one sixth-grade student taking part in the documentary.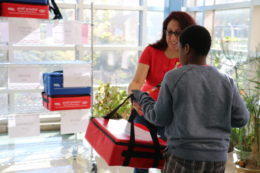 Hammond was selected to participate in the third phase of the Partners for Breakfast in the Classroom program, which is a joint initiative from the Food Research and Action Center, National Association of Elementary School Principals Foundation and NEA Healthy Futures and School Nutrition Foundation – collectively known as the Partners for Breakfast in the Classroom. Mid Atlantic dairy Association provided the cool bags.
Watch a video about Hammond's Breakfast in the Classroom program: