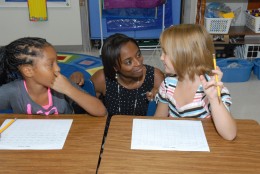 Patrick Henry Elementary School principal Ingrid Bynum has been named as ACPS Principal of the Year and a finalist for The Washington Post's 2016 Principal of the Year.
Bynum was given the award by Superintendent Alvin L. Crawley in a surprise ceremony on Friday. Patrick Henry was fully accredited this school year, for the first time in three years. The school's performance in the Standards of Learning (SOL) tests was so impressive that Virginia Governor Terry McAuliffe visited the school on the day state accreditation results were released in October to personally congratulate Bynum, her staff and students on their high performance.
In February 2015, then U.S. Secretary of Education Arne Duncan selected Patrick Henry Elementary School to see a pre-K classroom in action and take part in a roundtable discussion on the importance of early learning.
Bynum, who became principal of Patrick Henry in 2012, is seen as a large contributing factor to the yearly improvements at the school. In the three years since she joined the school, Patrick Henry went from Virginia Focus School status to full accreditation, achieving dramatic double digit gains in all content areas on the SOLs.
"I can't believe this. I am never speechless and I'm speechless," said Bynum, who was moved to tears when Superintendent Crawley presented her with flowers and congratulated her on her achievements.
"This is all down to my team. I could not have done any of this without them. I am so happy, I don't know what to say. I just can't wait to share this news with them," Bynum said.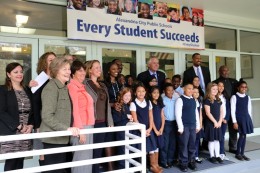 Patrick Henry increased performance by an average of 20 percentage points across all four core content areas in the last two years to reach full accreditation this year. The school achieved 79 percent in English, 78 percent in math, 86 percent in history and 78 percent in science in this year's SOLs. Previously, the school was in warning status in English and science.
"Ingrid fully deserves this award and I am delighted to acknowledge her achievements today. The success achieved by Ingrid and her team at Patrick Henry is outstanding. We want to congratulate her," said Superintendent Crawley.
Bynum was surprised while taking a break between conducting interviews as part of a panel with Dr. Terri Mozingo, Chief Academic Officer and Dr. Lisa Piehota, Executive Director of Elementary Curriculum.
"I've been set up," she said as Dr. Crawley walked in with staff members of his leadership team.
Bynum has realigned the instructional focus of all grade levels to reflect data-driven decision-making. She encourages her staff to use multiple sources of data to drive planning, preparation and delivery of instruction. She has also established a school-wide culture that puts students first and fosters a positive, inclusive and collaborative approach.
"Ms. Bynum has brought discipline, experience, dedication and a tremendous amount of energy to a school in need and today Patrick Henry is a rising star in the Alexandria City Public School Division," said Patrick Henry parent Alissa Oram.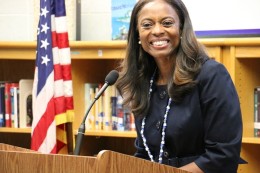 Bynum has also fostered and maintained relationships between staff, parent and community groups during the Patrick Henry Project. The project aims to see a new building for Patrick Henry opened by the start of the 2018-19 school year and the school adopt a pre-K through 8th-grade model.
"Ms. Bynum is not only what the students need to succeed academically, but also socially and emotionally. I am deeply impressed by her level of caring for the children in her charge and her leadership plan for the direction of the school," said Benjamin Fiore-Walker, Senior Managing Director of Diversity and Inclusion at Teach for America who supported her nomination.
Read what Principal Bynum's students have to say about her:
"Mrs Bynum is a great principal. She turns learning into fun."
"Mrs. Bynum is the nicest principal I know. She is kind, respectful and serious."
"Mrs. Bynum has improved our school in so many ways. She used most of her money to buy books for the whole school."
"At first, Patrick Henry's progress was low. Then, when Mrs. Bynum came as principal, progress went up. Without Mrs. Bynum, nothing would be like this."
"Right now, Mrs. Bynum is trying to make a new school that is a bigger and better school for everyone."
"Mrs. Bynum succeeds because she is confident in herself and because of her positive attitude."
"Every single day she inspires me and others to work hard to get smart!"
"Mrs. Bynum has brought Patrick Henry so many things. One of the things is Young Scholars. Young Scholars is when you are ahead of your class, you can attend fun activities. Last summer in Young Scholars we learned about the wetlands. It was a very fun activity that I'd like to attend again."
"Mrs. Bynum wants us to read, read, read! She spend a lot of money on books for our school library."
"Mrs. Bynum has improved our school by getting rid of bullies and she is encouraging us to work hard to get smarter."
"Mrs. Bynum should be principal of the year because she gave us both literacy and SFA so we could learn how to read well. She gave us Young Scholars so we could lean new things. She helps us pass the SOL's by saying we can do it."
"Mrs. Bynum is a hard worker and she always does the best she can to help us learn new things. There's no one better than her and I hope you choose Mrs. Bynum as principal of the year."