en español (PDF) | አማርኛ (PDF) | بالعربية (PDF)
Breakfast and lunch are being served for all ACPS students at no cost during the 2021-22 school year, giving us a big reason to cheer during National School Lunch week, Oct. 11-15. Both meals are being offered free of charge to all ACPS students through June 30, 2022 to help families struggling with the financial impact of the COVID-19 pandemic. This is a time to show our appreciation for the dedicated staff in the lunchroom, kitchen and behind the scenes who help put food on the table for our students.
When schools closed in 2020-21 due to the pandemic, ACPS School Nutrition Services provided curbside meal distribution until the start of this school year. During that time, "we served over a million meals to our community," according to Gina Green, ACPS nutrition coordinator. Green added that, with the USDA granting free meals for all students this school year, participation numbers for breakfast and lunch have increased in many of our schools. 
The ACPS 2021-22 Elementary Calendar Menu (PDF) goes beyond indicating food choices for the day. Director of School Nutrition Services Cynthia Hormel explains the menu also features Harvest of the Month, in which local farms are highlighted. Fast facts about the nutritional benefits of the featured fruit or vegetable are also included. The menu also spotlights a member of the school nutrition staff each month and names their favorite dish.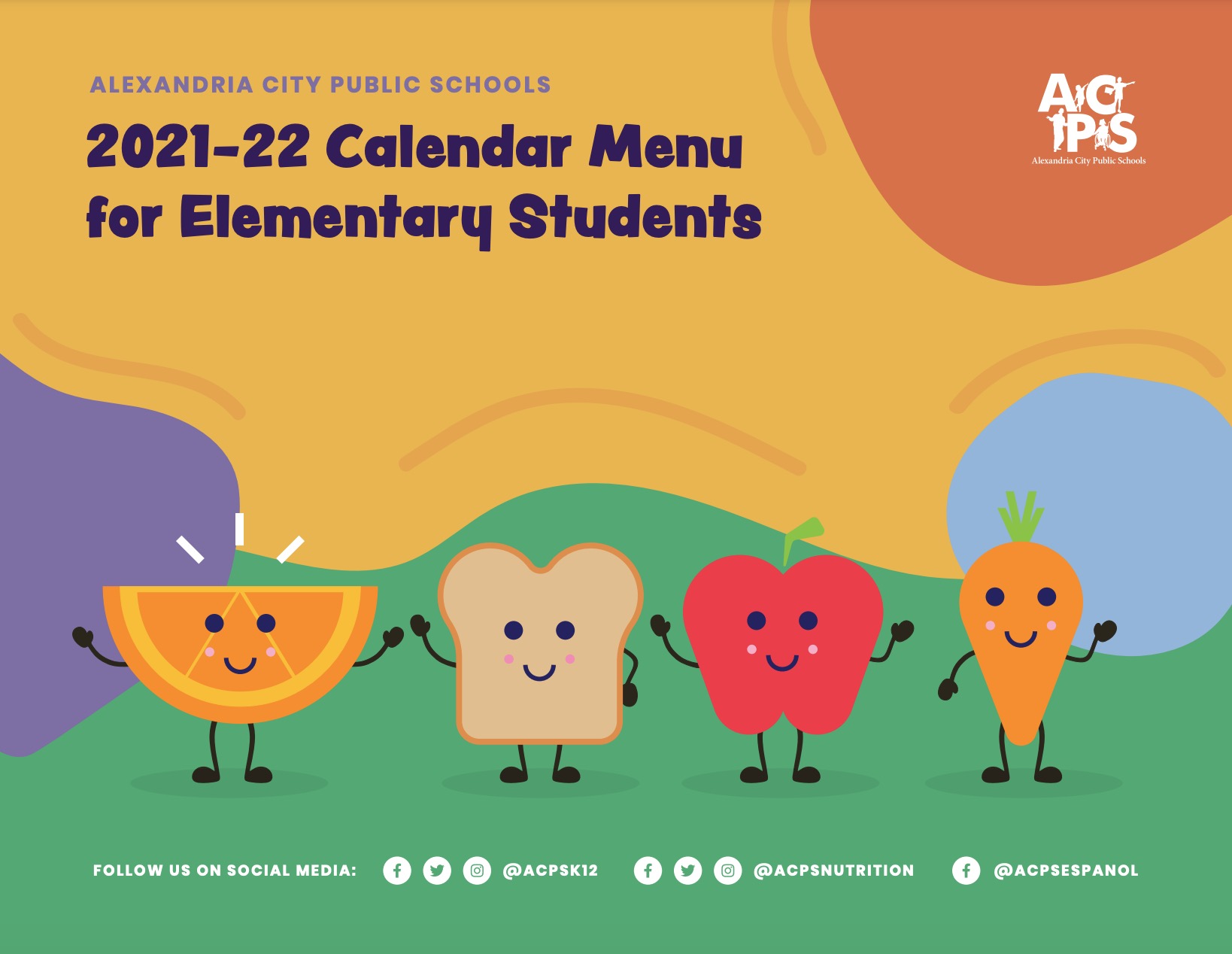 Green says it is a balancing act to put together a nutritionally sound meal that students will enjoy. She says that is accomplished by having great vendors and manufacturers that cater to the K-12 market, modifying products using less sugar, and adding whole grains. Testing new products and recipes is also done to see how the students like them. "And trust me … they have no problem being honest! Especially the younger kids," adds Green.
The ACPS School Nutrition Services staff has its own special way to take a healthy item and turn it into something students will enjoy. They identify eating trends of the age group and explore cultural diversity in the foods served. A variety of menu items are offered, so students can taste something they may not have tried at home and keep them engaged.
So, what do ACPS students like best when it comes to food choices? "Chicken, chicken and chicken! Did I mention chicken? Spicy and regular. And pizza," explained Hormel. "The third would be tacos," Green chimed in.
As we celebrate School Lunch Week, please say thank you to the devoted and hardworking ACPS School Nutrition team who truly love their jobs. "The diversity of the job, every day is like a box of chocolates, you never know what you are going to get," said Hormel. "So true!" added Green.