en español (PDF) | አማርኛ (PDF) | بالعربية (PDF)
More Stories from the Week:
Calendar Reminder: Schools Closed Sept. 3 and 6
There will be no school for students on Friday, Sept. 3 and Monday, Sept. 6 in observance of the Labor Day holiday. All ACPS schools and offices will be closed on both dates.
See the ACPS Calendar for all holidays and no class days.
Do it Daily! Complete the Daily Symptom Checklist to Keep Everyone Safe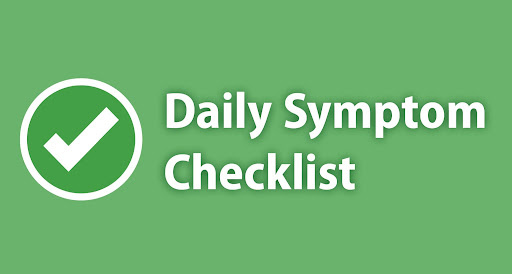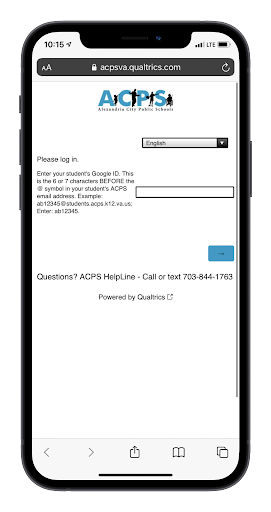 Each morning before arriving at ACPS facilities or getting on board ACPS buses, all students and staff are required to complete the online Daily Symptom Checklist. 
An email was sent to ACPS families this week that provided the link to the Daily Symptom Checklist (DSC), as well as the student's Google ID, which is needed for parents to complete the DSC for each child. On school days, all ACPS in-person families will receive a text message at 7 a.m. as a reminder to fill out the DSC.
Where can you find the Daily Symptom Checklist?
See more information about the Daily Symptom Checklist.
ACPS Student Transportation Updates and Reminders
Students hopped on board ACPS school buses as the 2021-22 school year started this week. While we experienced some slight delays and issues in the first few days as everyone adjusts to the new routine, we expect that all will be addressed and running smoothly in no time. ACPS families received up-to-date school bus transportation information for their students via email and in PowerSchool. Bus assignments and stops will be updated as needed on Thursdays to reflect adjustments to ridership information. 
Students should be at their assigned bus stop 10 minutes before their scheduled pickup. Parents need to complete the Daily Symptom Checklist before students board the bus. Students must be masked before stepping on board their bus which will be loaded from the rear to the front. Bus drivers and monitors are also required to wear face masks. We appreciate everyone's cooperation as schools carry out required health and safety measures, including temperature scanning of students when they arrive at school daily.
SOL Data Validates ACPS Focus on Student Social, Emotional and Academic Learning for 2021-22 
ACPS begins the 2021-22 school year with a Continuity of Learning Plan 6.0 (PDF) that takes a strategic and systematic approach to best address both the academic and social-emotional needs of students as the school division returns to five days a week of in-person learning, after pivoting in March 2020 to primarily virtual learning due to the COVID-19 pandemic. ACPS is welcoming back more than 15,000 students this fall to in-person learning and an additional 500 students to virtual learning through the Virtual Virginia program.
This week the Virginia Department of Education (VDOE) released results from the 2020-21 Standards of Learning (SOL) assessments, articulating the unprecedented conditions faced by students and schools last year. These data are for information only and will not impact the state or federal accountability systems due to the ongoing pandemic. The VDOE has stated that all schools will have the rating "Accreditation Waived," as during the 2020-21 school year. More information is available on the Statistics and Reports section of the VDOE website.
Vaccine Reminder
The Centers for Disease Control and Prevention has recommended everyone 12 years of age and older should get a COVID-19 vaccination. Information on free vaccine clinics that will be held in the Alexandria area is available on the City of Alexandria's Vaccine webpage.