en español | አማርኛ | بالعربية
This Week's Headlines:
---
Dear ACPS Families and Community,
It is time to turn the page on a new school year and look forward to the promise of what the 2021-22 school year will bring. Together, Alexandria City Public School students, teachers, staff, and families have met the challenges of the past school year during a dual pandemic of COVID-19 and systemic racism. We are excited to make the most of our opportunity for a new beginning as we enjoy the energy and enthusiasm that comes with having our students back for five days a week of in-person learning.
It was wonderful to greet Samuel W. Tucker Elementary School students and staff on their first day back to school on Aug. 9, and it was thrilling to see everyone's smiling eyes and hear the chatter and laughter as students settled into their new classrooms. We cannot wait for the rest of our students to return on Aug. 24, with PreK students returning on Aug. 26.
While we are still dealing with the effects of the dual pandemic, we continue to work with the Alexandria Health Department to plan for the health and safety of all in the ACPS school system. This continues to include wearing masks in our schools and on the buses, regardless of vaccination status. We are also continuing on our path toward racial equity. Each step to advance the Equity for All Strategic Plan 2025 is a step closer to ensuring all students can succeed.
As we open our doors for the 2021-22 school year, I reflect on how the core values of our Strategic Plan says it all. It calls for ACPS to be Welcoming – Empowering – Equity Focused – Innovative and Results Driven. Simply put, our mission has weathered quite a storm and we are staying on course to empower all students to make their way in our ever-changing and diverse world. With the fresh start of Alexandria City High School and Naomi L. Brooks Elementary School, our schools with new names this year are symbolic of the inclusion that all of us in ACPS strive to achieve.
Education is enlightenment that opens our minds to the possibilities of what can be if we only take our dreams and make them a reality. Let us come together as we embark on a new school year to support our students' well-being, help them excel in their studies, and prepare them to successfully manage future challenges.
Stay tuned for my Back to School video in next week's edition.
Enjoy the first day!
Dr. Gregory C. Hutchings, Jr.
Superintendent
Opening Day for 2021-22 at Samuel W. Tucker Elementary School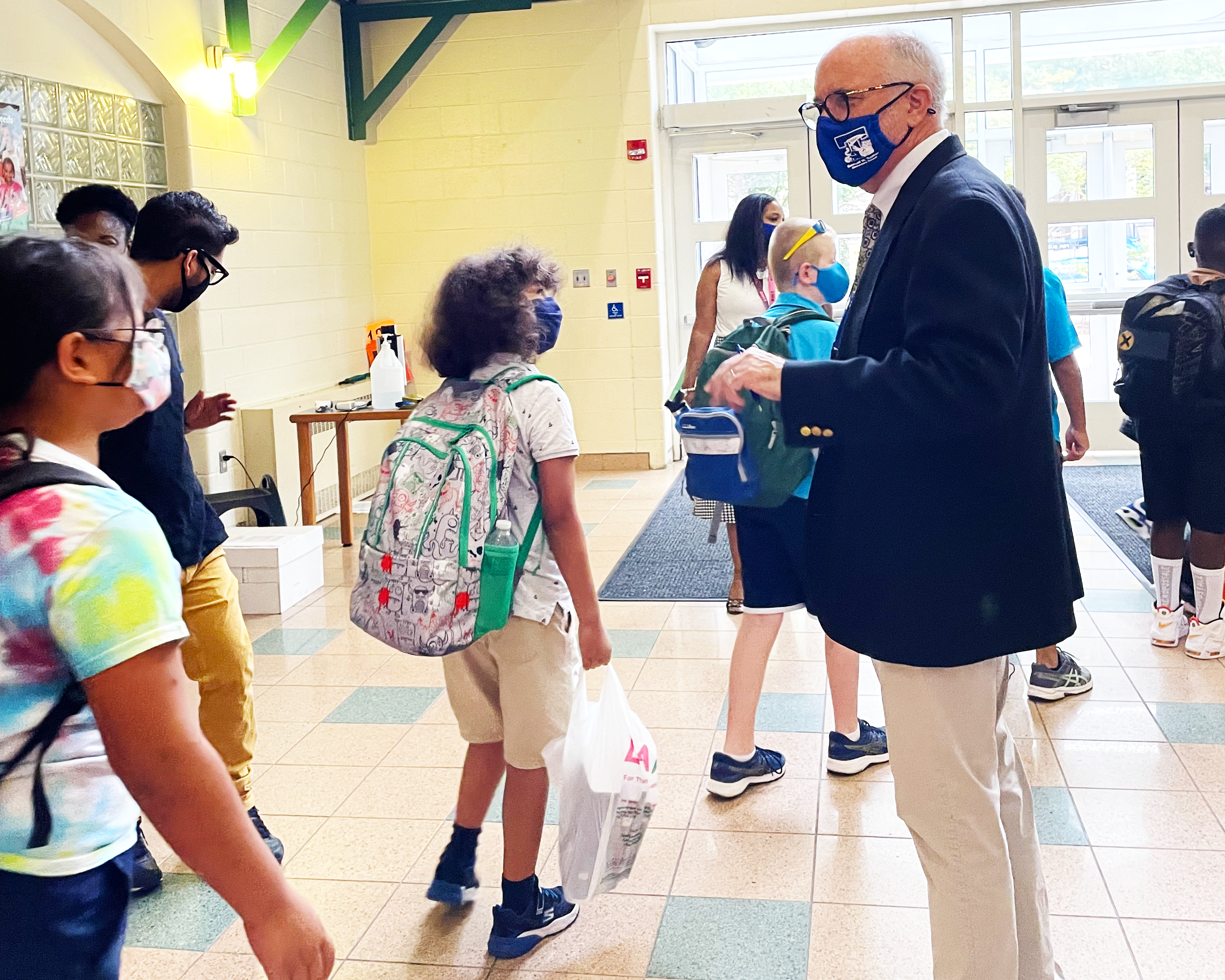 Eager students entered the doors at Samuel W. Tucker Elementary School on Monday, Aug. 9, to get a new school year in motion. Alexandria City Public Schools Superintendent Dr. Gregory C. Hutchings, Jr. greeted students as he helped to get the 2021-22 school year underway. Ushering in a new school year, Dr. Hutchings wants all ACPS families to know that teachers and staff are ready to provide every child in every classroom the highest quality instruction and educational experience in a safe and secure learning environment
'Step Up to School' Orientation Day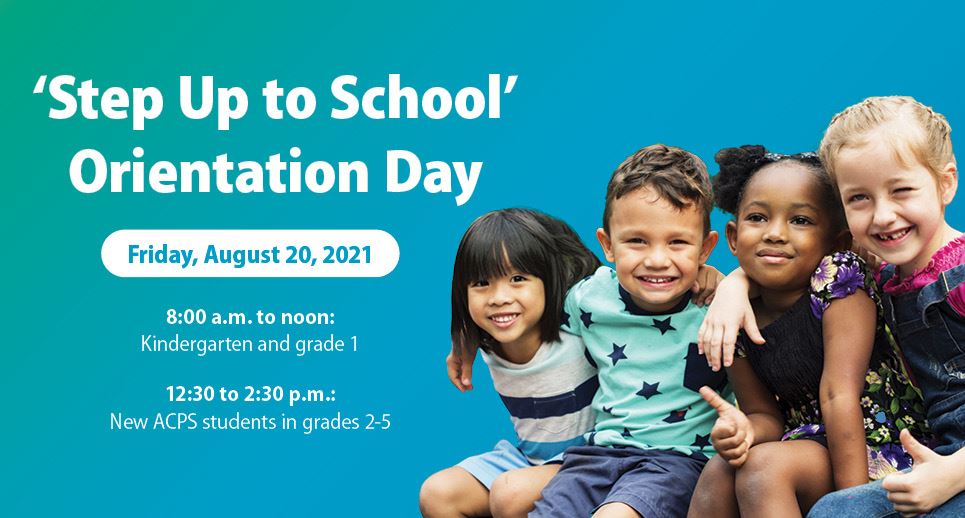 Get ready to step up! We have updated our Kindergarten Prep program to be a half-day Orientation to School for kindergarteners and first graders on the morning of Aug. 20, 2021. Also, students new to ACPS in grades 2-5 will have an orientation that same afternoon.
The components of this "Step Up to School" Orientation Day (kindergarten, first grade, and new to school students) includes the following:
Details for "Step Up to School" Orientation Day on Friday, Aug. 20, 2021:
8:00 a.m. to noon: Kindergarten and grade 1
12:30 to 2:30 p.m. New students in grades 2-5
Simulates school day for kindergarten and first grade (bus transportation, grab and go meal, shortened schedule)
Provides orientation for new students (school tour, schedule, expectations)
Utilizes the availability of staff to assist/interact with students with school-based work
In addition, a more robust assessment of each kindergarten student will be conducted by their kindergarten teacher from Aug. 24 to Sept. 3, once students have returned to school. ACPS will provide in-class staff support for kindergarten teachers to complete these student assessments.
Orientation for Students Enrolled in Virtual Virginia
The Virtual Virginia course start date is Aug. 24. ACPS students who will be learning virtually in fall 2021 through Virtual Virginia can participate in a virtual orientation on Thursday, Aug. 19, as follows:
Welcome Back: Helping Families Get Ready for the 2021-22 School Year
The welcome mat is out for the new 2021-22 school year at ACPS. While the majority of ACPS families have chosen five-day-a-week in-person learning, some have selected virtual learning as part of the state Virtual Virginia program. The first day of class for K-12 students will be Tuesday, Aug. 24, and for PreK, it is Thursday, Aug. 26.
In advance of the start of the school year, parents/guardians can find all back-to-school information on the ACPS website as part of our Back-to-School Guide and Frequently Asked Questions 2021-22 as well as on your child's school website.
We ask for everyone's patience as schools implement health and safety measures such as temperature scanning of students when they arrive at school each day. There may be delays as students and staff get used to this process; if there are times when students must be queued on buses until they can go through temperature scanning, this could affect the pickup and delivery of students to other schools. Student drop-off may be delayed by a few minutes in the mornings, and we thank you for your understanding and patience as we work to establish a routine in the first few weeks of school.
Helpful Reminders
The last day of summer meals for ACPS students is Aug. 20, 2021.
With our first day before Labor Day, school is starting earlier than usual and schools will be closed on Friday, Sept. 3, and Monday, Sept. 6 for the Labor Day holiday
On Aug. 18, families will receive their students' bus transportation information via email; this will also be available in the PowerSchool parent account on that day
Students should be at the bus stops 10 minutes before the scheduled pickup
The student helpdesk is temporarily unavailable; students should bring their ACPS devices to school on the first day of school
Health and safety guidelines are evolving; please see below for ACPS protocols
Guidelines for visitors and volunteers in school buildings is provided below
All schools are ready to receive our students, with some schools finalizing facilities projects
Back to School Forms packets are all online this year, with printed packets available in Arabic and Amharic
School Supplies, Backpacks, and Free Haircuts for Students
Getting into the swing of a new school year, our community partners are helping students get ready. School Supply Giveaway Day offers the opportunity for free haircuts and school supplies on Sunday, Aug. 22 in the Alexandria area. The event is being held at Charles Houston Recreation Center from 10 a.m. to 1 p.m. and at Samuel W. Tucker Elementary School from 2 to 4 p.m.
Also, community organizers will be distributing backpacks across Alexandria over the next few weeks. For more information, check out the ACPS Back-to-School page.
Additional Information
Looking forward, all ACPS Back to School Nights and Open Houses will be virtual.
Health and Safety Guidelines for 2021-22 School Year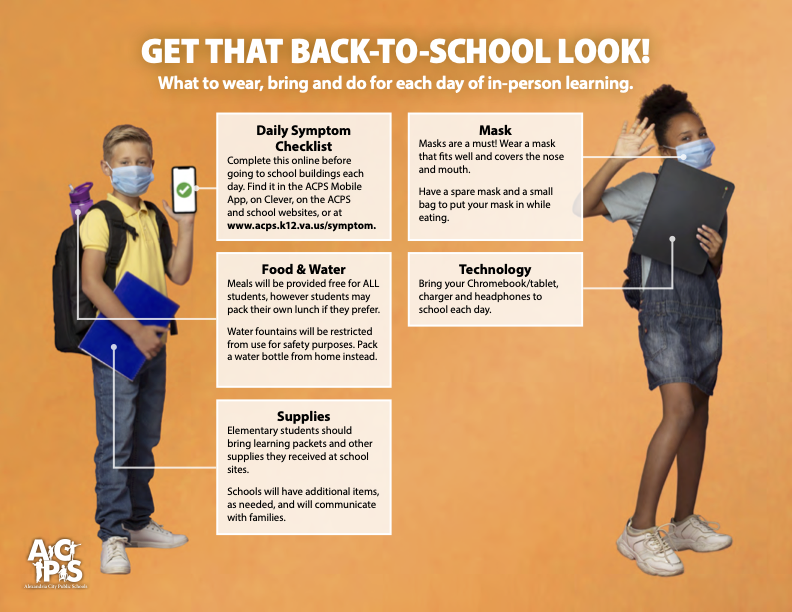 On Aug. 3, 2021, the School Board approved the recommendation of Superintendent Dr. Gregory C. Hutchings Jr. to require masks for everyone inside all ACPS facilities and vehicles, regardless of one's vaccination status. As we get ready for our exciting and busy first day, families are asked to drop off their students outside of the school building. Due to current health metrics, ACPS schools are not able to allow parents and guardians to escort their children into their school. The school division appreciates your understanding on this matter.
Looking forward, all ACPS schools will host virtual Back to School Nights and Open Houses.
On the matter of school visitors, no nonessential visitors will be allowed. Essential visitors, volunteers, and activities will be limited to
Individuals supporting the provision of in-person student supports, including city and partner programs
Individuals supporting/performing ACPS operations and maintenance; and
Individuals picking up students who have become ill during the school day
All approved visitors will adhere to safety mitigation strategies established by ACPS, including masks and temperature screenings.
ACPS will continue to adjust measures based on the latest health guidance and best practices and update the chart accordingly as changes occur.
Please review the ACPS 2021-2022 Health and Safety Guidance.
Upcoming Vaccine Clinics at ACPS Schools: August 21 & 22
Community members can obtain a COVID-19 vaccine at no cost at an ACPS school on August 21 and 22 – see below for details. For more information, visit alexandriava.gov/Vaccines.
Pfizer Vaccine (First & Second Dose, Ages 12+): Saturday, Aug 21, 9:30 a.m. – 1:00 p.m. Provider: Alexandria Health Department
Location: Francis C. Hammond Middle School (4646 Seminary Road, Alexandria, VA)
Contact: 703-746-4988
Schedule Now – Accepts Walk-ins
Pfizer Vaccine (First & Second Dose, Ages 12+): Sunday, Aug 22, 2:00 – 4:00 p.m.
Provider: Alexandria Health Department
Location: Samuel Tucker Elementary School (435 Ferdinand Day Drive, Alexandria, VA 22304)
Contact: 703-746-4988
Schedule Now – Accepts Walk-ins 
Back to School Form Packets Available Online as of August 20, 2021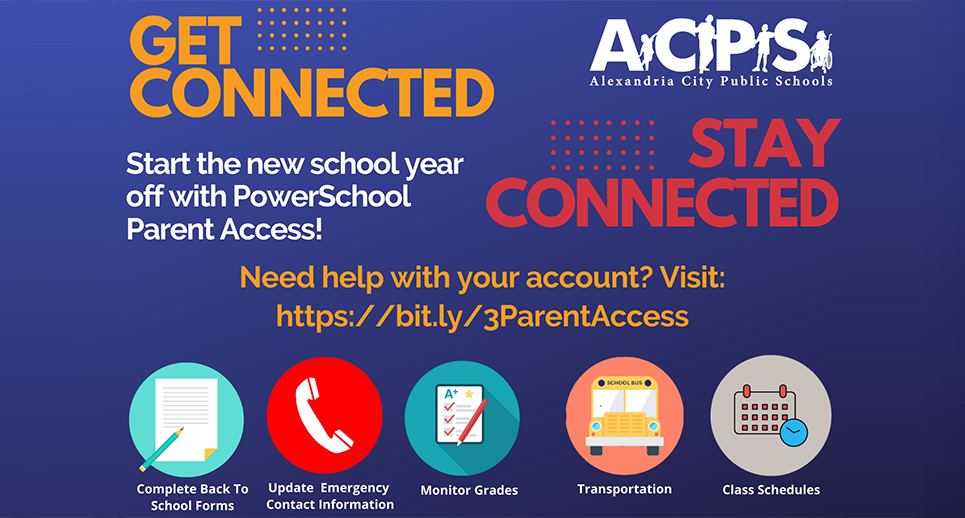 Back to school forms packets will be available online via PowerSchool Parent Access. The goal at ACPS is to empower all families to use PowerSchool Parent Access as a tool to support their child and be a partner with the school division. This is a continuation of the original plan that started in February of 2019.
Printed packets will be provided in Amharic and Arabic for students whose families listed those languages as their preferred language. We have also provided a small number of printed blank forms to schools for families who request them.
This new process supports our efforts to be environmentally friendly and good stewards of funds. In addition, teachers have one less task on the first days of school as they will no longer have to distribute and collect packets. The benefits to staff are measurable as registrars do not have to manually enter data from printed forms which leads to better quality control.
Complete your Back to School forms* by Sept. 15, 2021, to:
Update your contact information to receive emergency notifications
Update or confirm your emergency contacts
Update your child's health information
Choose your opt-out preferences
* If you have more than one child in ACPS, please complete the forms for each child.
Free School Meals are available to all ACPS Students for 2021-22 School Year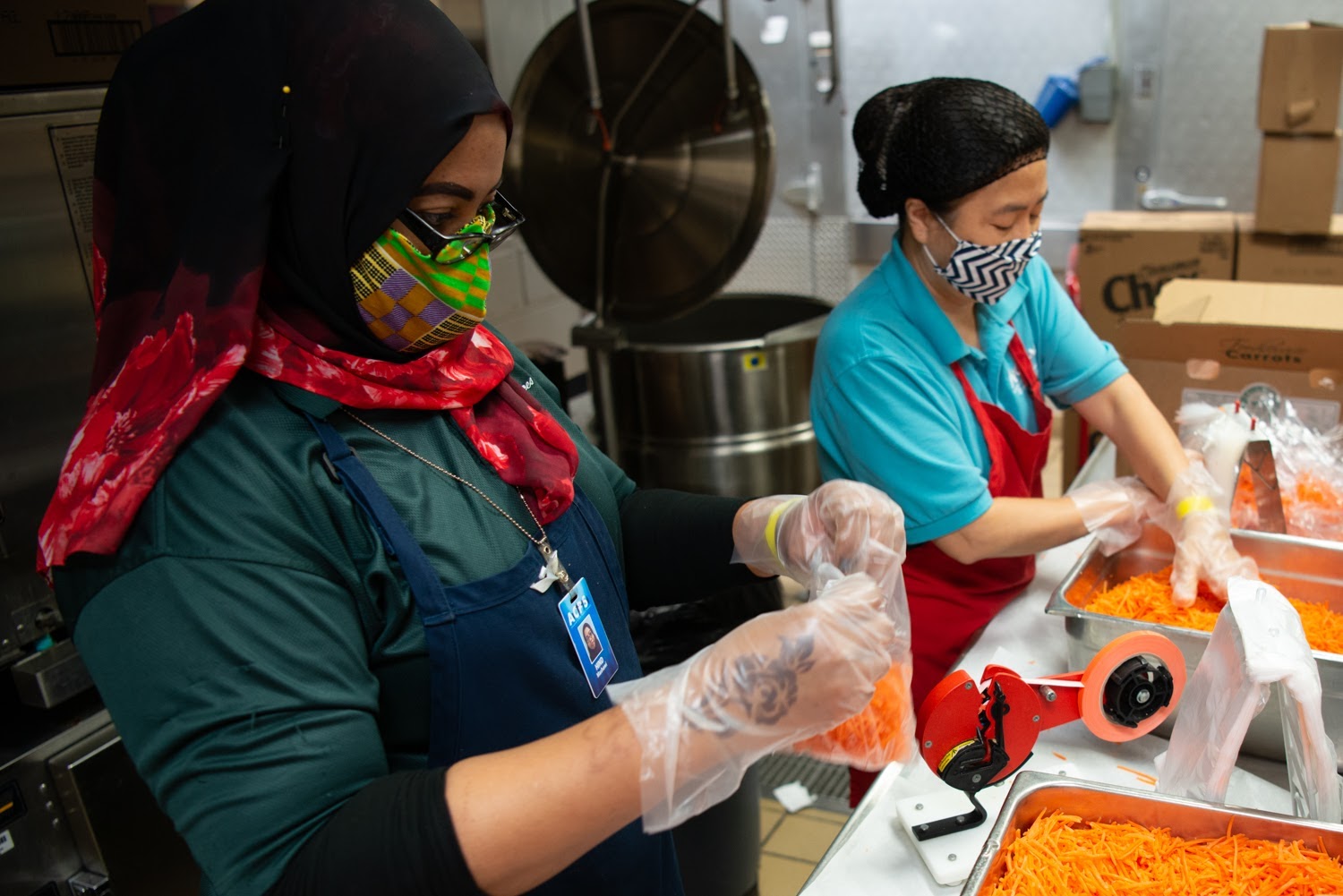 The last day of summer meal service for ACPS students is Aug. 20, 2021. There is great news for the new school year – there is such a thing as a free lunch! All students are eligible to receive meals in ACPS schools at no charge, effective from the first day of school through June 30, 2022. In order to receive other benefits available to them, ACPS families are encouraged to submit their Free and Reduced Price Meals (FARM) application for meals as soon as possible if they would like to be part of the Pandemic Electronic Benefits Transfer (P-EBT) program. The P-EBT benefit is to supplement existing nutrition programs for low-income households during the COVID-19 pandemic. Application forms are sent to all students' homes by the schools. The forms are also available in the school's main office or can be downloaded from our website. For the quickest results, we strongly encourage applying online. A new application is required every school year even though school meals will be provided free to all children. That is because school funding and eligibility for other programs depend on completed meal applications.
Adult Education Registration
Registration is close at hand for Fall Adult Education English Language Learners ELL, Adult High School Diploma, and GED class registration. From Aug. 24 – Sept. 10, 2021 registration will be held. Day classes and registration will take place at 1340 Braddock Place and evening classes will be held at Alexandria City High School. Please email us at adulted@acps.k12.va.us to schedule in-person registration and more information.
Student Helpdesk Temporarily Unavailable
As we prepare for the start of the school year at ACPS, the Student Helpdesk will be closed. Students need to bring their ACPS issued Chromebooks or tablets to school when they return in August. Device issues will be addressed and/or replaced when school begins.
ACPS Fall 2021 Social-Emotional Screening and Opt-Out Information
In order to address the social and emotional well-being of children and youth in ACPS amid the current coronavirus (COVID-19) pandemic, ACPS plans to survey students in grades three through 12 between Sept. 7 and Oct. 15, 2021. The information will be used by ACPS schools solely to implement universal and targeted supports and interventions addressing the social-emotional well-being of students. Information, including how to opt-out, was sent via email to families on Wednesday, Aug. 11, 2021. More details about the screening and the opt-out information are available on the ACPS website.
Innovation Planning WorkShop: Putting the Plan in Action
New ways of approaching changes addressed in the Strategic Plan: Equity for All 2025 served as the impetus for the ACPS Fall 2021 Innovation Planning Workshop held this month at Northern Virginia Community College. Dr. Anthony E. Sims, executive director of school improvement at ACPS, called the Strategic Plan "a bold chart" of where we can go. Dr. Sims said the challenge now is to operationalize its strategies to find ways to bring about change to best serve all students. One way to help achieve this is to use data that is linked to issues of equity in education.
Addressing the workshop, Dr. Sims said, "In order to take a different approach to tackle issues, you have to peel back the layers to see where change can be made. Just like a business comes together when a major challenge needs to be addressed, ACPS is using this workshop to come together to collectively find innovative ways to help bring about the changes called for in the Strategic Plan."
Using data to help move forward on the path toward racial equity in education at ACPS is what this workshop was all about. "It is really hard to know where you're going if you don't know where you are" is how ACPS School Board Chair Meagan L. Alderton put it. Chair Alderton pointed out how, as a team, the school division is looking at the data so it can help move forward the mission of racial equity within our school division.
Keeping in mind the data can lead the way, ACPS Superintendent Dr. Gregory C. Hutchings, Jr. said it is time to look more at how "things can be" rather than how "things used to be." Dr. Hutchings told the group of educators and staff: "If we want to have a legacy, let the legacy be that we transformed ACPS beyond the stratosphere, beyond anything anyone could imagine for us."
Imagination within the realm of equity was put in action as the workshop got underway. Professional Learning Specialist Cory Kapelski asked all the participants to sculpt their vision, using Play-Doh, for what this year could be. The exercise called for creativity and collaboration and the group delivered. One of the masterpieces was an ice cream cone with several scoops. Its creator described it as representing several layers, all of them good, showing how we can work together when we have a solid foundation.