en español (PDF) | አማርኛ (PDF) | بالعربية (PDF)
There has been a lot going on this week at ACPS.
Firstly, I am delighted to tell you that tomorrow we will see the first of our students return to in-person learning. We will be starting with a small group of students with disabilities in kindergarten from our citywide program. It is important that we remain methodical and strategic with our transition into in-person learning with so many uncertainties. Our transition planning remains contingent upon staffing and building capacity. 
Last Thursday, we conducted a simulation of the new health and safety procedures with staff members at Jefferson-Houston PreK-8 IB School. We then invited a student from the citywide special education program to walk through the new procedures with us. As we transition some of our students to in-person learning, we must keep in mind that in-person learning during a pandemic is significantly different from our learning environment prior to closing our school buildings on March 13, 2020. You can read and watch a video about that exercise below.
For those waiting to transition back to our phased reentry, Learning Activity Packets for our preK-2 students are being distributed next week. These give our youngest learners a quality alternative if screen time is proving challenging. Elementary school parents, please remember to set up a time to connect with your child's teacher for parent-teacher conferences next week.
I am also delighted to announce that when the upgraded Parker-Gray Stadium opens early next year, our Titan athletes will benefit from permanent lights that will allow practices and events to be held in the evening, with certain conditions attached to ensure our neighbors living adjacent to the stadium face minimal disruption. This resolution, approved this Monday, has been a long time coming. I am very much looking forward to being able to attend Friday night lights at T.C. Williams High School for the first time in 55 years.
The School Board also approved a new Memorandum of Understanding between ACPS and the Alexandria Police Department which covers the role of school resource officers. The scope of the work of these armed school resource officers has been reviewed and amended following feedback from our students and the wider community.
Stay safe, stay healthy, stay informed.
Sincerely,
Dr. Gregory C. Hutchings, Jr.
Superintendent of Schools
Welcoming Back Our Students 
Last Thursday, ACPS spent a rainy morning simulating every step of a school day as we plan for the phased reentry of our students into our school buildings. Once we had walked through the new health and safety procedures with staff, we invited one of our students from the citywide program for students with disabilities to join our simulation. 
Our objective is to ensure a safe and healthy learning environment for our students, staff and families as we welcome you back. To do this, we have put together a video of the simulation to show you what a day will look like. Schools will begin reopening Thursday, Nov. 5 starting with a small group of our most vulnerable students with disabilities in the citywide kindergarten program for students with autism and intellectual disabilities.
Before leaving home, students will complete a health questionnaire. Students will sit spaced out at least six feet apart on the bus, in line with the Centers for Disease Control and Prevention (CDC) guidelines. They will be met by their teacher, who will be in protective gear, including face coverings, overalls and gloves*. All students must wear a face covering and everyone will stay six feet apart, work behind plexiglass screens and keep all equipment in bags. Cleaning staff will be on site throughout the day, ensuring high-touch areas are kept clean at all times.
This is not going to be easy, but we want to see our students back in the building as soon as possible, and we are working hard to make this happen.
Watch the video of the simulation:
*NOTE –The Specialized PPE shown here is only for staff working in situations where social distancing cannot be maintained, such as caring for citywide special education students who need hands-on assistance with tasks. This level of PPE is NOT what will be used by most staff when other groups of students return for in-person learning. If you have more questions about the health and safety guidelines for each particular group of students, please see the Virtual PLUS+ Phased Reentry Plan document we shared on Oct. 21. You can also see our Health and Safety Measures page, which outlines who will use Specialized PPE.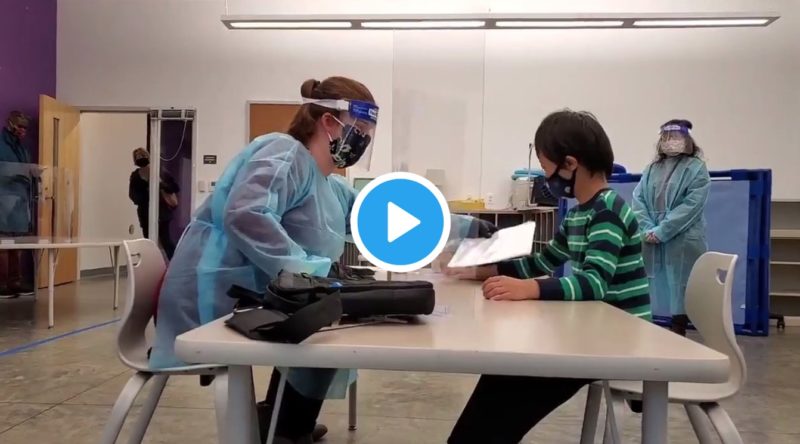 Learning Activity Packets Coming for Our Youngest Learners
In response to concerns from the families of our youngest students that there is too much screen time in the Virtual PLUS+ model, ACPS has created a set of Learning Activity Packets. These materials are designed to complement and support teacher-directed instruction and are aligned to Quarter 2 standards and lessons for grades preK-5.
Schools will distribute K-2 Learning Activity Packets during the week of Nov. 9. Grades 3-5 Learning Activity Packets will be distributed the week of Nov. 16. The resources in these packets will engage students off the screen while being able to practice and apply key academic skills and promote movement, self-expression, creativity, and language development during increased asynchronous time.
For our pre-K students who will begin the second quarter with an exploration of trees, the packets to be distributed on Nov. 9 will contain choice board activities designed to support teacher instruction. Activities will focus on developing math, science, language, literacy, and fine and gross motor skills in a fun way. Students will have the opportunity to investigate and learn about trees' characteristics, creatures living in trees, and the role trees play in our lives. Students will receive material kits during the second quarter to include counting cubes and children's books. We know our youngest learners will enjoy curling up with their new books.
Elementary School Parent-Teacher Conferences
Elementary school parent-teacher conferences will be offered on Nov. 11, 12 and 13. Parents will coordinate a morning, afternoon, or evening appointment time with the homeroom teacher. Parent conferences will range from 20 to 30 minutes.
Teachers will provide asynchronous learning activities for students to complete on the mornings of Nov. 11, 12 and 13 so that students do not miss the opportunity to learn on these days. In addition, each school is working with their Encore and School Support Team (SST) to provide time for students to engage with staff and peers on these days. Specific times per grade level will be communicated by each school on Monday and Tuesday next week before conferences begin.
Upcoming Family Webinars: Staying Safe Online, Student Support
ACPS is hosting two helpful seminars this month for students, families and staff.
Staying Focused and Staying Safe Online!
Thursday, Nov. 5 at 4 p.m.
Join the live webinar on Zoom.
Helping students stay on task and safe while online is so important, especially while learning in the virtual environment. Join ACPS Chief Technology Officer Elizabeth Hoover and the Technology Services team to learn how ACPS families can use Securly to manage screen time, filter websites, and monitor online activity. Interpretation in Spanish, Amharic and Arabic will be offered.
The Student Support Process
Tuesday, Nov. 10 at 4 p.m.
Join the live webinar on Zoom.
During this unprecedented time, students may need help to be successful in their virtual learning environment. Join the Special Education Parent Resource Center (PRC) and ACPS leaders as they describe the process to determine eligibility and receive additional academic, emotional or behavioral support for your child or teen. Interpretation in Spanish, Amharic and Arabic will be offered.
Video Updates from the Superintendent
Superintendent Dr. Gregory C. Hutchings, Jr. is bringing back his video updates, starting with an update about our work to get students back into school. Watch now.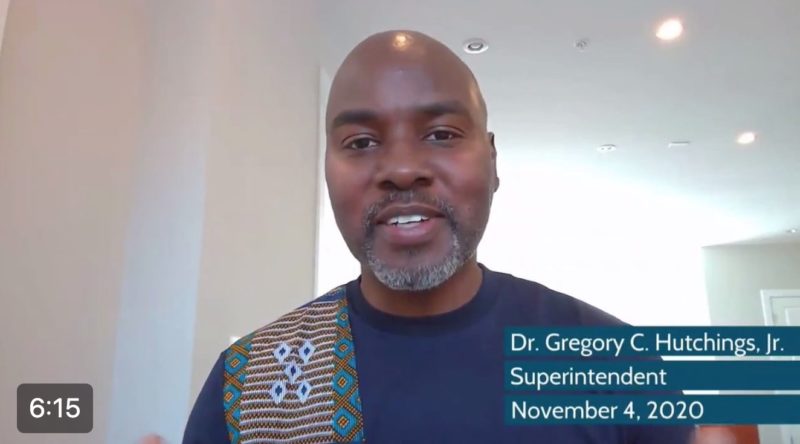 PowerSchool to be Offline Every Other Friday 6-9 p.m.
PowerSchool will be offline for ALL users (students, staff and families) from 6 to 9 p.m. every other Friday beginning this Friday, Nov. 6 for maintenance and upkeep.
Next Week is National School Psychology Week 
The National Association of School Psychologists has designated Nov. 9-13, 2020, as National School Psychology Week. This year's theme is the "Power of Possibility." At ACPS, school psychologists play a vital role in empowering children to further develop and enhance social skills, empathy, problem solving, goal setting and study skills. These characteristics are as important as ever as students navigate their way through virtual learning and the COVID-19 pandemic. Further, our psychologists continue to provide virtual and in-person assessments for students as part of the specialized instruction process. To learn more about ACPS school psychologists and how they support students, staff and families, visit the ACPS School Psychologists webpage. 
School Board Approves New Memorandum of Understanding with Alexandria Police Department
The Alexandria City School Board has approved a new Memorandum of Understanding (MOU) with the Alexandria Police Department (APD), taking into consideration community concerns raised about the role of resource officers in our schools and aiming to boost accountability and equity.
A newly worded School-Law Enforcement Partnership, which clarifies and refines the scope of the relationship between ACPS and the APD, was approved 6-3 by the School Board.
The adjustments are part of the review process for the partnership, which will occur every two years and exists to safeguard the safety and security of our students and staff. The new 2020-22 MOU between ACPS and APD will begin on Nov. 1 and run until Oct. 31, 2022. 
Before the agreement, ACPS conducted a far-ranging review process to consider concerns raised about the presence of armed police officers, known as school resource officers (SROs), in some of our school buildings.
Lights Approved at T.C. Williams Parker-Gray Stadium 
For the first time in its 55 year history, the Parker-Gray Stadium at T.C. Williams High School is set to get permanent lights, resulting from a collaborative process to resolve all outstanding complaints against the school division.
On Monday, Nov. 2, Circuit Court Judge Thomas Horne approved a consent decree memorializing the agreement that resulted from mediation between Woods Avenue and Bishop Lane residents, the City of Alexandria, and ACPS, allowing evening activities at the soon-to-be renovated Parker-Gray Stadium to be illuminated.
The agreement means that students at T.C. Williams will be able to enjoy Friday night lights, a U.S. high school tradition, and host games and practices after dark for the first time.
The Identity Project Update
Last week, the School Board held a public hearing on the renaming of our schools process. ACPS also held the third and final Community Conversation and a forum for Maury families. Next week we will share the feedback from the renaming survey as well as a video of the highlights of what we heard during this process. 
On Nov. 16, the Alexandria City School Board will hold a work session to review the results of the engagement process around the consideration to rename T.C. Williams High School and Matthew Maury Elementary School. Part of the presentation will include a recommendation from the superintendent on the name changes. The Board is scheduled to vote on whether to rename the two schools on Nov. 23.
Watch The Identity Project Community Conversation #3: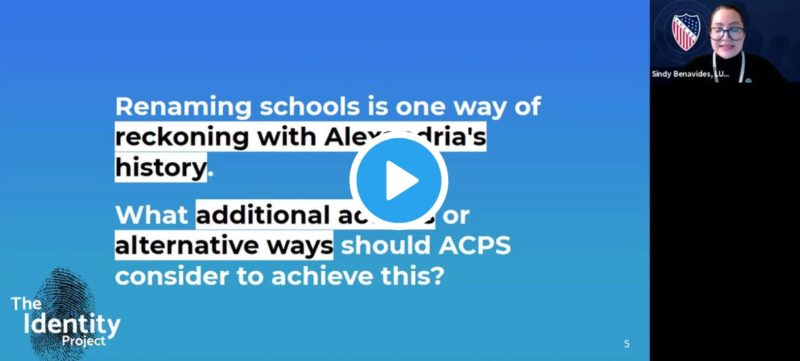 Watch the Maury Family Forum: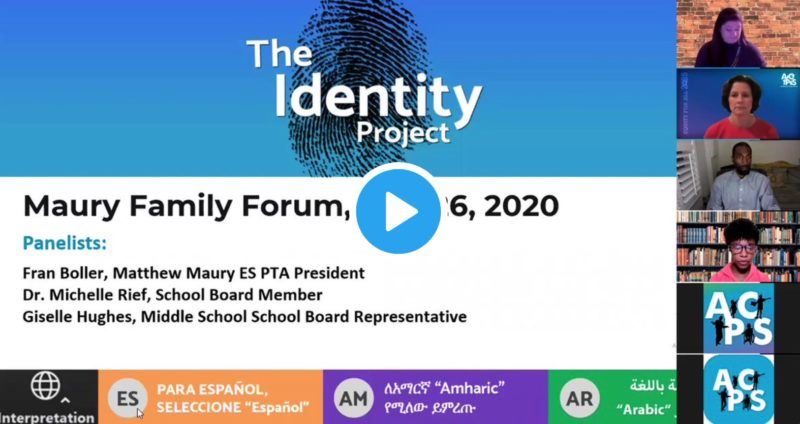 FOOD ACCESS
ACPS has multiple distribution meal site locations throughout Alexandria for all ACPS students and children over the age of two. See a map of food distribution locations.
GRAB-AND-GO MEAL LOCATIONS:
Grab and Go breakfast and lunch meals are available Mondays, Wednesdays and Fridays between 7:30 a.m. and 12 p.m. at the following locations:
William Ramsay Elementary School
5700 Sanger Avenue, Alexandria, VA 22311
Francis C. Hammond Middle School
4646 Seminary Road, Alexandria, VA 22304
Cora Kelly School for Math, Science and Technology
3600 Commonwealth Avenue, Alexandria, VA 22305
Jefferson-Houston PreK-8 IB School
1501 Cameron Street, Alexandria, VA 22314
Mount Vernon Community School
2601 Commonwealth Avenue, Alexandria, VA 22305
Patrick Henry K-8 School
4643 Taney Avenue, Alexandria, VA 22304
T.C. Williams High School
3330 King Street, Alexandria, VA 22304
And available on Mondays, Wednesdays and Fridays at our "Pop-Up" sites located at:
Mason Apartments at 75 South Reynolds Street, Alexandria, VA 22304
10:45 to 11:15 a.m.
Brent Place Apartments at 375 South Reynolds Street, Alexandria, VA 22304
11:20 to 11:50 a.m.
Ruby Tucker Family Center at 322 Tancil Court, Alexandria, VA 22314
10:45 to 11:15 a.m.
Community Lodgings at 607 Notabene Drive, Alexandria, VA 22305
10:45 to 11:15 a.m.
Old Towne West Apartments (parking lot) at 500 South Alfred Street, Alexandria, VA 22314
11:20 to 11:50 a.m.
Corner of Florence Drive and Four Mile Road, Alexandria, VA 22305
10:45 to 11:15 a.m.
The Fields at 4309 Duke Street, Alexandria, VA 22304
10:45 to 11:15 a.m.
Bennington Crossing Apartments at 441 North Armistead Street, Alexandria, VA 22312
11:30 a.m. to noon
2727 Duke Street (behind Bank of America), Alexandria, VA 22314
10:45 to 11:15 a.m.
NO SIGN UP OR REGISTRATION IS REQUIRED TO RECEIVE MEALS.
NOTE: No food distribution will occur on Tuesdays or Thursdays. The limited days for distribution is to support the practice of social distancing and to limit social gatherings. Meals for two days will be provided on Mondays and Wednesdays, and meals for three days will be provided on Fridays.
Other Food Resources in the City of Alexandria:
For food pantry locations and schedules in Alexandria, visit www.hungerfreealexandria.com or call ‪703-662-1067.
Questions? Or Need Translation?
Send us your question in Spanish, Arabic or Amharic:
Text ACPSMEALS to 797979 (English and Spanish)
Call or text 703-927-6866 (Amharic)
Call or text 703-927-7095 (Arabic)
OR
Call the FACE Center's Bilingual Parent Information Lines, available Monday-Friday, from 9 a.m. to 1 p.m.:
For Spanish/English, call 571-775-9719
For Amharic/English, call 703-927-6866
For Arabic/English, call 703-927-7095
SAFETY REMINDER: Please remember to observe social distancing practices while at the food distribution site by maintaining six feet of personal space between you and other families or individuals.
Anyone exhibiting symptoms of a respiratory illness like fever, runny nose, sore throat, coughing or difficulty breathing on the day of food distribution or in the previous 24 hours should not visit a food distribution site but call a health care provider instead. If you do not have a primary care physician and are not enrolled in a clinic, you may CALL an urgent care center or emergency room.
TEEN WELLNESS CENTER IS OPEN
The Teen Wellness Center at T.C. Williams is open regular hours Monday through Friday for all Alexandrians ages 12-19. All services are provided in the clinic and if the teen is ill with an elevated temperature (100.0 or more) we will see them through our telehealth video format. Make an appointment over the phone by calling 703-746-4776.
UPDATES FROM THE ALEXANDRIA HEALTH DEPARTMENT
The City of Alexandria and the Alexandria Health Department strongly urge everyone to follow state orders to STAY HOME except for essential trips such as food purchases and medical care, and keep 6 feet apart from others when in public. Your neighbors and loved ones are counting on you to stop the spread of COVID-19. For other questions about COVID-19, call the Alexandria COVID-19 Hotline at 703-746-4988, weekdays from 9 a.m. to 6 p.m.
Effective October 1, face coverings will be required in indoor and outdoor public places, to help prevent the spread of COVID-19. The City of Alexandria ordinance (PDF) expands on a state executive order (PDF) that has required masks in most indoor public settings since May 29. Read the news release.
Additional updates can be found at www.alexandriava.gov/Coronavirus.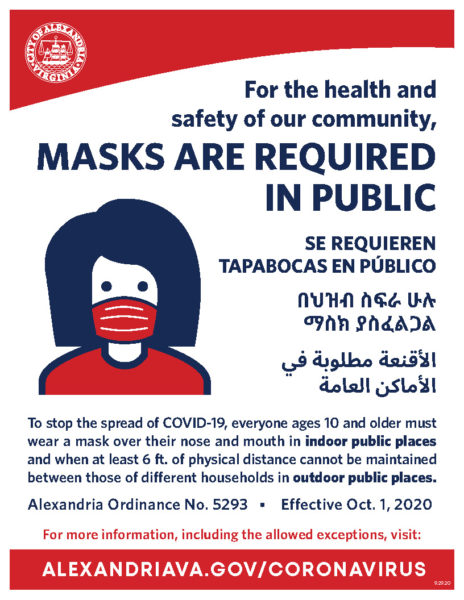 Coping with COVID-19 Fear and Uncertainty
Check out the City of Alexandria webpage Coping with COVID-19 Fear and Uncertainty which includes the COVID-19 Wellness Resource Guide.
MENTAL HEALTH SUPPORT
Continuity of School Support and Academic Advisement
School Student Support Team staff, including school counselors, school nurses, school psychologists, and school social workers will be available during school hours throughout the closure. Monday — Friday between 8:30 a.m. and 3:30 p.m. staff will be connecting with students and their families. The Department of Student Services, Alternative Programs and Equity staff members are also available during this time and can be contacted by voicemail and at student_services@acps.k12.va.us.
Emergency Supports
If there is a crisis or emergency during the time of the closure, students and families can access the supports below:
Crisis Text and Crisis Link:

Text: CONNECT to 85511
Call: 703-527-4077
We know that this is a challenging time. ACPS will continue to share information through the ACPS website, social media, and email. Please don't hesitate to reach out to your student's school counselor or school social worker with any questions.
HEALTH REMINDERS
Don't Feel Well?
Contact your primary health care physician. Don't have insurance? Contact Neighborhood Health at 703-535-5568.
---
Have questions, concerns or feedback? Contact us.
Stay Healthy!
Wash your hands regularly. Regular soap is OK.