en español (PDF) | አማርኛ (PDF) | بالعربية (PDF)
It is official! Yesterday, we launched our new school year with our Virtual PLUS+ model on the first day of a unique fall semester! Well done to our students, our families and our staff on an enthusiastic start to the 2020-21 academic year.
As we adapt to the new school year in a virtual environment, we know that there will be adjustments and uncertainties that we will all encounter in these first days. Please make your focus this week on connecting — both online and by completing your back-to-school forms. These are the two essential tools needed for our new learning environment. Once you are connected, our team is ready to support you with whatever you need to be successful, and I am sure we will all have gotten into the swing of things by week's end.
This week marks the 100th anniversary of the Parker-Gray School — one of the first public schools for African Americans in Alexandria. Students at the Parker-Gray School barely had what they needed to learn. In fact, they were lucky to have any school books, chalk or chalk boards. Members of the community provided chairs and basic equipment, and any African American student who wanted to continue their education past eighth grade had to potentially walk to Washington, D.C., or at least 21 blocks to catch a bus to school and back home. 
The story of Alexandria City Public Schools is long, complex and unique. Ours is a story of a community that faced adversity, racism, bigotry and neglect. With the odds against them, many of these early students went on to become champions for equality and civil rights, just as our students continue to do today. It is our duty to carry on their legacy. We must refuse to give up on any student and continue to fight for an equitable education for all regardless of their race, socioeconomic status, ZIP code, family circumstances and/or educational ability.
To do that we must acknowledge our racial inequities and also understand the history within our city that has contributed to the barriers that many of our young people still face today. On the first week of school for the 2020-21 academic year we welcomed students from 119 countries who speak 120 languages. We celebrate and honor our diversity. But the courageous fight for equity is far from over. In order to move on, we have to acknowledge that modern day segregation still exists and that our work is not yet done.
This is the legacy that we have a duty to fulfill for the sake of all our students, past, present and future.
Welcome to the new school year!
Stay safe, stay healthy, stay informed — and have a great first week of school.
Sincerely,
Dr. Gregory C. Hutchings, Jr.
Superintendent of Schools
Watch the Superintendent's First Day of School Message
Welcome to the 2020-21 academic year! We hope you had a great first day of school. See the message below from Superintendent Dr. Gregory C. Hutchings, Jr.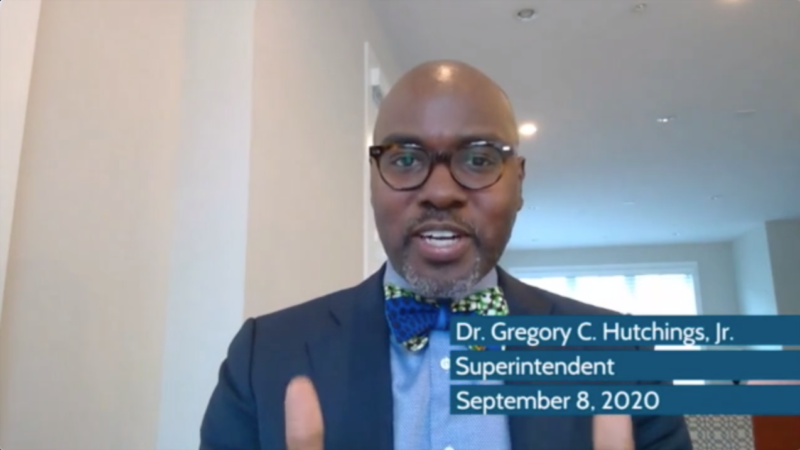 See How the First Day of Virtual PLUS+ Went
Yesterday was a historic day for ACPS, with 16,000+ students online for the start of Virtual PLUS+ learning. Take a look at our video of classes across the district!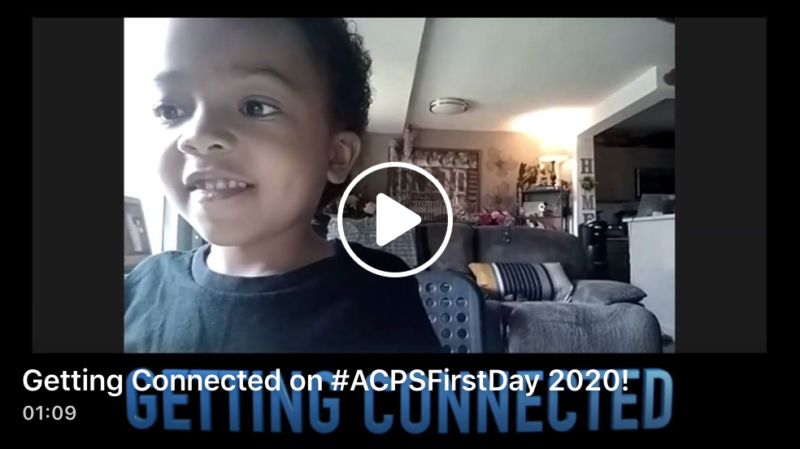 Thank you for Sharing Your #ACPSFirstDay Photos With Us!
Yesterday we received dozens of photos from parents and guardians, showing their children smiling and ready for the first day of Virtual PLUS+. 
Take a look at our #ACPSFirstDay 2020 Facebook album of all the photos we received!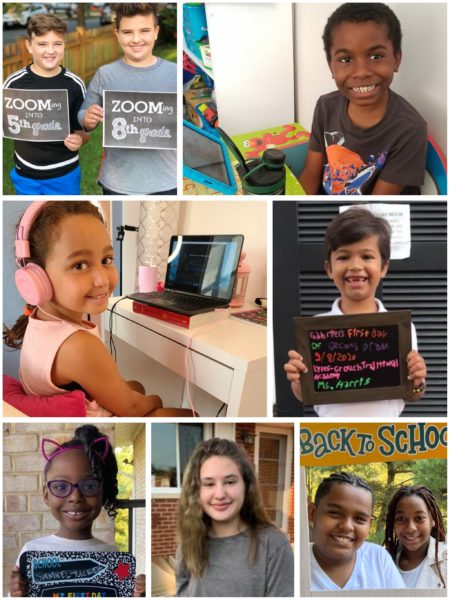 Important Food Distribution Updates
The meal distribution sites and times will be changing starting today, Sept. 9. Our new hours will run from 8 a.m. until noon, but the pop-up site hours will remain the same. As a reminder, families/students will not have to use their ACPS Digital Meal Pass until January 2021 at the earliest.
New meal distribution sites are coming soon!
Starting Sept. 14: Mount Vernon Community School, 8 a.m. to noon

Starting Sept. 14: 2727 Duke Street (behind Bank of America) 10:45 to 11:15 a.m. 

Starting Sept. 21: Patrick Henry K-8 School, 8 a.m. to noon
For more information on distribution sites and times see the Virtual PLUS+ Food Access webpage.
Help Your Child Thrive in Virtual PLUS+

Our instructional experts have compiled tips for parents that will prove useful as you support your child through Virtual PLUS+.
Check out our Learning Tips for Parents.
No Device Yet?
If you have not yet collected your device needed for Virtual PLUS+ this fall, please contact your principal or school front office to arrange a time to pick it up.

ACPS will be distributing devices to pre-K families starting today, Sept. 9. Families are invited to stop by the Early Childhood Center at 5651 Rayburn Avenue between 8 a.m. and 3 p.m. today. Please wear a mask and bring a photo ID. Parents will complete forms before receiving a tablet. Distribution will take place outside rain or shine.
For more information on how to access devices or get help, see the Virtual PLUS+ Access webpage.
Complete Your Back-to-School Forms
Check your mailboxes! The Virtual PLUS+ Back-to-School Forms packets should have been received by now. Don't forget to fill out the forms before Sept. 15. Complete them online in PowerSchool or return the paper forms to your child's registered school. 
Completion of these forms is critical! The information is needed to keep records up to date and to help us keep you informed throughout the year.
Back-to-School Guide and Student Code of Conduct
We all know the start to this academic year is going to be very different for us all, so we have compiled a helpful Back-to-School Guide to provide a quick reference.
This includes the dates of back-to-school nights, the academic calendar, supply lists, tech help, the Family Handbook, and more.
The Back-to-School Guide also includes the ACPS Student Code of Conduct. Make sure your family is familiar with this publication. Abiding by these guidelines and policies — even in a virtual world — keeps our school division functioning smoothly and provides a safe place for students to learn.
Support the Virtual PLUS+ Student Supply Drive
It is not too late to help make sure every child in our community has the materials they need to succeed this academic year.
This year, we are not asking for physical items to be donated due to the risk of COVID-19, but instead are appealing for financial assistance to support the following:
Virtual PLUS+ Basic Supply Kits

Technology Access

Teacher Designated Projects
Find more information and how to donate.
Reminder: Don't Wait, Vaccinate! 
Vaccine requirements for school remain the same even though we are not resuming in-person schooling immediately this fall. The health of our community is a priority for ACPS and ensuring your child is up to date on routine vaccines helps your whole family. With COVID-19 transmission active in our community, it is more important than ever to manage preventable illnesses. 
Contact your pediatrician to schedule an appointment. If you do not have one, contact the Alexandria Health Department's immunizations services at 703-746-4888 to schedule an appointment.
Free Coronavirus Testing
Coronavirus testing is available at various locations across Alexandria. See the COVID-19 Testing in Alexandria (PDF) flier for a list of locations and contact information.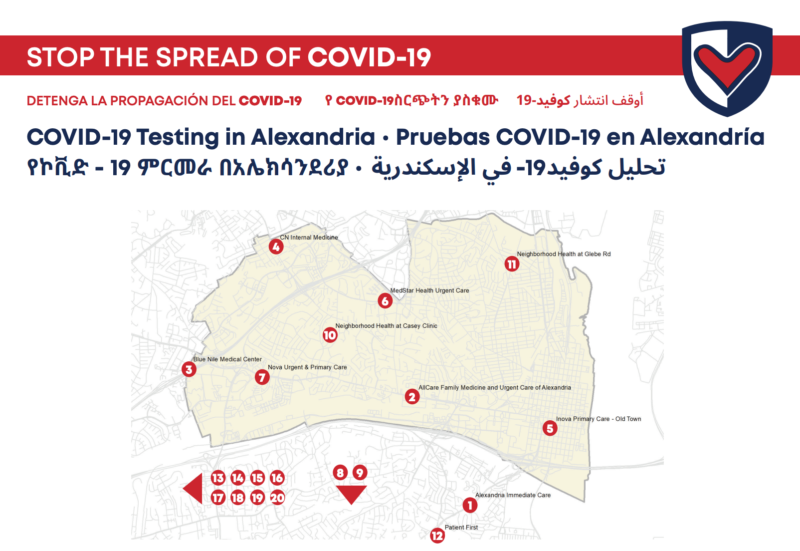 For more details see the Alexandria Health Department website. 
One Hundred Years Ago This Week, Parker-Gray Elementary School Opened 
On the morning of Sept. 8, 1920, Parker-Gray Elementary School opened its doors. It would later become the first high school in Alexandria to educate African American children, and it has left an indelible mark on our city. To celebrate this important anniversary, ACPS created a short film to commemorate those who battled for the right to a quality public education for those who had been denied.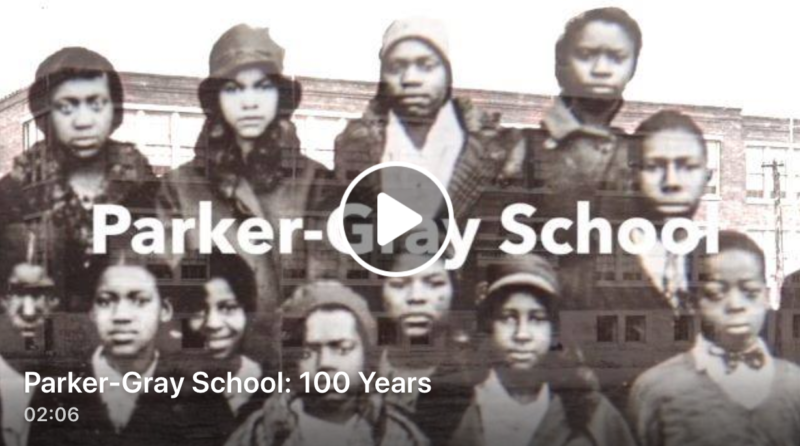 Read more about the history of Parker-Gray.
MacArthur Modernization One Step Closer
On Tuesday, Sept. 1, the Alexandria City Planning Commission unanimously approved the Development Special Use Permit (DSUP) to allow the modernization of Douglas MacArthur Elementary School to move ahead. The City Council will now consider the DSUP at a public hearing on Saturday, Sept. 12. You can register to participate in the hearing.
See more information on the Planning Commission hearing and Douglas MacArthur Modernization Project.
The Multilingual Family Helpline is Open!
If you have questions or need support on any aspect of Virtual PLUS+, you can now text or call the multilingual Virtual PLUS+ Helpline.
Our team of 15 staff are available from 9 a.m. to 4 p.m. Monday through Friday to help you get answers to your questions about:
social, emotional or academic support

technology

child care options

food access
For English: Call 703-844-1763
For Spanish: Call 703-844-3424
For Arabic: Call 703-927-7095
For Amharic: Call 703-927-6866
Have questions? Email face@acps.k12.va.us.
FOOD ACCESS
ACPS has multiple distribution meal site locations throughout Alexandria for all ACPS students and children over the age of two.
GRAB-AND-GO MEAL LOCATIONS:
Grab and Go breakfast and lunch meals are available Mondays, Wednesdays and Fridays between 8 a.m. and 12 p.m. at the following locations:
William Ramsay Elementary School
5700 Sanger Avenue, Alexandria, VA 22311
Francis C. Hammond Middle School
4646 Seminary Road, Alexandria, VA 22304
Cora Kelly School for Math, Science and Technology
3600 Commonwealth Avenue, Alexandria, VA 22305
Jefferson-Houston PreK-8 IB School
1501 Cameron Street, Alexandria, VA 22314
T.C. Williams High School
3330 King Street, Alexandria, VA 22304
And available at our "Pop-Up" sites located at:
Mason Apartments at South Reynolds Street, Alexandria, VA 22304
10:45 to 11:15 a.m. Mondays, Wednesdays and Fridays
Brent Place Apartments at 375 South Reynolds Street, Alexandria, VA 22304
11:20 to 11:50 a.m. Mondays, Wednesdays and Fridays
Ruby Tucker Family Center at 322 Tancil Court, Alexandria, VA 22314
10:45 to 11:15 a.m. Mondays, Wednesdays and Fridays
Community Lodgings at 607 Notabene Drive, Alexandria, VA 22305
10:45 to 11:15 a.m. Mondays, Wednesdays and Fridays
Old Towne West Apartments (parking lot) at 500 South Alfred Street, Alexandria, VA 22314
11:20 to 11:50 a.m. Mondays, Wednesdays and Fridays
Corner of Florence Drive and Four Mile Road, Alexandria, VA 22305
10:45 to 11:15 a.m. Mondays, Wednesdays and Fridays
The Fields at 4309 Duke Street, Alexandria, VA 22304
10:45 to 11:15 a.m. Mondays, Wednesdays and Fridays
Bennington Crossing Apartments at 441 North Armistead Street, Alexandria, VA 22312
11:30 a.m. to noon, Mondays, Wednesdays and Fridays
NO SIGN UP OR REGISTRATION IS REQUIRED TO RECEIVE MEALS. Meals consist of breakfast and lunch, and include, for example, fresh fruits and vegetables and sandwiches for multiple days.
NOTE: No food distribution will occur on Tuesdays or Thursdays. The limited days for distribution is to support the practice of social distancing and to limit social gatherings. Meals for two days will be provided on Mondays and Wednesdays, and meals for three days will be provided on Fridays.
Other Food Resources in the City of Alexandria
For food pantry locations and schedules in Alexandria, visit www.hungerfreealexandria.com or call ‪703-662-1067.
Questions? Or Need Translation?
Send us your question in Spanish, Arabic or Amharic:
Text ACPSMEALS to 797979 (English and Spanish)
Call or text 703-927-6866 (Amharic)
Call or text 703-927-7095 (Arabic)
OR
Call the FACE Center's Bilingual Parent Information Lines, available Monday-Friday, from 9 a.m. to 1 p.m.:
For Spanish/English, call 571-775-9719
For Amharic/English, call 703-927-6866
For Arabic/English, call 703-927-7095
SAFETY REMINDER: Please remember to observe social distancing practices while at the food distribution site by maintaining six feet of personal space between you and other families or individuals.
Anyone exhibiting symptoms of a respiratory illness like fever, runny nose, sore throat, coughing or difficulty breathing on the day of food distribution or in the previous 24 hours should not visit a food distribution site but call a health care provider instead. If you do not have a primary care physician and are not enrolled in a clinic, you may CALL an urgent care center or emergency room.
TEEN WELLNESS CENTER IS OPEN
The Teen Wellness Center at T.C. Williams is open regular hours Monday through Friday for all Alexandrians ages 12-19. All services are provided in the clinic and if the teen is ill with an elevated temperature (100.0 or more) we will see them through our telehealth video format. Make an appointment over the phone by calling 703-746-4776.
UPDATES FROM THE ALEXANDRIA HEALTH DEPARTMENT
The City of Alexandria and the Alexandria Health Department strongly urge everyone to follow state orders to STAY HOME except for essential trips such as food purchases and medical care, and keep 6 feet apart from others when in public. Your neighbors and loved ones are counting on you to stop the spread of COVID-19. For other questions about COVID-19, call the Alexandria COVID-19 Hotline at 703-746-4988, weekdays from 9 a.m. to 6 p.m.
Additional updates can be found at www.alexandriava.gov/Coronavirus.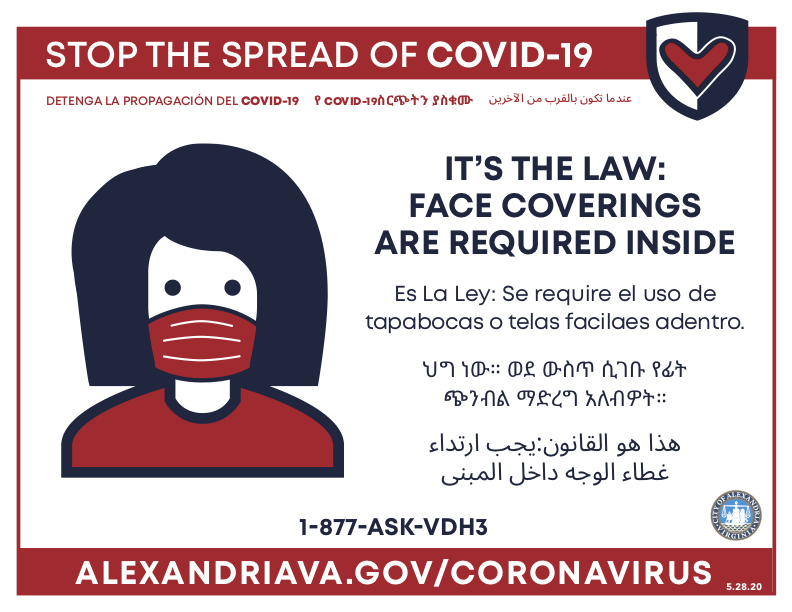 Coping with COVID-19 Fear and Uncertainty
Check out the City of Alexandria webpage Coping with COVID-19 Fear and Uncertainty which includes the COVID-19 Wellness Resource Guide.
MENTAL HEALTH SUPPORT
Continuity of School Support and Academic Advisement
School Student Support Team staff, including school counselors, school nurses, school psychologists, and school social workers will be available during school hours throughout the closure. Monday — Friday between 8:30 a.m. and 3:30 p.m. staff will be connecting with students and their families. The Department of Student Services, Alternative Programs and Equity staff members are also available during this time and can be contacted by voicemail and at student_services@acps.k12.va.us.
Emergency Supports
If there is a crisis or emergency during the time of the closure, students and families can access the supports below:
Crisis Text and Crisis Link:

Text: CONNECT to 85511
Call: 703-527-4077
We know that this is a challenging time. ACPS will continue to share information through the ACPS website, social media, and email. Please don't hesitate to reach out to your student's school counselor or school social worker with any questions.
HEALTH REMINDERS
Don't Feel Well?
Contact your primary health care physician. Don't have insurance? Contact Neighborhood Health at 703-535-5568.
---
Have questions, concerns or feedback? Contact us.
Stay Healthy!
Wash your hands regularly. Regular soap is OK.